You asked for our 6 month old schedule .. so here is my 'Day In The Life With A 6 Month Old Baby' post! Our routine is pretty functional now and works well with our family!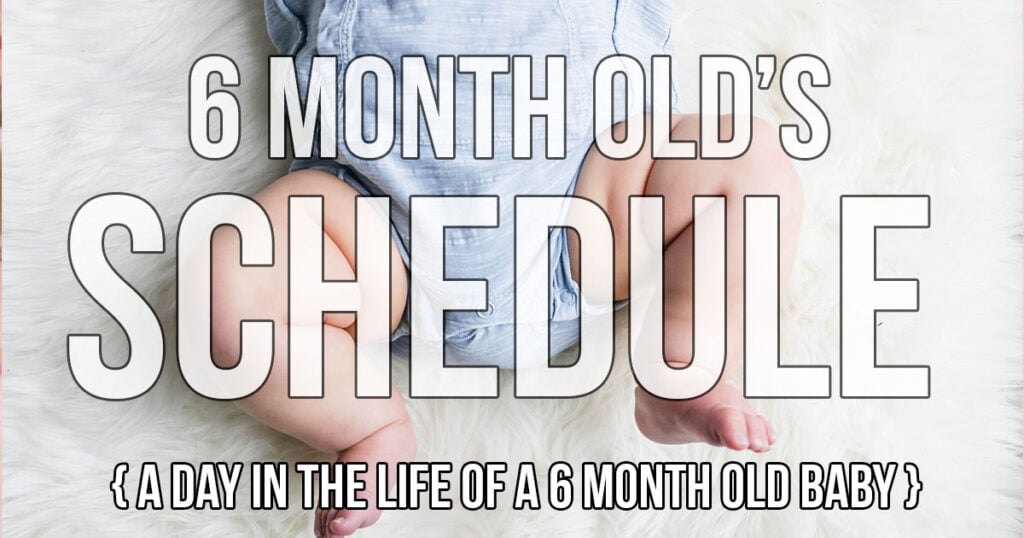 Disclaimer: this post may contain affiliate links, and every purchase made through these links will give me a small commission (at absolutely no extra cost for you!) AS AN AMAZON ASSOCIATE AND REWARDSTYLE MEMBER, I EARN FROM QUALIFYING PURCHASES. See Privacy Policy for additional info.
Hi Beauties!
I had lots of people asking me what our daily routine is like having a baby and what her schedule is.. so now that she is 6 months old, I thought I would do a quick post on what our day looks like for anyone who is trying out a new routine.
What works for us may not work for you so make sure you figure out your baby's needs and what works best for you and your family.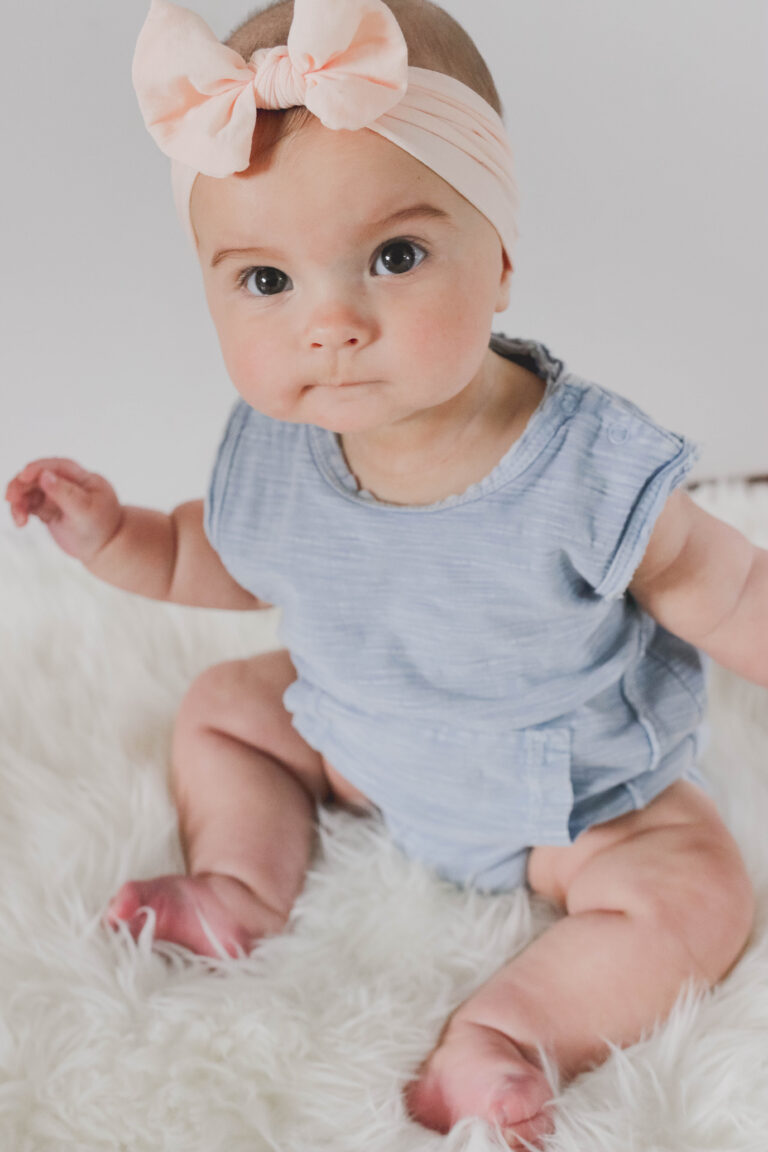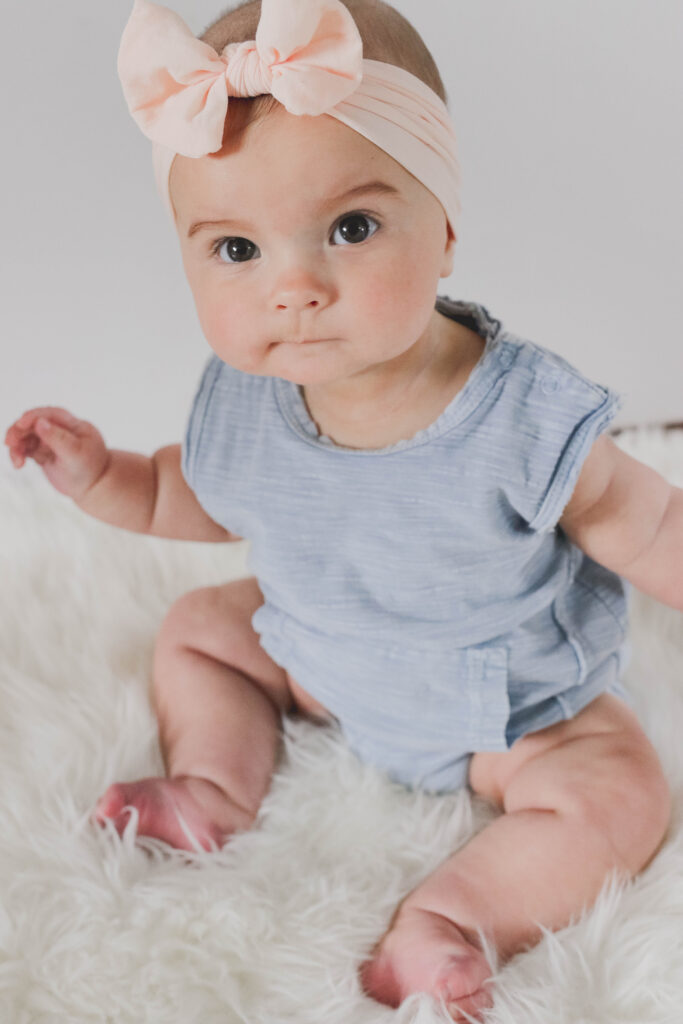 6 month old Routine:
8am - Wake up, Breastfeed, Dressed for the day
We start our day off at 8am. It is actually so nice to not have to wake up until then! My baby girl likes to sleep in which is such a nice change from our newborn sleeping schedule.. it is almost as though she is catching up on all the sleep she didn't get in the first couple months of life!
I breastfeed her in her room. Usually 15 minutes total. This is the time I use my Haakaa to collect milk because I am usually very full at this time of the morning and she won't completely empty me. I then add this milk to my freezer stash!
I then change her diaper and get her out of her pjs.
8:30am - Play time
Once changing her, we head to our living room. We have an open concept house so our living room dining room and kitchen are all in one big open space. I put her in her activity centre and let her play well I make my coffee and tidy up the house a little bit.
I find she is always in a great mood this time of the day so I try to get things done around the house during this time (laundry, vacuuming, cleaning etc). Near the end of the day she becomes more cranky and wants to be in mamas arms more often.
9am - Breakfast
We started her on solids at 5.5 months old. Recently I have added in a breakfast meal for her (as well as dinner). I put her in her highchair and she usually eats ½ a banana.
I tried giving her baby rice cereal (stage 1) but she had a huge allergic reaction to it that landed us in the emergency room so we avoid that for now.
Breakfast usually takes a half hour or so.. once she is finished I clean her up and she either hangs out in her highchair while mommy and daddy talk or she goes back in her activity centre for a little bit.
10am - Nap #1
This nap usually lasts 1.5 hours. I use this time to workout, shower and then have my breakfast.
12:30pm - Wake, Breastfeed, change Diaper
She is in such a routine that she usually wakes up right at 1.5 hours but occasionally requires one of us to go wake her up (which doesn't make her very happy haha).
I breastfeed her in her room again and change her diaper.
1:00pm - Out doors
Now that it is nicer outside, we use this time to get outside usually. We have been loving family walks lately on a trail near our house. If we can't get out for a walk we will sit outside on our deck or I will put her in her Bjorn Bouncer while I work on the gardens. Fresh air is important to us and she really enjoys it!
2:00pm - Nap #2
Nap two usually lasts an hour now.. from 4-5 months this nap would last 1.5. hours but not any more.. which is fine with me, as long as she is sleeping through the night haha
During this nap I usually work on my blog or do something around the house. I try to be as productive as possible during naps because when she is up, she definitely requires my full attention!
3:00pm - Wake, Breastfeed, Change Diaper
Again, wake up, breastfeed in her room, diaper change..
3:30pm - Play time
Play time again. I usually get out her play mat for tummy time. She is getting good at sitting on her own and playing with her toys. She currently loves anything that lights up or makes music. If you have hardwood floors in your house I high recommend getting this play mat. It is on the pricer side but SO WORTH IT. We love it and I don't know how we would do tummy time without it now.
4:30pm - Cat Nap
This nap is the shortest. usually only lasts 30 minutes or max 45 minutes.
5:00pm - Wake, Breastfeed, Change diaper
Same routine after every nap, I wake her, breastfeed and change her diaper.
5:30pm - Dinner time
We have been trying to have dinner all together at 5:30pm.. She usually has a few of the following; sweet potato, carrots, broccoli, avocado, and apple sauce. I steam everything so it is VERY soft. We are trying baby led weaning right now but she is still having trouble picking up food on her own and getting it into her mouth.. so I help her along the way!
Products I am loving during dinner time is her this suction plate, this suction bowl, oribel highchair, these bibs, and our food steamer.
6:30pm - Bath Time
She LOVES bath time. This is usually the time of the night she becomes super cranky so we put her in the bath.. and she has the best time. We play Disney music for her and give her lots of toys in there.
She currently is still using this bath seat and it is working well even though she sometimes tries to slide out of it.
Bath time products I am loving; Honest Company baby wash, these baby wash cloths, this hooded towel, this hair brush and this baby lotion for her itchy skin. I also give her her vitamin D drops after bath time.
7:00pm - Breastfeed and bedtime
I then get her changed into her pjs again, put her in her nested bean sleep sack and breastfeed her in her room. I turn on her sound machine and put her in her crib for the night.
10pm - Dreamfeed
I always dream feed her around 10pm just to make sure she can get through the night without a feeding. For those of you who don't know what a dream feed is, it is when you pick the baby up out of their crib and feed them without fully waking them up. No diaper change, no fussing around.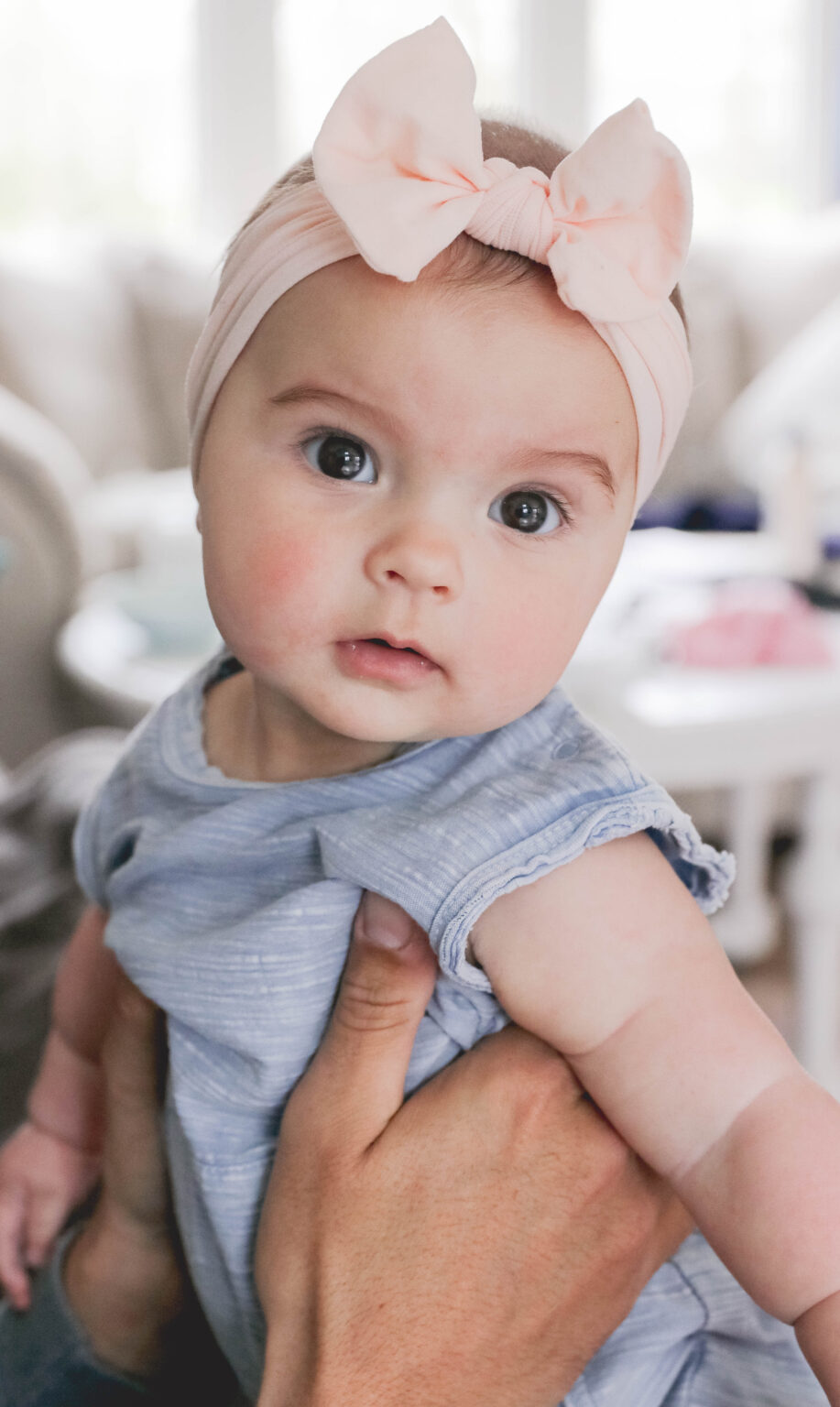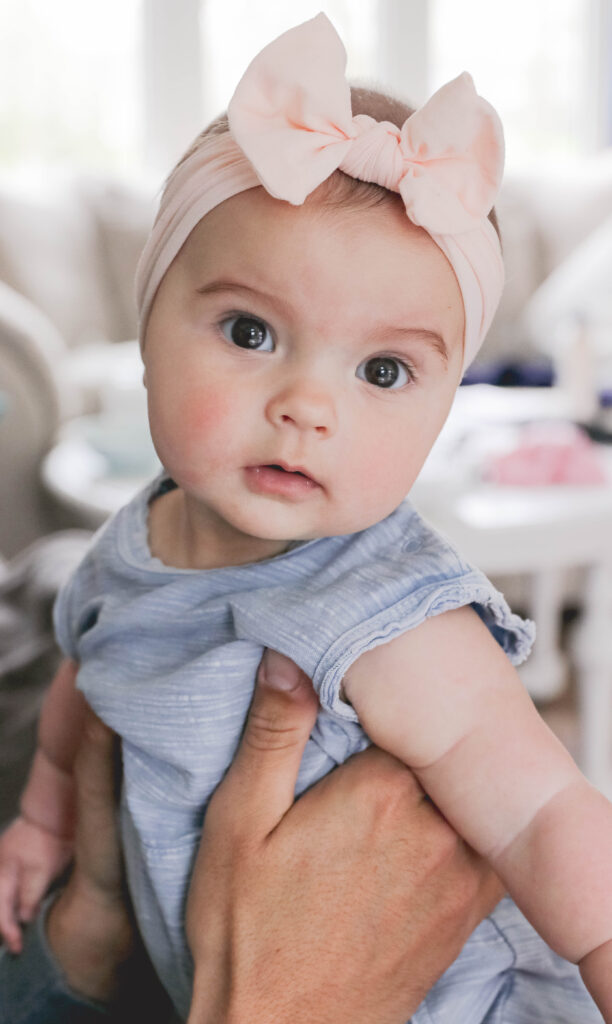 This is what has worked well for us so it is what I am going to keep doing until she throws us another curve ball!
That is it for our 6 month old schedule. Nothing too fancy but does the trick to keep our family sane haha
I hope you liked this 6 month old schedule post! If you liked this post, you will love my 5 MONTH BABY UPDATE and ELLIOTT'S WHITE VINTAGE CRIB posts!
Until next time,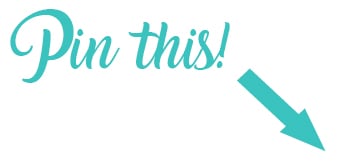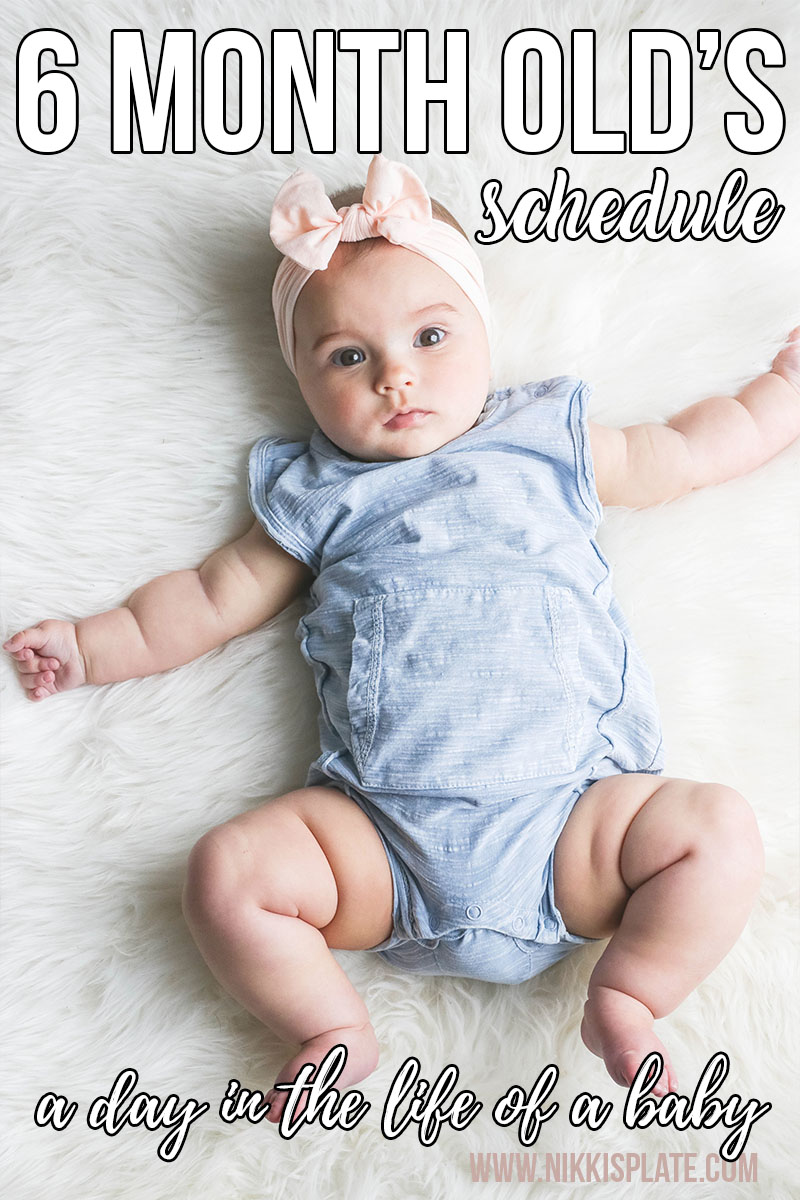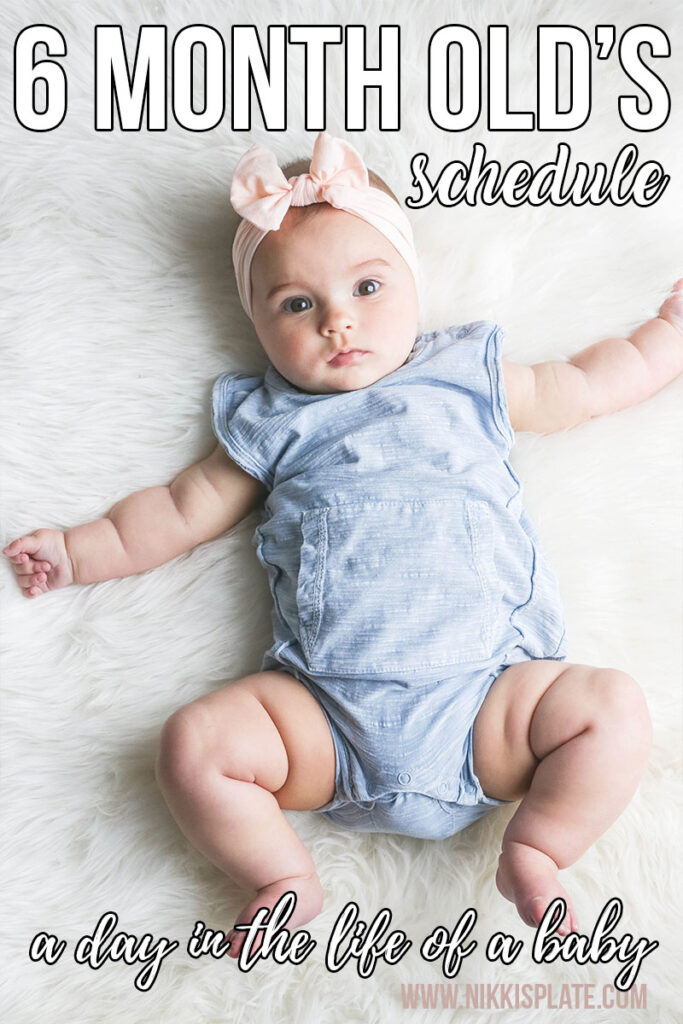 You asked for our 6 month old schedule .. so here is my 'Day In The Life With A 6 Month Old Baby' post! Our routine is pretty functional now and works well with our family!
BEST SELLERS