Cute Boho Bedroom Inspiration; Here are some neutral boho bedrooms ideas. Easy modern bohemian bedroom decor for a calm sleeping space! Everything Boho room inspo!
Disclaimer: this post may contain affiliate links, and every purchase made through these links will give me a small commission (at absolutely no extra cost for you!) AS AN AMAZON ASSOCIATE AND REWARDSTYLE MEMBER, I EARN FROM QUALIFYING PURCHASES. See Privacy Policy for additional info.
Hi beauties!
Come check out these cute boho bedrooms and Boho room inspo I found on Pinterest! I am currently trying to come up with a design idea for our new nursery and definitely gravitating towards a neutral boho theme! Love how calm yet inviting these boho style bedrooms look.
Earthy inspiration, tons of texture and patterns and bright pops of color. A bohemian room is the perfect place to express your creative energy. The boho vibe is very free spirit with natural light and natural materials.
During my search I knew I needed to share this boho bedroom inspiration on my blog for you all too! If you have a boho inspired bedroom, I would love to see it! I need all the Boho room inspo!
From the pages of your favorite lifestyle magazines to the floor of your local Anthropologie, this style is everywhere. If you're a big fan of boho chic (or want to be), you may be looking for some ways to get the look at home without spending too much money. Luckily, there are loads of options out there—and we've found them all. Check out these nine bedroom ideas that are sure to make your space feel like it's straight out of a storybook:
So what does 'boho' mean? While I hit google to figure it out for us. Boho, short for bohemian, means "socially unconventional in a way regarded as characteristic of creative artists; bohemian". Bohemian decorating style portrays life by bringing together objects, colours, and patterns from around the world.
So with that being said, lets jump into the world of Pinterest to find some modern boho bedroom inspiration shall we?!
This post is all about cute boho decorating and boho bedroom inspiration
<<Please Note: None of these photos belong to me. Please click the photo or the title to be redirected to the owner.>>
Boho Bedroom Inspiration:
The bohemian look is all about bold colors and shapes. To help you get inspired for your next design project, I've rounded up a few cute boho bedroom designs. I've got the inspo you need to whip up a boho bedroom of your own! Here we go...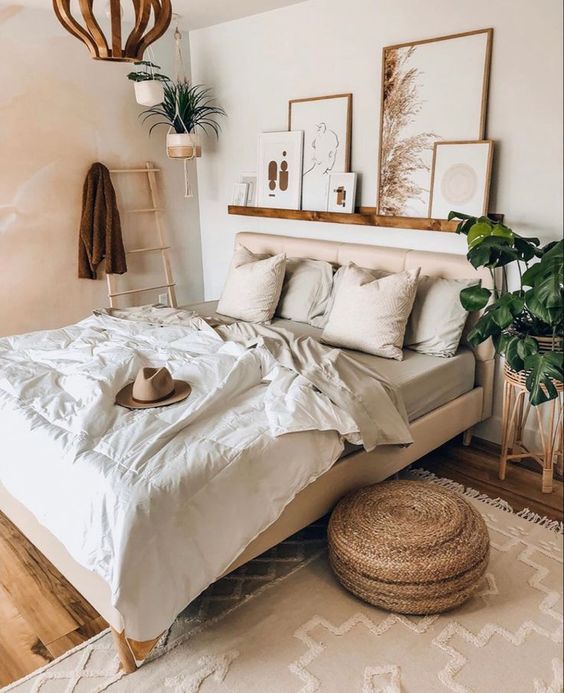 Hang up Tapestries
Tapestries are a wonderful way to add color and pattern to your bedroom. They're also super stylish and amplify boho interior design, so you can use them as wall decor or over a chair in your room. You can find them at most home goods stores or flea markets for around $30 or less!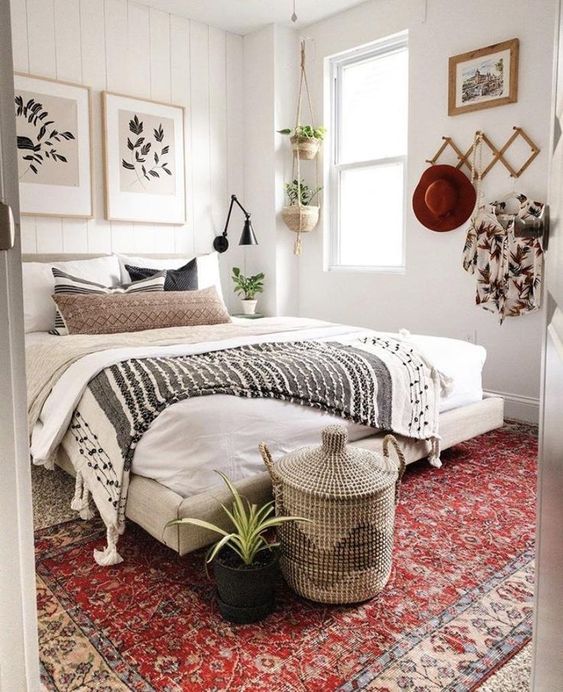 Mix Warming Colors with Cool Colors
Choosing a color scheme for your room is one of the most important things to consider when re-decorating. Colors have different meanings and emotions, so it's crucial that you choose the right ones for your space.
To help narrow down your choices, use a color wheel as a guide for the accents. The colors on this chart fall into either warm or cool categories: warm colors include red, orange, and yellow; cool colors include blue and green. Warm hues will make the room feel cozy while cool hues will give off a fresh vibe (which can be great if you live in a small space).
The best way to incorporate both types of shades is through accessories like rugs, curtains, cushions or throw pillows—you can use these items to add pops of color as opposed to having everything in one specific hue!
I will say, although you want to mix a lot of colors here, usually boho bedrooms have white walls or white bedding. So I would suggest starting off with a white canvas and then adding in some other colors for your bohemian style bedroom.
Go for Large, Vibrant Rugs.
Rugs are a great way to add color, pattern and texture to any room. They also help create warmth in a space by adding softness underfoot. And if you want to make your bed the focal point of your bedroom, you'll need a rug that's big enough to do the job!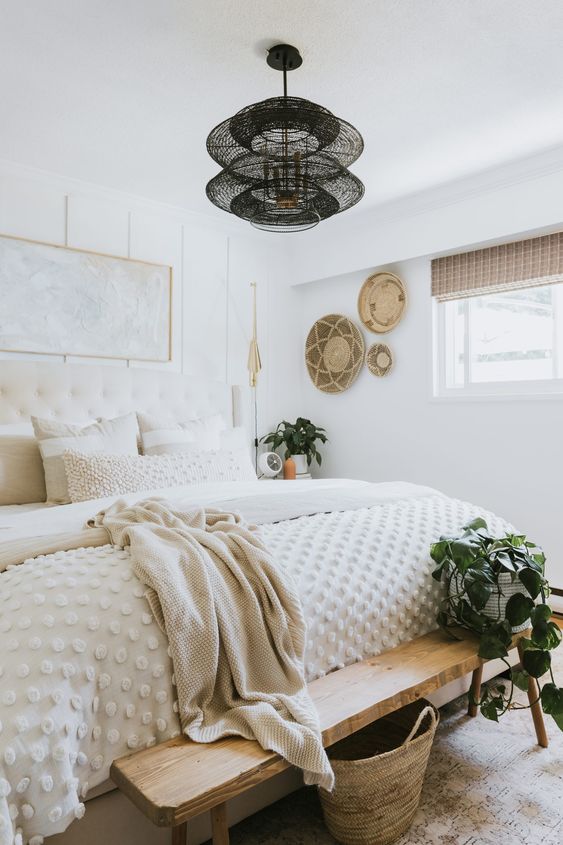 Hang Potted Plants
Bringing nature indoors is a great way to bring the outside in. Potted plants are easy to care for, they're beautiful, and they can purify the air. If you find that having plants around makes you feel more relaxed and helps you sleep better (which it will), then potted plants are a must!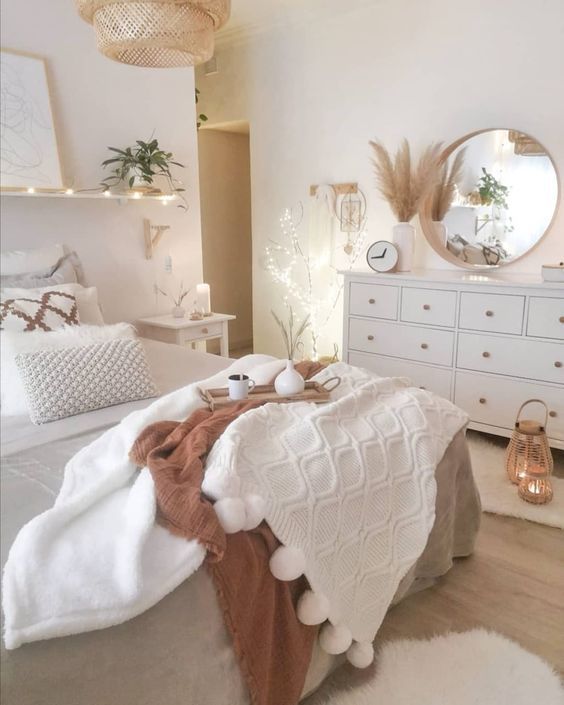 Layering lots of Textiles and Patterns
Don't be afraid to layer lots of different textiles and patterns. You can use different materials, such as wood, cotton, silk and wool; different textures, like smooth to rough or shiny to matte; and different colors ranging from bright to dark.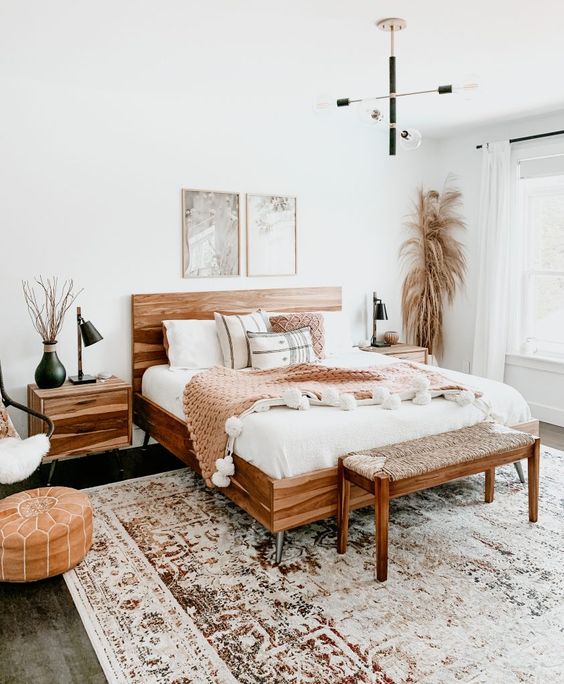 Include plenty of built-in storage in keeping with the style
Built-in storage is a great way to make a room look more finished, as well as a great way to add character and use space in an efficient manner. This can be done by incorporating shelves or cabinets into the design of your bed frame or headboard, or by installing wall racks and hooks behind doors instead of using them as regular closets.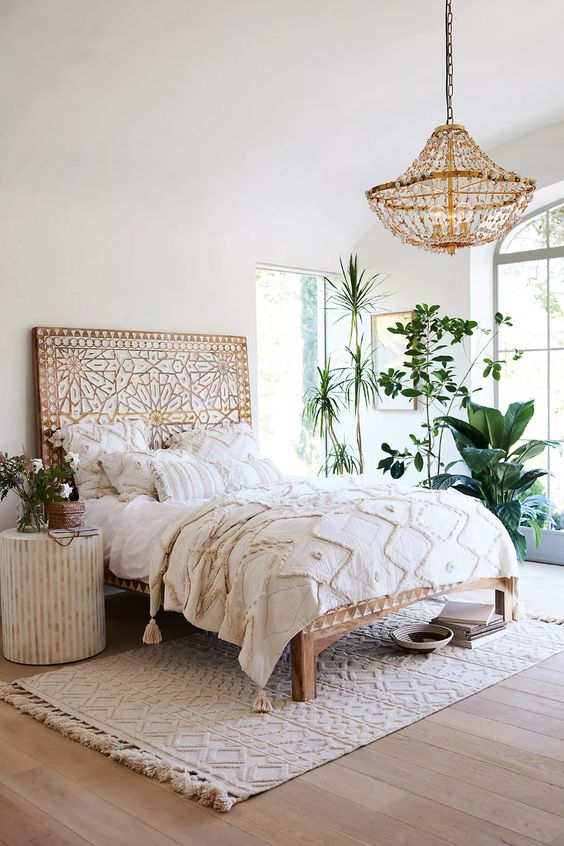 Look for Mismatched Furniture pieces
When incorporating different furniture styles, colors and textures into your boho bedroom, it's important to try to avoid symmetry. The goal is to create a look that feels relaxed, unplanned and natural—so don't be afraid to mix and match different woods, metals or fabrics. You can also use mismatched colors as long as they're all in the same color family (like blues or greens).
Finally, if you want your bedroom decor to have an especially bohemian vibe then try using glass rather than wood for table tops. Glass will add lightness to the room while adding beautiful texture with its reflective surface!
I will add here that we do see a lot of rattan furniture in the bohemian style bedrooms, so consider a rattan headboard or rattan chair!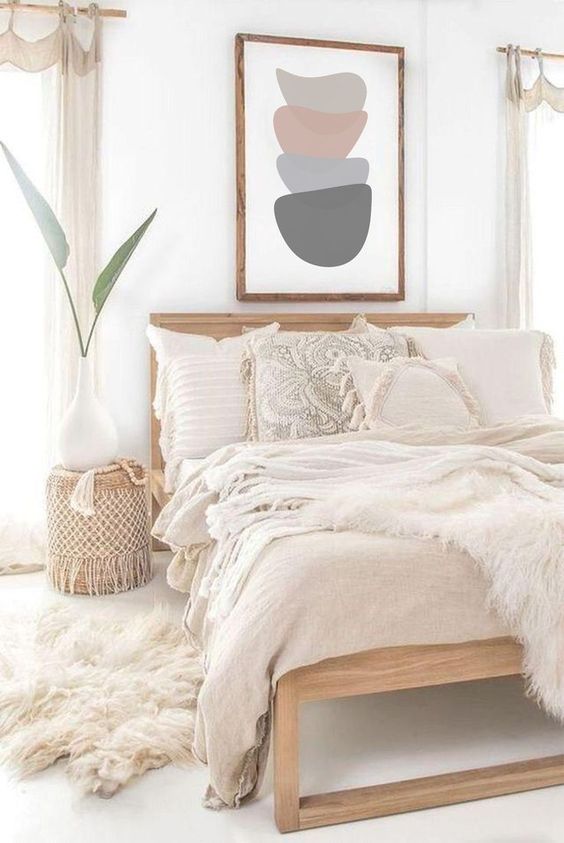 Macrame Wall Hanging
Use a macrame wall hanging to add a bohemian touch to your room. The trick is to hang the macrame piece in a place where it will be visible from the bed and where you can see it without having to get up. Hang it on the wall or even on the ceiling, if that's what you're into!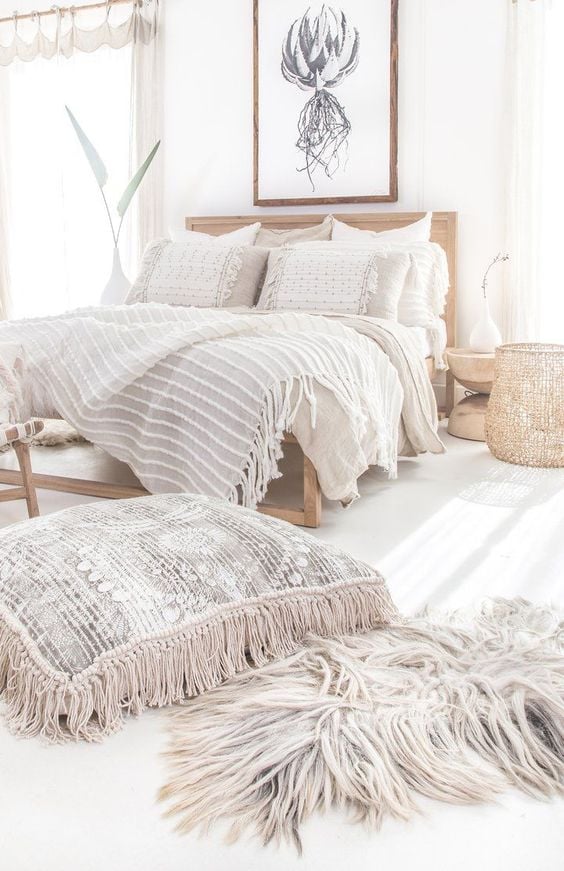 Experiment with exposed brick, distressed or painted wooden walls
Try to keep the walls neutral so that the brick can be the star of the show.
If you want your brick to stand out, use a light color.
Or try using a medium or dark color for a more subtle effect.
These tips will help you decorate an adorably boho room!
If you're looking to live the boho life in your own home, here are some tips and tricks that'll help you create an adorably booky bedroom.
Use a variety of textures. From wood to stone to fabric, mix bold colors with soft neutrals to create a cozy room that's both comfortable and bold.
Add natural elements like wood or stone for an earthy look, or use greenery for a soothing effect if your space is small (and if you don't have pets).
Layer up on the layers! You can layer textiles by putting pillows on top of each other or by adding throw blankets onto your bedding—or even both at once! Just remember: less is more when it comes to keeping things fresh and clean-looking rather than cluttered with too many patterns competing against each other visually speaking."
I hope these bohemian bedroom ideas have given you some inspiration for your own home! If you're looking for more guides like this, check out our other articles here.
Obsessed with these cute boho bedrooms. I would love to see all your boho bedrooms!! Make sure you tag me in your posts at #nikkisplate
I hope you enjoyed this decor ideas post. Don't forget to check back regularly for more great home decor posts like this one!
If you liked this boho bedroom post, you will also love:
Cute Boho Bedroom Inspiration; Here are some neutral boho bedrooms ideas. Easy modern decor for a calm sleeping space!
BEST SELLERS