45 Best Bedroom Accent Walls on Pinterest; An accent wall is a great way to add personality to a room. Here are the top bedroom accent wall ideas trending on Pinterest!
If you're looking to make your bedroom feel fresh and new, an accent wall is the perfect way to do so. From wallpaper accents to paint colors, we've rounded up some of our favorite ideas for adding a little more personality into your space.
What Are Bedroom Accent Walls:
An accent wall is a trendy way to add color, style and character to your bedroom. Bedroom accent walls are a great way to add some extra personality to your room. They add contrast and visual interest to an otherwise plain and boring wall. They're also a great way to tie the rest of your room's design together, since they're usually the most colorful part of a room.
The most common use for an accent wall is to add color and dimension to a space that otherwise lacks it; if you have a white-walled bedroom and want it to feel more cozy, for example, consider painting one wall in a vibrant hue. This will make the space feel more welcoming by drawing the eye away from any less-than-favorable features in the room (like old furniture), and will draw attention to things like lamps or artwork that you've hung on other walls.
Another reason people tend to use bedroom accent walls is because they're cheaper than other types of decorating options. For example, if you want to redecorate your bedroom but don't have much money left over after paying rent, an accent wall is probably not going to break your budget while still making an impact on how well your space looks overall!
The use of an accent wall in a bedroom will help create a specific mood or atmosphere in the room. For example, if you want your room to feel more romantic or feminine, you could choose light colors such as pink and white with accents of reds and purples. If you want your room to feel more masculine, you may choose dark colors such as black and navy blue with accents of golds or yellows.
Best Bedroom Accent Walls Trending on Pinterest:
Wallpaper Accent Walls
Wallpaper accent walls are an easy way to add color, style and texture to your bedroom interior design. They're also a cost-effective way to update your home without breaking the bank. Wallpaper can be applied directly to the wall or over another surface like drywall, plywood and masonite.
As a DIY project that's fairly inexpensive and simple to install once you've purchased everything you need (and it won't take up too much of your time), wallpaper accents are one of my favorite ways to make bedrooms feel more personalized. My favorite is peel and stick wallpaper! Easy to install and easy to remove if you change your mind.
Wood Trim Work Bedroom Accent Walls
Trim work is a classic look, but it can be painted or stained in any color you like for a more modern feel. Trim paneling can be used on walls and ceilings, so don't forget to consider the ceiling when planning your new bedroom accent wall. This look is great for any room of the house, including bedrooms, bathrooms, and even living rooms!
You'll want to use paint with high-quality stains or paint for maximum saturation of color in your wood-paneled accent wall. If your budget allows it, opt for oil-based latex paints so that you get better coverage when applying multiple coats of paint without having to sand before each new layer goes on top of another one. It also works great on plywood or drywall.
Modern Geometric Statement Wall
The best bedroom accent walls are those that combine a bold pattern with color. The modern geometric statement wall is one of the most popular trend examples of this type of design, often seen in bedrooms and living rooms alike.
To create a modern geometric statement wall in your bedroom, start by painting either a white or light shade to contrast with your existing color scheme. A white wall is always a safe bet. Next, choose an eye-catching geometric pattern such as zigzags or stripes that will stand out when repeated across the wall surface. You can use painter's tape to help get straight lines. To finish off your design, add a different color using either a bold hue or multiple hues for added brightness.
Pop of Color with Paint
Use a bold color. If you're looking to add some excitement, why not use an electric shade wall color? A bright or pastel shade will certainly make an impact in your room and make it feel more alive.
Use a neutral color that contrasts with the rest of your room. This can be a great way to keep things simple while adding interest; just be sure that the two shades don't clash!
Use a bright or pastel shade as an accent wall. This is especially good if you have neutral walls elsewhere in your home—it adds contrast without taking away from them or feeling too much like they're competing with each other! I would suggest using a matte paint if the accent wall is large! You could even create fun headboard walls with a pop of color on your bedroom wall. See inspiration below!!
Wood Paneling Bedroom Feature Wall
Wood panelling is a classic choice for bedroom accent walls. It's a great way to add texture, warmth, dimension and interest to your space, and it allows you to express your personality. There are so many different types of wood panelling available these days that there's no need to spend hours searching for the perfect piece—you're bound to find one that matches your style and taste!
If you're thinking about painting over an existing wall in your bedroom, consider using oak or pine panelling instead of just applying paint directly onto the surface. Painting over wood will help keep costs down while also giving you more versatility with color choices since they'll be able to blend in nicely with any decorating scheme. You can even create a feature wall by covering most of one side with this material while leaving other areas free from any additional layerings. Wood accent walls are a trend that won't be leaving any time soon!
Chevron Stripe Wall
The chevron stripe is a classic accent wall design that has been around for years. We see a lot of this pattern design in teen bedrooms! While the original version was created with stencils, it's possible to paint a chevron stripe by hand as well. Here are some tips for doing so:
Use an old paint roller instead of buying a new one. It'll save you money and help protect your sanity when working on large projects like this one!
Pour the paint into your tray and roll out onto the wall in long stripes, going over each line several times. This will make sure they're completely covered with color before moving on to the next step (so don't worry about getting perfect lines). You can use any type of brush or roller; just make sure that whatever tool you choose has enough firmness so that it doesn't leave gaps between each line when applying them together at once without overlapping too much into adjacent spaces!
Exposed Faux Brick Accent walls
The exposed faux brick accent wall is all the rage in home decor, and for good reason. It has a modern feel that adds interest to any room. The color you choose will help define your space and create an atmosphere for you to relax in or enjoy entertaining guests. A dark color creates a cozy feeling, while lighter colors can make the room feel brighter and bigger than it actually is!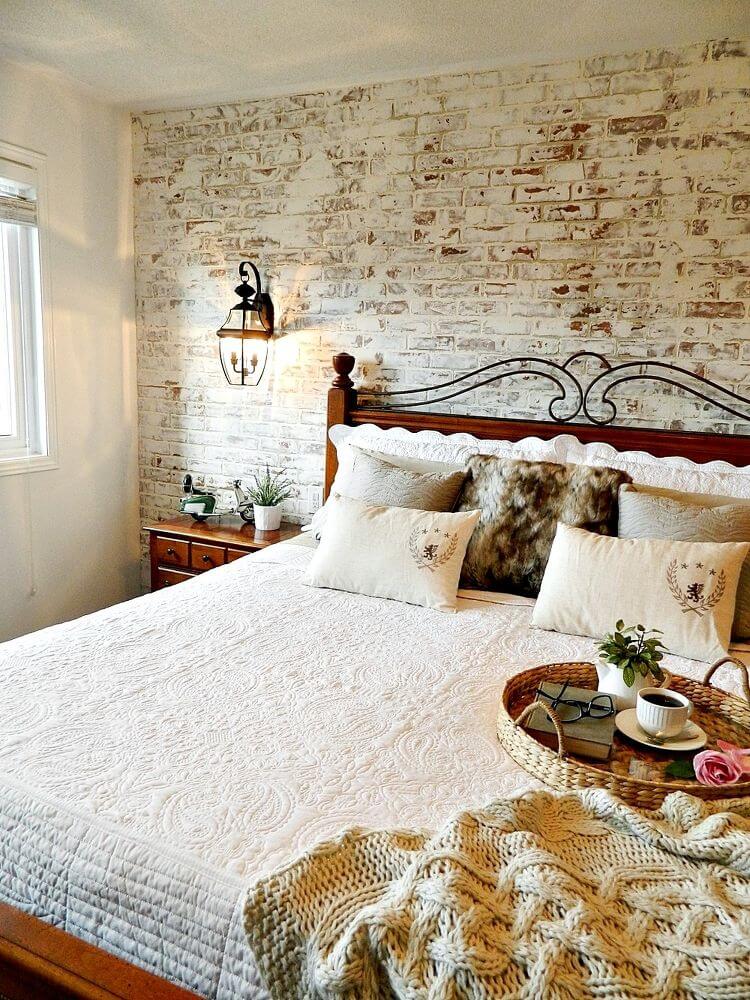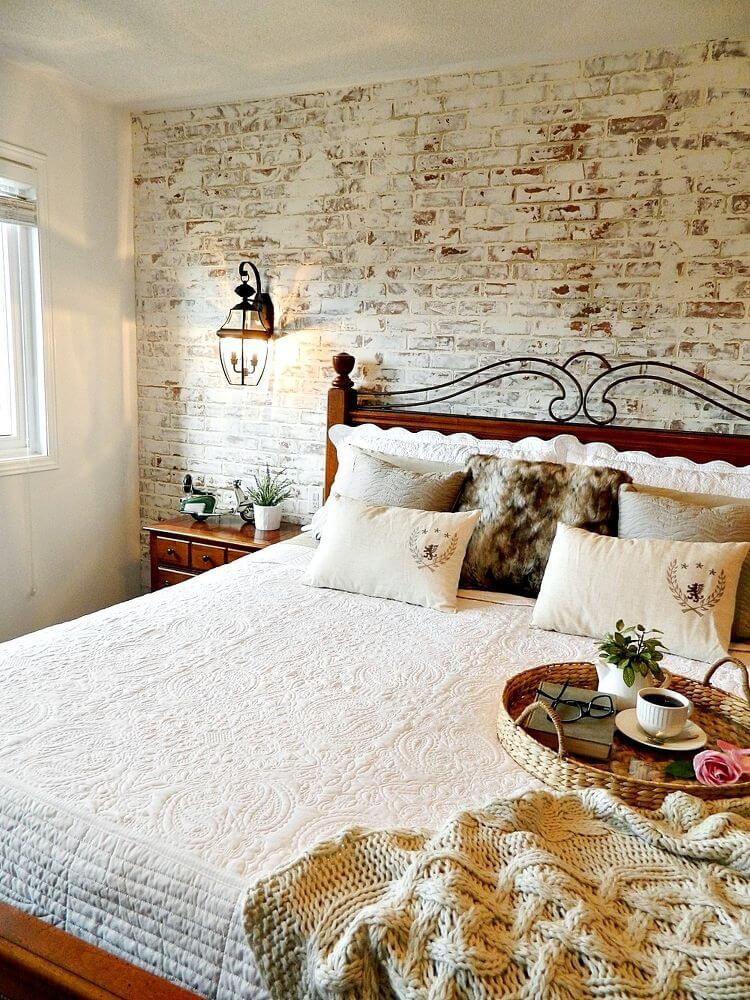 Shiplap Bedroom Accent Wall
Shiplap accent wall is a great way to add interest to your bedroom. Shiplap is a type of wood paneling that is used as an exterior siding or interior wall treatment. It can be found in older homes, and it's often associated with the rustic look. It can be painted or stained, and can be used in the master bedroom or kids' room.
Shiplap has been used for centuries, but it's become more popular in recent years because it can be found in many different styles and colors, which means you can use it to add personality to your home without having to worry about painting over it every few years. You will see a lot of shiplap in modern farmhouse design! And since it's so easy to install, shiplap has become popular in DIY projects.
Shiplap is usually made out of pine or cedar, but it can be made out of any type of wood. Shiplap is installed horizontally along the top edge of an interior wall; it's typically used to cover up imperfections in plaster or drywall, which are often visible at the top edge of an interior wall because there tends to be more space there for things like cracks and creaks to show through than there would be elsewhere in an interior room. Shiplap is usually made of pine boards nailed together at 90 degrees to each other, creating a grid that looks like this:
Chalkboard Accent Wall in Bedrooms
This is a great way to add a little personality to your bedroom. The best part about this accent wall is that you can use it for anything! You could write down what needs to be done around the room and cross things off as you're doing them, or you could use it as a space for inspirational quotes or cute drawings from your kids.
You can use a chalkboard wall in any room, but it works especially well in bedrooms because it gives you the chance to leave messages for your partner, create fun designs on the wall, and make sure everyone knows what you're going out of the house wearing haha. The only downside? It's not very easy to clean up after.
There are several ways you can go about getting the look of a chalkboard accent wall in your bedroom. It's really up to you how much work you want to put into it.
The first thing you'll need is some kind of chalkboard paint. There are lots of options available online—just search "chalkboard paint" and see what comes up! You'll also want an acrylic sealer if you don't already have one on hand; this will protect the paint from chipping or fading over time (and if it gets messed up by little hands or paws). If you don't have any sealer handy, just use some clear nail polish instead!
Peel and Stick Wood Panels for Accent Walls
Peel and stick wood paneling is an easy-to-install option for creating a unique accent wall. With these peel and stick wood panels, you can customize the look of your walls by choosing from a variety of styles and finishes. The best part about this method is that the peel and stick wood panels can be easily removed and repositioned later on if you're not satisfied with the design or color! Peel and stick wood paneling can be used in any room—from your bedroom to the bathroom or living room—so feel free to go wild with your creativity!
Ombre Bedroom Accent Wall
An ombre wall is a bedazzling way to add color and style to any bedroom. The effect it creates, where the darkest shade gradually transitions into a lighter shade, makes your eyes look upward and encourage you to think about the beauty of nature. Its usually seen in kids rooms!
To create an ombre wall, you can use tape on the wall or start with one color at the bottom and work your way up in layers. If you're not sure how many colors will work for your space, make small samples first by using some water-based paint for each color and layering them on top of each other until they match what you see in mind's eye.
Painting an accent wall is easy as long as there are no obstacles like pipes behind it (consider hiring a professional if so) or walls that are not level with other walls in the room—you don't want those things showing through! You also want your paintbrush thin enough so that it won't leave brush strokes when applied evenly across all areas but thick enough so that no lines show between layers when drying time passes between each layer applied (which should take anywhere from 24 hours depending upon humidity).
Wall Mural
Wall murals are a great way to add some visual interest to your home. They can be used as accent walls in bedrooms, living rooms, and even kitchens! If you're looking for a fun and unique way to decorate your interior space, this may be the way to go.
Wall murals are a great way to add color and pattern to a room. They're quick and easy to install, so you can create your own personalized design in the comfort of your home. The best place to buy wall murals in definitely on Etsy!
While it may seem like a daunting idea, wall murals are actually very easy to remove if you don't like them anymore or want something different. If you're trying to paint over existing wallpaper or paint, this is especially helpful!
Herringbone Modern Accent Wall
Are you looking for a classic look with a modern twist? If so, the herringbone pattern is the one for you! The alternating lines on either side of this design are reminiscent of a brick wall and will add visual interest to your bedroom. Although it's a good idea to avoid using wallpaper in small spaces like bathrooms or hallways, it's perfectly acceptable in larger areas such as bedrooms. As far as painting goes, if you have access to an electric sander—that's essentially how they get those beautiful smooth finishes on walls—then we recommend choosing paint over wallpaper if possible.
If there was ever an accent wall that could be described by its name alone (or should I say "herringbone"?), this would be it! This style works best when paired with simple furnishings and minimalistic decor items so all eyes are drawn upward toward its intricate design instead of being distracted by other elements around them like lamps or nightstand lamps (which are also great ways to add some light!). This also makes sense since most people tend not stick any furniture directly beneath their windowsills anyway unless they're trying something new!
Peel and Stick Decals to Accent Your Wall
Peel and stick decals are a great way to add an accent wall without the hassle of painting. They're easy to apply, remove, and come in so many different styles that you can customize your space for any occasion or style. You can use them on walls, furniture or even accessories like mirrors or lamps!
Large Gallery Wall
The Large Gallery Wall in the bedroom is a great way to add some visual interest and dimension to your space. A gallery wall is when you hang multiple frames side-by-side on one wall, rather than having each individual frame hanging on its own wall. It's a great way to add visual interest and depth to any space. You can use picture frames or artwork to add elegance to your bedroom design!
Quotes on Feature Wall
Quotes are a great way to draw your eye to any feature wall! They can be used as a focal point or just as an interesting statement that adds some personality to your room. They're also an excellent way to make sure everyone who walks into the room knows exactly how you feel about your life. The are a wall decor piece that truly sets a vibe in the bedroom!
An accent wall can give your bedroom a new look and feel.
Bedrooms are the most private room in the house. It is where we go to rest and rejuvenate both our minds and bodies. Bedrooms are also where we spend a lot of time being alone with ourselves or with our partner, so they should feel comfortable and inviting enough to do so.
An accent wall can give your bedroom a new look and feel without changing the overall appearance of the room too drastically. The best part about accent walls is that they can be painted or wallpaped in any color you like! You may want an accent wall that's bold or bright, but don't want your entire room to be changed by painting it that color; an accent wall will allow you to paint one portion of your bedroom this hue while keeping other areas neutral (or even white).
Accent walls are also great for adding texture to your space because they can be made from different materials like wood, metal or fabric which all have their own unique look and feel when combined together.
The bedroom is the perfect place to get creative with your accent wall. You can use patterns and colors that are fun and interesting or go bold with a large statement piece. You can make it into a focal point of the room by making it as big as possible so that every time you look at it, it will bring a smile to your face! ... or if you want to make a bold statement, why not design the rest of the room too with accent walls!
I hope you liked this post all about best bedroom accent walls on Pinterest and found some bedroom ideas for your next project! Now time to decorate a bedroom like a pro!
Until next time,
45 Best Bedroom Accent Walls on Pinterest; An accent wall is a great way to add personality to a room. Here are the top bedroom accent wall ideas trending on Pinterest!