Elliott's White Vintage Crib; White walls, cursive name sign on wall, wainscotting, white baby girl room.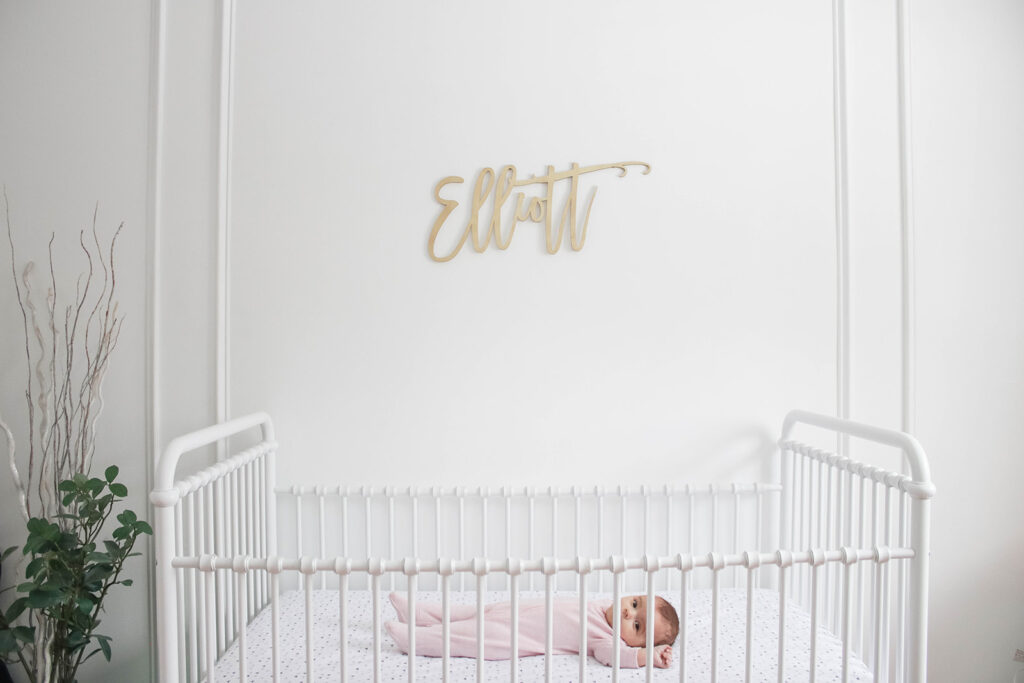 Disclaimer: this post may contain affiliate links, and every purchase made through these links will give me a small commission (at absolutely no extra cost for you!) AS AN AMAZON ASSOCIATE AND REWARDSTYLE MEMBER, I EARN FROM QUALIFYING PURCHASES. See Privacy Policy for additional info.
Hi beauties,
It is taking me a while to get Elliott's nursery completed, but we are getting there! This is the first post in my reveal for the nursery. I plan on doing a couple smaller posts before I do a main post.
With that being said, I wanted to highlight her crib area of the nursery because I am absolutely OBSESSED with how it turned out. Crisp white walls with large panel wainscotting with a gorgeous cursive name sign hanging about a vintage styled white iron bed.. IN LOVE.
Elliott is now two months old. We are in no rush to move her out of our room into her crib. Right now she is sleeping in a bassinet beside our bed.. which is probably why we are taking our time completing her nursery.
We are pretty much done now, we just have to hang a few pictures on the wall and refinish the rocking chair.. then we are complete!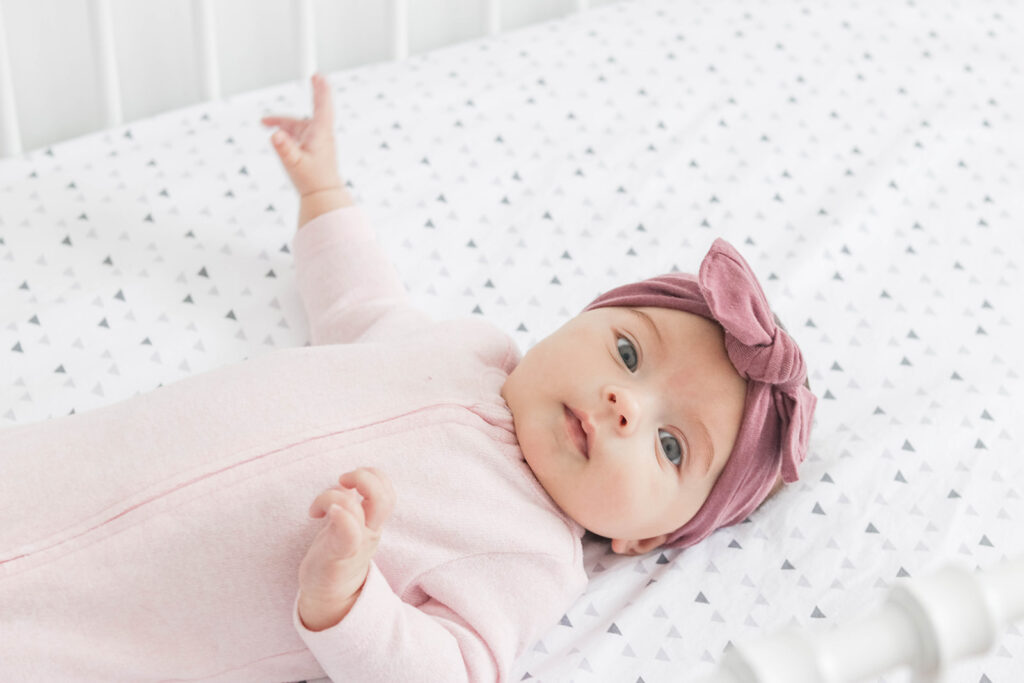 What I love most about this nursery is how grown up it is. It is a room that is pretty for a little girl but it is still a room she can grow into as she gets older. And I think that is so important when planning a room. You don't want to have to redo a room twice!
I also realized that at this age.. she doesn't really care what her nursery looks like.. the nursery is more for the parents then the baby. Right? So I made it the way I pictured a pretty little girls room.
I also LOVE everything white and bright when it comes to home decor. Making the white walls really gives the nursery a blank canvas to add any details you want.
We did the wainscotting just along this main wall to give some interest and texture. I love the idea of a feature wall in a room so this was the perfect touch to this long wall. I was debating between this wainscotting and a shiplap wall.
But I came to realize that everything I was leaning towards was very feminine in terms of accents and decor... and to me the wainscotting was something that added to that feminine feel.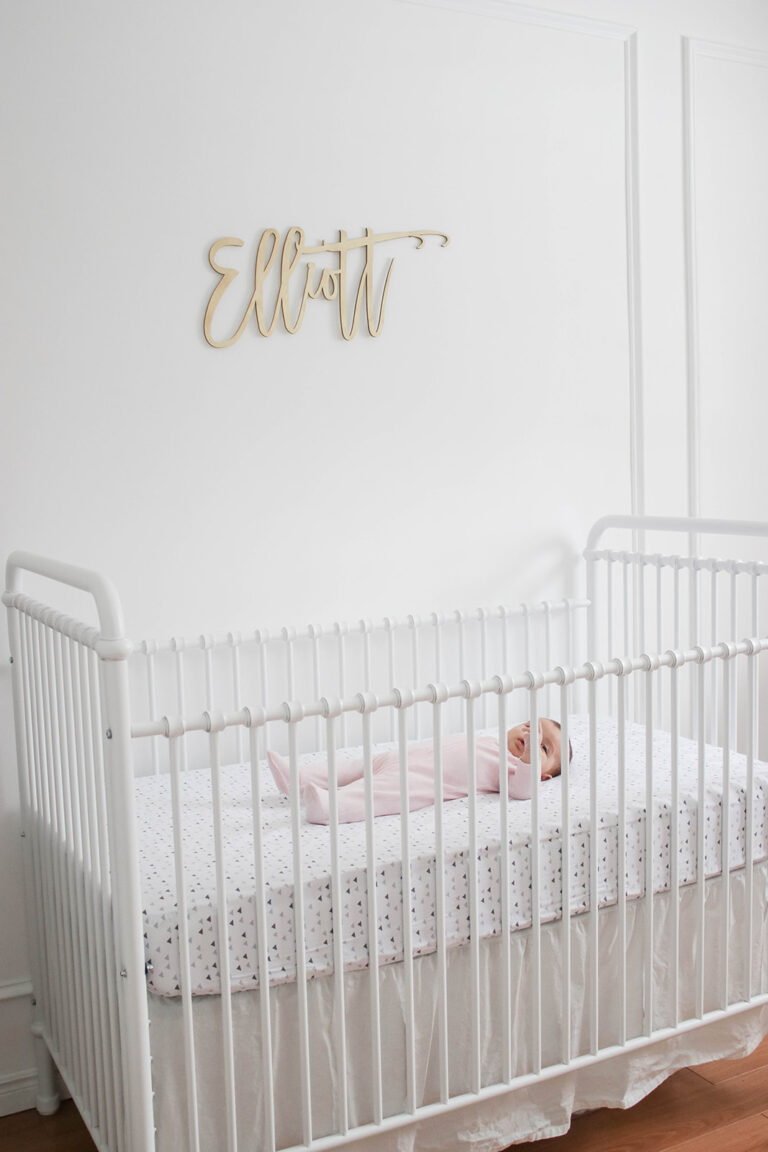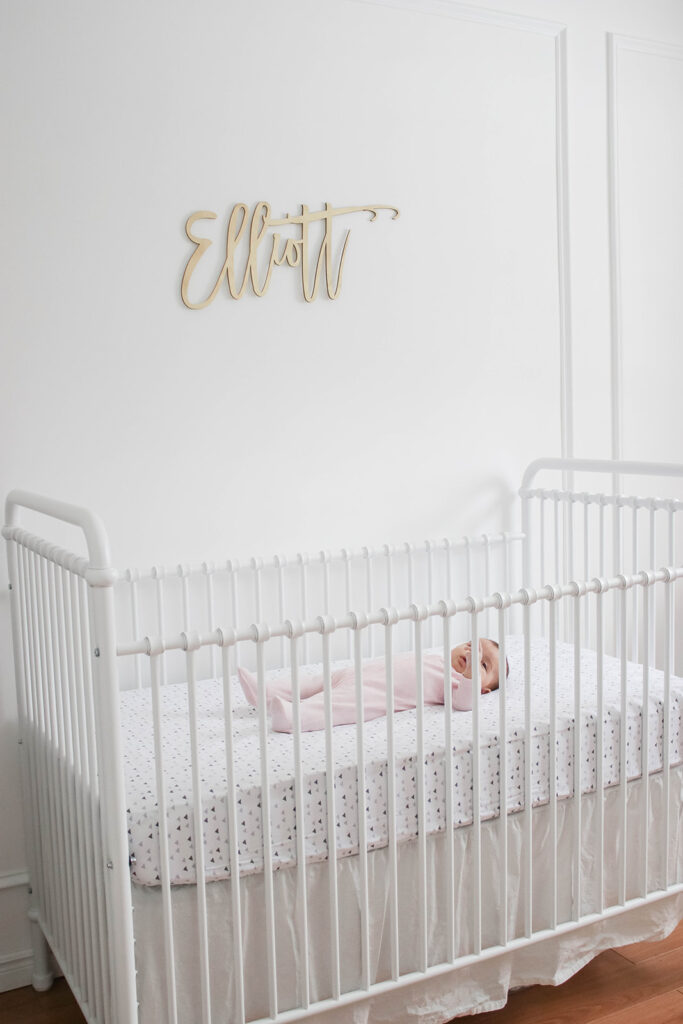 The name sign is by far my favourite part of the entire nursery. I LOVE it! We ordered it on Etsy from the shop SuppliesCA. It comes in a light wood colour, but we spray painted it gold to match her other accents.
We secured it on the wall with two small gold nails. We will probably have to secure it better once she gets a little older... Some kind of a strong two way tape?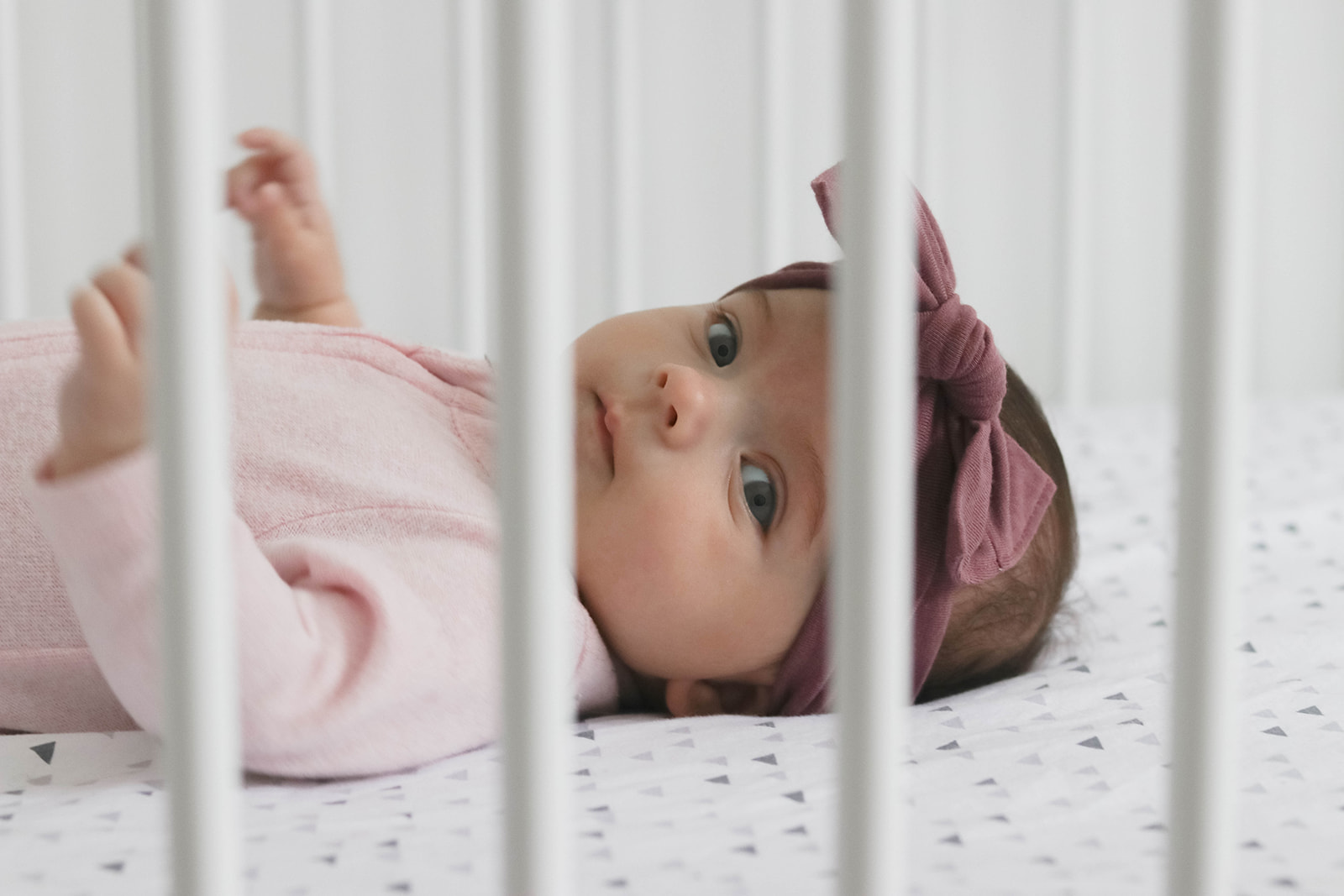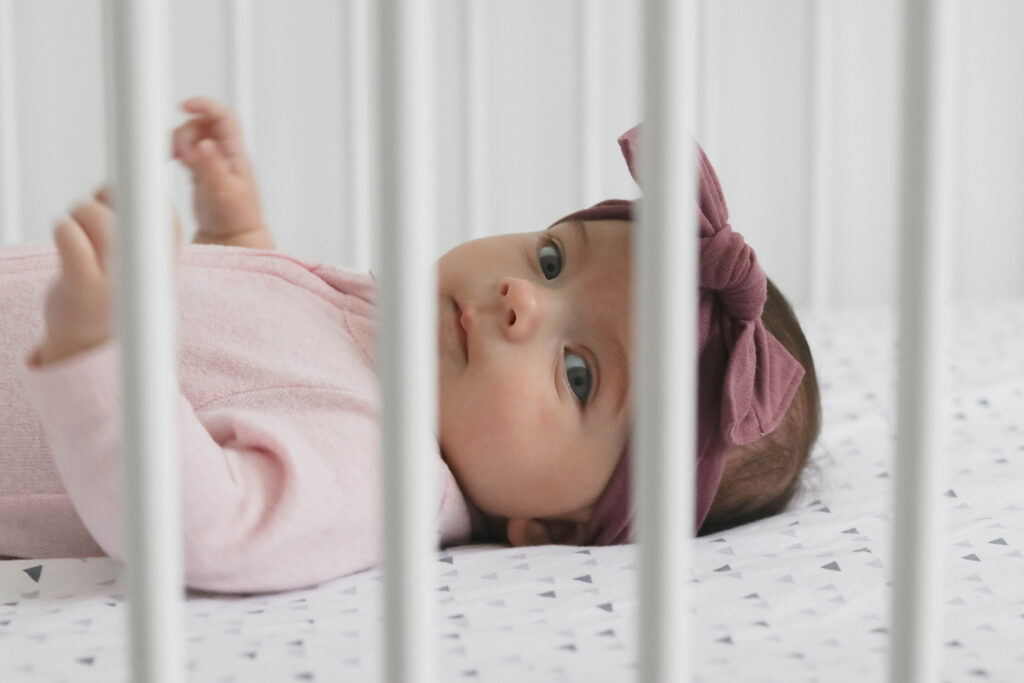 The crib is from Wayfair and I love it! It has a look that makes it look aged. The vintage feels are real! It is also super sturdy which gives any parent peace of mind.
It is a 3 in 1 convertible crib so she will have it right up until she is a toddle which is great! I love being able to use one item for several years! Unless of course we have another girl.. we will probably just reuse this crib as the new baby's bed and get Elliott something different.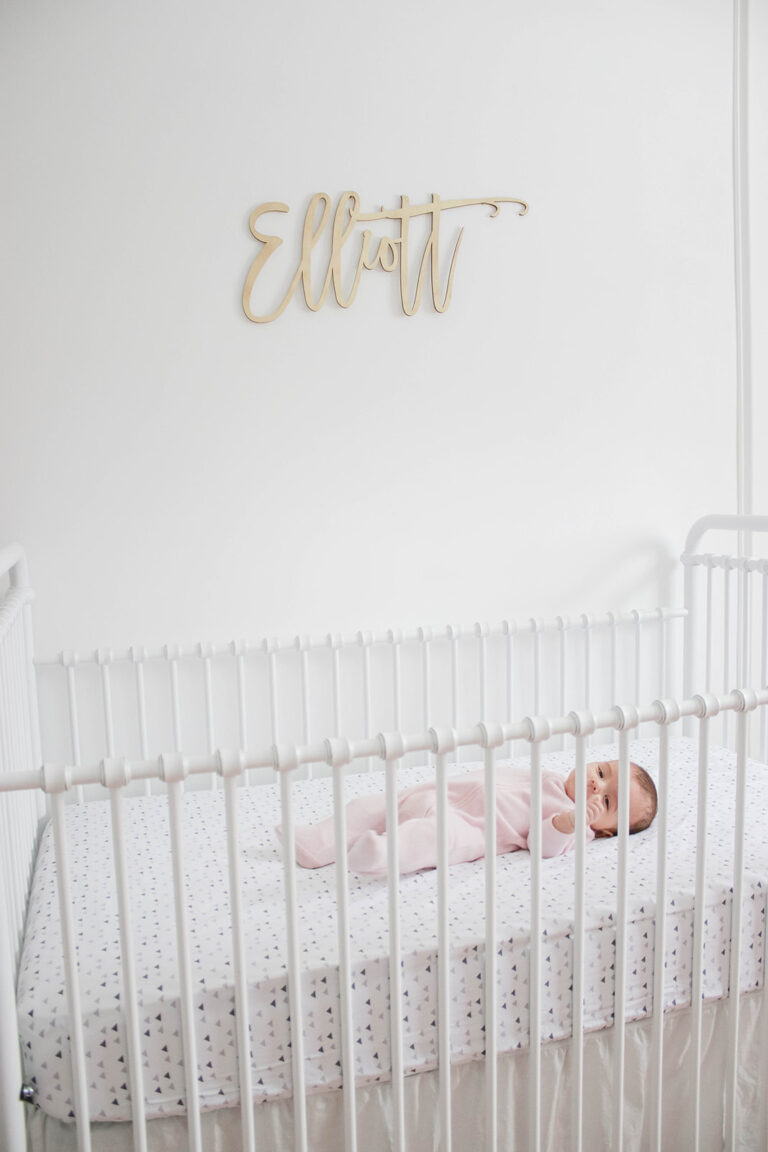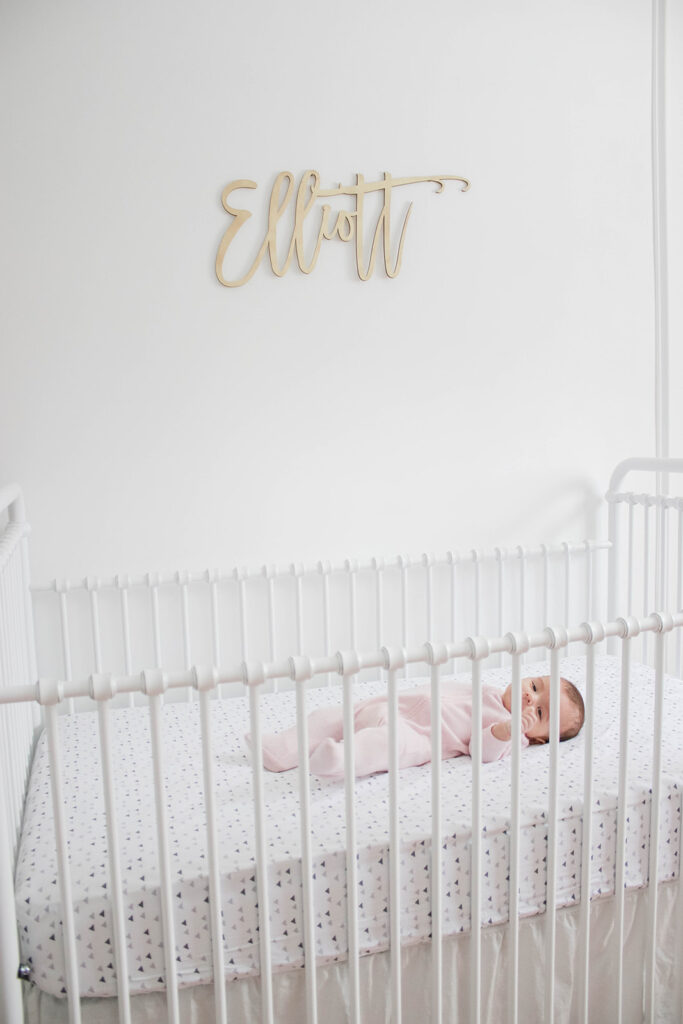 I can't seem to find a link to the fitted sheet but I bought it a while back. I made a lot of purchases before we found out Elliott was a girl so many of my early buys were neutrals. I also have two other crib sheets that have more pinks in them but decided to start with this one for now.
We also have a waterproof cover under the fitted sheet which will be super handy once she starts sleeping in this bed.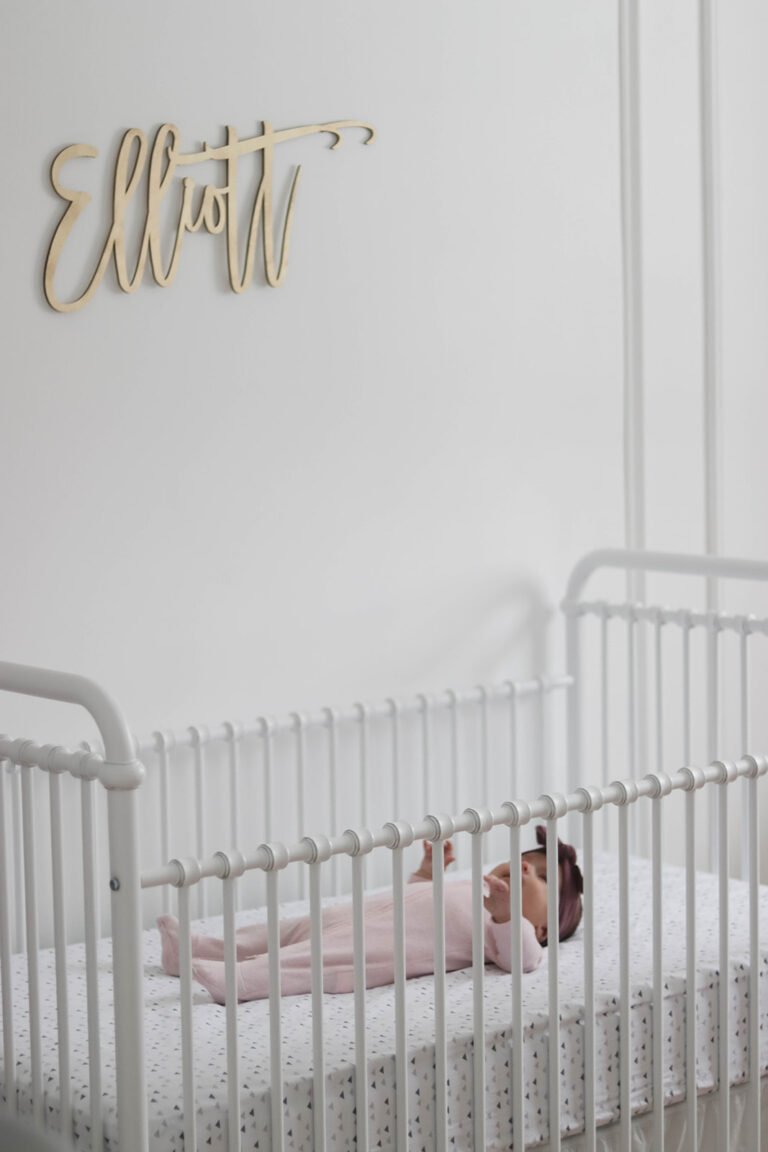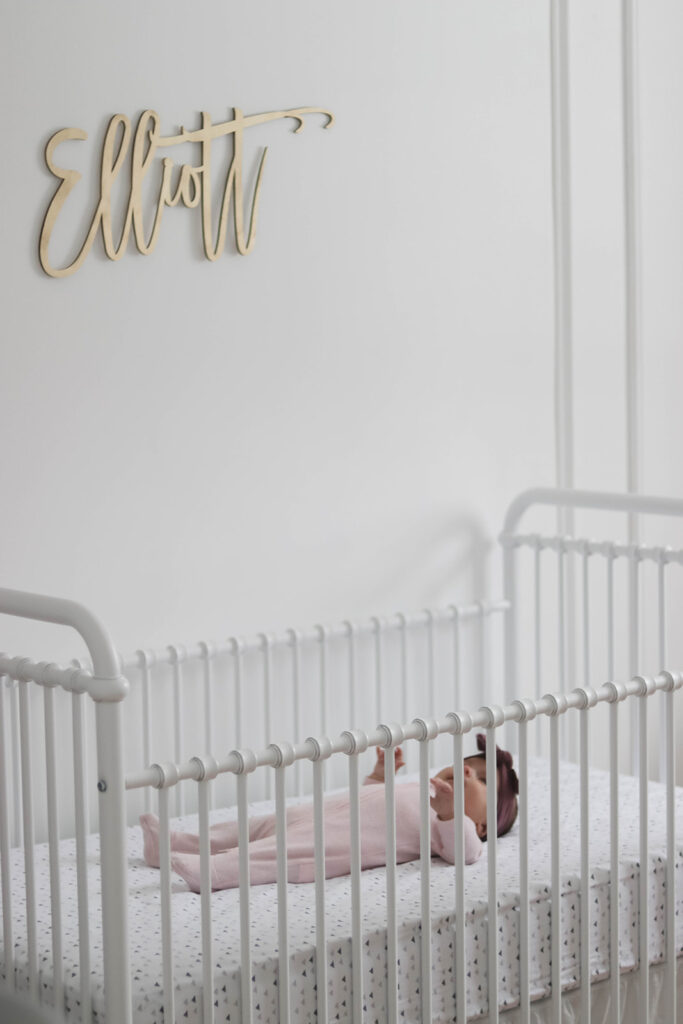 The crib skirt is actually from iKEA! I really wanted a plane Jane white linen crib skirt and I found it for like eight bucks at iKEA! SCORE. It does the trick. I do wish it was a little bit longer though.. it doesn't touch the ground so I have to make sure the things that I have stored under the crib are pushed to the back or they show... I realized this after taking a few pictures and seeing all the Huggies boxes .. opps!
Here is her white vintage crib set up list:
And there you have it folks! That is basically everything about her white vintage crib set up.
I cant wait to post the rest of her nursery on the blog! Don't forget to subscribe to my blog if you want to see more updates on her nursery.

Elliott's White Vintage Crib; White walls, cursive name sign on wall, wainscotting, white baby girl room.
BEST SELLERS