How to Decorate a Bedroom; A few simple tips can help anyone create an elegant, stylish bed­room. Learn how to create the perfect bed­room here.
Disclaimer: this post may contain affiliate links, and every purchase made through these links will give me a small commission (at absolutely no extra cost for you!) AS AN AMAZON ASSOCIATE AND REWARDSTYLE MEMBER, I EARN FROM QUALIFYING PURCHASES. See Privacy Policy for additional info.
Hi Beauties!!
A few simple tips can help anyone create an elegant, stylish bed­room. Decorating a bed­room doesn't have to be expensive. This collection of bedroom decorating ideas and tips will help you create a room that is not only gorgeous but also comfortable and inviting. How to decorate a bedroom made easy here!
A bedroom should be a place of relaxation, calm and rejuvenation. The right colors, lighting and furniture along with some small decorative details will create that kind of room. The right bedroom decor can positively change any room to a serene location to unwind at the end of the day
The bedroom is typically considered one of the most important parts of the house for individuals. Whether the bedroom is big or small and no matter the style, these ideas will inspire anyone who wants to decorate a bedroom.
In this post you will learn how to create the perfect bed­room. I will show you how to create your prefect sanctuary that just feels right for YOU. The key to any decorating is understand YOUR style and what you want out of a room. So lets jump into this list on how to decorate a bedroom now shall we!?
<<DIsclaimer: None of these photos belong to me, please click photo or link provided to be redirected to the owners. Thank you. >>
This post is all about how to decorate a bedroom!
Here is How to Decorate a Bedroom Like a Pro:
Achieve Your Ideal Overall Feel
To begin, ask yourself: What do I want my bedroom to feel like?
Do you want it to feel calm? Cozy? Energizing? Private? Romantic? Serene? Do you want it to have a little bit of everything, or do you have a specific vibe in mind that you'd like it to project absolutely every time you walk through the door (or roll out of bed)?
Whether it is your master bedroom, main bedroom, or spare bedroom, you want the bedroom design to suit you and achieve the overall vibe you are looking for.
Once you know what kind of feeling you're after, think about the three key components that will help turn your bedroom into a space where those vibes can thrive: your walls and floors, furniture pieces and decor, plus bedding and storage.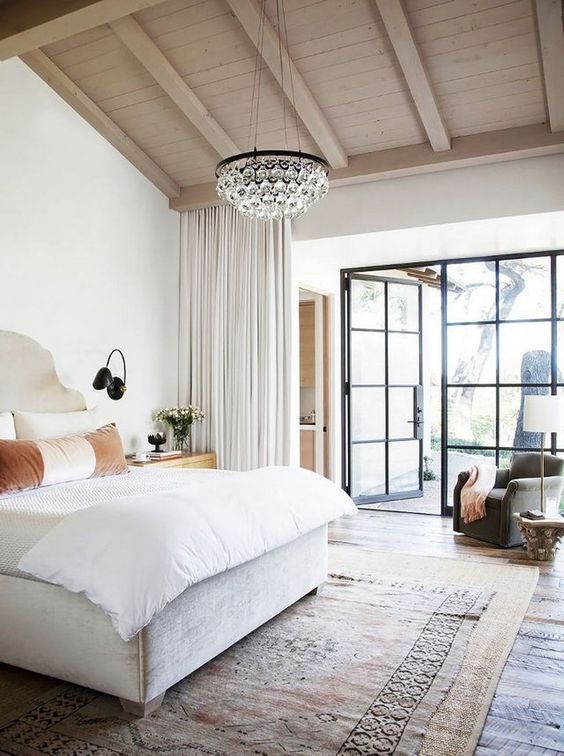 Make Your Bedroom Bright and Airy
If you want to give off the impression of brightness, there are a few things you can do. Avoid dark colors, especially for your walls. If the light is too dim and your room is painted in dark colors hues, it will feel smaller and more cramped than it actually is. Instead, use bright colors to make the space feel lively. You can even try adding light wallpaper!
Another way to make a room brighter is by using mirrors; they reflect any light present in a room and make it seem larger than it truly is. So maybe consider adding in a mirror above a dresser or a floor mirror near your closet.
Lastly, try to let in as much natural light as possible during the day by opening up curtains or blinds—it will also help with ventilation if you keep them open at night as well! Natural light also adds warmth to the room unintentionally.
Additionally, keeping your bedroom clean will also help in giving off an impression of brightness because no one likes being in an untidy messy space. Reducing clutter around your room will also help keep dust levels low which might otherwise become an issue if there are objects lying around gathering dust on them! Check out this list of Amazon organizers to keep any room in your home SUPER organizers and pretty!
Fall in Love with Your Bed
Pick the right size bed. Your bedroom should be large enough to fit a king-sized bed and still have room to walk around comfortably, but your small bedroom might only be able to fit a double or queen size bed. Measure your bedroom out carefully before deciding on what size bed to purchase.
Pick a beautiful bed. Many will say that the bed should be the center of attention in a bedroom and I couldn't agree more! Choose a bed, bed frame or headboard that will be the center focus of the room!
Pick the right mattress. There are many different types of mattresses on the market, from memory foam and latex foam to inner spring mattresses and adjustable air beds. Keep in mind your budget (the more you spend, the better quality it will be) and also how supportive you'd like it to feel (for example, if you want a softer mattress that molds around your body then choose a memory foam type).
Pick the right bed base. Your choice of bed base depends mainly on personal preference - whether you prefer an extra layer between yourself and the floor for example - but some bases can also provide extra storage space under them if needed so this is another factor when choosing one over another type of base such as slatting versus solid timber etcetera
Check out this guide on how to style a queen bed!
Add in Some Greenery
Adding just a few plants to your space can make all the difference. Luckily, there are many bedroom-friendly indoor options that you can choose from to test out your green thumb—most aren't too difficult to care for and can be a great way to add color, texture, and health benefits to your bedroom. Here are some key tips on how to choose and care for them (and why they're worth it).
When you're choosing which plants work best for your room's conditions, think about light availability (bright, indirect light is ideal), humidity levels (if they've been low lately, look at misting those leaves more often or adding a humidifier), and temperature (ferns tend to like warmer rooms). While some plants may require more attention than others depending on their needs, many are easy enough for beginners. If you're looking for an easy-to-care-for plant with major health benefits, consider trying one of these options:
Spider Plant: This fast-growing plant has long been revered for air purification qualities by NASA scientists. It's also available in many varieties so you can find something that fits the vibe of your space.
Peace Lily: These beautiful flowers have been shown to purify the air of formaldehyde and benzene—a pollutant common in cleaning products—by absorbing harmful chemicals through their leaves. Plus, peace lilies are known to be one of the most effective air purifying plants out there!
Aloe Vera: Another NASA study showed that this one is particularly good at removing benzene from the air while also improving moisture levels in dryer rooms because it requires little watering. It also comes with a bonus healing effect as its gel is well known over centuries as a folk remedy treatment
Add in Beautiful Accessories and Linens
The bedroom is our preferred refuge, and the place where we come together to relax before bed or spend some quality time with each other. Over the years we've been selecting our bedroom décor with one thing in mind: making it comfortable, attractive and stylish.
You might wonder how shopping for linens, pillows and accessories can relate to making your bedroom comfortable, attractive and stylish. Well, think about all the work that goes into choosing a set of sheets for a single night; how much thought you put into matching your pillows with your duvet; or how excited you get when purchasing fine linens that you know will be used on a weekly basis.
Try adding in an antique or two will add beautiful interest to any bedroom. Keep the color palette neutral by choosing neutral colors such as beiges, cream, white, and light grey.
The qualities of comfort, attractiveness and style go hand in hand. I love cotton or linen bedding that are any where above 500 thread count! Adding in throw blankets, area rugs, throw pillows and a chunky blanket to my bed to add some extra linens and texture. Check out some of this inspiration below!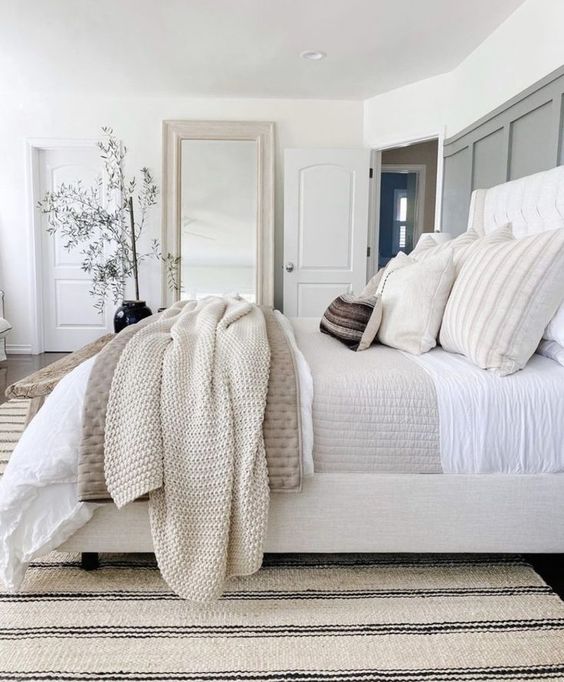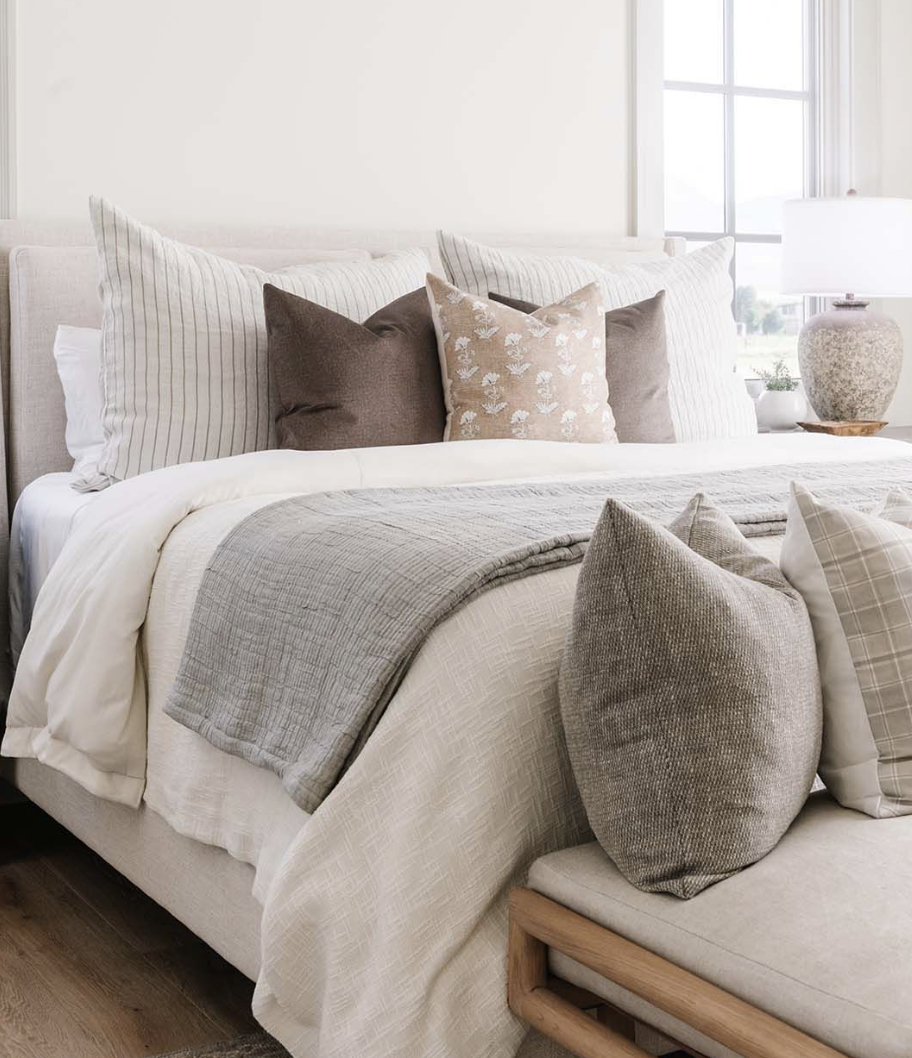 Don't Forget About the Lighting
Lighting is the most important factor in setting a bedroom's mood. Even if you love your bed, your dresser, and even that weird statue of a dog playing poker with some rats, there's no way around it: if your bedroom lighting sucks, then so does your room.
I'm not saying that you need to turn off all the harsh overhead lights and get out the scented candles (though go for it if you like!). I'm just saying that taking a few minutes to think about how light affects the ambience of your room can really pay off. Here are a few tips to get you started:
Choose bedside lamps that make you happy! Do you want something classy? Go for smooth edges and neutral tones. Do you want something quirkier? Opt for interesting shapes or vibrant colors. Adding in a table lamp to your bedside table is functional and acts as a reading light at night
Think about what kind of lightbulbs they take—is it easy to find replacement bulbs in different strengths or colors? Dim lighting will set a romantic mood; bright white light works well in craft rooms or offices.
If possible, avoid overhead lighting for bedrooms—old-school fluorescent lights can cast unflattering shadows on faces; ceiling fans look great during summertime but are pretty unattractive when there's no breeze coming from them; and exposed bulbs don't do much for anyone's look (unless Edward Cullen is coming over). Choose light fixtures with caution!
A fun lampshade with a pattern (or even better: multiple patterns!) will add visual interest without overwhelming any other decor elements, especially if the base is relatively plain or neutral-colored. If you're feeling particularly creative, try making an exclusive lampshade design using masking tape!
Check Pinterest for more ideas on how to spruce up lackluster lamps!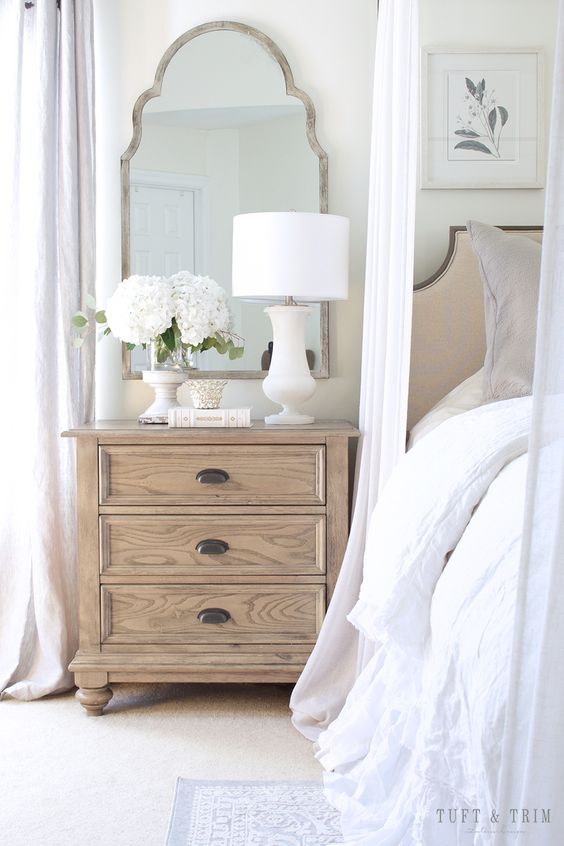 Suit the Style of your Home or Apartment
Choose items that make you happy, don't overwhelm the space, and suit the style of your home or apartment. When decorating a bedroom, it's important to pick out pieces that you love and want to live with for years. Don't be afraid to experiment with different colors, textures and patterns.
However, it's also important to keep your room from becoming too busy or over-cluttered by considering how much storage space you have available—and don't forget about any furniture that needs to go in there!
You could also try adding some greenery like plants (as previously stated) which will help liven up an otherwise drudgy room. Having a theme can help guide your choices when deciding what type of decor should go in each area as well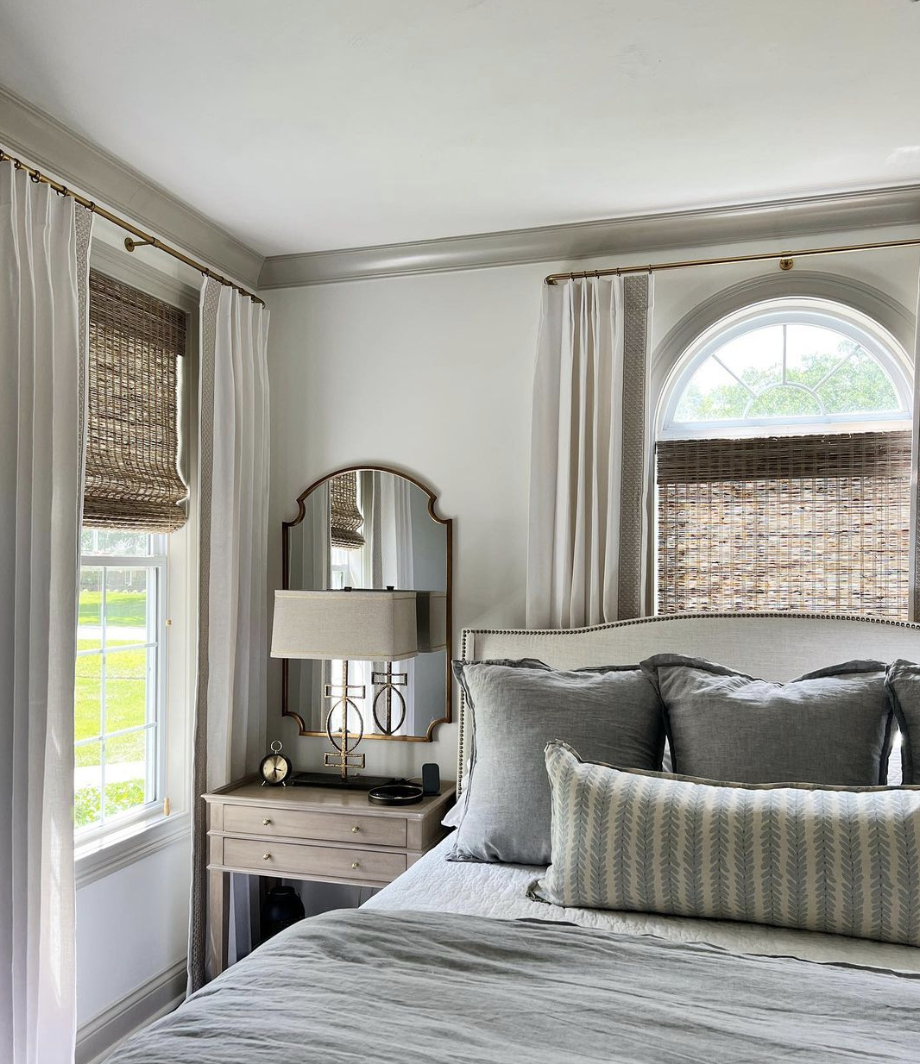 There you have it folks, ways to decorate a bedroom like a pro! I hope you liked this post and found some inspiration in it. Hopefully you will have sweet dreams now!
If you liked this post, make sure you let me know what you want to see next in the comments below! I will be doing a "How to Decorate a Bathroom" soon! So stay tuned and check back.
Until next time,
How to Decorate a Bedroom; A few simple tips can help anyone create an elegant, stylish bed­room. Learn how to create the perfect bed­room here.
If you liked this post, check out these too!
BEST SELLERS