Top 25 Scandinavian Living Room Designs and Ideas; Here are the best Scandinavian home decorating Ideas for your living room. Scandi living rooms tips and design advice!
You probably think of IKEA when you hear Scandinavian design... but I am here to help you look beyond that! The Scandinavian interior design style is one of the biggest trends in interior design today. Now, Scandinavians are actually a pretty diverse group and not all the home features will be present in these rooms.
Scandinavian living rooms are becoming increasingly popular as they give you a beautiful, cozy, and stylish space. They perfectly reflect Scandinavian style with its focus on simplicity, relaxation, and comfort.
When I talk about Scandinavian living room designs and ideas, I'd like you to imagine a penthouse suite with a swanky ivory sofa, tea table in the corner, classic Scandinavian sideboard and a slimline television stand. Or maybe a separate study with suspended ceilings, ideal for reading your favourite book in the cosiest corner of your home.
However, you should be able to notice the friendly colors and comfortable furniture that this style implements. This blog post is going to show you 25 Scandinavian living room designs and their best features so that you can copy them or use them as inspiration on your next re-design project!
Scandinavian Living Room Designs and Ideas:
Scandinavian style is known for its clean and modern look, but it can also be warm and inviting—especially in the living room. The Scandinavian style is a minimalist approach to home decor that emphasizes simplicity and clean lines. It's a lifestyle that celebrates the beauty of nature and the warmth of human connection. Scandinavian living rooms embody this philosophy—they're often decorated with natural materials like wood, leather, and stone; they have large windows that let in lots of light; they are usually kept uncluttered; and they have an airy feel.
In the Scandinavian living room ideas below, you'll find inspiration for your own home decorating project. You'll also see how you can blend Scandinavian design with other styles, such as midcentury modern or industrial chic.
Light Colors
Scandinavian-style living rooms tend to use light colors like white, gray, or mint green because these colors reflect natural light well and make rooms seem larger than they actually are. This can be especially helpful if you live in a small apartment or house where your space is limited by its size rather than its layout (i.e., there are no windows).
Dark colors absorb natural light and make small spaces appear even smaller. By using lighter, brighter colors and fabrics instead, you can keep your room bright, open, and inviting.
Natural Materials
Scandinavian living rooms often use natural materials like wood floors instead of carpeting; linen curtains instead of heavy drapes. Instead of carpeting, natural materials like wood floors are used in Scandinavian designs to help create a more open and sleek living space.
Scandinavian living room use natural materials, like wood, to create a cozy and inviting space that's perfect for relaxing. The Scandinavian style is characterized by clean lines and a simple aesthetic, so everything in your living room should be as streamlined as possible.
Mixing Textures
Use different textures throughout the room—like fur rugs and leather chairs—to add interest without being too busy. When you're trying to create a Scandinavian living room design, you'll want to make sure you mix textures. This will help you keep the space from looking too flat and boring.
Mixing textures is a great way to give your Scandinavian living room design an extra layer of depth. For instance, you could use a leather sofa with a wool rug on top of it. Or maybe you want to add some plants around the room and put them on top of a wooden table—that would work well too!
You can also mix up the types of wood or stone that are used in your home furnishings. For instance, if your dining table has wooden legs but it's made out of marble, then that will look really nice as long as it's paired with other elements like fabric chairs or upholstered chairs instead of metal ones so that everything doesn't look too cold or hard-edged because then it feels like there's no warmth at all (which isn't what Scandinavians are going for at all).
Scandinavian living room design is all about mixing textures, from the softness of wool to the sleekness of wood. It's a style that's warm and welcoming, with a modern twist.
Add Lots of Greenery
Adding some greenery to your Scandinavian living room design can actually improve the look and feel of your space. The trick is to choose plants that have a small footprint, which means you can get away with adding more of them without feeling cluttered or overwhelmed.
If you're looking for inspiration on how to incorporate plants into your home's decor, check out these ideas:
Add some moss in a hanging basket or on a shelf. This is one of the easiest ways to infuse some green into your space without taking up too much real estate.
Add succulents in planters around the house. Succulents need very little light and water, so they'll be happy wherever you put them (even near the window). If you want something that's even easier to maintain—and looks great—try putting them in glass bottles instead of pots!
Plant succulents in a decorative bowl and place it on top of a bookshelf or cabinet.
Display a large plant in an upcycled planter that would otherwise be collecting dust in your garage or attic.
Add some greenery to your bookshelf with a few potted plants that are low maintenance but still pretty enough to show off!
Create a vertical garden by hanging pots from above using twine or rope so they look like they're floating above your head while also adding color and texture to the space.
Create a decorative shelf using reclaimed wood and some moss stones (or another type of stone) for an accent piece that doubles as an herb garden display!
Choose an Open Floor Plan
Create an open floor plan by using large windows that allow plenty of natural light into the space (this is especially important if it's dark outside!). You can also use mirrors around the room to reflect even more light back into the room—it creates an illusion that makes the space seem larger than it actually is!
Maximize Natural Light
The first step to creating a functional Scandinavian living room is to make sure you have plenty of natural light. If your space has no windows or only small windows, consider adding skylights or placing a mirror above your fireplace to reflect sunlight into the room. Scandinavian design emphasizes simplicity and minimalism, but even this style embraces the importance of natural light.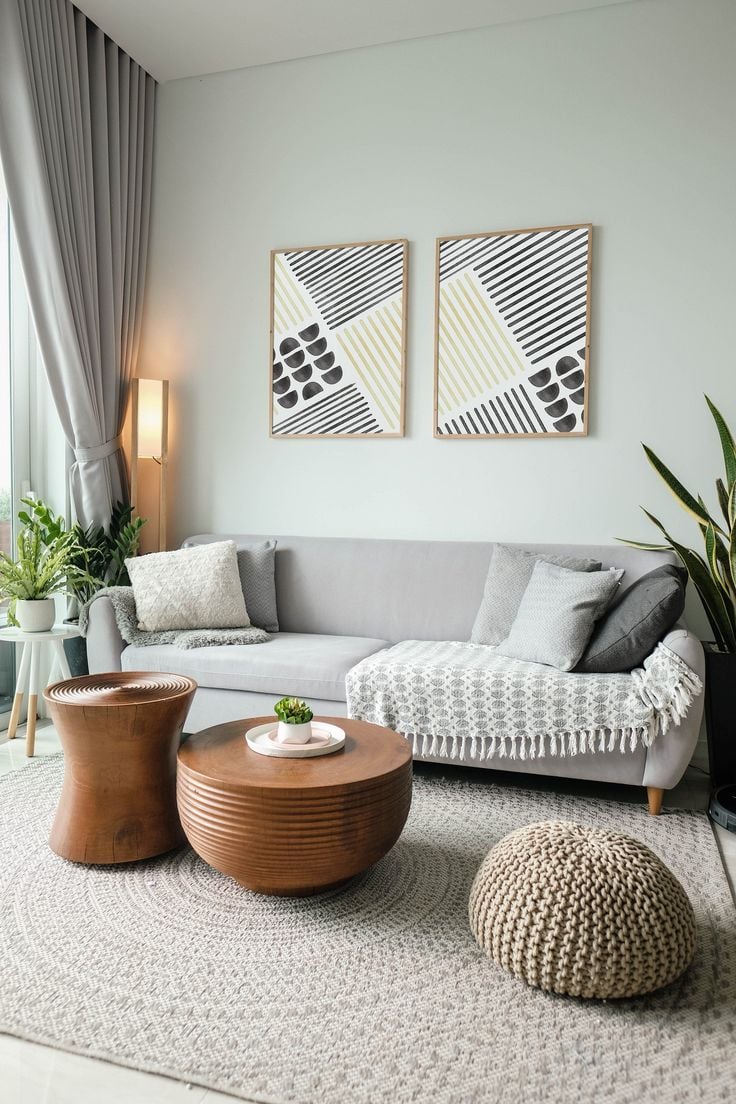 Scandinavian Living Rooms are all about simple, clean lines.
Use simple shapes and lines in your furniture. Curved lines are fine as long as they're minimalistic; steer clear of overly ornate pieces. A clean, minimal look. Scandinavian living rooms often feature an empty wall or two, with the rest of the space filled with light-colored furniture and accessories. The goal is to create a simple, clean look that feels spacious and airy.
Scandinavian interiors are characterized by their clean lines and lack of clutter—if you want to achieve this look in your own home, try using simple furniture pieces (such as an armchair or coffee table) that won't take up too much visual space when paired with neutral colors like white or gray.
Scandinavian living rooms have gained some popularity with the spread of ideas like hygge, the impact of which is that more and more people are looking to achieve an air of comfort and beauty with what they surround themselves with. Whether it is a retro mid-century modern look or a more rustic one, there are some definite elements to keep in mind that will help you create your own unique Scandinavian style.
I hope you found some Scandinavian Living Room Designs that inspire you and also some tips to help you create your own scandi living room!
Until next time,
Top 25 Scandinavian Living Room Designs and Ideas; Here are the best Scandinavian home decorating Ideas for your living room. Scandi living rooms tips and design advice!