Tips for How to Calm Your Dog in the Car; When you're traveling with your dog in the car, it's important to stay mindful of their well-being. Understand your pup, put on some good music, and settle into a routine as we chat about some tips for how to calm your dog in the car.
Disclaimer: this post may contain affiliate links, and every purchase made through these links will give me a small commission (at absolutely no extra cost for you!) AS AN AMAZON ASSOCIATE AND REWARDSTYLE MEMBER, I EARN FROM QUALIFYING PURCHASES. See Privacy Policy for additional info.
Taking your dog on car rides can sometimes be a stressful experience for both you and your pet. As caring dog parents, we want our pet children feel comfortable and safe in the car. But some dogs can become anxious, restless, and even car sick on the road.
It makes us worry and can cause discomfort and distractions for the driver. However, with the right preparation and car accessories for dogs, you can help calm your pup during road trips and make the travel experience more enjoyable.
In this article, we will discuss some effective tips to help you comfort your four-legged friend in the car. We'll also cover the best car accessories for dogs to purchase before your next trip. Read on and make every car ride a positive experience for both you and your barking companion!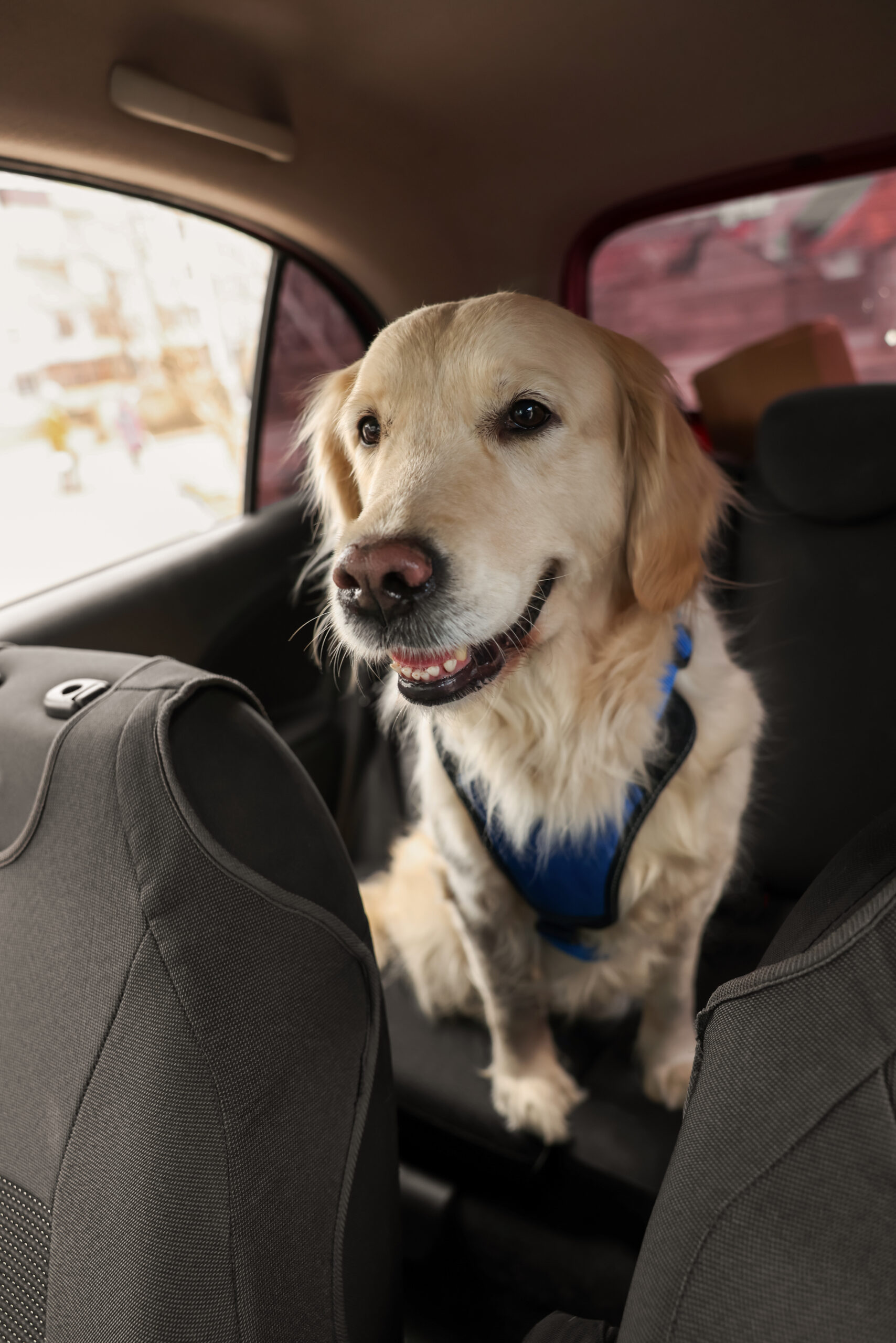 Does Your Dog Have Car Anxiety? Ways to Reduce It
If your dog already anxiety while traveling by car, there are ways to reduce it and help your pet feel better on the road. Let's have a closer look at them.
The first thing to consider is buying some car accessories for dogs. In today's car accessories online market, you can find many different products to make your dog comfortable in the car.
Must-have car travel accessories for dogs are special pet car seats. For example, consider getting a soft carrier or dog hammock to create your own, safe and cozy place for your pet in the car. You can start by checking out the Owleys website for US car accessories – they have a good line of pet accessories for car rides, and especially their Travel Buddy dog hammock.
Some other top car accessories to create a comfy space for your pet on the road can be car beds, booster seats, or soft crates. When anxious dogs always have a separate, safe place in the car, they feel stable and can handle trips better. And pet accessories for car rides can go a long way towards creating such a place.
When going on a road trip across the US, make sure you have car organizer accessories for your dog. Why would you need them? You need them to store all the necessary things that can comfort your dog on a long road trip close at hand. Like this, you can use car organizer accessories to store:
Favorite toys that make your dog happy
Your dog's favorite treats
A blanket or pillow from home to add coziness on the road
Necessary medicines – such as sedatives or anti-nausea pills
Water and dog food for the trip
Foldable bowls to comfortably feed your pet
Other pet care accessories for a car like brushes, wet wipes, pop bags, leashes, etc.
Put together a pack of things for your anxious dog that can be useful during the trip. You can add other things to our list above if you know they will help calm your pet. Consider this list especially if you're going on a long road trip across the US.
So, dog car seats and travel organizers are basically top car accessories to keep your pet comfortable and relaxed on the road.
Other essential accessories for a car that can help are dog harnesses and car seat belts. How exactly can they help? If dogs are so anxious that they try to jump out of the car at every chance, it can be dangerous and will only increase their stress from rushing around the car. The seat belt and comfy harness keep your pet safely restrained and you can be sure that he or she will be secure in one place. Over time, your dog will get used to driving and it will be easier to endure even long road trips.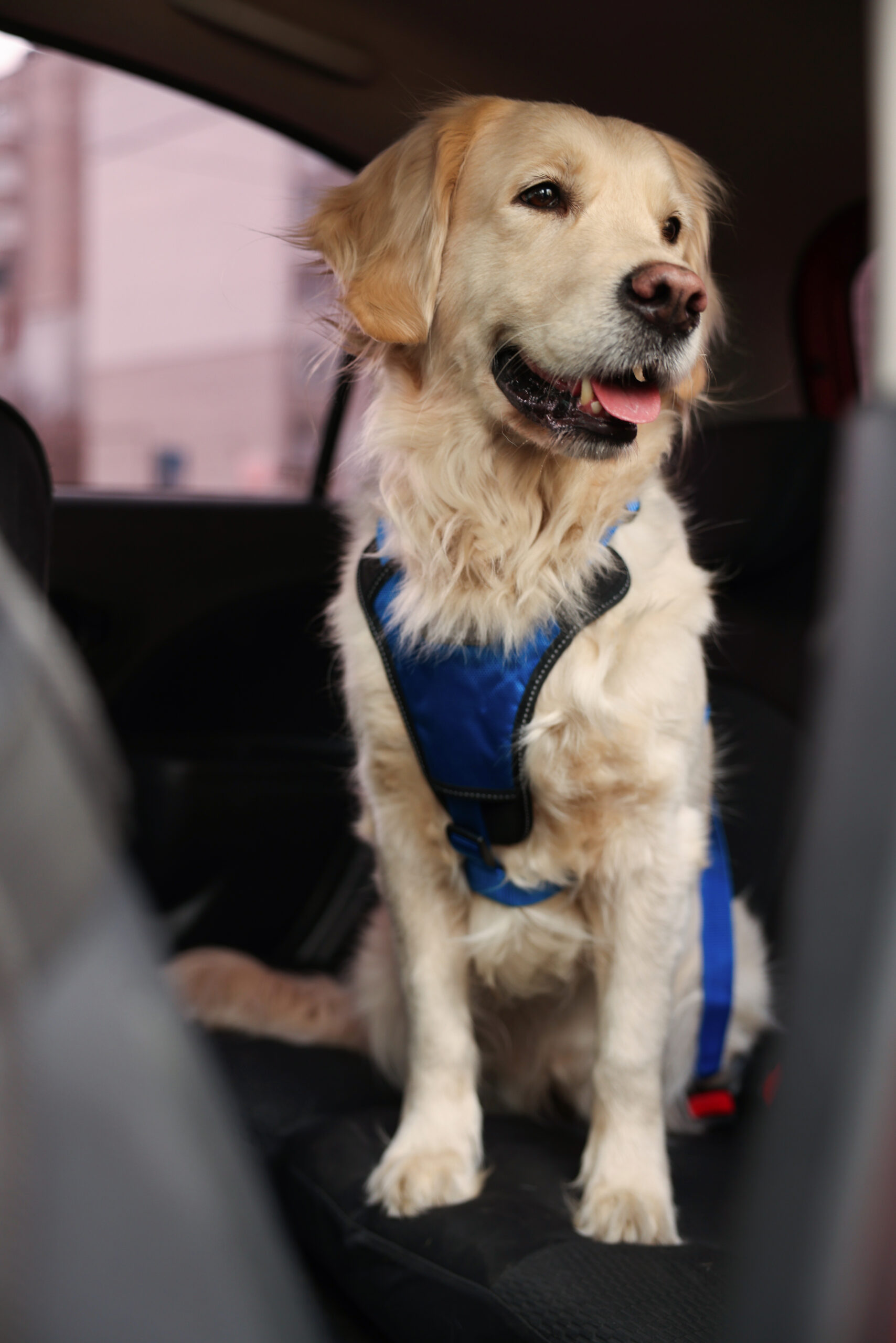 What Causes Car Anxiety in Dogs?
Car anxiety in dogs can be caused by a variety of factors, including some past traumatic experiences, loud noises, unfamiliar surroundings, and motion sickness. In addition, being in a car and not in control of what's going on can also cause anxiety in dogs. Sudden acceleration, deceleration, and turns during car trips also often cause discomfort and stress.
To avoid car anxiety, it is best to train your dog for road trips as a puppy. But if you adopted an adult dog or simply haven't had pet travel experience before, you have to learn how to recognize the signs of anxiety and try to make car trips as comfortable as possible for your tailed friend.
To do this, use the pet car accessories we mentioned above. Like this, strong and elastic seat belts and harnesses hold your pet during sudden movements of the car. And car seats that have a snug fit and non-slip bottom create a cozy, safe, and most importantly stable place for your pet on the road.
Car Sickness in Dogs
Car sickness in dogs is a common problem that can cause discomfort and stress for both the dog and the owner. Symptoms of car sickness can include vomiting, drooling, and severe anxiety.
To prevent and deal with car sickness in dogs, it's important to gradually train them to car rides and make sure they get enough fresh air in the car. It's also a good idea to feed your dog a light meal promptly before a trip, and avoid feeding immediately before or during a ride if you're noticing symptoms of car sickness.
If your dog is experiencing severe car sickness, it is important to consult your vet for further consultation and treatment options. For example, it can be some pills or drops.
Noise Phobia in Dogs
Noise phobia in dogs is the fear of loud noises, such as horns or sirens, which are simply unavoidable on the road. Symptoms of car noise phobia include excessive barking, whining, and attempts to hide.
To deal with noise phobia in dogs, it is also important to gradually accustom them to car travel, and especially to the sounds that they can hear on the road. While driving, you can try playing white noise or music to cover up the loud sounds. Try to distract your dog - for example, by playing or talking if that works.
And again, if your dog has severe noise phobia symptoms, it's important to consult a veterinarian for further support and treatment options.
So, in this article, we discussed ways and tips on how you can calm and reduce your dog's anxiety on the road. We have shared the best road trip car accessories to keep pets comfortable and safe while driving. We also discussed in more detail the causes of travel anxiety in dogs, car sickness, and noise phobia. We hope this article was helpful to you and your pet will feel happier in the car!
BEST SELLERS