Top 5 Things to do in Bay of Fundy, New Brunswick, Canada; Traveling to Bay of Fundy? Here are some of the top things to see and do in this beautiful area! What to eat, things to see and where to stay!
Disclaimer: this post may contain affiliate links, and every purchase made through these links will give me a small commission (at absolutely no extra cost for you!) AS AN AMAZON ASSOCIATE AND REWARDSTYLE MEMBER, I EARN FROM QUALIFYING PURCHASES. See Privacy Policy for additional info.
Hi Beauties!
This past week my husband and I did a tour of New Brunswick and Nova Scotia. We drove out with our trailer, two dogs and a few friends. It was quite the convoy! We had the best time, with the best weather. It was the most perfect summer vacation. Although being 25 weeks pregnant, I wasn't able to fully partake in some of the crazy long hikes like we use to but we still got in some beautiful hikes.
Our first stop on this two week adventure was Bay of Fundy. We spent 3 nights here. We could have stayed one more, in order to really see everything but we were on a tight timeline!
This was our second time to Bay of Fundy so I do really feel like we know what are the best things to see and do and eat. The first trip to Bay of Fundy was two years ago when we got engaged! So crazy to think how different life can be just after two years. Here we are pregnant, waiting on the arrival of our baby girl!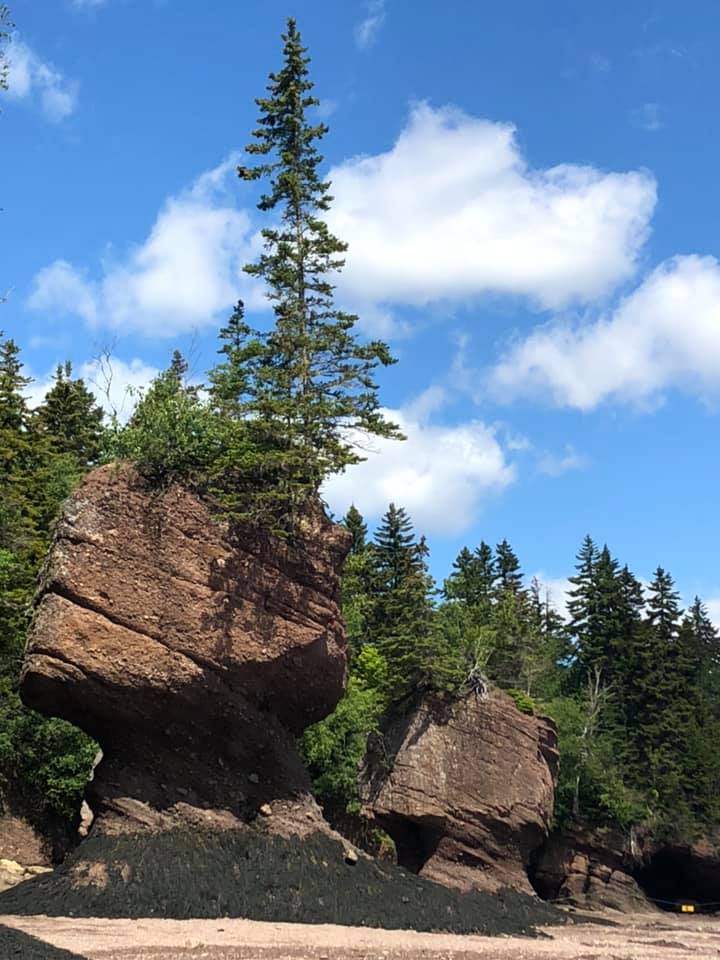 Bay of Fundy National Park Camping
We stayed in the Bay of Fundy National Park. It was one of the most beautiful campgrounds we have ever stayed in! The campsites themselves are so private and such well kept.
The campground is very well maintained with all the amenities. For sure a must for any nature lovers or campers out there! I highly suggest camping here or finding a little Motel or AirBnB close by so you can still use the park.
There is a fee for being in the park. The park pass is $7.50 a day per adult. You can also opt for a family pass if you are traveling with your children too. Unfortunately, this fee is not covered in the camping fee. You can pay when you register at the front gate.
When you get to the park, make sure you get a map of the area and a tide schedule (you will see why later). The map is a must for getting around the park and knowing where all the hiking trails are.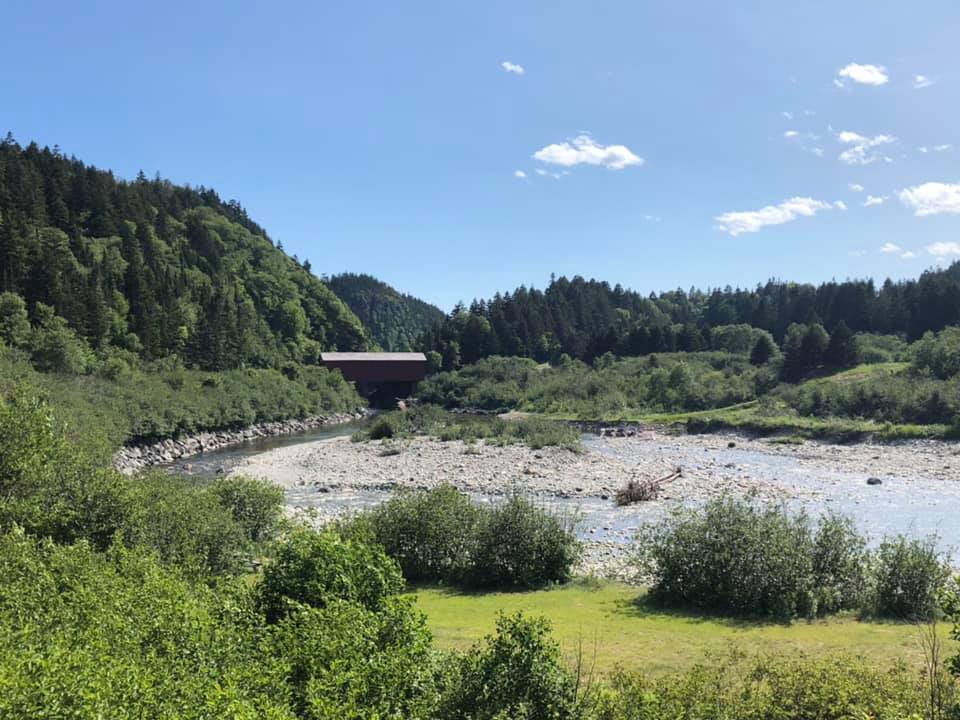 Hiking in Bay of Fundy
The hiking at Bay of Fundy is AMAZING. I can't even begin to express how breathe taking the trails are. They have so many hiking trails, all of different lengths and intensity levels. Me, being 25 weeks pregnant, we opted for some of the shorter hikes (under an hour).
When you check into your campsite, as I said early, ask for a map of the park. This map shows all the hiking trails. If you are still unsure which ones to do, I highly suggest stopping into the visitor's information center. The staff are super friendly and can recommend you the best hikes. If you want to see a waterfall, they will point out which hikes have the best waterfalls. If you want to see some great look out points, they will know which ones will leave you amazed. They speak both English and French too!
If you are not interested in hiking, you can also bike some of these trails, just make sure you check ahead to see if you are able to bring the bikes on the specific trail. Some trails have a lot of stairs too.
Town of Alma
This little tourist town in Bay of Fundy is just adorable. You have to do a stop in here for lunch. It is a must. We stopped in this town on our way back from seeing some lighthouses. They don't have much shopping but they have quite a few cute little restaurants, and the entire town is along the water.
We ate lunch at Tipsy Tails Restaurant and oh my goodness was it ever delicious! One of our favourite meals on the trip for sure. They have a back deck/patio that overlooks the water and you can watch the tide come in or out. We ate while watching several fishermen unload their boats. It was quite the cultural experience! For those that aren't aware, East Coast Canada is known for the seafood… and oh boy this restaurant did not disappoint.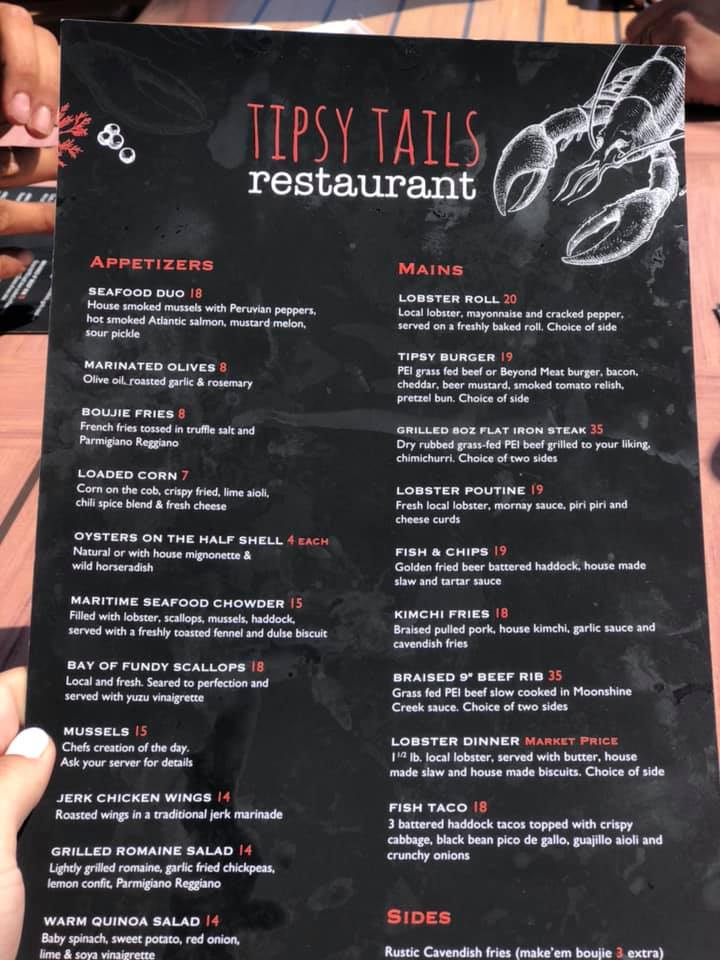 My husband ordered the seafood chowder and he said it was one of the best on our entire two week trip. He also ordered the lobster roll and said it was great. I tried a bite but it was a little too salty for my liking. I ordered the lobster poutine (because when on vacation, why not eat everything that your stomach will hate you for later). It was delicious! It had large chunks of fresh lobster, smothered in a creamy sauce over crunchy fries.
If you are up for it after eating here, you can run across the street and grab some ice cream because no summer adventure is complete without ice cream… right? – my poor dairy intolerant stomach, but baby wanted it! Yes that is my excuse for everything these days.
Light Houses
We only went to one lighthouse in Bay of Fundy, which was about 30 minutes from Bay of Fundy National Park. It is along the main road, just past the town of Alma. You do have to pay to get into this lighthouse, which we opted not to do. We just wanted to see the lighthouse itself. And the drive to the lighthouse was had the best scenario. VERY worth it!
HopeWell Rocks
If you could only do ONE thing on this list I would highly suggest seeing Hopewell Rocks. Hopewell Rocks is about an hour drive from Bay of Fundy National Park. It is a very popular tourist attraction. Hopewell Rocks showcases the highest tides IN THE WORLD.
It is $10.00 CAD to get into the park, you walk down a nice path to the water front where you see the "Flower Pot Rocks". This is something that should be on every ones bucket list to see at least once in your life! You can also bring your dogs down with you too!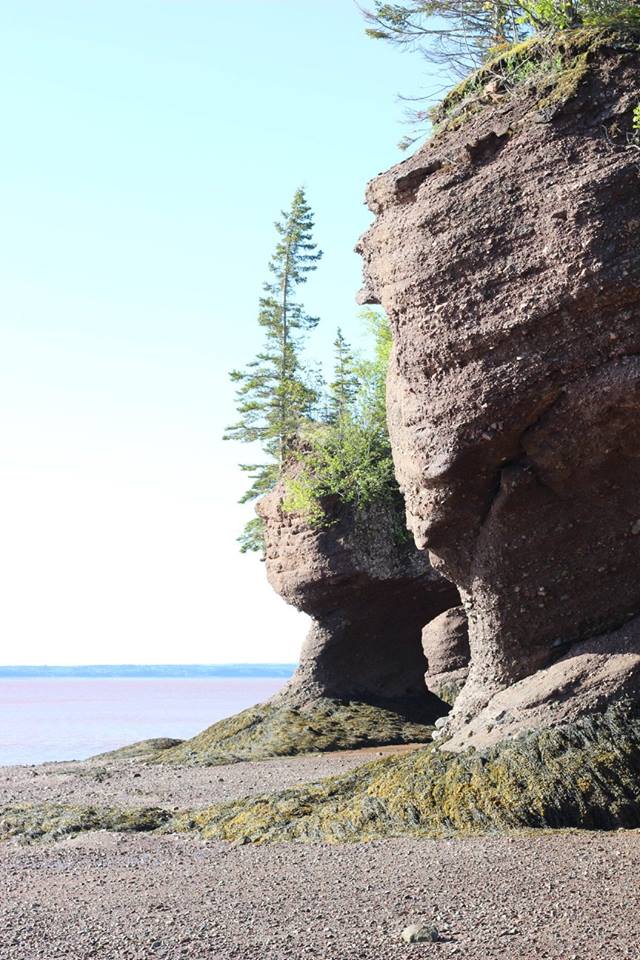 There you have it. My top 5 things to do at Bay of Fundy, New Brunswick. I highly suggest everyone making the trip out to see this beautiful piece of Canada.
What is on your list!?

Top 5 Things to do in Bay of Fundy, New Brunswick, Canada; Traveling to Bay of Fundy? Here are some of the top things to see and do in this beautiful area! What to eat, things to see and where to stay!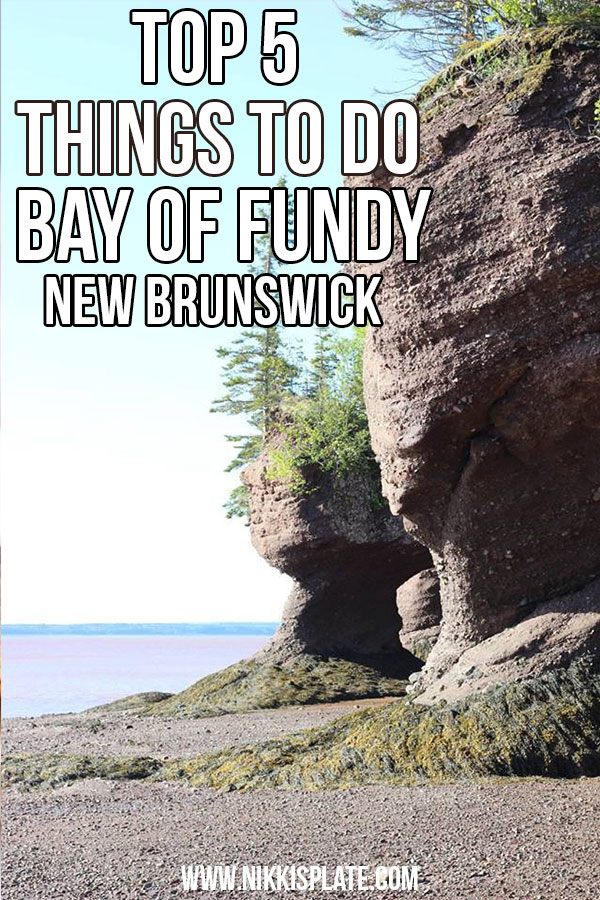 BEST SELLERS