40 Beautiful Modern Shiplap Fireplace Ideas; Here are modern and farmhouse shiplap fireplace wall ideas to keep you cozy all year long!
Hi beauties! Coming at you with a post all about modern shiplap fireplace ideas for your living room, bedroom or basement!
There are 100s of fireplace design ideas, but this list is going to showcase the best shiplap fireplace designs you will love. Shiplap fireplaces offer a practical and functional design that is both beautiful and simple to complete. Although the look is simple – it's the building materials that make them so attractive and versatile. What makes a beautiful modern fireplace design? There are specific elements that come into play when designing a stylish shiplap fireplace
The rustic style of shiplap is a beautiful, inviting, and relaxing look for any family room or living room. With a nod to the past, it mimics the "shiplap" on old-time barns, providing a great complement to log furniture and homes with exposed beams.
So with that being said, let's jump into these Beautiful Modern Shiplap Fireplace Ideas!
Modern Shiplap Fireplace Ideas:
Traditional White Shiplap Fireplace Wall
The white shiplap fireplace is a great option for anyone who wants to add some rustic charm to their home. It's simple, but it's also beautiful—and it's easy to care for. White shiplap is especially popular in coastal homes, but it can also be used in a variety of other settings. The white color provides a bright and cheerful look that will brighten up any room, whether you are looking for something modern or traditional.
Dark Grey Shiplap Fireplace
With a dark grey shiplap fireplace, you can create a moody yet inviting and cozy space in your living room. Its grey color gives it a cool and relaxing feel, while the shiplap style makes it look rustic and unique.
White Shiplap Fireplace with Rustic Mantel
Vertical Black Shiplap
This black vertical shiplap fireplace is the perfect addition to any room. Whether you're looking to add a fireplace to your living room, or you want to warm up your bedroom, this fireplace look is sure to add that cozy touch you've been searching for! With its sleek and modern design, this fireplace will look great in any space. The vertical shiplap design adds depth and texture to the piece.
Fireplace with White Shiplap with Exposed Brick
Brick and wood can be a beautiful combination, especially when it includes shiplap! If you're looking for an exposed brick fireplace that's also ultra-chic, this is the way to go. You'll get the best of both worlds: a rustic look with lots of character, but with farmhouse modern touches like the shiplap. This fireplace also has beautiful framing on the fireplace surround.
Large Farmhouse Open Concept Living Room
Here is a large farmhouse open concept living room with dark wood floor. This shiplap fireplace really creates a focal point in such a large room. They have also included the shiplap on the walls to really blend in the fireplace but used beautiful wood beam additions to create interest to the ceiling.
White Shiplap Fireplace with Rustic Wood Beam and Brick
I love the look of this white shiplap fireplace with a rustic wood beam and brick surround. The white color is bright and crisp, while the wood beam adds a touch of warmth to the room. And that brick? It creates an incredible contrast to the white walls that makes this fireplace pop.
Natural Wood Shiplap Fireplace
How beautiful is this natural wood shiplap on this fireplace. It is modern and chic but still so cozy. You could achieve this look with walnut or white oak wood planks and a natural poly-acrylic finish.
Light Grey Shiplap Fireplace
Love this gas fireplace with grey shiplap next to the rustic wood ceiling beams! Everything here is so well tied together and really creates such a cozy feeling. I love different color shiplap because white shiplap seems to be over done lately! Lets branch out people!
Vertical White Shiplapped Fireplace
This vertical shiplap really makes this space feel modern but in a more neutral way. It creates a space that is open to rustic or contemporary elements. The marble surround really brings it all together.
Charcoal Shiplapped Fireplace
This dark color of shiplap is verging on black but isn't quite there! It is a modern look that perfectly complements that fireplace insert to pull it all together.
Shiplap Fireplace Wall with Mosaic Fireplace Tiles
I love the use of the mosaic tiles around the fireplace to really add something unique to such a traditional looking fireplace. The built-ins shelves on either side really bring it all together to make it look like it was always there! Such a great way to install shiplap in a living room!
Blue Shiplap Fireplace
I love the cool tones of this modern farmhouse fireplace. It really lacks the rustic feels but ultimately creates a statement piece of it's own. The gold art piece adds a touch of warmth to this space too. I like how they opted for that rather than a TV in this space.
Brick Fireplace With Shiplap
What I love about this fireplace is the exposed brick to make the actual fireplace stand out but have a dramatic shiplap surround built up the chimney chase. This really grounds the fireplace while giving that eye raising effect.
Hidden TV Above Fireplace
How unique is this fireplace with the hidden TV cabinet. They continue with the shiplap but incorporate a cabinet that resembles barn doors for the television. I love this! Farmhouse meets coastal vibes in this living room!
Green Shiplap Fireplace
Such a unique way to display shiplap on a fireplace in an angled pattern... and green! The sconces also add a beautiful warming touch to a cooler color scheme.
Nautical Theme Fireplace
Ok loving the nautical theme of this shiplapped fireplace. The tile around the fireplace have little sailboats on it! How adorable. This really just brings the fireplace into the room as a focal point but keeping on with the nautical theme. Love it!
Black and White Farmhouse Fireplace
A fireplace with shiplap is great for vaulted ceiling rooms. It really draws your attention up and elongates the look of your fireplace making it a grand statement piece. The windows on either side really make this room bright and airy.
Standard Brick Fireplace with Shiplap
A traditional brick fireplace with shiplap above seems to be another trend. The wood mantel acts as a great dividing feature to the brick and shiplap boards. The shiplap is enclosed with a simple trim that really pulls it all together.
Extra Shiplap to Surround Walls
Ok SO MUCH SHIPLAP here... and it kind of works! The shiplap walls really go hand in hand with the fireplace. The coastal theme adds dramatic color to this living space in a way that works. I mean, I particularly don't LOVE that color of turquoise but they have seemed to pull it together throughout the room.
Long Fireplace with Shiplap
This fireplace with white shiplap is a longer scale. The fireplace insert is a rectangle instead of the usual square insert. This gives the illusion of elongation.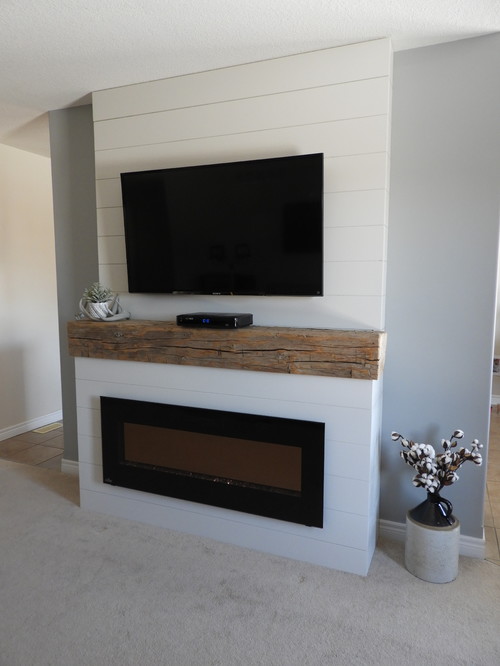 Grey Blue Fireplace with Shiplap
This amazing fireplace showcases a beautiful blue shiplap color, but the interest is in the wood storage. I love how the built in boxes are symmetrical but the items on the shelves are not symmetrical. This gives a sense of interest without it feeling over whelming.
Unique Wood Shiplap
This shiplap is actually tile! You can now get tile that has the appearance of wood planks They aligned the tiles in a way that makes stripes up the chimney chase which is a great way to make a fireplace look larger. The best part, tile is super easy to clean!
Rustic Brick Fireplace with White Shiplap
This fireplace literally has it all. It has shiplap, it has brick, it has a TV and it has an art piece! It all somehow works well in this space because of the vaulted ceilings. I wouldn't recommend putting all these features on a fireplace if you have 8-10 foot ceilings.
Chevron Shiplap Fireplace
This grey shiplap in a chevron design is a unique farmhouse style that adds so much interest to a space, creating a focal point in your living room that your guests will love.
White on White Shiplap with Wood Accents
This living room has a lot of white going on, but it works because they incorporated so much wood. They have several different wood stains and types in here which keeps it interesting. But the main focal point is that fireplace with TV.
Brass Fireplace and Grey Shiplap
This farmhouse fireplace has it all! We have the authentic barn wood beam mantel with shiplap and a brass fireplace insert. It beautiful and screams cozy home. Love this one!
Stone Fireplace with Shiplap Chase
Sharing another popular fireplace design shiplap, a wood mantel and gas insert. Many people are loving this design so I wanted to share a few more that are similar to it. This one is unique in that it has a pebble stone border around the gas fireplace insert!
Light Modern Fireplace with Shiplap
Just wow, what a show stopper fireplace! This light birch wood not only is on the fireplace, but they have brought it into the wood beams and ceiling. This is beauty! Love this modern yet comforting look.
Simple Fireplace Look
This is a traditional yet simple fireplace that used to be super popular before farmhouse designs took over. This older design is still a beauty and looks like home. I love adding a mirror to the fireplace because it can transform a smaller space to look larger.
Farmhouse Living Room with White Fireplace
This beautiful living room showcases a fireplace that has it all again. It has stone, it has a TV with framing work and it has white shiplap! It works well in this space because its elongated ceilings.
White Washed Brick Fireplace
This beautiful whitewashed brick is a staple in this living room and the large shiplap chimney chase is a focal point of the room. Fireplaces of this caliber work well in rooms with tall ceilings. So many shiplap planks here!
Old Cottage Shiplap
Doesn't this photo scream old school cottage vibes from the 80s? I mean maybe that is the look this designer was going for but wow! I feel like I jumped back in a time machine.
Pure Country Fireplace
This traditional farmhouse vibe fireplace has it all. I love when fireplaces have an outlet already installed so you can add the TV in without having to worry about any wiring issues.
Black Shiplap Fireplace
This beautiful black fireplace sure is a dramatic focal point of this office but sure is stunning! Again with the chevron plank design but it works so well especially with the rustic sconces and highland cow artwork.
Another Black Fireplace with Shiplap
Skip the white shiplap wall and add in some black shiplap instead! I just love this deep black fireplace, it really adds a dramatic focal point that ties this room together!
Small Cottage Shiplapped Fireplace
Just a cute and small cottage with the perfect cozy fireplace. I love how they incorporated the shiplap across the living room and used open shelving to showcase so many personal items!
Sunk in Fireplace
I included this photo because it is the opposite of most fireplaces we see. This fireplace is sunken into the room wall. This is so unique an not something we really see these days!
Dual Depth Fireplace with White Shiplap
Transitional living room with a white brick fireplace topped with a white horizontal shiplap. The wood mantel breaks up the two different materials surrounding this fireplace which adds as a feature piece as well!
Concrete Fireplace
This split material fireplace has concrete surrounding the fireplace insert, topped with a beautiful shiplap and crown molding. The pieces of shiplap are not flesh with the concrete making it dual depth. This beautiful fireplace definitely is an interest piece!
There you have it folks! I hope you enjoyed this post. Please make sure you follow along my blog for more interior design ideas and recipes!
Until next time,