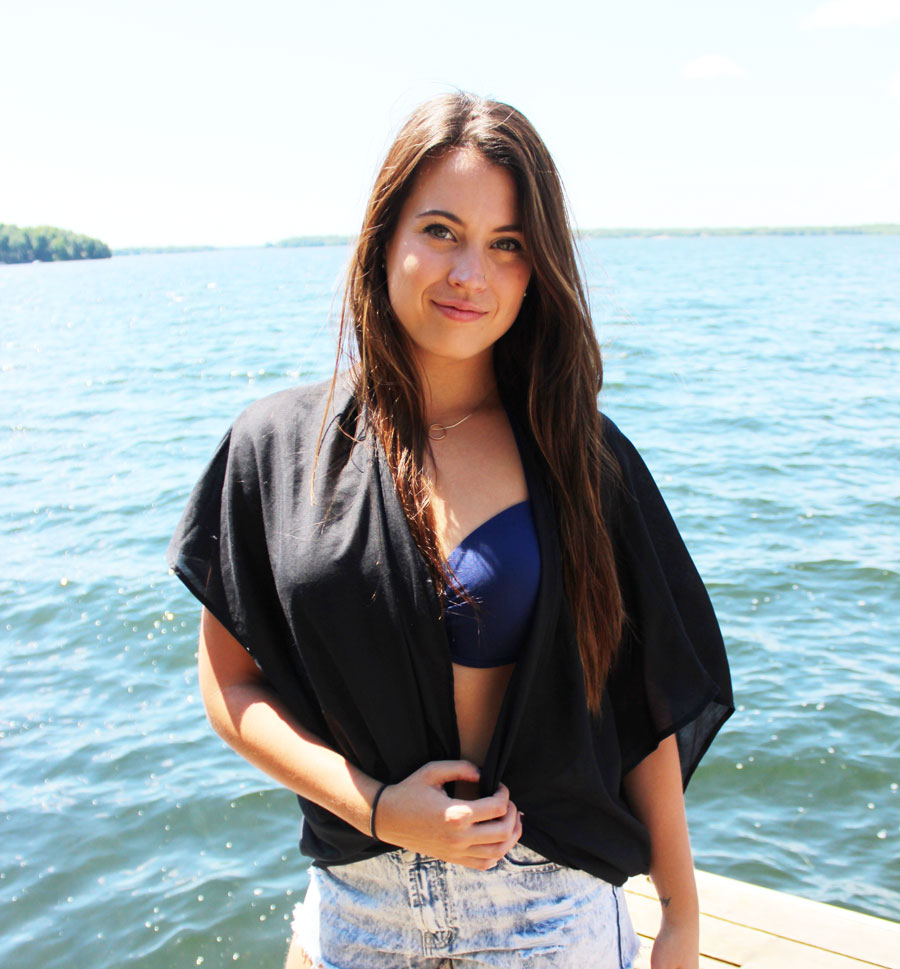 IM NIKKI!
The girl behind Nikki's Plate. I am a 29-year-old Canadian girl, living in good old Eastern Ontario.  I am a mom to two little fur babies, Oakley & Diesel and an ICU Registered Nurse at our local hospital.
I have a lust for developing healthy recipes, exploring the world, and renovating/DIYing our country bungalow. All of which led me to create my blog, Nikki's Plate, in May of 2015.
This blog is for all lovers of creating a happy homemade lifestyle through healthy gluten-free & dairy-free recipes, DIY crafts/projects, and independent home renovations. At the moment I do not follow a posting schedule, rather post what sparks my creativity in the moment! This blog is my passion and my creative outlet!
About Nikki
I was born and raised in Mississauga, Ontario. My mom was from a small country town 4 hours away from Toronto and my dad was from Toronto. When my dad's parents passed away, my mom wanted to be closer to her family so we made the move to Kingston, Ontario. This was obviously a big move for my family which made us all really close.
When in Kingston, I became very passionate about gymnastics and cheerleading. In grade 9 I made a national level elite cheerleading team, which was the most amazing experience. I competed on this team for 4 years all over the US and Canada. I my love for cheerleading continued when I cheered on my University time my first year. I decided to retire my cheerleading shoes after my first year of university because my body was starting to hurt, and I needed to focus on school.
When I stopped cheering, I noticed a huge change right away in my body. I gained weight, lost muscle, was tired all the time, and was just not happy. I struggled with controlling my stress and anxiety. I put a lot of pressure on myself with school and had no outlet. At the end of my second year of university, I knew I couldn't suffer like this for another two years. I was experiencing a lot of symptoms from my anxiety and stress such as hair loss, uncontrollable muscle twitches, heart palpations, increased asthma attacks and my eczema would flare up constantly. It was awful. I made so many trips to my doctor's office hoping for her to cure me. I didn't want to feel this way anymore.. which led me to make the biggest change of my life.. to take control of my health and my life (read more about this under "About The Blog").
In 2012, I met my boyfriend Dylan in the Dominican Republic. No, he is not Dominican, and no I didn't sneak an illegal immigrant back to Ontario. Dylan just happened to be from Kingston as well. We met on a spring break trip. He and all his friends were at the same resort as me and all my friends. And it was basically love at first sight 🙂
At the end of 2014, we moved in together and in 2015 we bought our little bungalow out in the country. Being a city girl, born and raised, moving to the country was quite the culture shock for me. 'What do you mean there are no sidewalks?', 'What do you mean cows come in other colours other than spotted black and white?'... it was a struggle, but one I would do again in a heart beat. I love my home out here. It's so peaceful and beautiful. And I am a big runner, so running in the country is honestly like mediation for me.. It just makes my soul happy.
So now I have graduated from university with a Bachelor of Science in Nursing. I am an intensive care (ICU) nurse at our local hospital, also working away on this little blog of mine 🙂
About The Blog
I made a lifestyle change in 2014 due to personal health issues. I was ready to make a change to help alleviate my anxiety. I started running... I ran and ran and ran. It was my outlet for school. It made me feel amazing and encouraged me to pursue a healthy lifestyle. I changed my eating habits completely. I started eating gluten-free and dairy-free, not only did I lose 30 pounds.. my stress symptoms disappeared. I stopped losing hair, I stopped having muscle twitches, my asthma attacks decreased drastically, my eczema cleared up... it was insane! I had no idea I was able to fix these things on my own.
I wanted to share my story with others so I started this blog in 2015. I wanted to share my health journey and help others to find their way by creating easy deliciously healthy recipes. That is was the base of this blog is recipe development!
Art runs in my blood. My grandfather on my dad's side was a painter, my dad was a newspaper photographer, and my mom's entire side of the family are musicians ... I have always had an inner creative drive. Being a nurse is one of the most amazing, and rewarding careers.. but doesn't allow me to unleash my creativity. Which is why I love blogging. It's my own little space on the web to share my photos, creations, and everything else my heart desires.
I expanded my blog in 2017 to include everything I love. Originally, I had a very focused niche (blog theme).. which was great, but there were so many other things I wanted to share with the world. So I expanded my niche to include all things homemade... everything from recipes to crafts and DIYs. This allowed me to post way more often and increase my traffic to my blog.
All this being said, I am a busy woman, but I love what I do and wouldn't change it for anything! So grab a cup of coffee, and follow along with my journey, because I have a lot on my plate and things are about to get interesting!!