Hardwood Floor Inspiration; Here are some hardwood floor types and colours with pros and cons! If you are in the market for hard wood flooring then this is the post for you!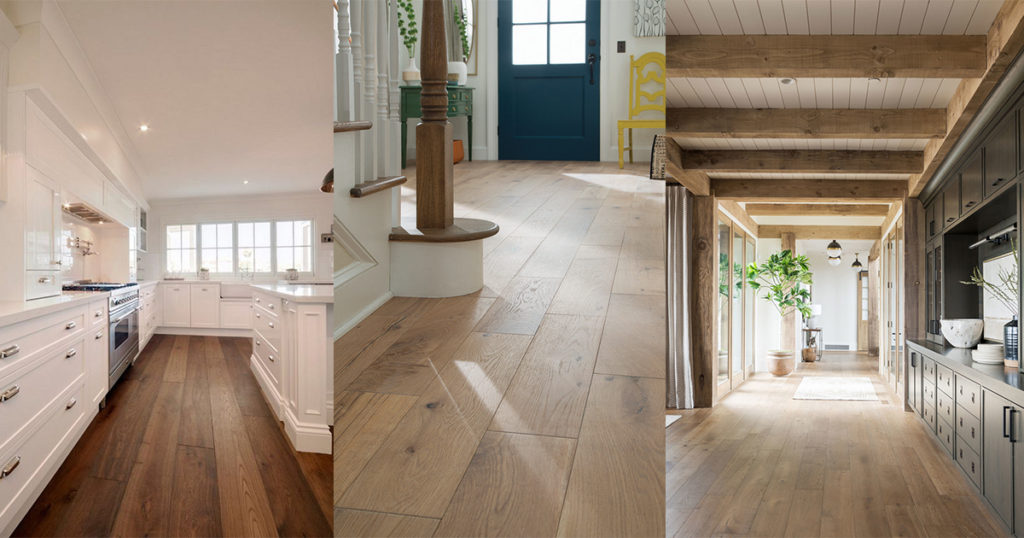 Disclaimer: this post may contain affiliate links, and every purchase made through these links will give me a small commission (at absolutely no extra cost for you!) AS AN AMAZON ASSOCIATE AND REWARDSTYLE MEMBER, I EARN FROM QUALIFYING PURCHASES. See Privacy Policy for additional info.
Hi Beauties!
First off, I hope everyone had an amazing holiday. It was Elliott's first Christmas and it sure was magical! Nothing is better than having a new baby around the holiday season. We had so much fun introducing her to all her extended family.
Since a new baby has been introduced to our family, our lifestyle certainly has changed! And now I wouldn't have it any other way 🙂
But with that being said.. we definitely have some changes we need to make with our house. Our baby is currently 2 months old and we are in need of some seriously baby safety work on our house done.. starting with our floors.
Why you may ask? Well.. we took down a wall between our living room and kitchen last year which left a hole in our floor. Right now we just have a plank to level out the hole. But when our baby starts crawling.. this won't be safe for her. We need to replace all the flooring on our main level (which was always the plan but now we have a bigger reason to get it done!).
So of course I hit Pinterest to find some hardwood flooring inspiration to help me choose what colour we want. Then I realized there are WAY to many types of hardwood flooring and I have a lot of learning to do before I make my decision.
Two Main Types of Hardwood Flooring:
Solid Hardwood Flooring
Solid hardwood flooring is exactly what you would imagine it to be. It is wood flooring construction from an entire piece of wood. It has authentic and rustic charm. It is highly durable and can even last a lifetime!
The cons of solid hardwood flooring is that it can be quite pricey (which may be expected) and also has a higher susceptibility to moisture damage.
Engineered Hardwood Flooring
Engineered hardwood flooring is constructed from many layers of wood that is pressed together to form a plank. One layer of actual hardwood is attached on top of this multi layer to give it that hardwood appearance. It is less susceptible to moisture damage and withstand humidity changes within the home. Another plus side is the price. It is a lot more affordable in comparison to regular hardwood floor.
The cons of engineered hardwood flooring is that it can not be sanded/refinished, it's not as durable, and it does not add as much resell value to your home... but engineered hardwood is still A LOT better then laminate flooring.
Hardwood Flooring Finishes and Stains
White Oak
White oak is my number one choice right now. It is pale brown in colour and often has a pink or grey hue to it. I love the look of white oak when it has more of a rustic tone to it.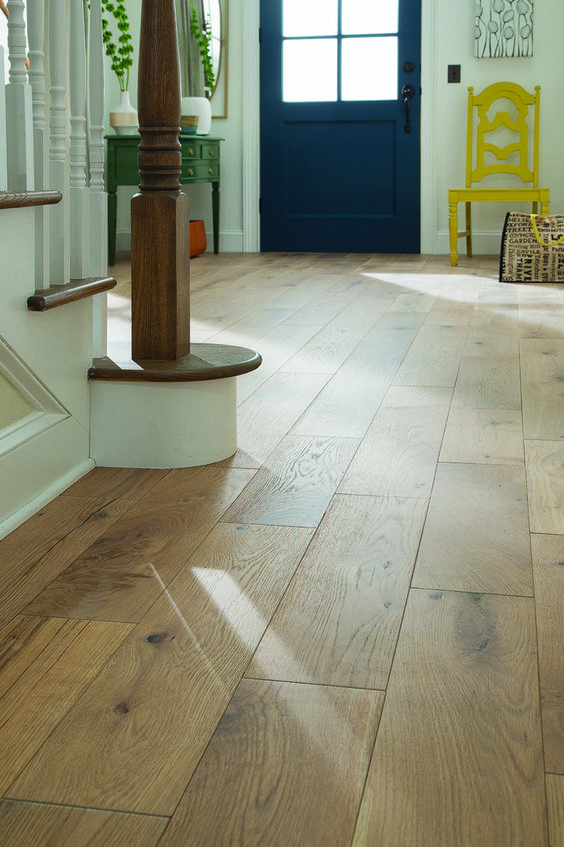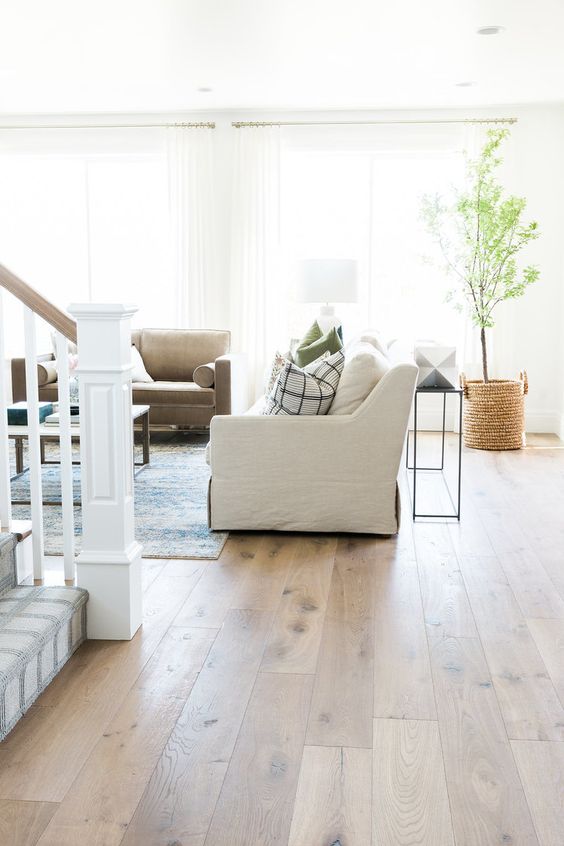 You can get similar linen couches from Pottery Barn that are super nice!
Maple
I would say maple is the most distinctive of all the hardwood floorings. It has a lot of grain to its appearance. It is also one of the hardest and most durable of all the hardwood floorings! I am considering it for our home because of the durability.. considering we have two dogs who will most likely be scratching it up!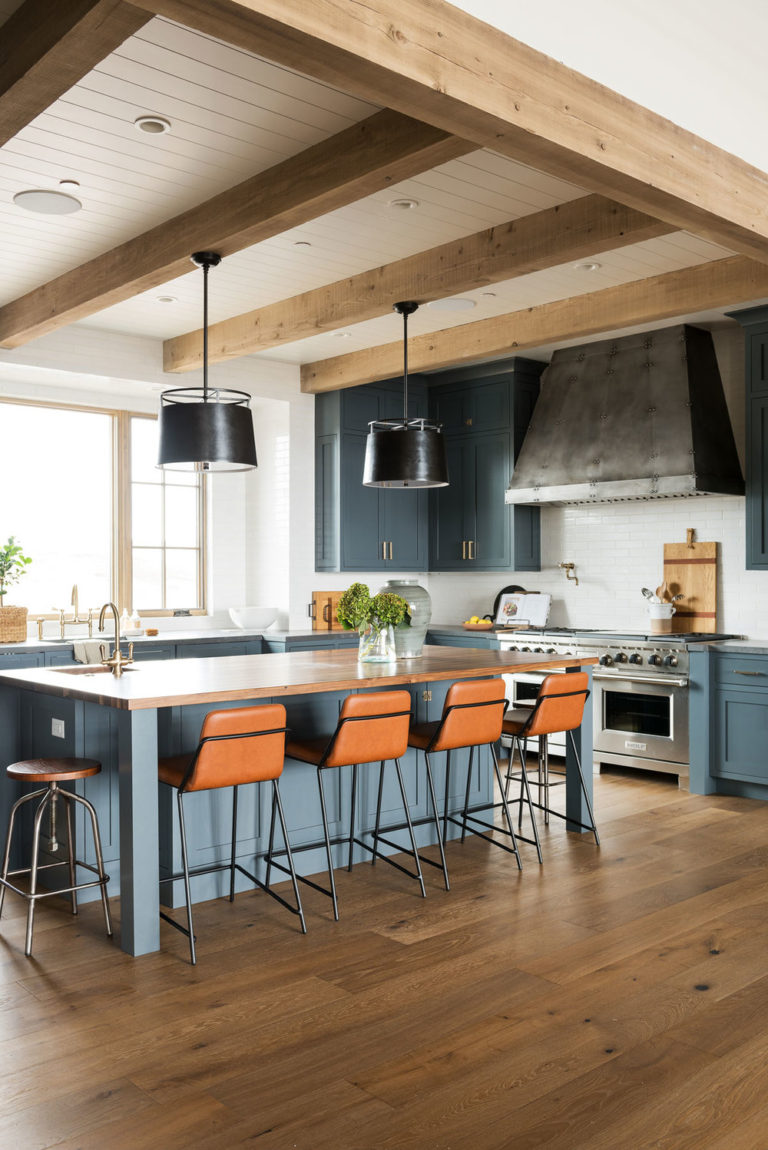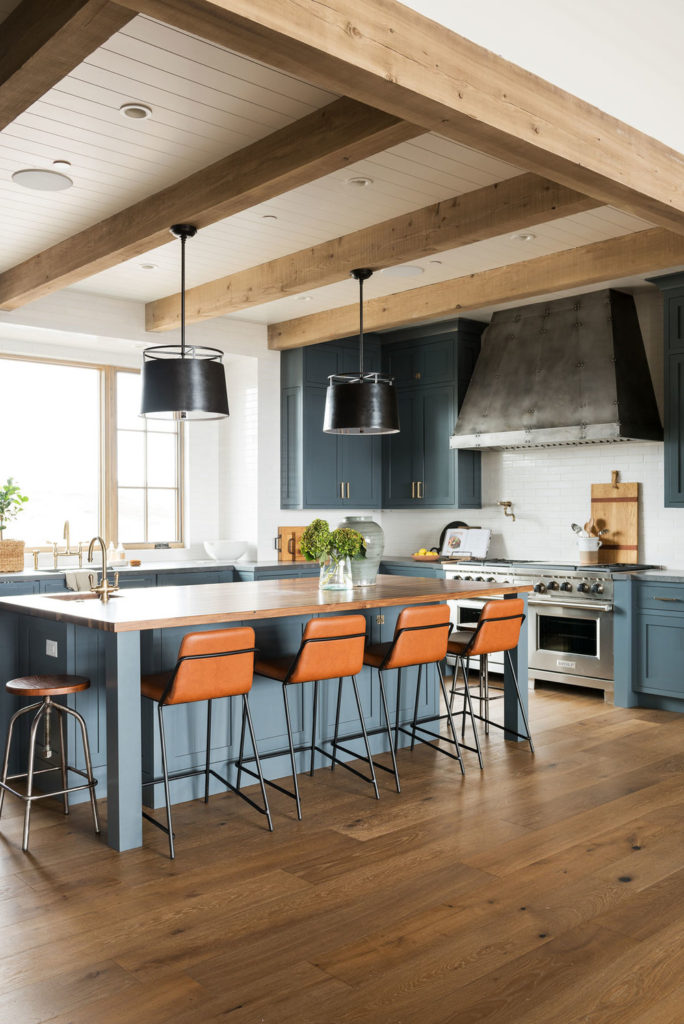 Similar leather bar stools here! Get the exact black pendant lights here!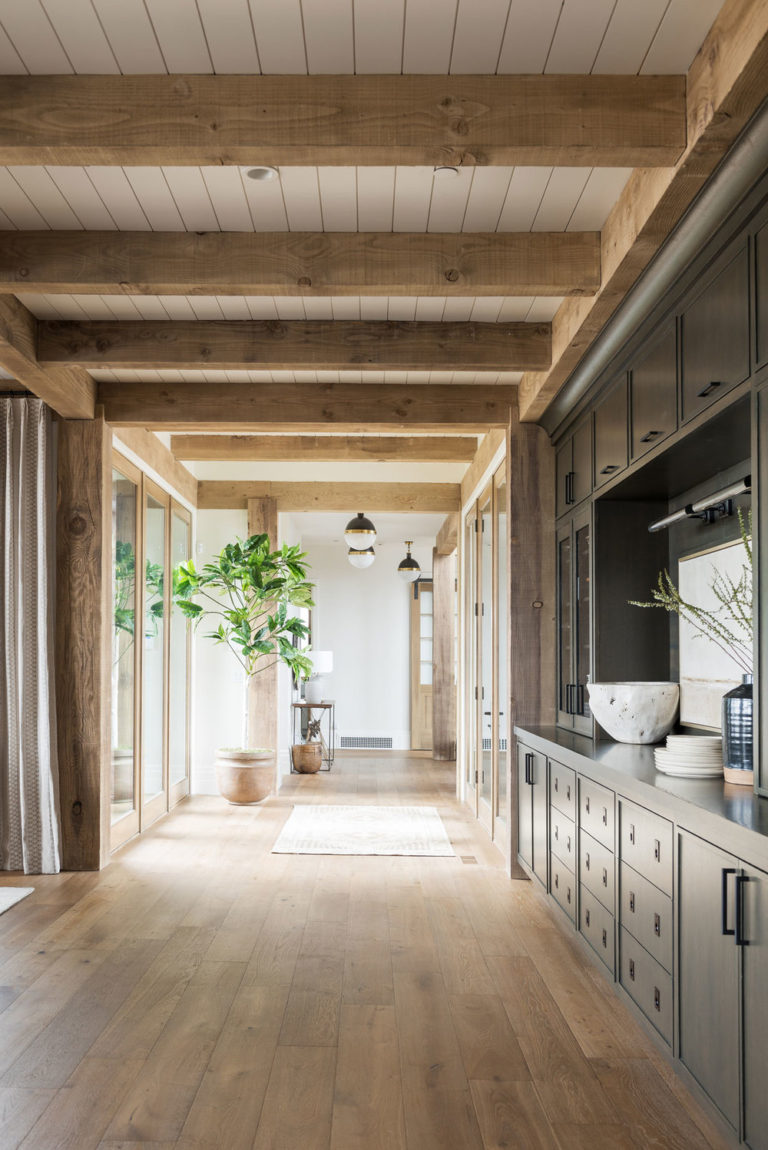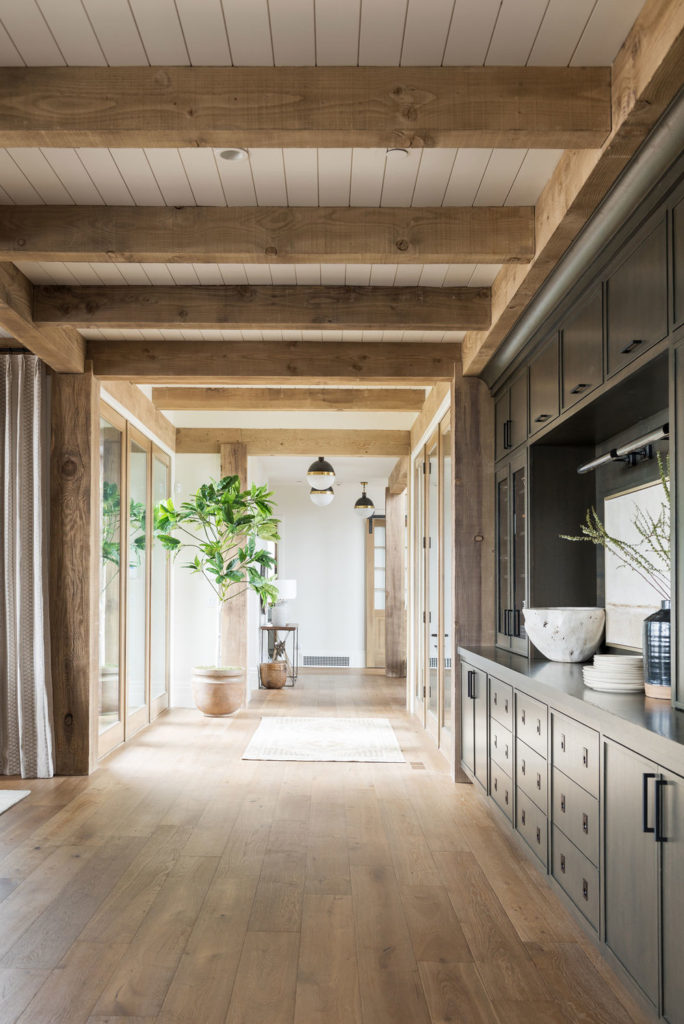 Hickory
Hickory has a medium tan brown colour. It can also have some red hues to it as well. It is on the more pricer side of all the hardwood flooring because of its extreme durability and toughness. Due to this it is harder to cut (which is why it is usually up priced).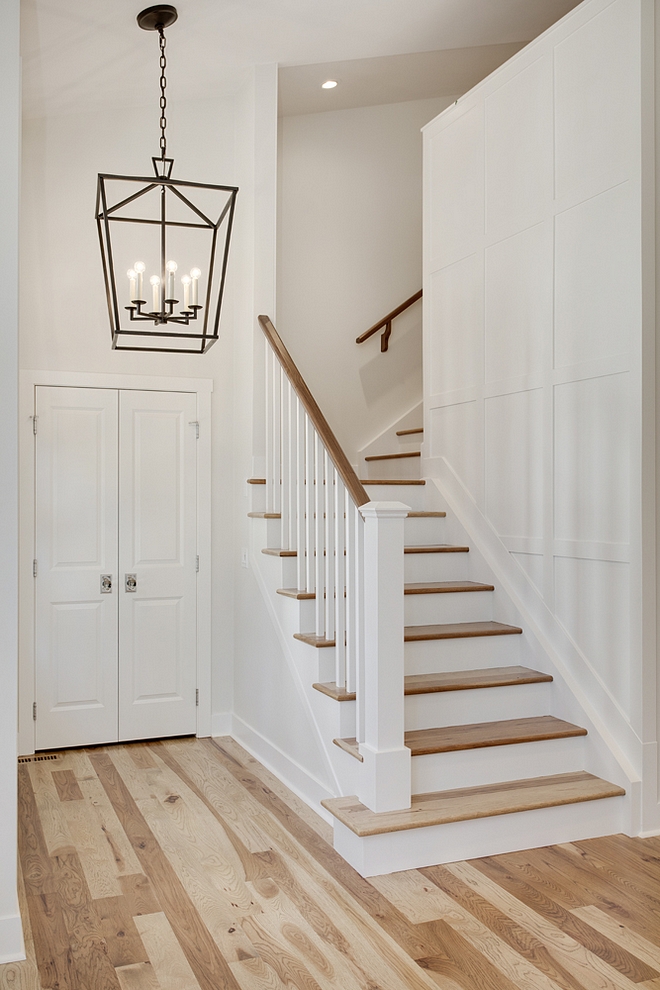 Get this beautiful black chandelier here!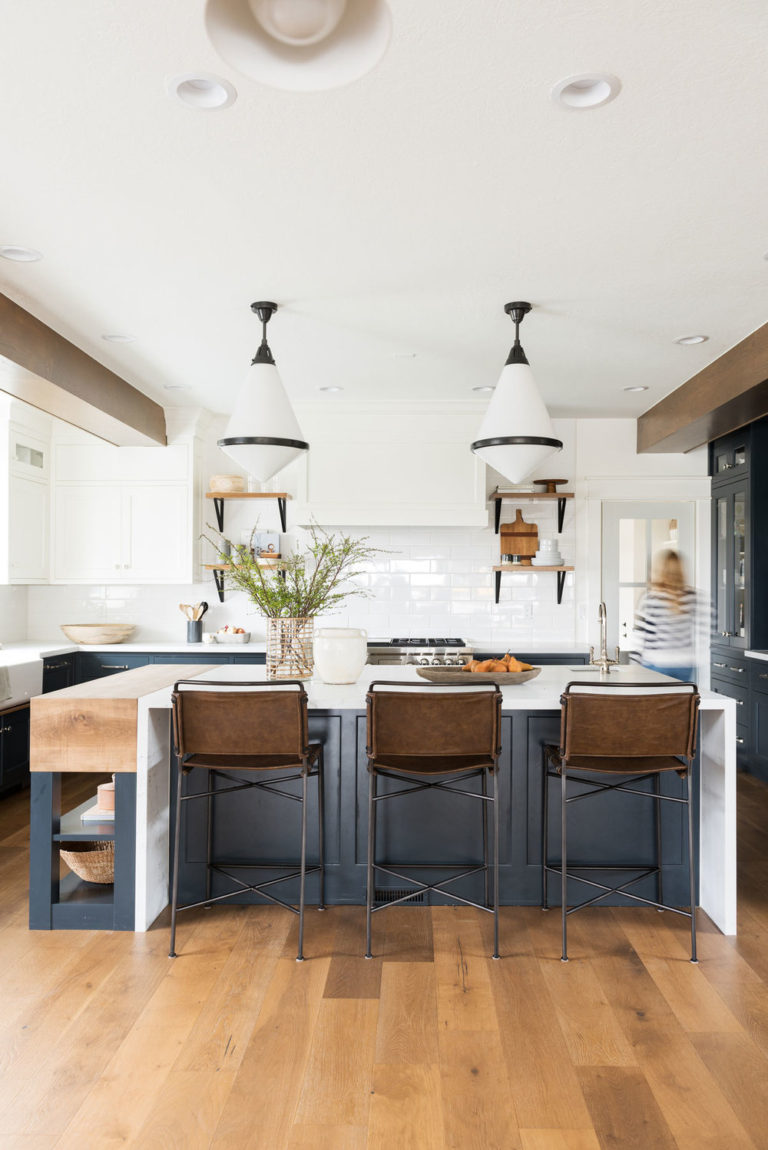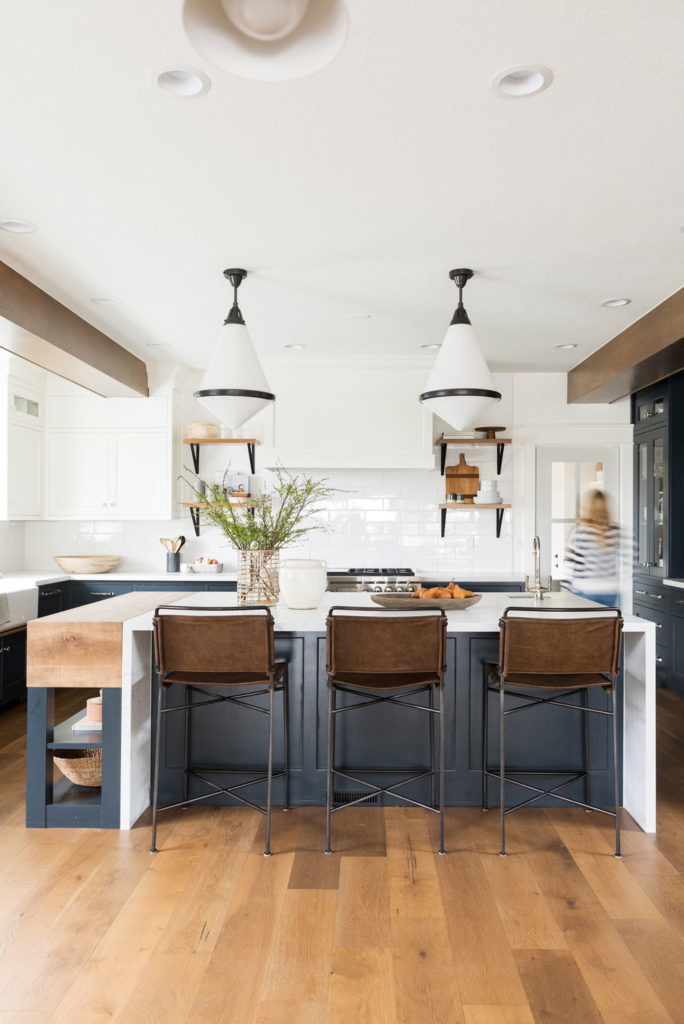 You can get these exact leather bar stools here!
Walnut
Walnut is a super popular flooring type. It has a rich brown colour that often contains a purple hue. Walnut is one of the most expensive types of hardwood flooring.

BEST SELLERS