How to Create a Perfect Bar Cart That Will Have Your Guests Impressed! Here are some tips and ideas for creating the best bar cart ever! Everything you need to leave your guests obsessed!
Disclaimer: this post may contain affiliate links, and every purchase made through these links will give me a small commission (at absolutely no extra cost for you!) AS AN AMAZON ASSOCIATE AND REWARDSTYLE MEMBER, I EARN FROM QUALIFYING PURCHASES. See Privacy Policy for additional info.
Hi Beauties
Today's post is all about how to create a perfect bar cart!
Ever since having kids, a bar cart is just not something we could have in our main living space, but now that we have our basement completed, I totally need a perfect bar cart to entertain our guests in an adults only space! Not that we have anyone over in a while due to what is going on in the world and also have two babies in 17 months.. it really puts a downer on your social life!
But I am here to start it up again and have friends over as well as make memories in our new basement while we still have it! (next house wont have a basement)
SO with that being said, I hit my beloved Pinterest for some inspirations on a bar cart for our adult only area! And boy oh boy it didn't disappoint!
I obviously came to the blog right after to show you all what I found! I am basically a bar cart pro now hehe so lets jump into this post on how to create a perfect bar cart shall we!?:
How to Create a Perfect Bar Cart:
Starting with Bar Cart Essentials:
Every good bar cart needs a few key essentials before you can technically call it a bar cart.. and if you mind when to the alcohol then you are headed in the right direction! Alcohol! What are the most common alcohol you should have stocked up on the bar cart? I would start with the classics like Vodka, Tequila, Whiskey, Rum, Bourbon and maybe Gin or Scotch.
It also depends on what your favourites are. If you hate Gin then there is no point in having it on your bar cart because it may go unused for a very long time! Think of bar cart essentials that tailor to your favourites. If you are obsessed with wine or champagne, then maybe add some bottles! Do not go over board and stock it full of everything!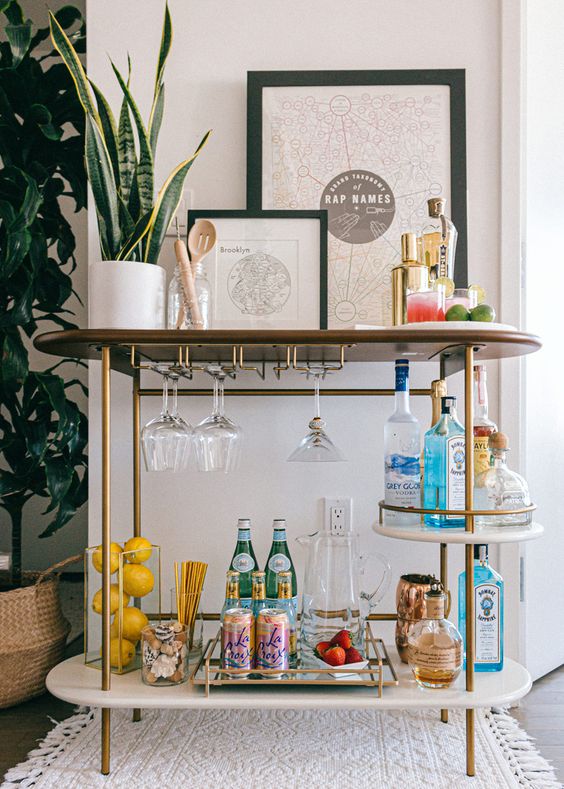 On to the next bar cart essential. Yes the alcohol is an essential, that is a given, but don't forget the mix if you are serving from the bar cart. Add in the soda, juice, water etc. You can get cute serving pitchers to keep on the cart or you can just pull it out of your fridge when serving if you don't have an ice bucket or beverage cooler. I have seen other bar carts that have a little mini fridge next to them too!
Also don't forget those garnishes for your home bar cart! Limes, lemons, cherries, mint leaves.. whatever is on the menu! Again you can keep those in your fridge and just pull them out when your guests arrive or you can put them in a mini fridge near your bar cart if you are hitting up your bar cart on a regular basis! Whatever is easiest for you and whatever keeps those garnishes nice and fresh! Fresh ingredients are the best!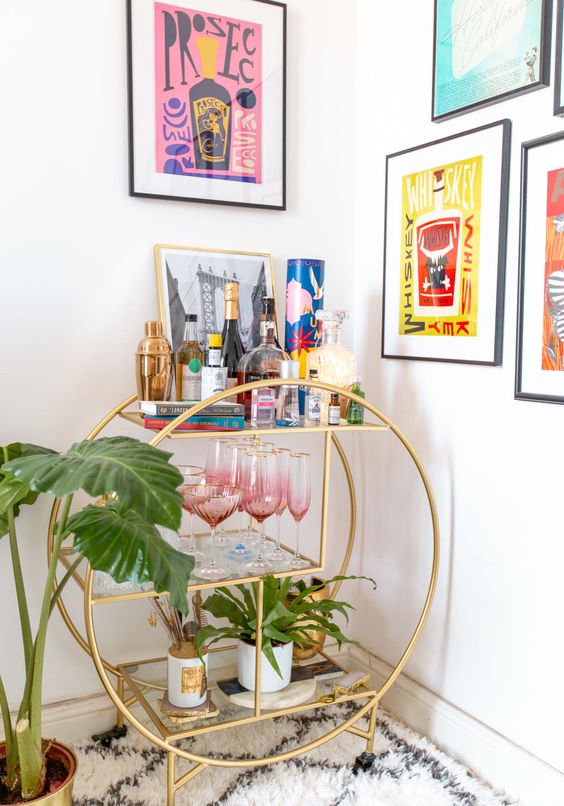 Beautiful Glassware to Serve your Cocktails:
Next should be a given, you need to have some fancy glassware to serve your cocktails in. This is where you can have those super beautiful glasses you have been saving in your cupboard for special occasions. Pull them out and add them to your bar cart to be on display and be used! Everything from wine glasses, martini glasses, tumblers, coupe glasses, shot glasses can be added! Also including a crystal decanter would make a statement!
If you are looking for some new glassware to serve your homemade cocktails in, make sure you check out some of my all time favourite high quality glasses below! I have a mix of higher priced and affordable ones here! A pretty glass for everyone!

Essential Bar Cart Cocktail Making Tools and Accessories:
Next you need to add in some of those bar cart cocktail making tools. Not only because they look super cool, but because they are also super handy for specific drinks!
If you are new to making cocktails, you might also want to get a cocktail or barista book (like "The Art of Mixology") to know how to make certain drinks. Mastering classic cocktails is a must but It is also so much fun to try new recipes from your cocktail books! That will definitely impress your guests!
Some examples of a few cocktail tools include: a cocktail bar spoon, a strainer, a cocktail shaker, and bar tools set. Also don't forget some other additions such as an ice bucket, wine cooler, cute coasters, a pitcher, straws, a wine opener, and double sided jigger.

Also, you need to add some cute decor to your bar cart. Adding a picture frame with a quote or chic photo can really add some interest to your cart and also give something for your guests to look at when they are waiting for their drink to be made!
The Perfect Bar Carts for Your Space:
Did you think I forgot about the main event? NOPE. Lets talk bar carts now shall we?! Picking the perfect bar cart to create a perfect bar cart scene is tough. You need something that is the ideal size as well as something that suits your overall style in your room. Definitely take some time to look for a suitable bar cart before jumping the gun on buying one.
Some things to consider before buying a bar cart: Glass is a pain to keep clean, if your not into cleaning regularly, I would probably avoid a glass bar cart. They show a lot of dust and really illuminate any spills. Another thing to consider is if you want wheels or not. Will you be moving it? Will you start feeling tipsy and accidentally push it? haha
Here are some bar carts for you to browse through! Click the photos to open the link:

Well there you have it folks, that is about it! Everything you need to create a perfect bar cart!
I would love to see all your bar cart creations so make sure you tag me in your photos at #nikkisplate
Until next time,
SHOP THE POST:

How to Create a Perfect Bar Cart That Will Have Your Guests Impressed! Here are some tips and ideas for creating the best bar cart ever! Everything you need to leave your guests obsessed!
BEST SELLERS