Simple Winter Front Porch Decor Ideas; ways to decorate your front door and home entrance this season!
Disclaimer: this post may contain affiliate links, and every purchase made through these links will give me a small commission (at absolutely no extra cost for you!) AS AN AMAZON ASSOCIATE AND REWARDSTYLE MEMBER, I EARN FROM QUALIFYING PURCHASES. See Privacy Policy for additional info.
Hi beauties!
Coming at you with another home decor post. This time we are focusing in on the winter season! Whether you celebrate Christmas or not, these simple winter front porch decor ideas are perfect for you!
I have been thinking long and hard about our front door this year! Ok not really long and hard, I'm not that obsessed with our front door I promise. I just really wanted to do something cute and unique this year!
So just as every inspired house wife, I hit Pinterest to find some inspiration and design elements to use on our front door. Did I find what I was looking for? Absolutely! Pinterest never lets me down when it comes to anything home design and decor related!
I wrote everything down for you all too! Just in case you have a craving to decorate a simple winter front porch this season too! Because what good would my research be if I didn't share it with you all!
So let's jump into this front porch decor ideas list now shall we!?
<< Please Note: These photos do not belong to me, please click the photos and links provided to be redirected to the owners>>
Simple Winter Front Porch Decor Ideas:
Wreath
A wreath is a classic front door decor piece. I think this is always everyones first 'go-to' when decorating your front door. I made our first winter wreath maybe 5 years ago. I think I am due for an upgrade soon.. so maybe this will have to be on my list of things to splurge on this year!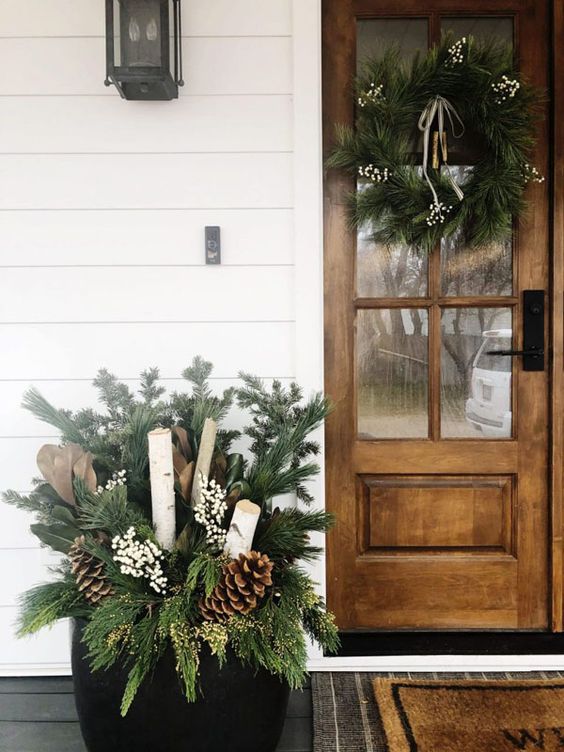 Greenery
Greenery is a must when decorating your front door. Every beautifully decorated front porch has some kind of greenery. If you just want a wreath and that's it, at least you are getting some greens in there! I find greenery really makes the entrance look inviting and just winter chic!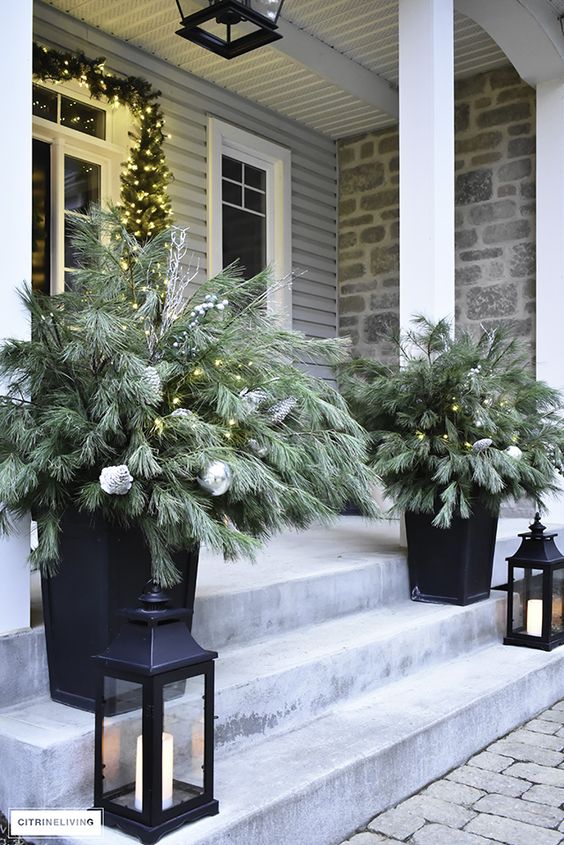 Garland
I love the look of real greenery garland over a front door. Garland does definitely give Christmas vibes but you could totally leave it up all winter season if you took down lights and other Christmas decorations.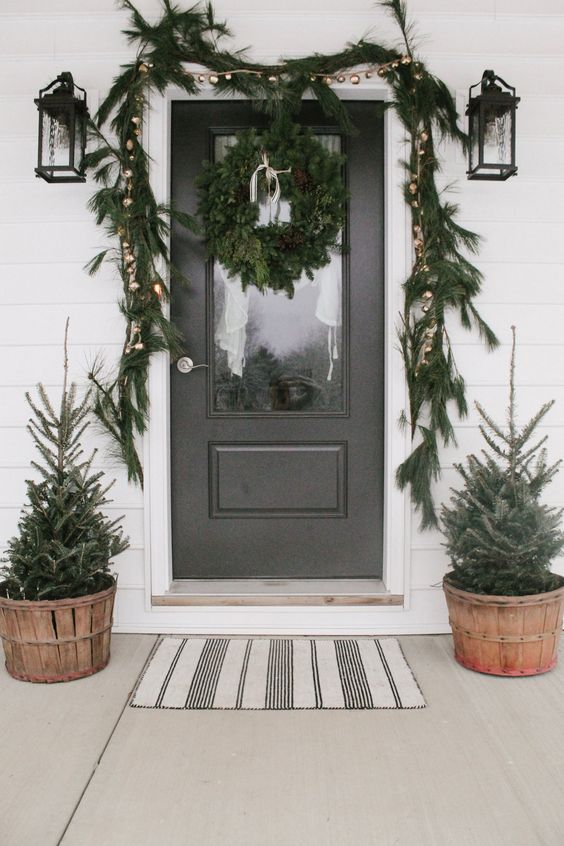 Lanterns
Lanterns are also a great addition to any front porch decor! You can actually get solar lanterns which would be so handy, you wouldn't have to turn them on or off. You would just have to make sure which ever lanterns you pick out that they are weather resistant.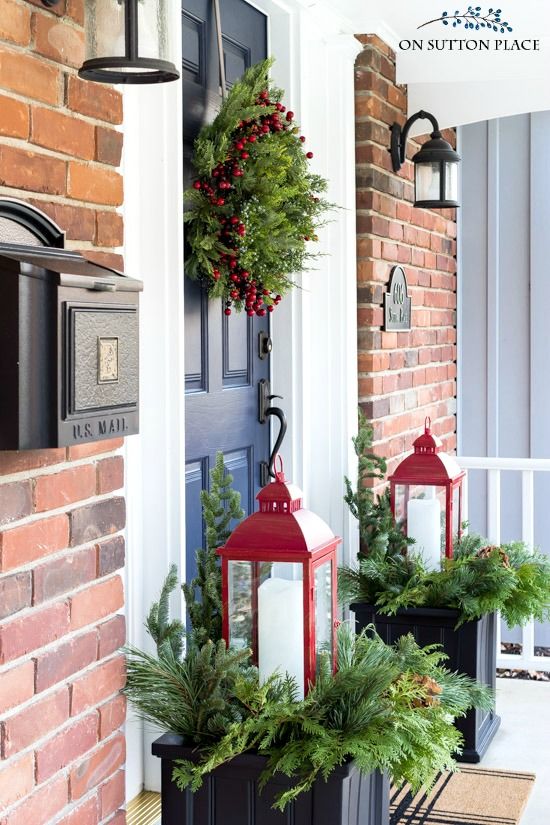 Wood Piles
Adding some wood logs or piles is such a cute rustic decor idea! You can either go out into nature and find some wood or you can actually buy fake wood logs!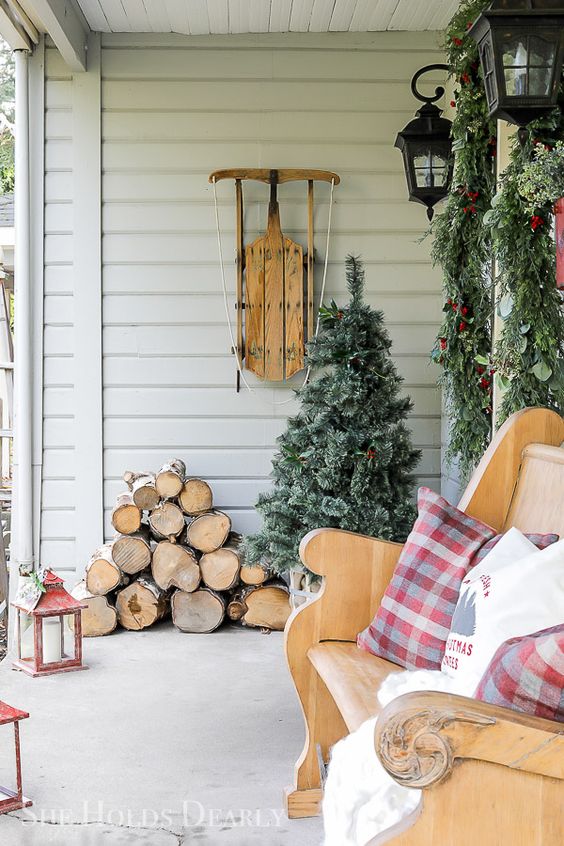 Festive Mat
A festive mat is also a must for your winter front door decor! There are so many cute etsy shops that sell front door mats. You can even get personalized mats!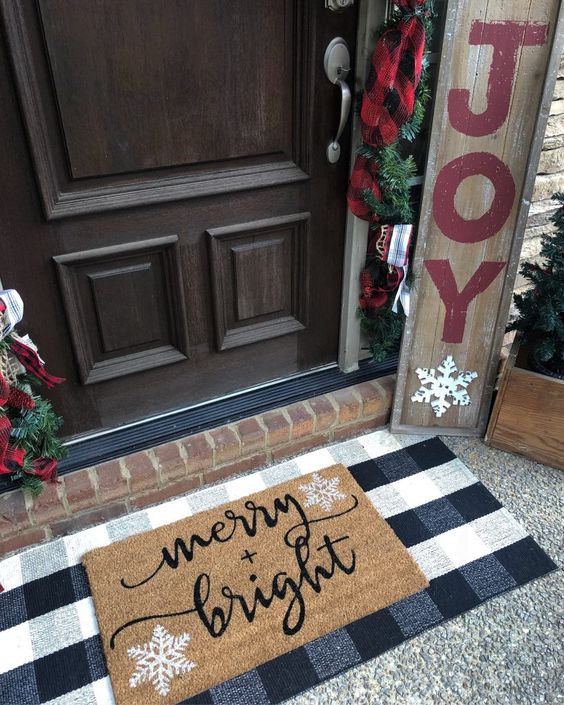 Lights
Adding lights to your front door or porch are great ideas for simple decor. Lights definitely give those Christmas vibes but they are just so beautiful how can you not add them!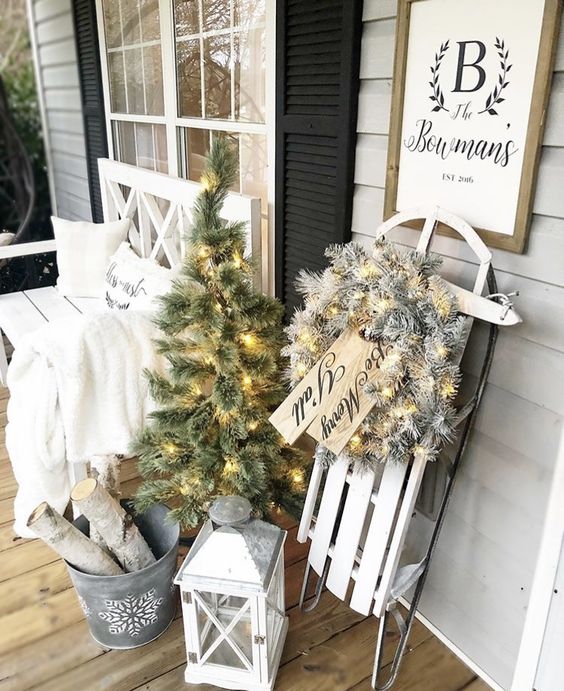 Candles
Candles kind of go hand in hand with the lanterns but some lanterns don't have candles in them so I wanted to make sure I added them to this list just in case! You can purchase outdoor waterproof candles that are on remote controls! This is super handy. I had them for my wedding!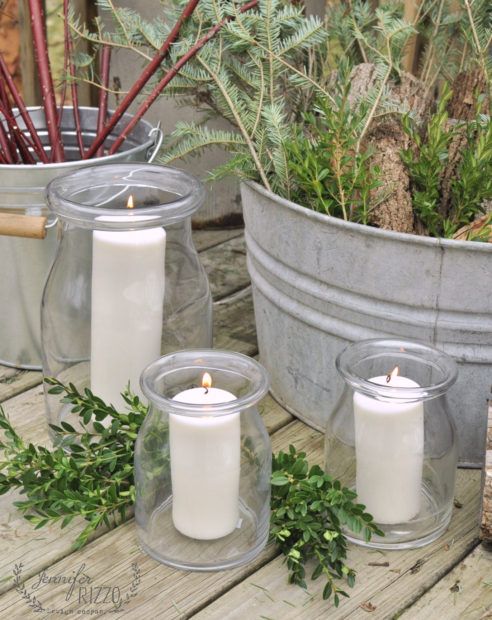 Wood Signs
Wood signs are so fun! I made a Christmas Wood Light Up Sign a few years ago. You can make personalized signs or just festive signs. A super popular one is the wood signs that lean against the wall. I definitely want to make one of these for our house!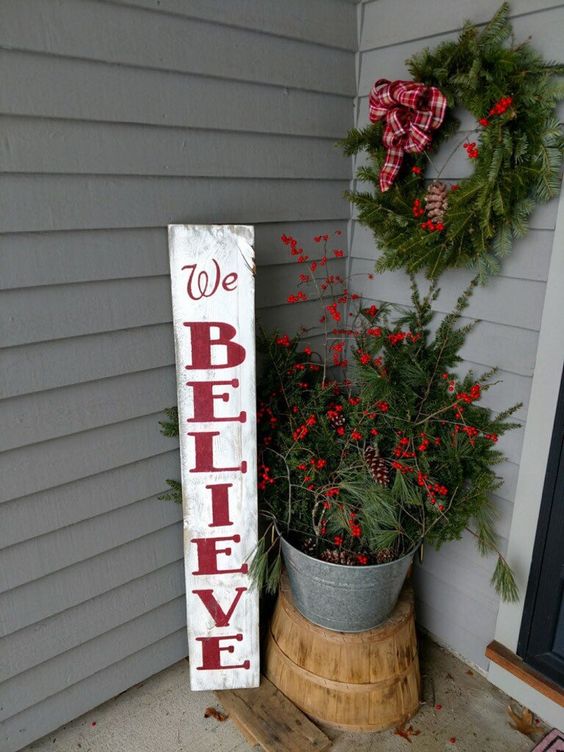 Antiques
I LOVE the look of antiques at the front door. Especially ones that are winter related like the photo below.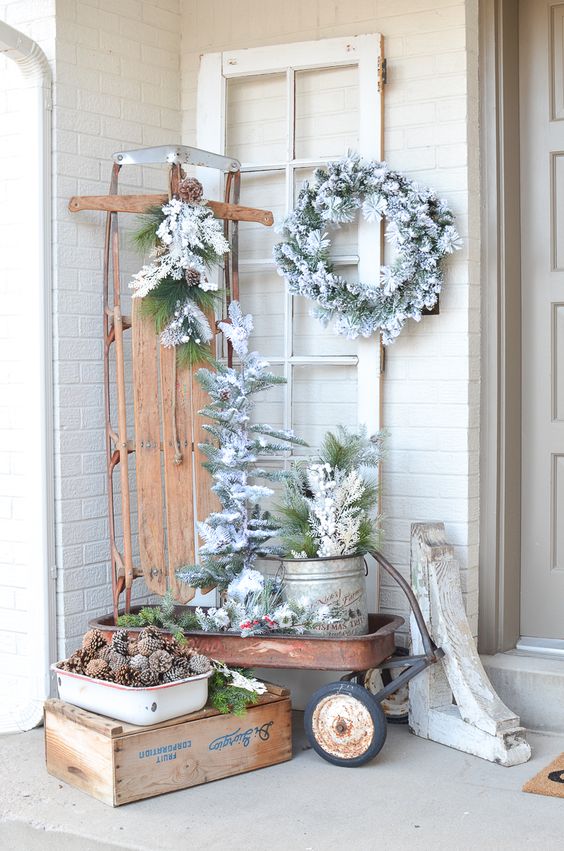 That is all folks!
Hope you enjoyed this post! What do you want to see next?
Until Next Time,

If you liked this post you will love these too!
- 15 PRETTY GIFT WRAPPING IDEAS
- 30 CHRISTMAS MAILBOX DECORATION IDEAS
- DIY CHRISTMAS WREATH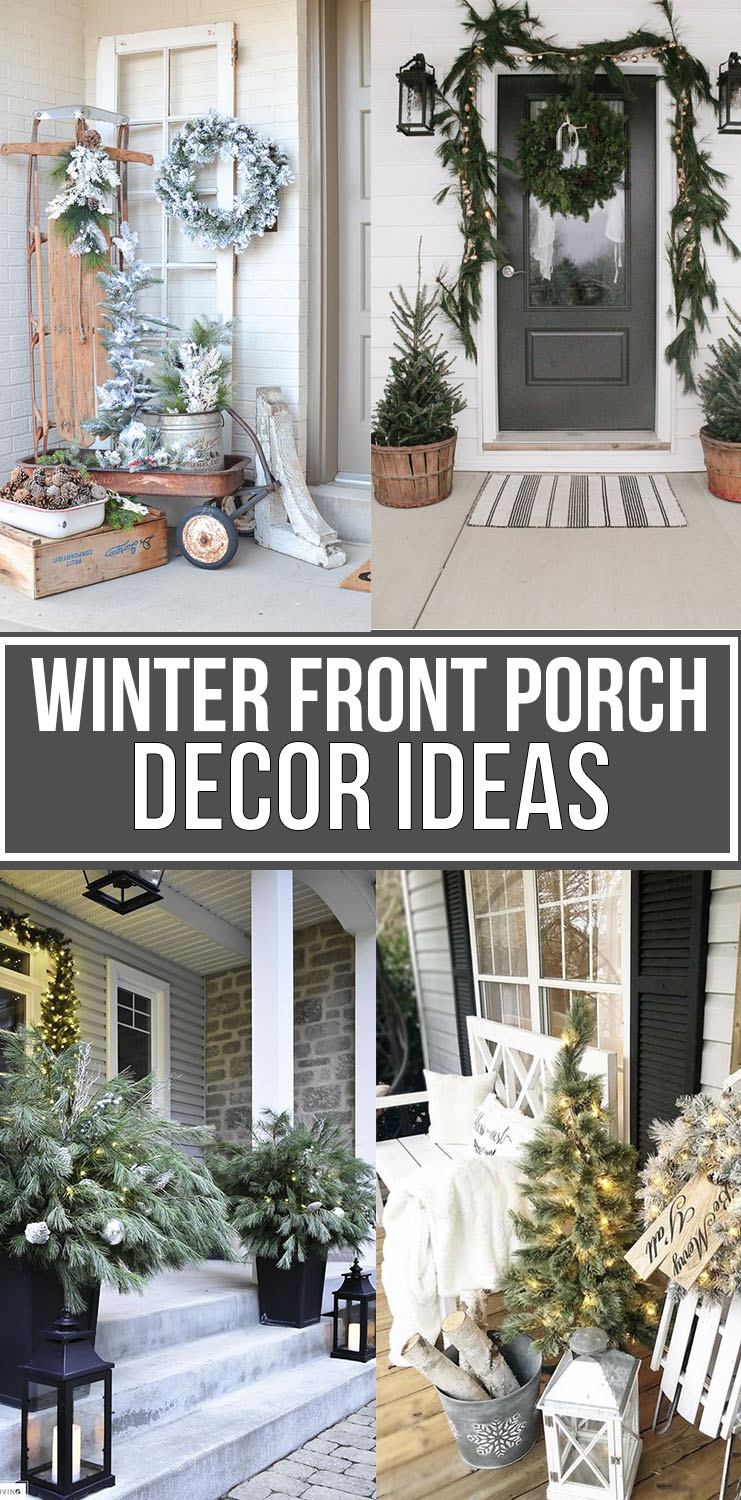 BEST SELLERS