30 Best Modern Farmhouse Kitchens for 2023; here are some of the best farmhouse kitchen designs we will see more of in the coming year!
Hi beauties! I'm coming at you with the best modern farmhouse kitchens for 2023!
It's no secret that the modern farmhouse style has been a trending kitchen design in recent years. The main idea of this style is to mix a shaker style with industrial elements, but how it is executed makes each space unique. If you want to upgrade your kitchen or plan your home's kitchen design, here are some ideas on incorporating the modern farmhouse look into your space.
Who would have thought that people just ten or so years ago wanted the bright, light look of their stainless steel appliances and white kitchen cabinets? Now, there is a big trend back to our roots, and the modern farmhouse is the top-grossing home design style in 2022 (even though it was the most hated design style back in 1940).
Expect to see more rustic, distressed cabinets and hardware. Overall farmhouse kitchens are simple and clean in style. The farmhouse look is as "in" as it gets right now, so if you've been thinking of doing your kitchen over this is the time! Here are some of the best farmhouse kitchen designs we will see more of in the coming year! I've handpicked 30 of the best modern farmhouse kitchens for 2023 so lets jump into it!
Best Modern Farmhouse Kitchens for 2023:
These 30 modern farmhouse kitchens offer a wide range of design styles, from lighter to darker, from more traditional to more contemporary. Most importantly, every kitchen in this list accomplishes the overall farmhouse feel and style that everyone has come to love!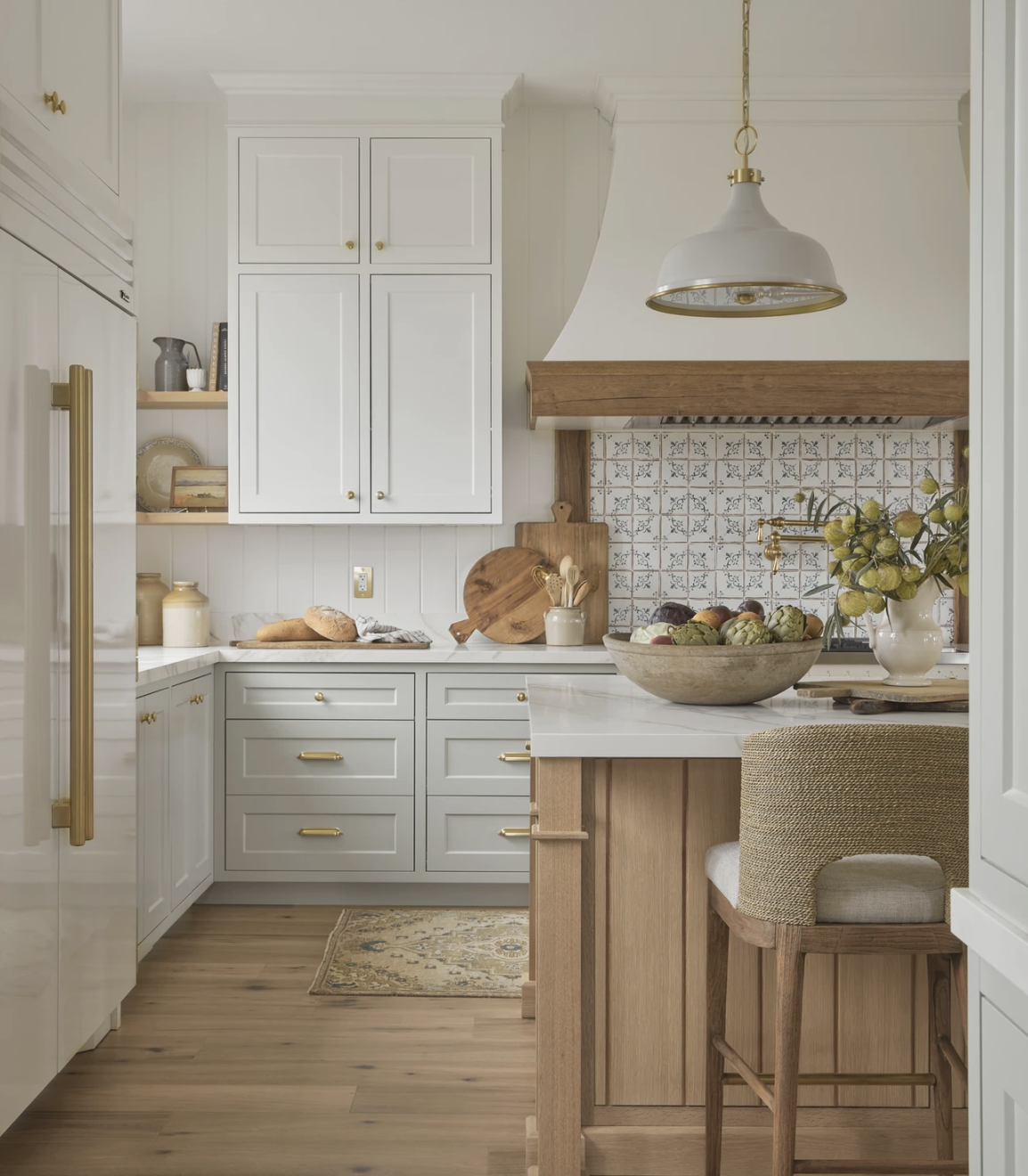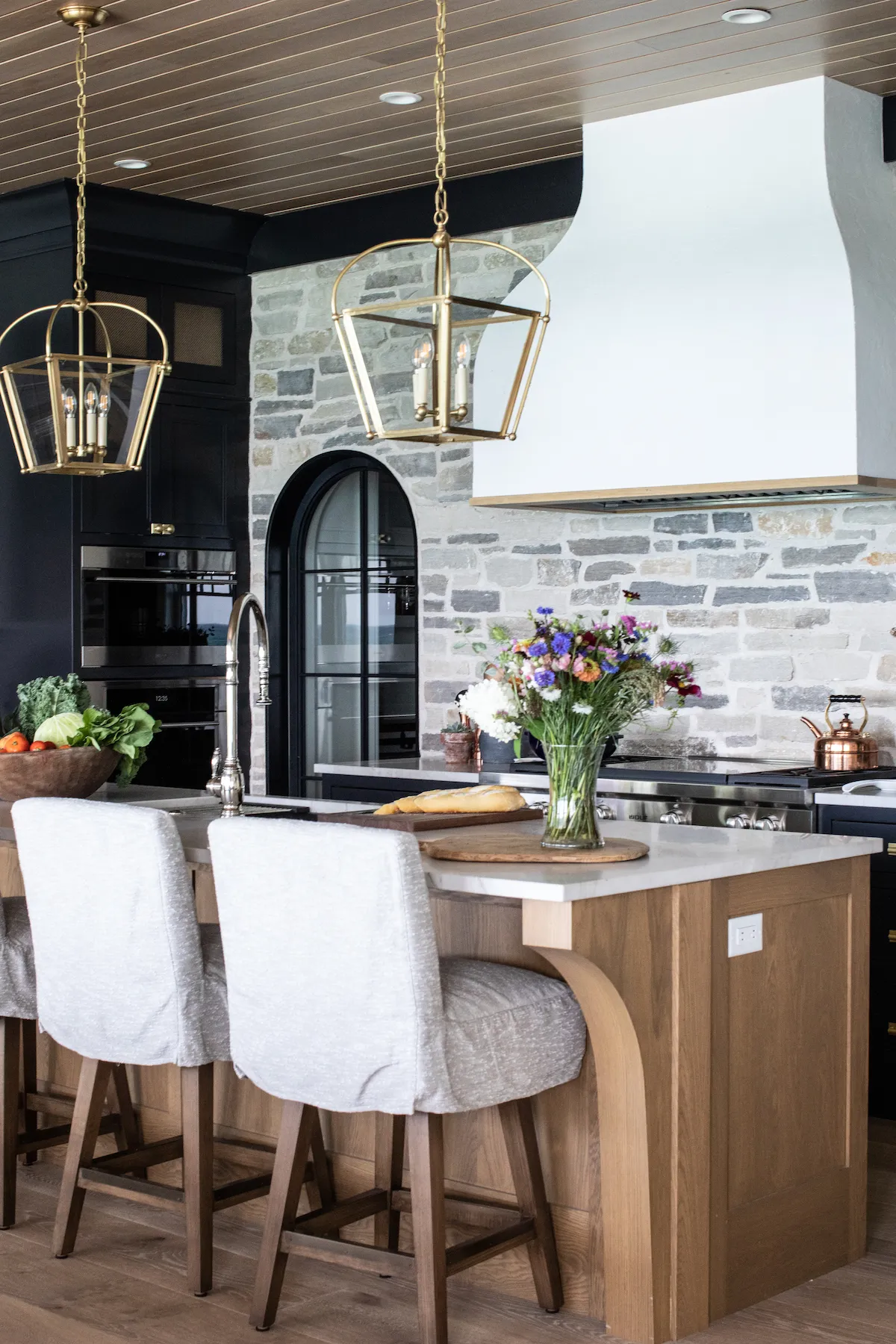 How to Achieve a Farmhouse Kitchen Design:
Go for a rustic look. That means natural wood, rustic tiles, and earthy colors.
Choose a neutral color palette. White cabinets are classic and make any kitchen look clean and timeless. If you're not ready to commit to that color, try gray or beige. You can always repaint later if you change your mind or want to switch up the look.
Go big on the textures! Don't be afraid to mix it up with different kinds of materials—from concrete countertops to textured walls and floors. Choose a texture that's rough, like reclaimed wood or stone countertops. These materials will give the space a natural, rustic feel that will help it feel more homey and inviting.
Don't forget about your backsplash—it's one of the most important elements in any kitchen design! You should think about how it will complement the rest of your space, as well as how it will work with whatever other materials you choose (like stone or brick).
Get creative with lighting! You don't need to go overboard with pendant lights or chandeliers (unless you really want to). Consider using lamps or simple sconces instead—they can make an otherwise dull space look stunningly beautiful!
Use metal hardware on cabinets and drawers instead of plastic or wooden knobs. The metal will add some shine and glamour while still keeping things casual enough for comfort.
Add an old-fashioned stovetop (like a gas one) to your kitchen design if at all possible! It'll make your space feel extra cozy without even trying!
So there you have it, a list of modern farmhouse kitchen design inspirations for the upcoming year. All of these designs work effectively to create a unique, comfortable space unique to the client without compromising the farmhouse aesthetics, and we're very excited to see what's in store for farmhouse kitchens in the coming year.
More Farmhouse Kitchens:
Until next time,