Unwrap the joy of personalization with my blog post, "36 FREE Christmas Gift Tags Printables". Discover a diverse range of beautiful and customizable gift tag styles to sprinkle extra magic into your presents this festive season. Perfect for Christmas gift-wrapping enthusiasts! Make your gifts more memorable with my unique and free printable tags
Disclaimer: this post may contain affiliate links, and every purchase made through these links will give me a small commission (at absolutely no extra cost for you!) AS AN AMAZON ASSOCIATE AND REWARDSTYLE MEMBER, I EARN FROM QUALIFYING PURCHASES. See Privacy Policy for additional info.
Hi beauties! Coming at you with some FREE Christmas Gift Tags Printables! The most enchanting time of the year is fast approaching, with many of us already getting into the spirit of gift-giving. Imagine, adding a lovely, extra personal touch to make your presents stand out under the tree. Yes, it's all about stunning Christmas gift tags.
Welcome to my collection of 36 free Christmas Gift Tags Printables, designed exclusively for all of your Christmas lovers! These printable gift tags provide an array of different styles to cater to everyone's tastes and to bring an extra dose of magic to your Christmas celebrations this year!
Our printable gift tags are not just tags - they are little canvases of art. From whimsical winter scenes and Santa-themed tags to chic minimalist designs and classic calligraphic styles, there's something to suit every gift and recipient.
How to Use These Free Christmas Gift Tag Printables
Using these printable gift tags couldn't be easier. All you need:
A printer (color or black & white, depending on the designs you choose)
A4 paper or card stock for printing
A pair of scissors
A ribbon or string to attach the tags
Just choose your favorite designs, download the PDF, print, and cut out, and they're ready to embellish your gifts. Write your own heartfelt messages on the reverse or leave them as is - they add a festive touch even without the extra words.
These Christmas gift tag printables are made on Canva. Photo credits and graphics to Canva.
36 FREE Christmas Gift Tags Printables: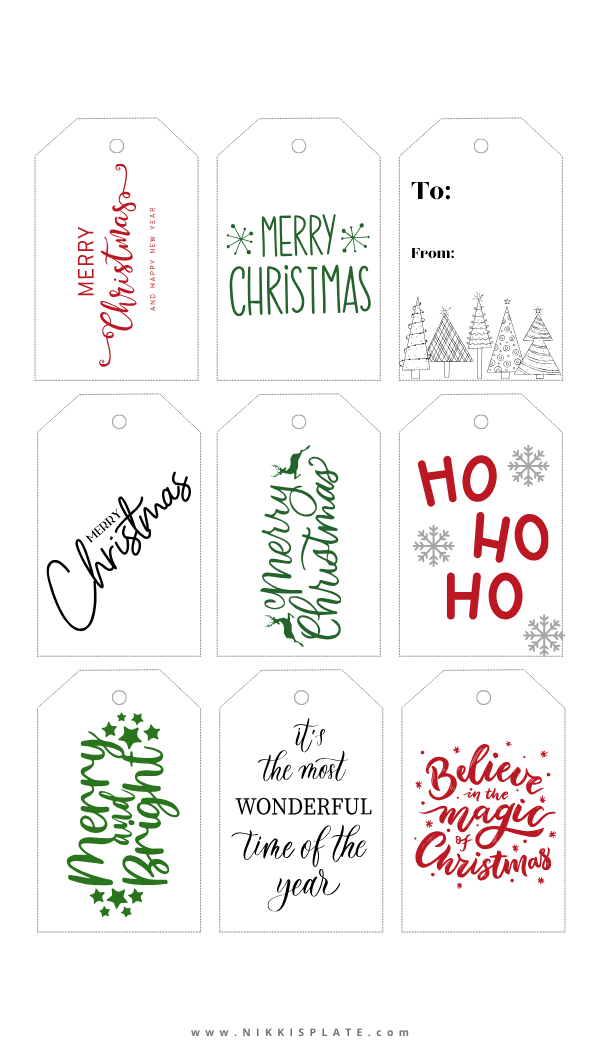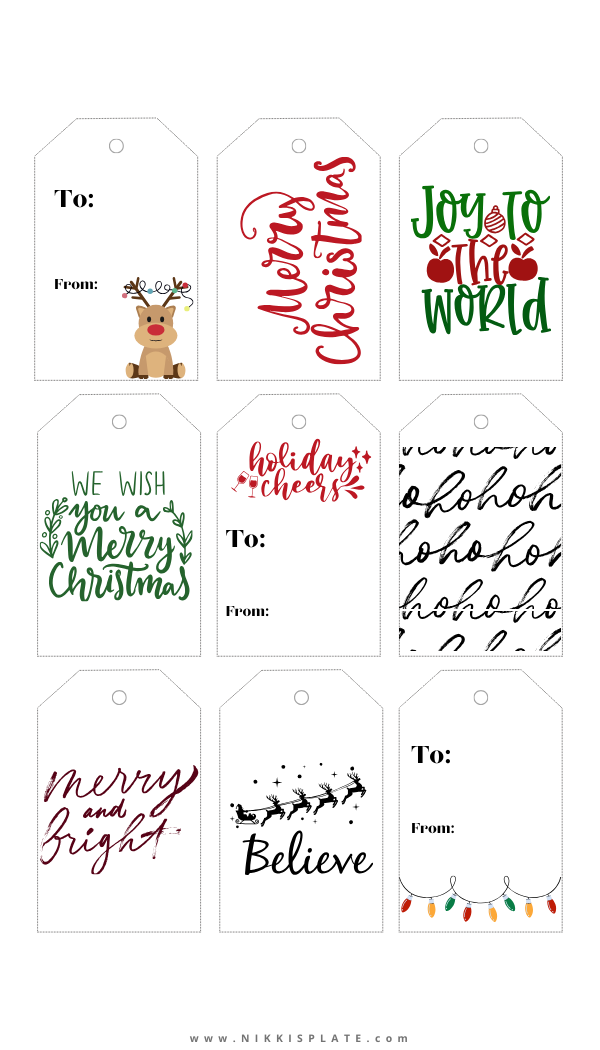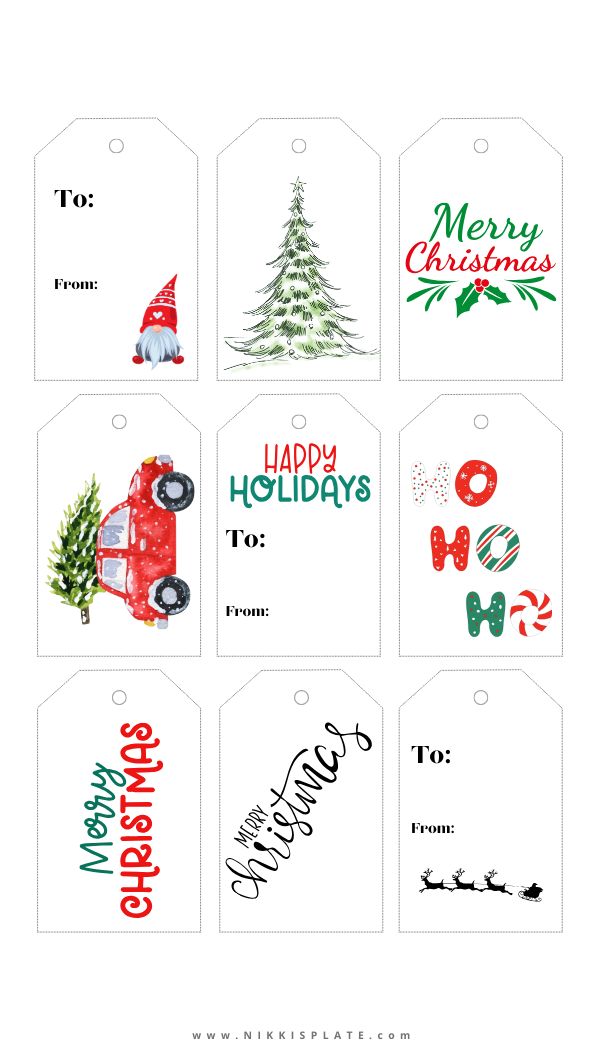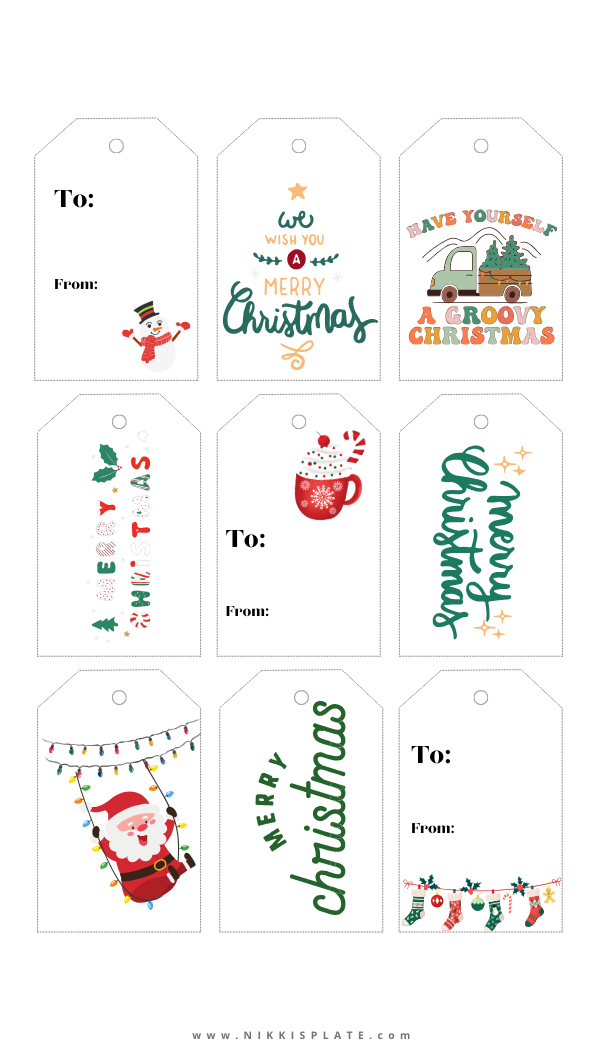 TIPS FOR PRINTING YOUR OWN CHRISTMAS GIFT TAGS
Printing your own Christmas gift tags can be a fun and charming way to give your gifts a touch of character. By following some simple tips, you can ensure perfect printing every time. Let's unwrap these tips:
Choose The Right Paper - Not all paper is created equal. For a luxurious feel and added durability, card stock is an excellent choice. It not only holds the ink better but also is sturdier than regular paper. Linen or textured paper can bring a unique touch too.
Invest in Quality Ink - The final appearance of your tags largely depends on the quality of printer ink you're using. Ensure your printer cartridges are sufficiently filled and consider using high-quality ink to get vibrant colors.
Printer Settings - Don't ignore your printer settings. For best results, set your printer to "Best Quality" or "Photo Quality". This will use more ink but produce a significantly better result.
Double-Check Size and Orientation - Before beginning a mass printing session, print one test tag to ensure your tag's dimensions are correct and your printer's orientation settings align with your design.
Regular Maintenance - Routine check-ups and cleaning of your printer are advised to avoid any blots, streaks, or jams while printing.
Precision Cutting - Invest in a good paper trimmer or scissors for accurate and smooth edges. Using a hole-punch for the tag holes can ensure a neat finish.
Let Ink Dry- To avoid any unfortunate smudges, let the ink dry thoroughly before you proceed with cutting and writing messages on the tags.
Reinforce Holes - Consider reinforcing the punch holes with reinforcement labels or eyelets. These not only prevent tearing but also add a decorative element.
Be Creative with Strings - Ribbon, twine, or colored string can enhance the look of your tags. Choose colors that tie into your wrapping paper design or theme.
Crafted with Love
These printable Christmas gift tags are perfect for the holiday season. Whether you're adorning a gift for a loved one, decorating your holiday home, or creating an advent calendar, these tags can add a bit more sparkle to your Christmas traditions. They can also be a fun family activity, allowing children to participate in the holiday preparations.
More Christmas Freebies:
Embrace the magic of this festive season with our 36 FREE Christmas Gift Tags Printables. A personal touch always makes a difference, and by using these printables, your gifts will carry a special charm that store-bought tags just can't match.
Download these tags, get creative, and start adding that personal touch to your gifts this Christmas. After all, it's the season of love, joy, and heartfelt gifts that weave precious memories. With these tags, you're not just wrapping up a gift, but also sending a bundle of joy and surprise.
Merry Christmas and Happy Gifting!
BEST SELLERS