White Herringbone Backsplash Tile Ideas; Modern white herringbone tile ideas, crisp and clean. Minimalistic and geometric tiles for your kitchen backsplash!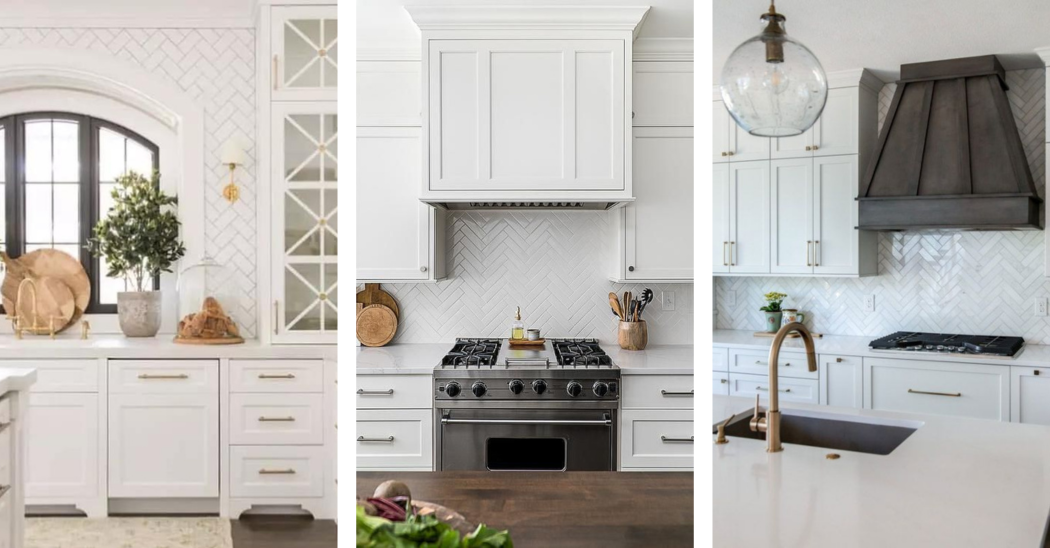 Hi beauties! Today's post is all about White Herringbone Backsplash tile ideas that you can use in the kitchen or the bathroom! I love white herringbone tile, and you will definitely see why after reading my post!
A white herringbone tile is a classic option for any space that needs some extra character. This type of tiling can be used anywhere from the kitchen to bathrooms, can be installed in different patterns, and it's simple enough to blend in with almost any style of decor you have. The best part? It's easy to find and install yourself—if you know what you're doing, that is!
The best thing about herringbone tile backsplash is that it's a timeless design. It has been around since the Renaissance period and still looks modern today. It can be used in kitchens, and bathrooms (shower, or shower floors, vanity backsplash) and even has outdoor use!
What is White Herringbone Backsplash Tile?
White Herringbone Backsplash tile is a great choice for those who want a classic look with a unique twist. The herringbone pattern is simple and elegant, but the white color gives it a modern twist that will make your space feel fresh and clean. The color of this tile will go with any color scheme you choose for your kitchen or bathroom remodel. The herringbone pattern adds a little extra flair to the tile and helps to hide scuffs and scratches that might occur over time.
The fishbone-inspired pattern is also a great way to add texture to your kitchen or bathroom without overpowering the space with busy visuals. The lines are narrow enough that they don't take up too much visual real estate but wide enough that they give off a nice visual impact when viewed from afar.
White Herringbone Traditional Tile
This kitchen has the most perfect white shaker cabinets and a beautiful white quartz countertop. White wood paneled range hood, with white herringbone backsplash tiles all above a stainless steel oven range.
White Herringbone Tile With Gray Grout
A crisp white kitchen with a white herringbone tile backsplash, white shaker cabinets, and a beautiful stainless steel range. The darker grout line has a fresh look and breaks up the all-white kitchen look.
White Marble Herringbone Backsplash
Warm and elegant, this white marble herringbone mosaic tile enhances the feeling of space while enhancing the look of your kitchen's backsplash. The wood cabinets had warmth and the range hood trim almost gives a fireplace mantel feel that truly completes this look.
White Herringbone Backsplash with a Steel Hood
The steel range hood adds sophistication and timelessness feel to this kitchen with a marble countertop and white herringbone tile for that simplicity we all love!
Gray and White Herringbone Backsplash Tile
This shiny tile offers a color enhancement to classic herringbone. Use a gray and white herringbone tile to replace outdated ceramic tile or to accessorize with unique floor or wall tile in casual kitchens, bathrooms, laundry rooms, and utility spaces.
Small Herringbone Tile Backsplash
This kitchen is dramatic with dark blue cabinets, marble countertop, and small herringbone tile that is all contrasting the wood floating shelves and accents. The navy cabinetry and stainless steel appliances complete this kitchen.
Thin Mosaic Herringbone Backsplash
A simple composition of glass and tile materials that creates a mosaic-like and dazzling white kitchen backsplash effect. Our thin herringbone backsplash blends seamlessly with nearly any style or color palette. Produced in quartz or granite and finished with a matte or shiny polish, this ultra-modern design was crafted to complement your contemporary kitchen.
White Herringbone Backsplash for White Cabinets
An innovative bathroom backsplash tile that turns negative space into an amazing focal point. For a minimalist look, white herringbone works better than a shaker because of its open mesh that leaves no grout lines to your eyes.
Blue Cabinets with White Backsplash
The cabinets have white herringbone backsplash tile, which is a nice contrast to the blue cabinets. The tile is a great way to add some color and pattern to this kitchen without being too busy.
Farmhouse White Kitchen
This farmhouse white kitchen has everything you need to make your home feel like a cozy, warm escape. The stainless steel appliances are the perfect complement to the white cabinets, shiplap range hood and marble countertops.
Grey Kitchen with Herringbone Tile
A cool neutral kitchen with a herringbone tile backsplash, light grey cabinets, and white countertops. All paired with a statement piece steel rangehood that really adds a focal point to this kitchen.
Black and White Kitchen with Gold Accents
This kitchen has all the style of a classic black and white photograph with modern touches of gold! The black-and-white color scheme is simple and classic, but the gold accents bring a fresh feel to the space.
White Subway Herringbone Tile Kitchen Backsplash
All white L-shaped kitchen with bright subway tile backsplash and a dark wood hardwood flooring. Stainless steel stove, rangehood, and hardware.
White on White Kitchen
A simple white kitchen with a marble and wood countertop combo. The smooth polish gives this marble mosaic wall tile a subtle luminous shine!
White Herringbone Tile With Dark Grout
Dark grout on white herringbone tile really takes it up a notch. It really showcases the tile in a dramatic way while still achieving that clean surface look.
Range Hood with Herringbone Backsplash
A solo stainless steel rangehood hangs over a beautiful mosaic herringbone tile. This white natural stone tile contains a variation in color, texture, shading and veining.
Barn Wood and Herringbone
This rustic kitchen island is made of reclaimed barn wood. It has a white quartz countertop and a sink built into the island. The pearl like tiles have a small shine but not one to distract from the island.
White and Navy Contemporary Kitchen
The herringbone pattern in this natural stone tile really stands out in this kitchen. The different shades of marble give it a striking appearance, with a warm appearance that makes it a great choice for use in kitchens, bathrooms and other spaces. The smooth polish on the surface gives it a nice shine that will make your home look amazing!
Off-White Herringbone Tiles
These off-white herringbone tiles make a bold statement. They're durable, easy to clean, and can be used in a wide variety of spaces.
Herringbone Tile With Beige Grout
Add vintage flair to your space with this herringbone tile. The beige grout gives it a fun, retro vibe that's sure to bring the room together.
Black and White Kitchen
This kitchen is so clean and crisp, I can't help but smile! The large mosaic herringbone tile is a great choice for a black and white kitchen, as it adds depth and texture to the space.
White and Green Transitional Kitchen
This white and green transitional kitchen has a lot of personality, but still manages to be a little bit formal. The white cabinets are accented with the green kitchen island, which helps the room feel more like a personal space than an office or dining area. The tiles have enough width to stand out from a distance!
Glossy Herringbone Backsplash
The perfect backdrop for this white kitchen is a glossy herringbone backsplash. No these are not peel and stick tiles, they are adhesive! They truly look great in this kitchen.
Gray Kitchen Cabinets with Herringbone Backsplash
A gray kitchen with a herringbone backsplash is an elegant and timeless look. The gray cabinets, matching trim, and black hardware add a modern touch to the classic backsplash.
Black Pot Filler on Herringbone Tile Wall
This black pot filler is the perfect addition to your kitchen remodel. It's so simple and sleek, it will look great with any tile pattern! It features a sleek, modern design that will make your space as stylish as it is functional.
Bright White Herringbone Backsplash Kitchen
The bright design of this kitchen is softened by the white herringbone backsplash. It's bright, it's white, and it's herringbone—this backsplash is definitely a showstopper.
Modern Kitchen with Marble Herringbone
This gorgeous modern kitchen has a beautiful marble herringbone floor and a sleek black countertop. The cabinets are white, and light gray. The room looks very clean and modern.
White Traditional Design
The white traditional kitchen design is a classic choice for anyone looking to remodel their kitchen. The white color palette is easy to work with, making it perfect for both novice and experienced designers alike. The traditional style of this kitchen also makes it perfect for any home decorating style, whether it be modern or classic.
White Herringbone Tile With Black Grout
This white herringbone tile with black grout can add a touch of elegance to any room. The tiles are made from porcelain and the grout is polyester, so they're both stain-resistant and easy to maintain.
Kitchen Cabinets with White Herringbone Backsplash
A white herringbone backsplash adds a modern touch to this traditional kitchen, while the cabinets and countertops are a simple off white.
White Kitchen with Brass Hardware
This kitchen is a delight. It's white, but not too stark—it has a warm glow that makes it feel welcoming and inviting. The brass hardware adds a touch of class without being overbearing, while the veined countertop gives the room a little bit of depth.
Navy Cabinets with White Backsplash
A gray shaker cabinet color scheme is paired with a gray herringbone pattern subway wall tile backsplash. The cabinets are topped by a white countertop and finished with a black glass front wine fridge.
Dark Countertops With White Shaker Cabinets
Nickel pulls add a touch of elegance to this L-shaped kitchen. A stainless steel range and range hood are fitted between the shaker cabinets in front of a white and gray herringbone tile backsplash that really pull this kitchen together!
Herringbone Tile Backsplash Surrounding Window Frame
A window with an arched top and black frame is surrounded by white herringbone tiles. A gold sconce with a white shade matches the gold handles on the cabinets, which host stainless steel appliances. Plants and cutting boards are arranged in front of the window.
Grey Grout Herringbone Backsplash
A white shiplap range hood is mounted above a sleek stainless steel gas range in this farmhouse kitchen. The range is fitted between white cabinets with a grey grout herringbone backsplash.
White and Gray Marble with Herringbone
A black range hood against White and gray marble herringbone tile backsplash. White shaker cabinets with beautiful brass hardware that really complements the kitchen as a whole.
Grey Cabinets With White Herringbone Tile
White glossy porcelain tile is perfect for kitchen backsplash. This tile's braided herringbone motif adds a touch of luxury to the room and will go great in any modern, sophisticated kitchen.
Herringbone tile can be a great options for kitchen or bathroom backsplashes, as well as for kitchen floors. While the pattern does take some time to install, the result is certainly worth it! It's an ideal choice for retro kitchens with a modern touch, and makes a great addition to complete your industrial style home.
Overall, herringbone tiles are a great choice for either room that you want to pull off as minimalistic or ones with a modern vibe. This can be seen in the three featured examples we have above. Each one has a different style to it, but they're all stylistically similar to each other. This is because of their geometric look and lack of patterns. They'll bring character and style to any room of your choosing!
More Kitchen Design Posts:
Until next time,