Pretty Blue Kitchen Design Ideas; scrap the white kitchens, blue kitchens are the hottest new design trend! Here are some beautiful examples of all blue kitchens!
Disclaimer: this post may contain affiliate links, and every purchase made through these links will give me a small commission (at absolutely no extra cost for you!) AS AN AMAZON ASSOCIATE AND REWARDSTYLE MEMBER, I EARN FROM QUALIFYING PURCHASES. See Privacy Policy for additional info.
Hi beauties!
Coming at you with a post all about blue kitchens. I love the idea of a white kitchen but blue kitchens are really starting to become popular! Everything from a deep royal blue to a robins egg blue..
The kitchen is the heart of any home. If you're looking for blue kitchen design ideas, I'm here to help with these blue farmhouse and modern kitchen design ideas. Whether you are looking for bright blue island, navy cabinets or light blue cabinets, I've got you covered here!
Blue is a great color for a kitchen. Not only is it soothing and relaxing, but it also has a clean, modern feel to it. If you're looking to add a little pop of blue to your kitchen, here are some ideas:
Use classic blue accessories like plates and cups to add color without overwhelming the space.
Use blue countertops or backsplash tiles to add depth and dimension to your kitchen.
Install blue lighting fixtures or pendant lights over your island or stovetop.
Paint some blue walls! Whether you're looking for one accent wall or painting then entire room, adding blue paint to the walls will definitely make a statement! Maybe just avoid painting the ceiling for now though!
Incorporate some blue wallpaper!
Or you can go bold blue cabinets for your blue kitchen!
Blue is a calming color that can be used in any room, but it works especially well in kitchens because of its soothing effect. It's also a great accent color—which means you don't have to go all-out with it if you don't want to. Just add in a few pops of blue hue here and there, or paint an accent wall blue. You'll have yourself an instantly cool space.
So with that being said, lets dive into these BEAUTIFUL blue kitchen deisgns to get your creative juices flowing!
<< None of these photos belong to me, blue click links and photos to be redirected to their owner >>
Beautiful Blue Kitchen Design Ideas:
The first kitchen here is by Jacob Medina Interior Design. I am obsessed with this kitchen! These greeny/blue cabinets are so sleek and stylish. The dark wood accents really makes this space sophisticated and warm. Leather stools really bring in some warmth to this space. Also love the brick walls to add a country charm. Check out the hidden bar nook too! Such a great idea!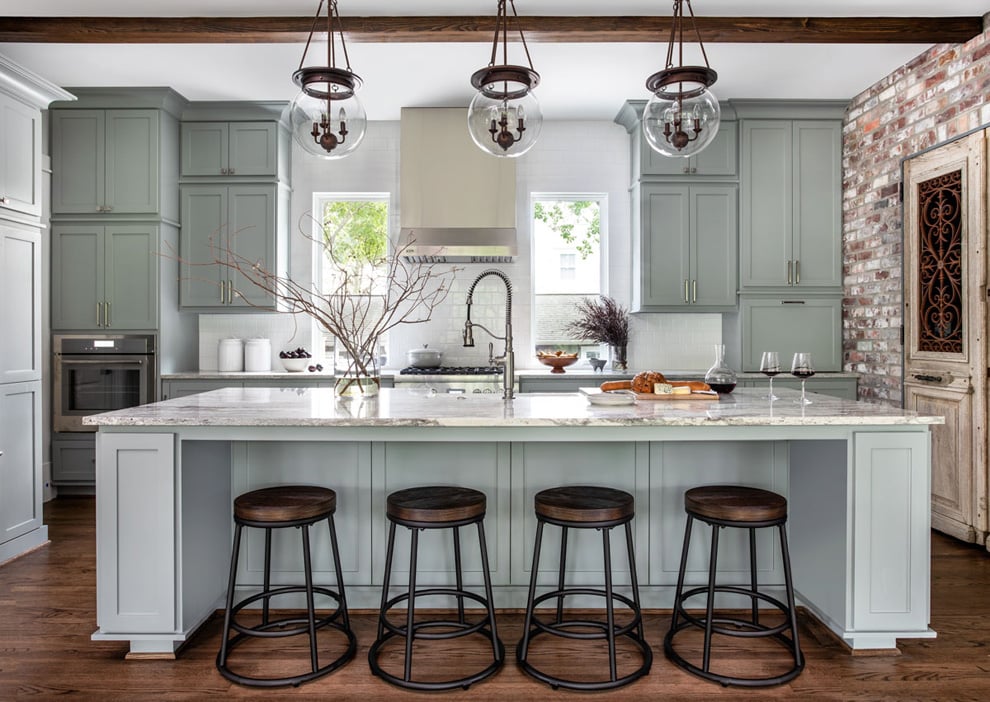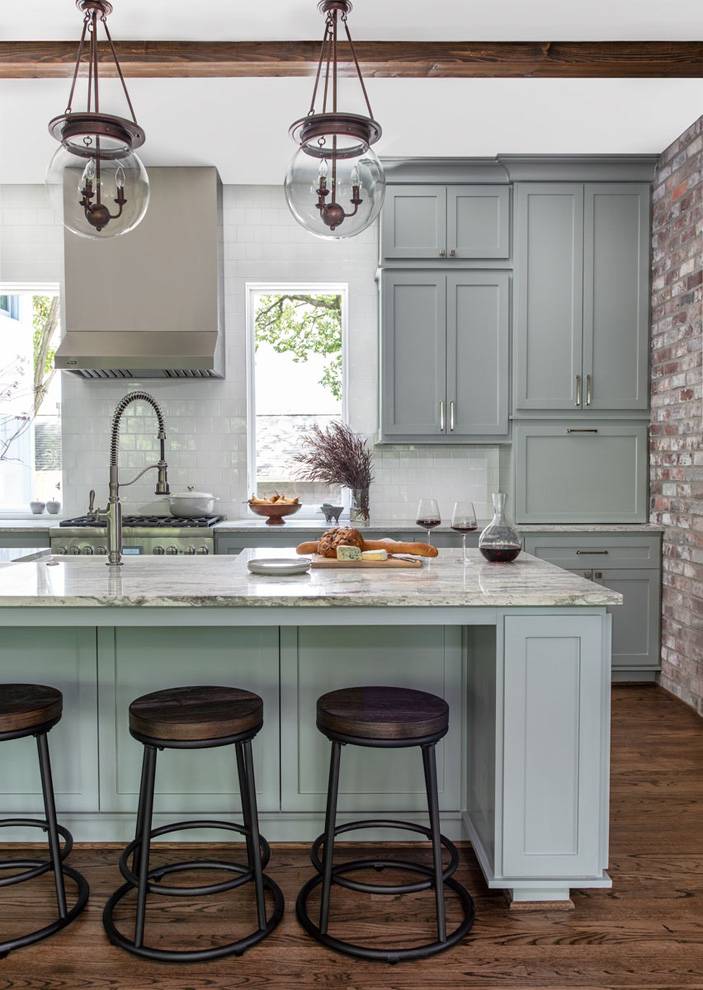 Stonington Cabinetry & Designs designed this next transitional kitchen! Loving this dark navy kitchen, talk about a statement kitchen! The owners of this kitchen definitely took a risk with this design and wow did it ever pay off!
The best part of these dark cabinets is the potential they have to hide dirt and finger prints! That is the one thing that is no fun about the light coloured cabinets! The colour of these cabinets is Hale Navy by Benjamin Moore.
Such a beautiful deep blue cabinetry color! The marble countertops really make the color blue pop here!
Related: 11 BEST KITCHENS BY STUDIO MCGEE
Click these links to see where you can buy: similar island counterstool, gold faucet, similar gold cabinet pulls.
This next beautiful kitchen is by Chris Jacob of Jacob Design Co (photos via HomeBunch). I love how the dark cabinets really contrast well with the bright white counter tops.
Related: 13 WHITE KITCHEN DESIGNS YOU HAVEN'T SEEN YET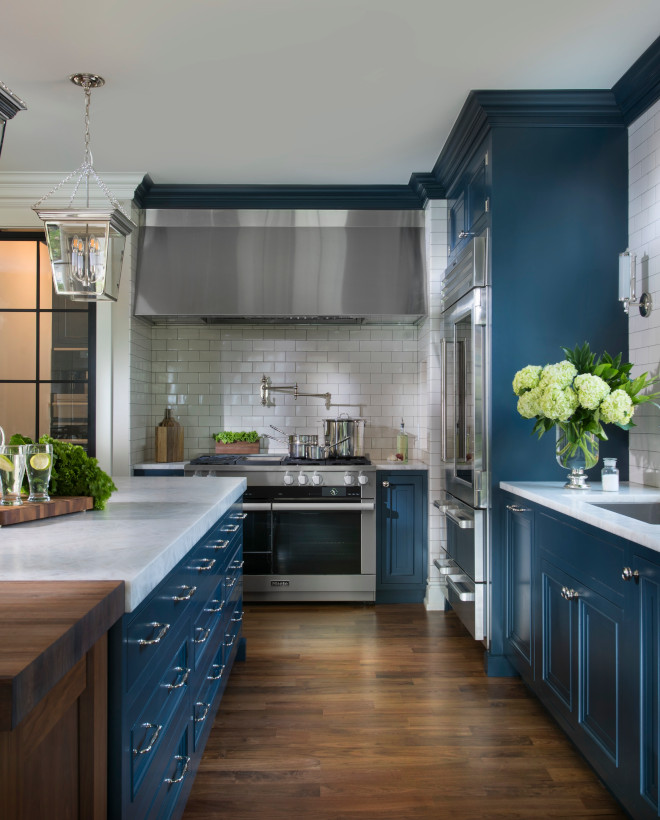 Click these links to see where you can buy: the pot filler, the subway tile backsplash, the Island pendants, cabinet pulls, cabinet knobs and water stone sink faucet.
This next kitchen is by Timber Trails and its another navy show stopper! The dark blue cabinets look so perfect against the natural wood of the island.. it really brings everything together.
Also obsessed with the dark grout of the subway tile backsplash.. you don't see that very often and I think it looks fabulous in this kitchen!
Related: OUR PHOTO GALLERY WALL + TIPS AND TRICKS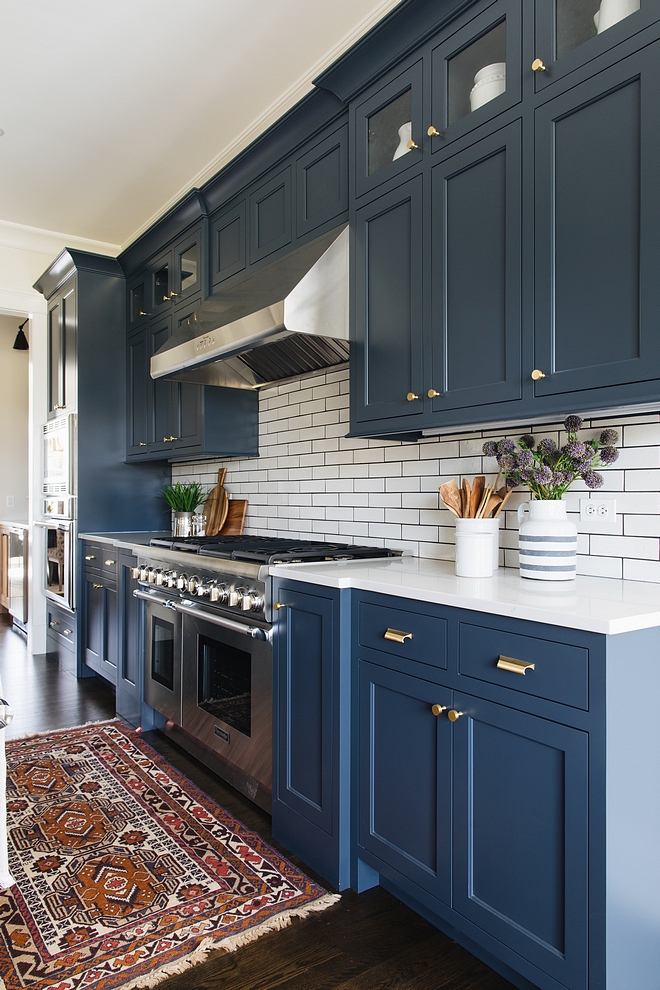 But not all shades of blue are created equal. If you want to incorporate this hue into your kitchen, here are some tips:
Don't go overboard with the blue! A little bit goes a long way, so stick with one or two accents rather than painting everything in the room blue.
Use different shades of blue to create depth and variation in your design scheme. For example, if you have cabinets that are painted a lighter shade of blue than the walls, it will make them stand out without being too stark against the darker backdrop of wall color. You could also use complementary colors like yellow or orange if you want something brighter without being too intense; these colors will complement each other beautifully without creating too much contrast between them!
Don't forget about other elements besides walls!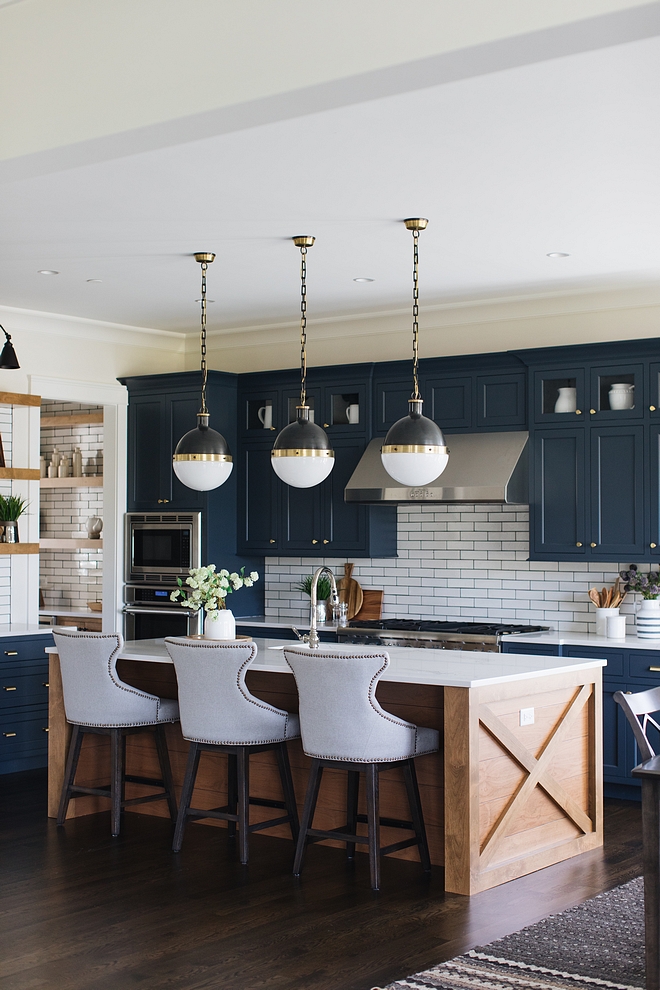 Click these links to see where you can buy: island pendant, kitchen faucet, and gold cabinet pulls
This next kitchen belongs to the blogger Addison's Wonderland. This blue is AMAZING! A lot of the decor in my house is similar to this robins egg blue. I love it, it screams coastal and spring time. I also am loving how pretty it looks next to the gold hardware.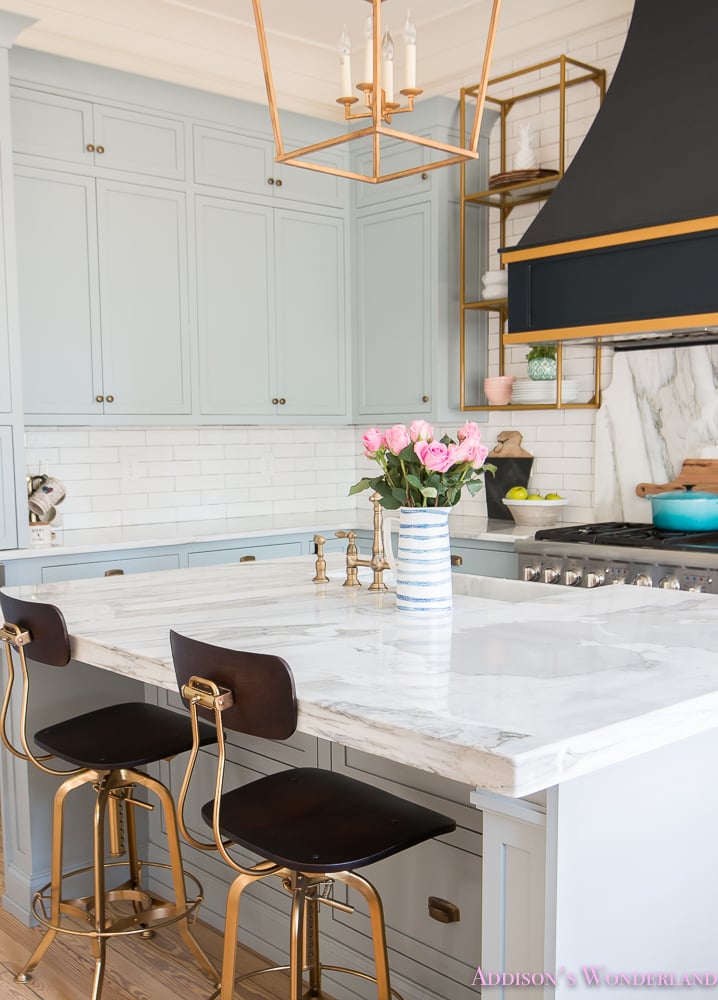 Next kitchen comes from another blogger, Life on Virginia Street. Her blue kitchen is another unique coastal vibe. Love the accents and these wicker pendants! Make sure you swing over to her site to show her some love!
I also love the idea of including wood floors in a blue kitchen. Wood floors in a blue kitchen are a surefire way to add elegance and warmth to your space.
The blue kitchen is a classic color choice for kitchens, but it can be tricky to work with. The vibrant blue can clash with other colors in the room, so you want to make sure that you're pairing it with things that are in the same family—or at least complementing shades.
One way to do this is by using wood floors in your kitchen. Wood floors go with almost any color, and they bring warmth and earthiness into your space. They also have a natural texture that will help balance out the hard lines of a blue room and give it some depth.
Related: 15 BEST KITCHENS BY JOANNA GAINES
Such a stunning blue shade that really complements the white countertops. Keeping the lower cabinets blue and white on top really adds interest here. This lighter shade of blue really works well with the brass fixtures. And can we talk about how perfect those barstools are for this kitchen!
Blue has been used in kitchens for decades. The color of the sea and sky, it's associated with freshness, purity, and tranquility. It's also a great complement to many other colors, like yellow or orange, which makes it perfect for pairing with other bold hues in your kitchen.
The mood of this blue kitchen is so different then the previous ones. The color of blue paints really does make the overall feel of a kitchen. The warm wood tones of the butcher block kitchen island really adds to the over all feel to this blue kitchen. The open shelves make the space above the kitchen sink look open and bright!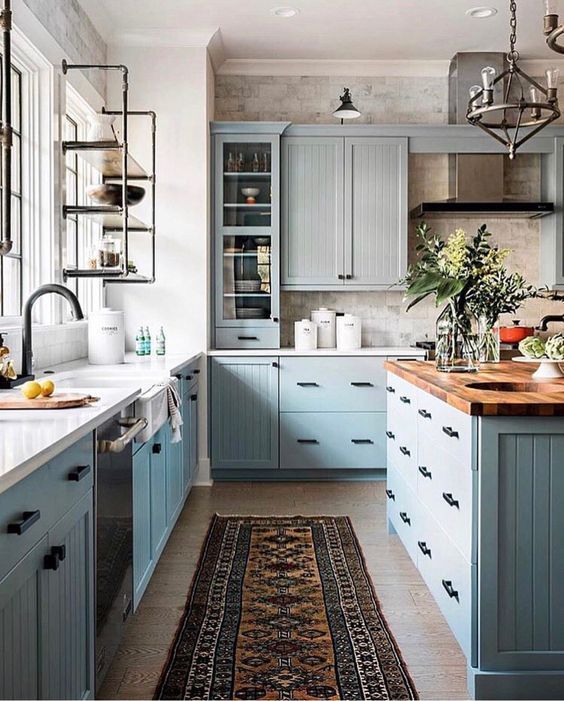 Again with the white cabinets mixed with dark blue kitchen cabinets here with the white marble countertops. Gold accents really complement this blue color to keep it neutral with a splash of warmth to a cold kitchen. The bold range hood really makes a statement too!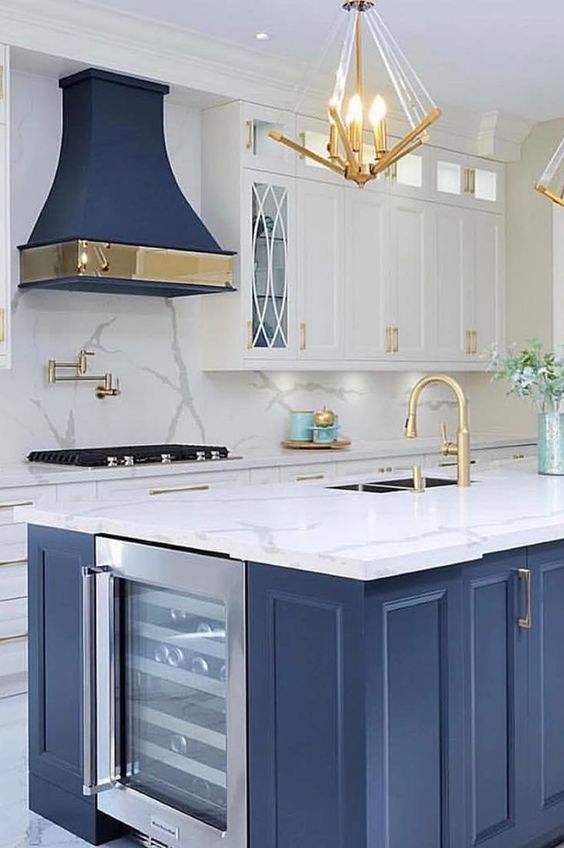 There you have it! 9 beautiful blue kitchen design ideas!
Blue is a great color for kitchens because it's both calming and relaxing—it helps you de-stress after a long day at work. It also creates a nice ambiance in your space, making it feel modern and inviting. Whether you are choosing a baby blue, turquoise, teal, aqua, cobalt or navy blues, you can create a beautiful space!
Hope you enjoyed this post, see you in the next one!

BEST SELLERS