10 Back To School Organizing Tips for moms; BTS organization in and outside of school guide.
Disclaimer: this post may contain affiliate links, and every purchase made through these links will give me a small commission (at absolutely no extra cost for you!) AS AN AMAZON ASSOCIATE AND REWARDSTYLE MEMBER, I EARN FROM QUALIFYING PURCHASES. See Privacy Policy for additional info.
Hi mamas! Looking for back to school organizing tips? I have you covered in this post!
School is just around the corner, and if you're like me we've been prepping for the big day for weeks. But it's not just about getting ready for your first day of classes or making sure you have everything under control.
Back to school is a busy time for everyone, but especially kids. Between packing and unpacking, the chaos of getting back into the school routine, and the excitement of starting a new year, it can be hard to keep track of what needs to be done.
The real challenge comes in those early morning hours when everyone is rushing to get ready for school. You want to be on time, but there are so many things to do — from breakfast to homework and backpacks! If only there were a way to make it all easier...
Well now there is! Here are 10 easy back to school organizing tips for moms that'll help you get through those crazy mornings with less stress:
Back To School Organizing Tips for Moms:
Organize the night before.
You've heard it before, but it's worth repeating: don't wait until the last minute to get ready for school. It's a good idea to take a few minutes beforehand to get yourself organized, so that you can leave your house in a calm and collected state of mind (and not rush out like a maniac).
As you prepare for your child's first day back at school, think about everything they'll need: clothes, shoes, socks, lunch box or baggies with snacks and drinks? The night before is also an excellent time to make sure all their supplies are packed into their backpack as well. You may want to consider some additional items like personal hygiene products (makeup remover wipes), pencils/pens/pencil sharpener and paper clips just in case they forgot something important.
Designate a spot for everything.
Designate a spot for everything. Once you have your supplies, make sure you have a designated spot for them. Whether it's in your room or in the garage, having an area where they are stored will help keep them organized and out of sight until they're needed.
This is the best way to ensure that you know where things are when you need them. Label bins and containers with their contents so it's easy for everyone in the family to put things away where they belong.
Create a "go-to" drawer or bin at home where everyone can put items they need throughout the day (like pencils, erasers and other supplies). This will help cut down on clutter in the kitchen or dining room, which will make those spaces feel more spacious.
Set aside an extra hour each week to clean up after dinner or bath time so that before bedtime comes around again there isn't much left over from earlier in the day (or week).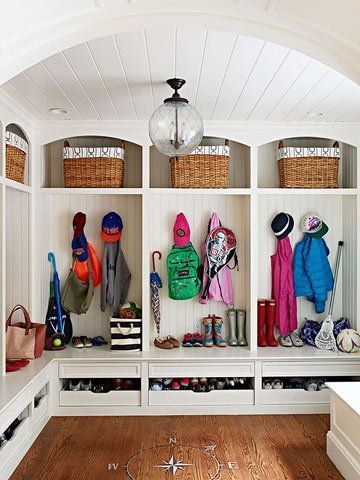 Make a step-by-step list of what needs to be done each morning.
Make a step-by-step list of what needs to be done each morning. Write down a list of everything you need to do the night before, so you can get up and start your day on the right foot.
The most important thing for me is breakfast and getting my kids out the door in time for school. If you have an after school program or extracurricular activities, write down what needs to be done before or after those programs as well—and prioritize them!
Minimize bathroom clutter.
When you have a messy bathroom, the whole house can feel like it's in disarray. It's important to keep your bathroom organized and tidy so you can start each morning with a good feeling.
You can do this by following these steps:
Clean up after each use of the shower or tub. If you're concerned about germs, use antibacterial wipes to disinfect surfaces before they dry out (and therefore become harder to clean).
Put away all items that are no longer being used—sponges, razors, toothbrushes—and keep them in their designated places when they are needed again later on in the day or week.
Keep things together where possible: toothpaste next to toothbrushes; shampoo next to soap; towels near showers/bathtubs; razors near shaving cream; makeup brushes with makeup removers nearby (or vice versa). This will make it easier for everyone in your family who uses these items regularly!
Meal prep and clean up will get easier if you set up a place for each step.
Set up a place for each step of meal prep. This will help you stay organized, but it also frees up your kitchen space so that when you are ready to cook, everything is right there where you need it.
Put a place for dirty dishes as soon as they come out of the dishwasher or sink. If this isn't possible (say if you don't have a dishwasher or live in an apartment), set aside one area where all dirty dishes go until they can be washed later on in the day or night. Put a place for clean dishes and utensils so that when dinner has been served and eaten, cleanup is fast and easy!
Stay on top of laundry.
Dirty laundry is the bane of everyone's existence—especially when you're trying to get back to school for the year. We've got some tips for getting your dirty clothes clean, organized, and ready to go with just a little bit of effort.
First things first: get organized! Put your dirty clothes in hampers or bags so you can sort them into piles. If you have more than one hamper, make sure that each one has the same type of clothing in it (for example, all dark clothing in one hamper, all light clothing in another). This will make it easier to keep track of your laundry as it gets done.
Next up: wash! Wash your clothes on gentle cycle with cold water and detergent appropriate for their fabric type. If they need special cleaning agents or treatments, add those at this point as well. Hang dry if possible—but don't forget about them! Don't let wet clothes sit around too long or they'll start smelling bad and fall apart faster than usual.
Finally: fold! Folding laundry makes it look neat and tidy—and helps it last longer by keeping creases from forming during storage periods between uses (which makes them look
One of the best ways to stay organized before heading back to school is by keeping your dirty clothes contained in one place so they don't get lost in the shuffle. Here are a few tips for making sure everything stays together:
Label your hampers and drawers so you know where everything goes when it's clean (or dirty!)
Use clear bins or baskets on wheels that are easy to move around so you can see what's inside without having to open every single one up
Keep an extra hamper in each room where there are kids who live there so they can take their dirty clothes straight downstairs without having to worry about picking them up later
Make sure your laundry room has the essentials and is well organized and put together for success and speed!
Keep bags and school materials together and ready to go in the morning.
The first step in keeping your school materials organized is to keep them together and ready to go. If you have more than one child, think about where they will be going every morning and set up their bags accordingly. You can put their backpacks right inside the door, or if they are older and will be walking themselves to school, make sure that there is somewhere safe for them when they leave so that nothing gets lost or damaged while you are sleeping (or running late). Decorate your mudroom to be the home landing spot.
Make sure that all of the items they need daily are easily accessible at night
Keep them in a central location where everyone can get access to them on their way out the door
Gather your supplies in one place — your family's central location.
Don't wait until the last minute to gather your supplies.
Keep everything in one place. You'll save time, and you won't have to search for things when it's time to get ready for school or run out the door.
Keep your supplies in your backpack, desk, drawer, or box so they're easily accessible when you need them.
Pack lunches the night before.
One of the best back to school organization tips is packing your lunch the night before. It's a great way to save time and reduce stress the next day. If you don't have the time or energy to do this, consider making some changes in your schedule. Making sure that you have everything needed for a healthy lunch is also an important part of packing it correctly. That means having enough containers, utensils and napkins on hand so that nothing gets forgotten when it comes time to eat.
Another thing worth considering is where you will store lunches at home during the week or weekend. Having designated areas for each person's bag makes it easier for everyone involved with back-to-school activities as well as simply eating meals together at home after school hours (which can be another excellent way of reducing stress levels).
Set alarms on your phone as reminders.
Setting alarms on your phone is a great way to ensure that you're starting the day off on the right foot. Set an alarm to go off in the morning so you can get up and ready for school, another one at lunch time so you know when it's time to eat, and then one more at the end of the day so you don't forget anything before heading home. If your schedule changes throughout the week (and it most likely will), set up additional alarms as reminders. If necessary, use a different alarm sound for different tasks (a reminder chime vs. an alert tone).
These tips make a big difference when it comes back to school organizing
Getting organized before the school year begins is incredibly important. You can't get your child ready for a new school year if you're still trying to sort through last year's papers and supplies.
Organizing the kitchen: Clean out your refrigerator and cupboards, trim your pantry shelves, and consider storage solutions that will help keep food fresh longer. Label containers with expiration dates so you know what needs to be used up first, or take advantage of technology by scanning bar codes into an app on your phone or tablet so that it alerts you when food has gone bad (and where in the fridge). If there's no room in your freezer for frozen pizzas anymore because it's been full all summer with ice cream bars from birthday parties, use a few plastic bins to store them (or even better yet, rotate them into regular use).
Organizing school supplies: Get enough notebooks for each subject—don't try saving money by buying cheap binders only good enough for one semester; buy quality binders that will last throughout high school! Also make sure all pens have ink refills available at home; if not, keep some extra ones from previous years' classes on hand or else invest in refillable pens (they're more eco-friendly too!)
These tips will make a big difference when it comes to getting ready for school every morning. The key is to start early and keep your goals in mind. As you practice these new routines, they'll become easier and more natural over time — just like all good habits do!
I hope you enjoyed this post all about back to school organizing tips for moms!
Until next time,
10 Back To School Organizing Tips for Moms ; organization in and outside of school guide.
BEST SELLERS