15 Laundry Room Essentials Every Homeowner Needs; Your laundry room essentials should include a few must-haves and a few nice-to-haves. Here are the laundry room essentials for any homeowner.
Disclaimer: this post may contain affiliate links, and every purchase made through these links will give me a small commission (at absolutely no extra cost for you!) AS AN AMAZON ASSOCIATE AND REWARDSTYLE MEMBER, I EARN FROM QUALIFYING PURCHASES. See Privacy Policy for additional info.
I used to despise laundry day. It always felt like such a chore, having to lug all of those baskets of clothes around, sorting through colors and fabrics. If there's one room in the house that always seems messy, it's the laundry room.
If you're going to do laundry at home, you need a few essentials. Fortunately, it doesn't take much to get a laundry room up and running.
Between dirty clothes and piles of detergent bottles, it can be hard to keep things in order. Luckily, I've learned to manage my laundry day better—especially since I've started using the right tools and products. From cleaning clothes to getting rid of stains, good laundry room essentials will help you keep your sanity (and clothes) in check. 
So instead of letting your laundry room become a mess, get these laundry room must haves to keep it organized and running smoothly. With these 15 laundry room essentials, you'll be able to breeze through your laundry routine like a pro!
Make sure you have these 15 laundry room essentials before you begin. Lets jump into the list!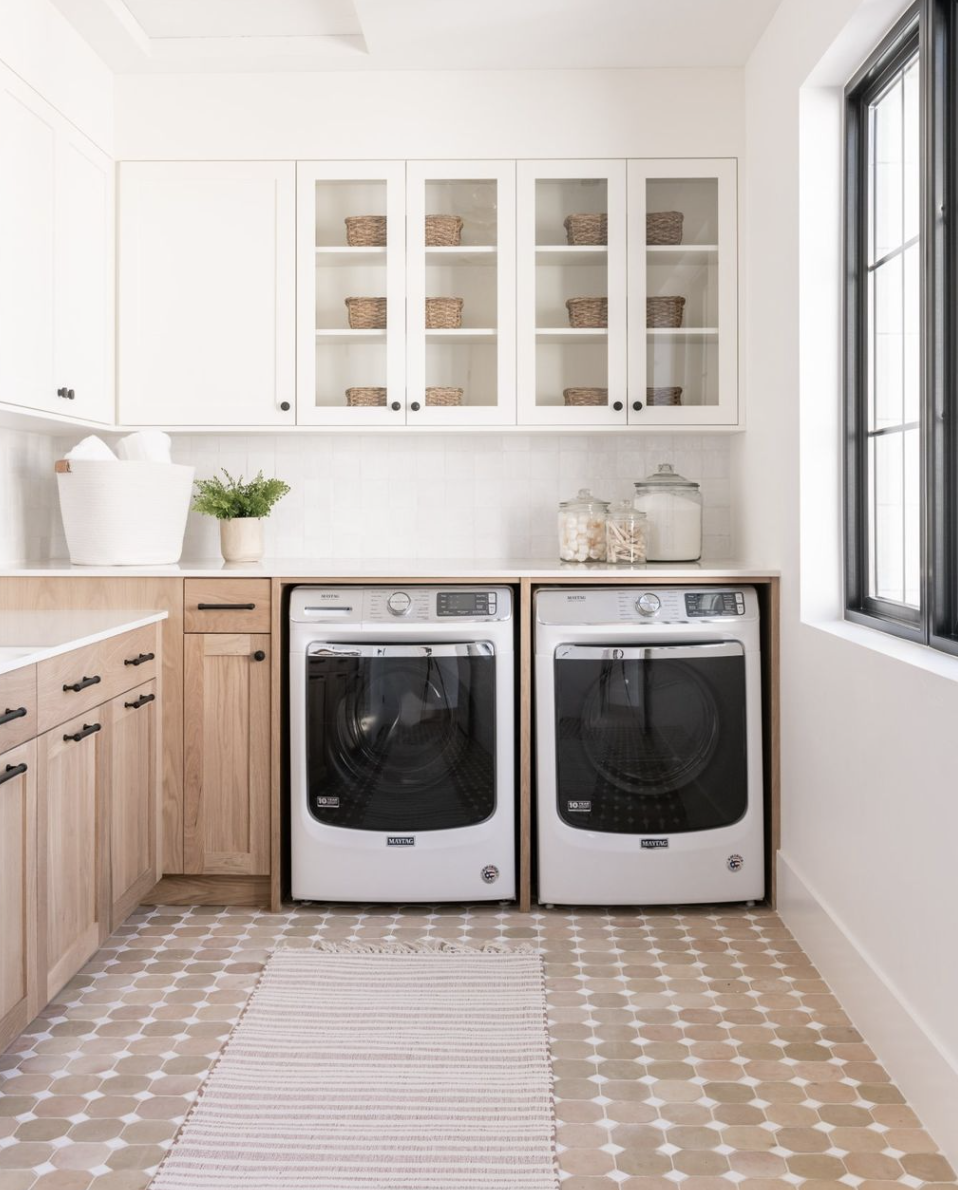 Laundry Room Essentials List
Here is a laundry room essentials list to make your most organized and less stressful:
Washing machine
Dryer
Drying rack or clothesline
A sink with hot and cold water
Shelves or cabinets for storage
A countertop for folding clothes
Hanging rods and hangers 
A door that can be closed to hide the mess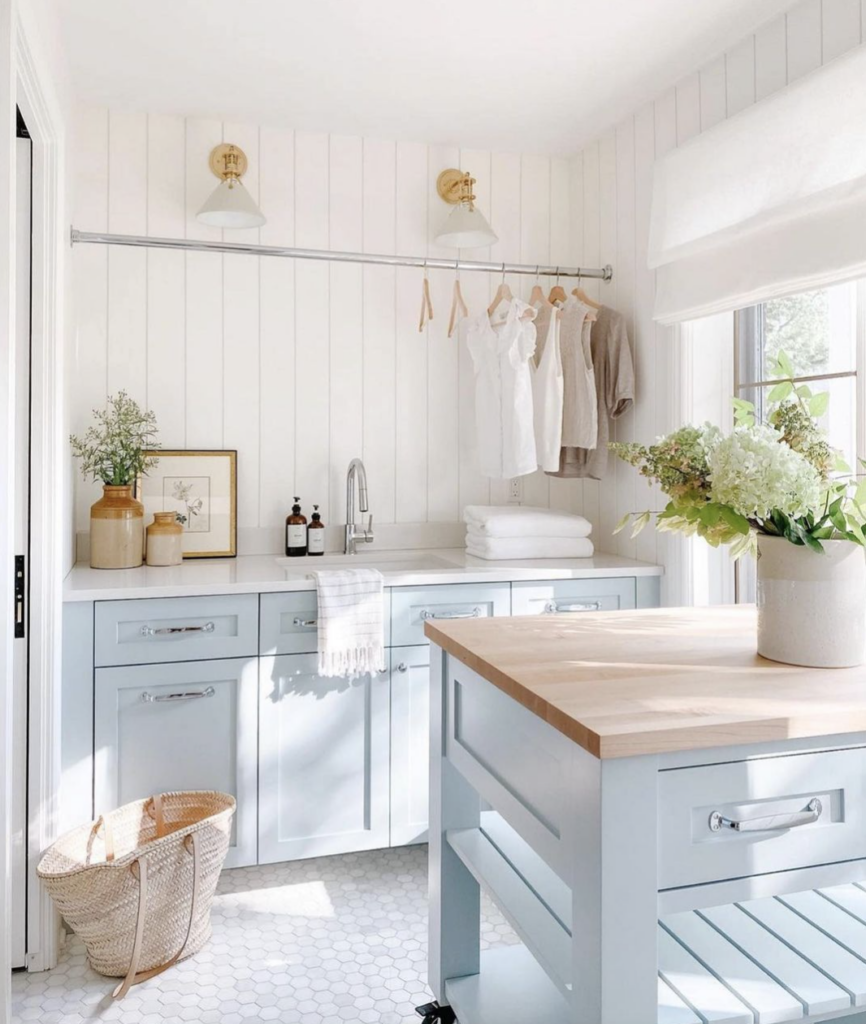 Laundry Room Basics
Just like any other room in your house, your laundry room should be equipped with the basics to make your life easier. Here are some of the laundry must haves you'll need to get started:
A washing machine is the most important appliance in your laundry room. You can choose between a top-loading or front-loading model, depending on your preference. Either way, it goes without saying you need a washer in your laundry room!
A dryer to dry your clothes after they've been washed. Again, you can choose between a tumble dryer or a clothesline, depending on your preference.
Laundry detergent to clean your clothes in the washing machine. There are many different brands and types available, so you can experiment to find the one that works best for you. You can either use a natural laundry soap or a reliable detergent to really eliminate all that dirt! You will also have to decide between pods or liquid. I find it is more cost effective to use pods over liquid. It allows you to use the proper amount per load and not more. If you use natural detergent, try adding in essential oils for a nice scent.
Fabric softener makes your clothes softer and more comfortable to wear. It's optional, but it's definitely worth considering if you have sensitive skin. Avoid using on your delicates and cashmere.
Stain remover to treat stains on your clothes before washing them. It's an essential item if you have kids or pets! Always soak and pretreat heavily stained linens before washing.
With these basics, you'll be well on your way to having a functional laundry room at all times.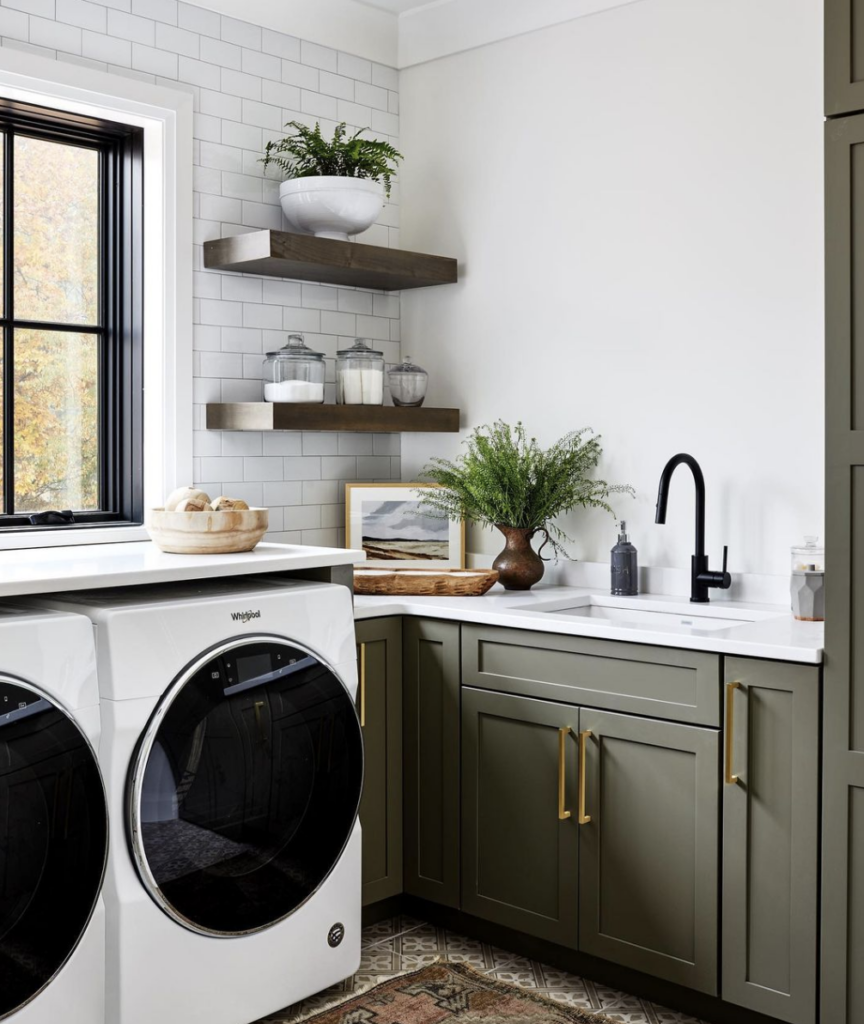 Laundry Room Products
When it comes to laundry room products, there are a few laundry room essential items that every household should have. First and foremost, you'll need a good quality washing machine and dryer. These appliances will be responsible for getting your clothes clean and keeping them in good condition. I know this is a given but should be listed here!
Secondly, you'll need a supply of laundry detergent, stain remover and fabric softener. These products will help get your clothes clean and smelling fresh. Finally, you'll need a laundry basket or laundry hamper to store your dirty clothes in until they're ready to be washed.
Some other little things that you should have handy in your laundry room are a lint roller to remove lint and pet hair, and wool dryer balls or dryer sheets. Another laundry room must-have is a sturdy ironing board. This will make it easy to swiftly tackle any wrinkled clothing.
By having these laundry room products on hand, you'll be well on your way to keeping your laundry room organized and efficient.
Laundry Room Must Haves for Organization
There's nothing quite like the feeling of a freshly cleaned and organized laundry room. But achieving that level of cleanliness can be a bit of a challenge. Thankfully, a few must-have laundry room items can help you get your laundry room in tip-top shape. One essential item for any laundry room is a good storage system. This can help maximize space and keep everything tidy.
Practical space organizers, baskets, bins, and shelves are all great options for storing laundry room essentials. You can also get a little lint garbage can to have next to the dyer to empty the lint trap in between each load.
And last but not least, every laundry room needs a good drying rack. This will come in handy for air-drying delicate items or for hanging up clothes that need to dry quickly. It is also important to air dry any super delicate clothes. This ensures they do not shrink or become ruined in the dryer.
Summing Up
I hope these tips and laundry room essentials helped get your laundry room organized and ready for spring! If you have any other great tips, please share them in the comments below.
And if you're still feeling overwhelmed, remember that there's no shame in hiring a professional organizer to help you get your space in order. After all, we all need a little help from time to time. Thanks for reading!
Don't forget to share this post with the rest of Pinterest and Facebook world! Also make sure to follow my account to see when I post new recipes or home inspired content at Nikki's Plate.
Until next time,
BEST SELLERS