9 Home Coffee Bar Must Haves to Make You Feel Like a Real Barista; If you're interested in making coffee drinks at home, here are basic home coffee bar must haves to help you get started.
Disclaimer: this post may contain affiliate links, and every purchase made through these links will give me a small commission (at absolutely no extra cost for you!) AS AN AMAZON ASSOCIATE AND REWARDSTYLE MEMBER, I EARN FROM QUALIFYING PURCHASES. See Privacy Policy for additional info.
Hi beauties!
There's nothing like a cup of fresh java in the morning, but to make your morning cup even better you need the right gear. These 9 coffee bar must haves can make you feel like a real barista in your very own kitchen! Time to level up your own coffee station with a dedicated space for your coffee obsession!
I have always been a coffee snob, I'll admit it. I love everything about having a cup of coffee in the morning. My husband knows to not even talk to me until I have filled my veins with the right level of caffeine. I love
When I was pregnant, I switched to decaf and it just didn't cut it. I suffered not having my usual coffee, so to make up for those long 9 months (times two babies) I decided to make the most perfect at home coffee bar!
Maintain your new DIY coffee bar at home with great accessories for every occasion. Learn about nine kitchen coffee bar essentials to make you feel like a real barista here because all coffee lovers need an at home coffee bar!
Want to feel like a real coffee barista? These home coffee bar must haves will make your home coffee bar look as good as the coffee comes. Check out the home coffee bar ideas and inspiration below!
This post is all about home coffee bar must haves!
9 Home Coffee Bar Must Haves:
Expresso or Coffee Machine and Kettle
I have had SO many different coffee machines and espresso makers. The one that has taken my at home coffee lattes to another level is the Nespresso Creatista Machine. This is the holy grail of coffee machines. I love everything about it, it is the perfect brewing machine! So if you are looking to splurge on a coffee machine, I highly recommend it! The only down fault of this machine is the coffee pods are a bit pricey but they are totally worth it. If you are a Starbucks drinker, you will actually save money with this machine and it will be just as good!! It is also a loud espresso machine, just a heads up.
If you are looking for a more affordable high-quality coffee maker I would suggest the Ninja Coffee Maker. It has several different options for your coffee strength and different sizes as well! Make a single cup of coffee or an entire pot! There is even an option for making an iced coffee!
If you don't have room for a coffee machine because you live in a really small apartment or you want something a little more intimate than a loud machine running in the morning... then I would suggest a French Press. They work wonders for an easy quick brew.
And don't forget a kettle for those tea drinkers or for when you are making hot chocolate or french vanilla! A plug-in kettle is ideal if your coffee bar is not near a stove.
Coffee and Tea
Coffee and tea are an obvious must when it comes to putting together the perfect home coffee bar! If you have a Nespresso machine, my favorite coffee pod is the Firenze Arpeggio (purple pods). If you are looking for a delicious medium roast coffee, I would recommend Starbucks Pike Place. If you are looking for an affordable coffee that still satisfies, I recommend McCafe Colombian Roast! If you are a real coffee addict you may also want some real coffee beans you can grind yourself!
Let's talk tea now! You need to have some tea in your coffee bar (even if you don't drink tea) for when you entertain and have guests! Sometimes it's nice to offer tea after dinner. Key teas to have in stock would be English breakfast, orange pekoe, chamomile and peppermint. I also love earl grey and chai!
It isn't limited to coffee and tea though, you can also stock some hot chocolate, cocoa and french vanilla powder at your coffee bar station in case you want a treat or you have kids that love hot chocolate after a hot day!
Special Ingredients
Having special ingredients at your coffee station is so much fun! I have so many coffee syrups at my coffee bar.. everything from caramel, vanilla, to cookie dough and peanut butter cups. They are basically coffee essentials for me. I love my syrups. Also have some sweetener, sugar, and honey if those are things you like to add to your coffee, lattes, or tea.
You can also have a cinnamon shaker, pumpkin spices, chocolate and even having a can of whip cream spray if you are looking to get extra fancy! So much flavor for your coffee!
Check out these fancy coffee syrup glass jars with labels you can get from Etsy!! Make your coffee syrup storage cute!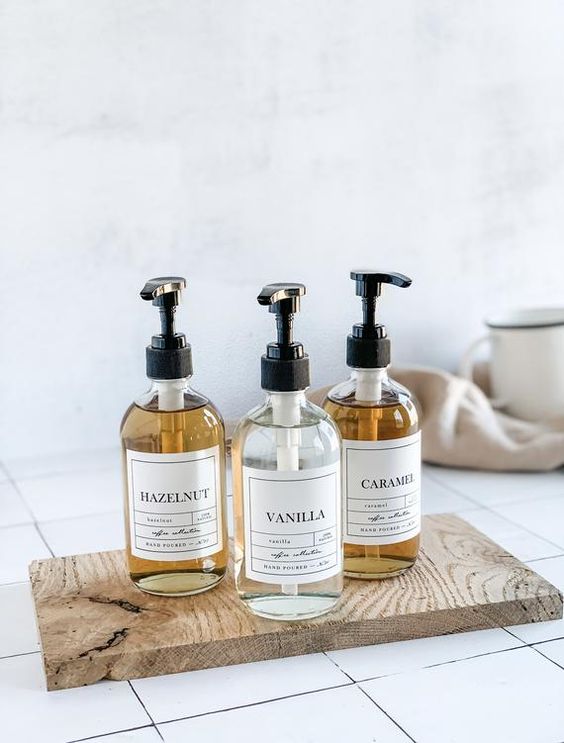 Cute Mugs, Glasses and Travel Cups
We all know that having the perfect mug is crucial for enjoying your morning coffee. You need the mug to feel right in your hand as you are inhaling that beautiful coffee steam. Ok, a little dramatic but it's true!
You can also make mug racks with hooks to hold your cups! This will give you more kitchen counter space and kitchen cabinet space. If you have room you could also make a wall shelf to display them.
You can shop some of my favourite mugs, glasses, and travel cups below!

Stir Sticks, Spoons and Straws
These are necessities but also may be things you already have in your kitchen. You might want fancy stir sticks or spoons dedicated to your coffee bar area like this one here or even this one!
Straws are a must, especially if you like to make iced coffee or tea. I love the stainless steel straws from Amazon but I also have tried the silicone ones and the glass ones! All are great... you will just need to pick your personal preference! The fit perfectly in a mason jar, canisters or in a drawer!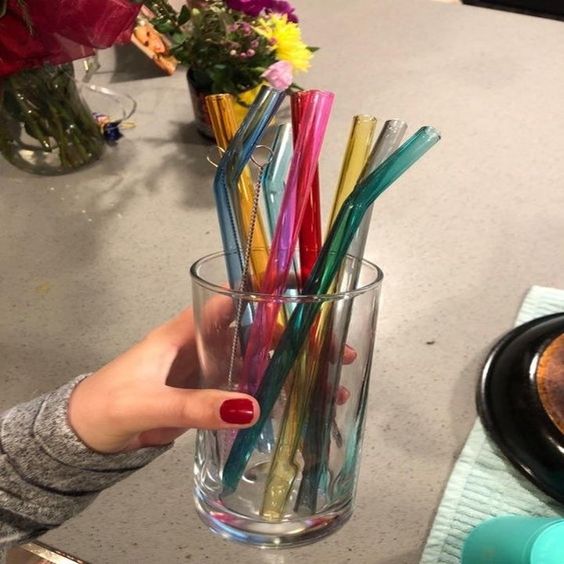 Milk Frother
You don't think you need a milk frother until you have made a coffee with a milk frother! If you don't drink milk like me, you can also use it with almond milk. It works fairly the same! What I like about the milk frother is you can really control how much foam you make. If you only like a little creamy foam, only use the frother for a short time, if you like a lot then really give it a good spin with the milk frother!
A milk frother is also nice to have for so many other reasons. I use it to mix up my protein powder into water and I also use it to mix my green powder or vitamins into drinks. It is super handy to have! I have this one from Amazon.
Check out this post on how to use a milk frother by Yummy Notes!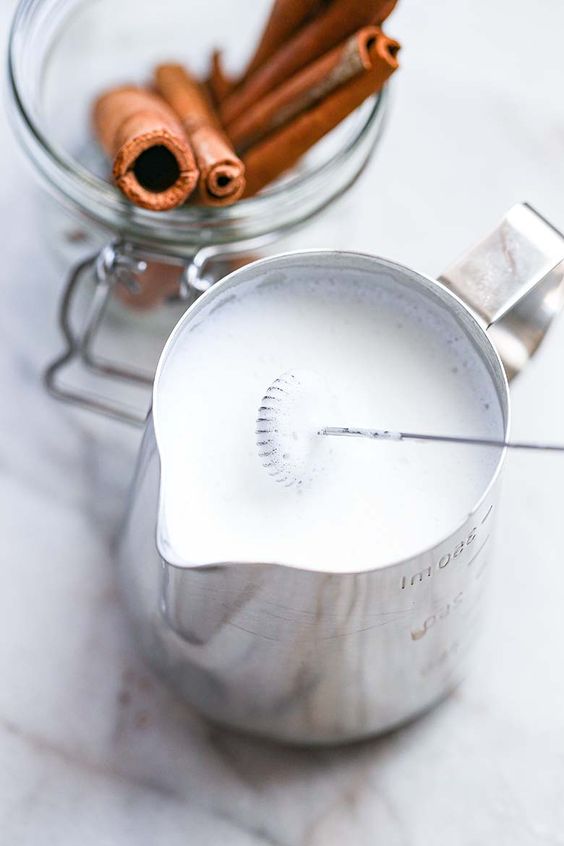 Napkins and a Tea Towel
Napkins are handy to have if you overflow your drink... which I seem to do on multiple occasions! If you are not the napkin or paper towel kinda gal, then definitely have a tea towel nearby for those annoying spills!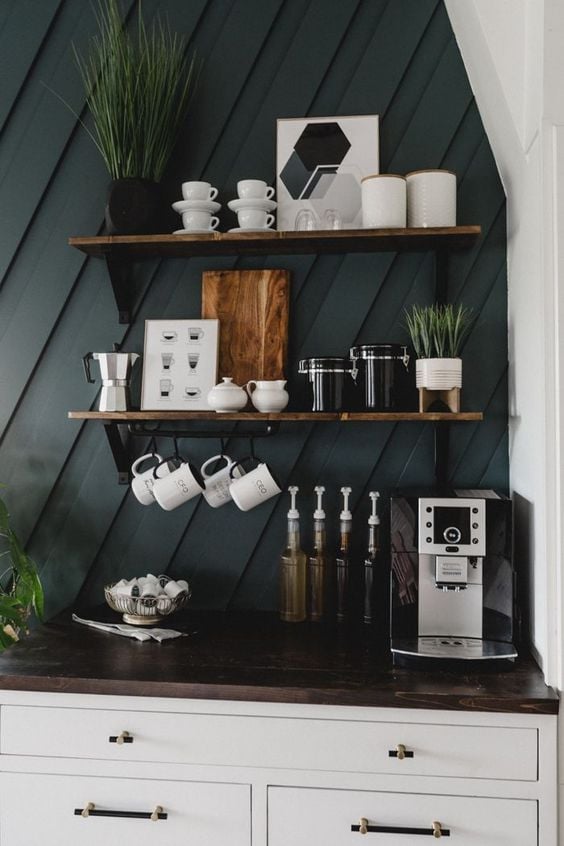 Cookbook
A cookbook is always nice to have, obviously geared to different types of coffees, teas, lattes, etc. There are so many great ones out there. I have the Coffee Cookbook by Frank Marino and have found some fun recipes! Obviously, you don't absolutely NEED a cookbook but it will definitely up your coffee game if you have more options and ideas!!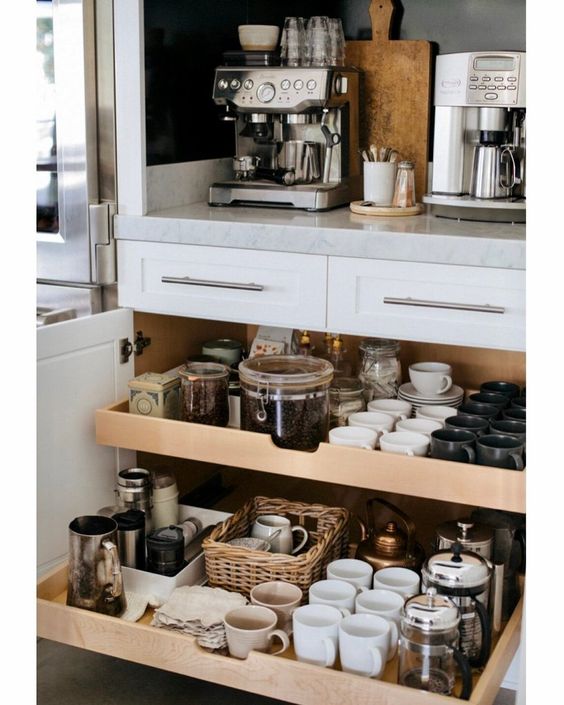 Decor
Cute decor is always fun to add! Make it suit your style and blend in well with your home. You can add word signs, trays, baskets, a chalkboard, a wooden sign, or pretty dishware. Whatever you think will look good and up the level of your beautiful home coffee bar, add it in!
Whether your style is modern, farmhouse, vintage, rustic or minimalistic, decorate your own coffee bar to suit your own personal taste! You can also add some nice shelves to display coffee mugs and decor! Check out the beautiful decorating ideas below! Time to level up your creativity and take on some diy projects! Instagram worthy coffee corner!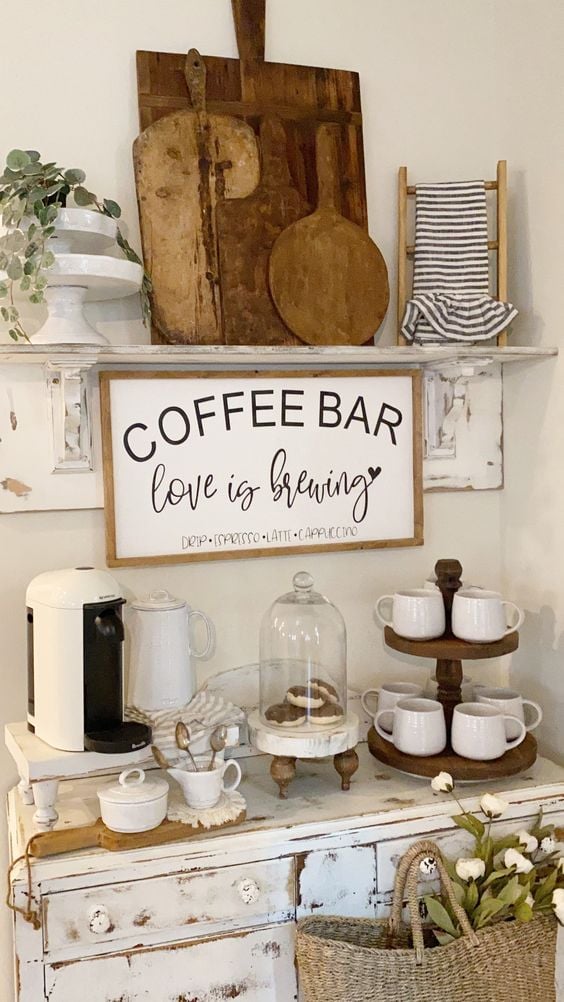 There you have it folks! 9 home coffee bar must haves to make you feel like a real barista!
If you liked this post, make sure you check out these too!:
Until next time,
BEST SELLERS