35 Horizontal Shiplap Wall Ideas; The shiplap is a board mounted horizontally with exposed tongue to give the impression of a single wide plank. Here are 35 shiplap accent wall ideas for a modern farmhouse home.
Shiplap walls are a classic design feature that can be used to add style, texture and character to any room. If you're not sure where to start with this type of wall treatment, check out this round up of 35+ horizontal shiplap wall ideas below. From living rooms and dining rooms to kitchen islands and laundry rooms, there's no place these horizontal shiplap boards don't belong!
The shiplap wall is a great way to add an industrial look to your home. It's simple, easy, and looks great! You can use shiplap walls in your kitchen or living room, or even as an accent wall in a bedroom. The possibilities are endless with this versatile design technique.
A shiplap wall is one of the most popular choices for a home's interior design. The horizontal wood cladding creates a rustic look that is perfect for modern homes. Shiplap walls are an excellent way to add texture and interest to your home's decor. They can be used to create a focal point in any room or used as an accent piece. Shiplap walls are also a great way to add warmth to your living space.
What Are Horizontal Shiplap Walls?
A shiplap is a type of vertical cladding that is usually made from wood. It's usually applied to the interior or exterior sides of a building and it's a very popular choice for people who want to add character to their homes. They are a trend in the modern farmhouse design world!
The term "shiplap" originates from the way that the boards overlap each other when they're placed on top of each other in a horizontal fashion. These types of walls are popular with homeowners because they are easy to install, durable, and inexpensive compared to other types of home improvements.
Shiplap walls are usually made from tongue-and-groove boards that are glued together at right angles to create diagonal lines. This also creates an open space between each board, which creates the illusion of additional depth in the wall with clean lines.
The shiplap style is often associated with farmhouses, but it can be used in any type of home. You can use shiplap siding on your house if you want to give your home an old-fashioned look or if you want to give it a rustic feel.
You can have vertical shiplap walls or horizontal shiplap walls. This post covers everything about horizontal shiplap wall ideas! Lets jump into some inspo now shall we?!
<<Disclaimer: none of these photos belong to me. Please click photo or link provided to be redirected to owners.>>
Horizontal Shiplap Wall Ideas:
Shiplap Walls in the Living Room
In the living room, shiplap walls are a great way to add texture. If you want to use your living room as a space for entertaining guests or relaxing in with family, try adding some shiplap wall decor—it'll give your home a rustic vibe that will make it feel cozy and welcoming.
You can paint shiplap walls any color that matches the rest of your house's decor and style. Painting shiplap walls is also an easy way to update their look if they're looking dated or worn out! White walls seems to be a favorite when painting shiplap panels!
Related: 25 BEST MODERN FARMHOUSE LIVING ROOM DECOR IDEAS
Shiplap Walls in the Dining Room
Dining rooms are one of the most popular places to install Shiplap. This is because it adds a great deal of visual interest and character to the room, while also making it seem more spacious.
To create this look, you'll need to install 1x4 boards on either side of the wall. The extra space between the boards allows you to see through them, which creates a great sense of openness.
Here are some ideas for how you can incorporate shiplap walls into your dining room:
Add a rustic touch by painting your shiplap wall dark brown or black. Then paint over it with white chalkboard paint so it looks like wood on one side and chalkboard on another side! You could even use this idea in other rooms of your house—like using black chalkboard paint on one side and white on another for an entryway or laundry room.
If you're looking for something more modern, try painting your shiplap wall grey or white with gold accents around windows or doors—it will look great against a dark blue tablecloth!
Use white chalkboard paint to create a chalkboard wall on top of the shiplap while giving your dining room an elegant touch with the dark appearance.
Shiplap Wall on Kitchen Walls
A horizontal shiplap wall can be used to create a focal point in your kitchen. You can choose to use a single color or paint the wood in different colors to make it stand out. If you have small windows, then you could use a horizontal shiplap wall to fill up the empty space and make it look more appealing.
If you're looking for an inexpensive way to add character to your kitchen, consider installing a shiplap wall instead of drywall or beadboard. This will add an element of rustic charm while also making it easier for you to clean up messes since it has more texture than flat surfaces do.
You can paint this kind of wall whatever color you want or stain it with stain if you want something darker like cherry wood or walnut brown tones instead of white or gray colors that might make people think they live in an old farmhouse rather than just having modern appliances like stainless steel dishwashers and refrigerators with ice makers built into them!
Horizontal Shiplap on Kitchen Island
If you're looking for a new decorating project, try adding a horizontal shiplap wall to your kitchen island. It's the perfect way to add character and style to your space without making a big commitment. Horizontal shiplap is an ideal choice for a kitchen island, as it looks great and has easy installation.
To get started, measure the length of your island countertop and cut 4 pieces of shiplap that are slightly longer than that measurement. Then attach each piece with screws or nails (or both) spaced out evenly along the edges. May try using shiplap as backsplashes next?! Check out the inspiration below!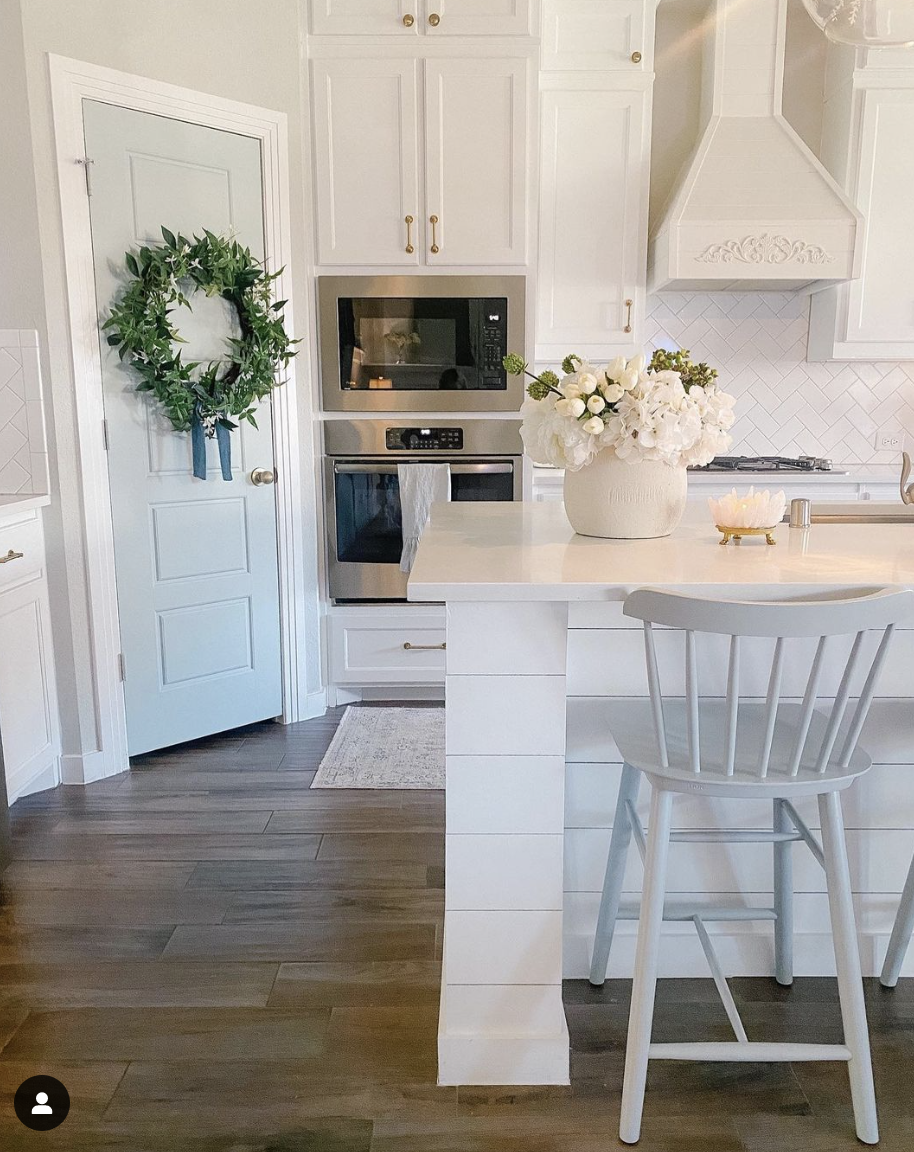 Horizontal Shiplap Accent Wall in Bathrooms
The horizontal shiplap accent wall is one of the most popular accent wall decor styles for bathrooms. It gives a piece of rustic character to any room and works perfectly in small bathroom spaces. This style can be painted in any color or tone, but we suggest you keep the paint color light because dark colors could make your small bathroom look even smaller than it already is.
Shiplap Wall Behind the Bed
A popular trend is shiplap wall boards as headboards. Shiplap is a great accent wall in bedrooms. This is a perfect way to make the most of vertical space in your home and create a focal point while adding character and personality to the space. Whether you're looking for an industrial look or something more classic, try using shiplap behind your bed for an extra layer of texture that will add interest and charm to any room.
Shiplap Accent Wall in Laundry Rooms
You can also use shiplap to create an accent wall in the laundry room. Laundry rooms are small, so you don't need to use too much shiplap. If you do, it might feel crowded or uninviting. If you have a large laundry room, consider using a lighter color for the bottom portion of your wall and then painting the top portion with something more vibrant for an eye-catching effect.
You can also paint over your existing drywall with a light gray shade and add some shiplap boards around your doorway or window openings if you want them to stand out from the rest of your walls. We also see a lot of horizontal shiplap walls in mudrooms!
Related: 15 LAUNDRY ROOM ESSENTIALS EVERY HOMEOWNER NEEDS
Horizontal Shiplap Walls in Kids Rooms
If you're considering a shiplap wall in your kid's bedroom, there are plenty of reasons why it's an excellent choice.
Easier to clean: Because the boards run horizontally, they can be wiped down with ease. You won't need to worry about crayon marks or different stains appearing on the wall as easily as they would on a vertical surface.
Easier to maintain: The horizontal construction makes them much easier to repair in case something happens (like if your child accidentally paints over one of their favorite pictures).
Durable: This type of finish will last longer than other types because there are no knots or imperfections that could cause damage over time.
Related: 21 CHEAP AND EASY TEEN BEDROOM IDEAS
Shiplap Walls on the Ceiling
If you have a room with a non-flat ceiling, shiplap ceilings could be the perfect solution for bringing some interest to your walls and keeping them from being boring. You can install it horizontally, vertically or diagonally across the ceiling in any way you like. It might also work better than other options if you're trying to cover up an old wallpaper or popcorn texturing on your ceiling.
Shiplap Wall Design on Fireplaces
Shiplap walls are a great way to add warmth and texture to any room, but they can be especially attractive in the fireplace area. The DIY experts at HGTV have a few ideas on how you can take advantage of this old-timey design element:
Paint your shiplap walls in different colors. If you want your wall where it's most visible, consider painting it a bright color that contrasts well with the rest of the room's decor. For instance, if you want your living room to feel cozy and welcoming, paint your shiplap walls red or orange (if there's already an existing brick fireplace).
Use texture or patterned paint on top of smooth white paint for greater visual interest (and contrast). If you'd like something less dramatic than bright white on wood siding—which could be read as cold—consider using a muted tone such as gray or light blue instead!
These ideas will inspire you to create your own horizontal shiplap walls.
Shiplap walls are a trendy and affordable accent wall idea. They're easy to create, can add texture to any room in your house and are a great way to add interest without sacrificing space or budget. Shiplap walls can be painted white or stained for an even more textured look that's sure to add interest wherever it's placed.
So, after reading these 35 shiplap wall ideas, we hope that you have gotten some inspiration for your own home! If you want to see all the pictures of our favorite shiplap wall designs in one place, check out our Farmhouse Pinterest board. You can also find some awesome tutorials there too for your next home makeover! I hope it has given you a few good ideas for how you can use this versatile material in your own home.
35 Horizontal Shiplap Wall Ideas; The shiplap is a board mounted horizontally with exposed tongue to give the impression of a single wide plank. Here are 35 shiplap accent wall ideas for a cozy home.