How To Choose The Best Table Lamp For Your Bedroom; table lamps for your nightstand and the best options available!
Disclaimer: this post may contain affiliate links, and every purchase made through these links will give me a small commission (at absolutely no extra cost for you!) AS AN AMAZON ASSOCIATE AND REWARDSTYLE MEMBER, I EARN FROM QUALIFYING PURCHASES. See Privacy Policy for additional info.
Hi beauties! Today were are talking all about how to choose the best table lamp for your bedroom nightstand! I LOVE having the perfect lamp beside my bed, it really makes my room and allows me to read before I call it a night.
When you're choosing a table lamp for your bedroom, it's important to get the right one. A bedside table lamp can be used to create the perfect ambiance in your space, but only if it works well with the rest of your decor and serves its purpose well!
When choosing a the best bedside table lamps for your bedroom, you'll want to pay attention to design, size, finish, quality and features. Some of the best lamps will be adjustable, allowing you to get the perfect light setting for any room in your home.
Whether you're outfitting a rental or just want to freshen up the interior of your home, it's easy to overlook simple details like table lamps. But you can turn that into your advantage by turning some attention to this space and really making it stand out. If you're looking for help with choosing the best table lamp for your bedroom, here are some tips:
How To Choose The Best Table Lamp For Your Bedroom
Consider Function
The first thing you should consider when choosing a table lamp for your bedroom is the function it will serve. Is it just for lighting up the room or is it just going to be a decor piece that is never used?
When you think about the function of your table lamp, it's important to consider all aspects of the room where you plan to place it. For example, if your bedroom has a lot of windows and natural light, you might want a lamp that can be adjusted so that it doesn't shine directly into your eyes while you're lying down. A good rule of thumb is to choose a lamp with a dimmer switch. This way, you can adjust the lighting according to what time of day it is and how much light you need at any given moment.
A table lamp needs to perform its job well—that is, provide light—in order for it to be considered functional. This can be accomplished in many different ways: by having an adjustable stand or shade; by using a modern lighting technology like LED; or by using an elegant design that blends well with the style of your room.
A few other factors to keep in mind:
Is this a portable table lamp? If so, does it have an outlet or battery option? Will that suit your needs?
How adjustable is this table lamp? Can I adjust its height easily? How far can I move it away from my bed without having wires get tangled up or knocking into things (like my nightstand)?
Stay in tune with the room's style
Choosing the right table lamp is all about matching it with the room's style. Before you begin shopping, take a look at the overall style of your bedroom. Is it modern and sleek? Or traditional and classic? This will help guide you to choose a lamp that fits your taste and design preferences.
If all your furniture is white, the look of a lamp base in black or another dark color may not work for you. Your bedroom lamp should serve its purpose as well as complementing the decor of the room. You don't necessarily want it to completely stand out and be a focal point, think minimalist, simple design and an accent rather than a grand piece. If you have a bold statement room, you may want a lamp that has a pop color! Make sure you consider:
The lamp shade color and style (linen shade, white fabric shade, cotton shade, glass shade, crystals etc)
The lamp base material and design (glass lamp base, metal base, ceramic base, brass base etc)
It can be difficult to determine which type of table lamp will best suit your needs, especially if you are new to lighting design or have never purchased lamps before. For example: If you happen to live in an apartment that has an industrial-style loft bed then chances are good that most styles will work well with its decorating scheme; however if this isn't necessarily true then perhaps choosing something different would be better suited for this scenario instead (like perhaps something more modern looking).
You also need to consider the shade of light for your bedroom lighting. This is achieved with the light bulb. Do you want a soft white, warm glow or blue light ambience? Read the boxes of the bulbs you pick to choose the right ambient light for your room!
Choose the right size
Just like choosing the right desk lamp, it's important to choose a nightstand lamp that is the right size for your room. It's all about finding that perfect balance between how much light you need and how much space you have to work with. If you have a small bedroom, for example, a large chandelier lamp won't work. Likewise, if you are looking for something cozy and calming then going with a big floor lamp may not be ideal.
A good rule of thumb is that a lamp should take up no more than ⅓rd of your bedside table or nightstand, and no more than ¼th if it's on top of a dresser or chest at the foot of your bed. To ensure your table lamp will fit in your space and be effective, consider these factors:
The height of what you will use it next to (i.e., your bedside table or nightstand)
The size of the bulb (in watts)
The distance from your bed to your nightstand
The height of the lamp should be about half the height of your head when sitting in bed.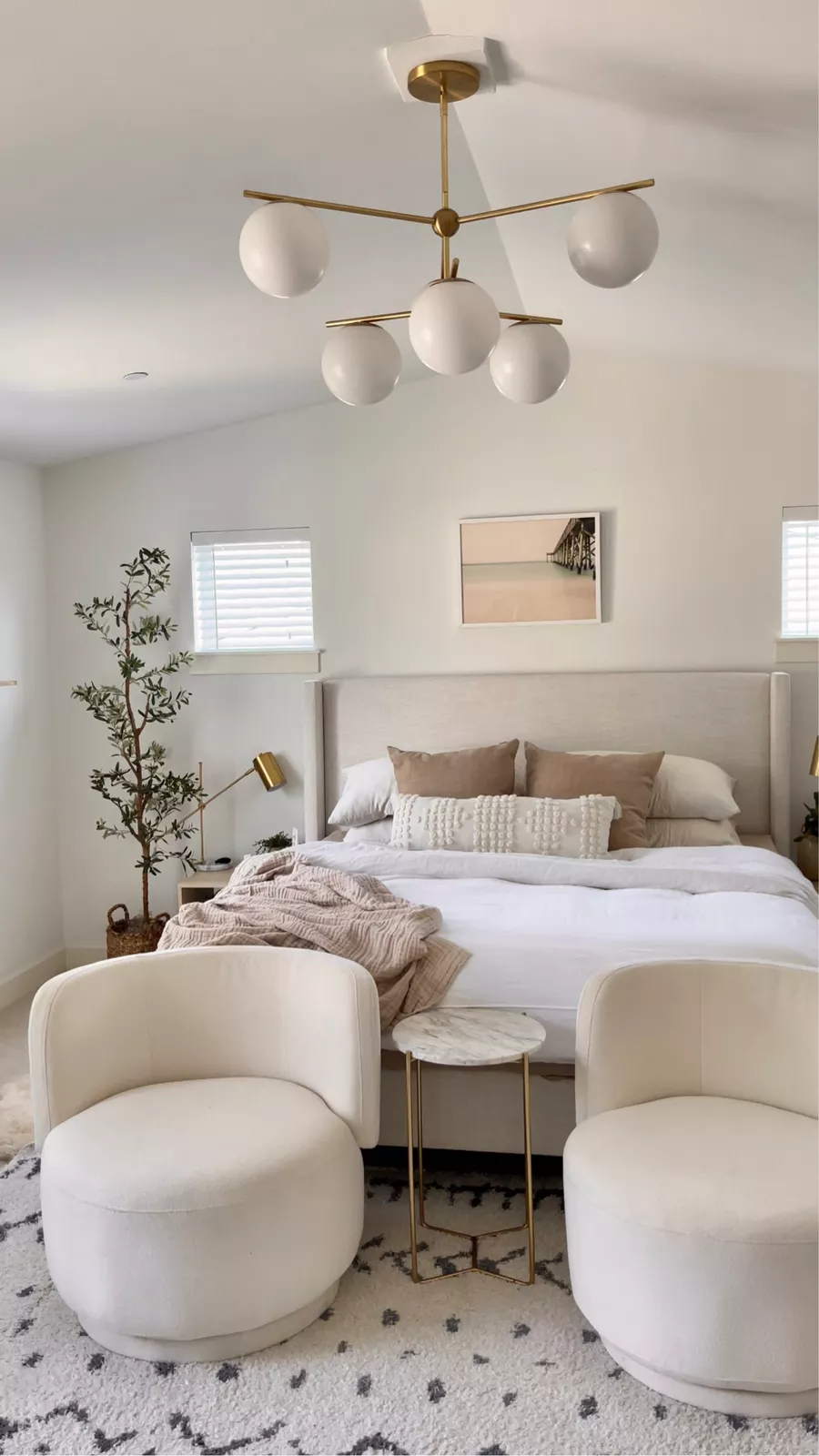 Think about the light bulb(s) you require
If you want a lot of light, then it's best to choose one that has two or more bulbs. The more bulbs there are, the greater the power and brightness of the lamp will be. If you need something that is dimmable, then make sure to look for a table lamp with a dimmer switch. If you want something with long-lasting batteries or bulbs then choose an LED bulb instead of an incandescent one because they don't burn out as quickly as other types do (typically lasting 15-25 years).
You may also want to consider a smart bulb for your side table's light. They are SO cooooool! I love having a smart bulb. I have it hooked up to my Alexa so I can tell her when to power off my lamp. It basically turns your basic light into a smart lamp run by your devices. You can adjust colors, shades and power all from your phone or Google Home/Alexa. You can buy them on Amazon or any local hardware store.
Opt for something that fits your budget
When looking for the best table lamp for your bedroom, opt for something that fits your budget. This means that you should try to buy something of high quality and reasonable price. You don't want to overspend on a lamp, as there are many other things that you need in your bedroom.
When purchasing lamps, it is important to consider how much electricity they will consume because this can add up quickly if left unchecked. The best way to ensure that this doesn't happen is by purchasing energy efficient lighting products such as LED table lamps or even solar powered ones which use renewable energy sources such as sunlight (which is free).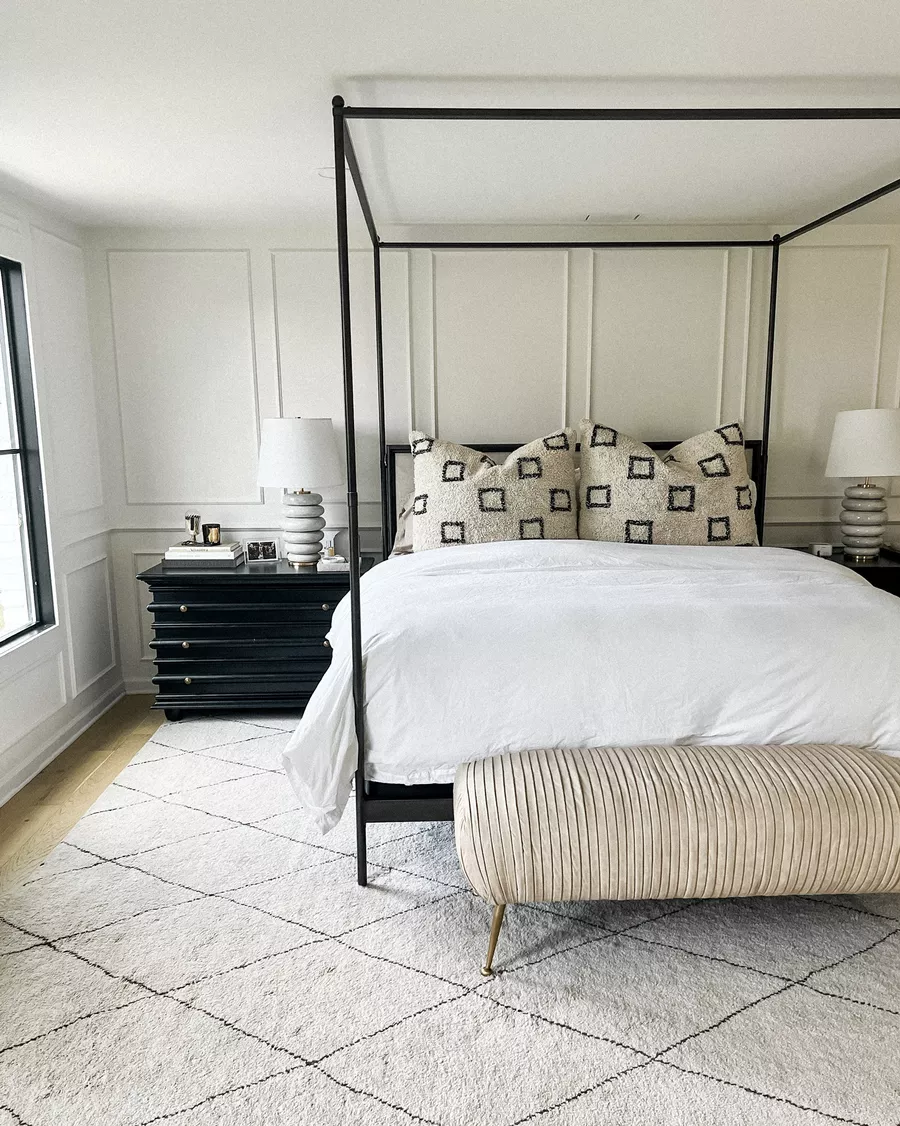 Pick a lamp that complements bed height and placement
If you've got a lamp that's too high, it might be difficult to read. If it's too low, you may find yourself fiddling with the switch trying to turn it off while lying down. The ideal height is generally around eye level when sitting down, but this can vary depending on your bed height and placement in the room.
While we're on the subject of convenience: make sure the lamp is easy to move about—you never know when you might need to relocate! A flexible arm or adjustable base will allow for quick repositioning as needed.
Make sure the lamp's cord is long enough to fit any outlet needs
I totally forgot to consider this when I bought my first beautiful ceramic table lamp... and had to buy an extension cord to go with it. The lamp's cord should be long enough to reach your bedside table or the closest outlet, no matter where it is located. If you want to place your lamp next to your bed and then turn it on while sitting on the edge of the mattress, make sure that you can reach the switch without having to get out of bed or readjust yourself in any way.
This will ensure that you don't have to get up multiple times a night just because there isn't enough space between yourself and the wall socket for an adequate distance. Make sure that all parts are working properly before purchasing a new table lamp for bedroom use!
Choose a bedroom table lamp with care and make sure that it fits your needs, as well as your bedroom's style, size and function
Before you begin shopping for a bedroom table lamp, lets do a quick recap of my blog post:
Choose a lamp that fits your needs. For example, if you like reading in bed before falling asleep and often use your Kindle or tablet to do so, you may want to look at lamps with built-in nightstands or clip-on book lights.
Choose a lamp that fits your bedroom's style. If you have an oversized canopy bed with curtains and other ornate details in this room, choose a more elegant lamp than one with modern lines and sleek design elements (unless those are elements of the room's existing decor). On the other hand, if this is where you spend most of your waking hours while at home alone or with family members who also need light while they read at night—and prefer table lamps over reading lights attached directly onto bookshelves—then opt for something on the simpler end of things so as not to detract from what makes this space unique from any other area in which it shares space in terms of aesthetics.
Choose a lamp with the right size and shape. If your bedroom is large, you can choose a larger lamp that will provide more light. If your bedroom is small, you'll want to look for a smaller lamp that doesn't take up much space.
Choose a lamp in your budget. Your bedroom is your sanctuary, and you don't want to be worried about how much money you're spending on your lighting.
There are many factors to consider when choosing the right table lamp for your bedroom. You should be sure that it fits all of your needs and is a good complement to the room's decor while still being functional.
You may need more than one lamp if you have multiple areas in your bedroom that require illumination (e.g., nightstand or desk). If this is the case, make sure all lamps have matching bases so they appear as if they belong together rather than just thrown together randomly!
More Bedroom Decor Posts:
Until next time,
How To Choose The Best Table Lamp For Your Bedroom; table lamps for your nightstand and the best options available!
BEST SELLERS