How To Organize Your Kitchen Drawers; tips for organizing your kitchen drawers to have it look nice while staying functional! Cutlery drawer organization and junk drawer organization!
Disclaimer: this post may contain affiliate links, and every purchase made through these links will give me a small commission (at absolutely no extra cost for you!) AS AN AMAZON ASSOCIATE AND REWARDSTYLE MEMBER, I EARN FROM QUALIFYING PURCHASES. See Privacy Policy for additional info.
The kitchen is the heart of the home.. and a lot of people struggle to keep organize your kitchen drawers. And hey, I get it: organizing your kitchen drawers can be a daunting task because there are so many moving parts. But we're here to tell you that it's easier than you think!
By focusing on your drawer organization and working from there, you can quickly transform your kitchen into an orderly space without having to buy new stuff or overhaul the entire thing.
In this post I will give you the ultimate tips on How To Organize Your Kitchen Drawers! So let's jump into it!
How To Organize Your Kitchen Drawers:
Empty the drawers.
The first thing to do is remove everything from the drawer. If it's a single, large drawer, you may want to put the items on top of it into another container or on top of other items in an adjacent drawer. Once all the contents have been moved away, wipe down the inside of the drawer with a damp cloth or sponge. You can use soap if necessary but try not to get any in cracks (you're going to need those later).
If you need new liner paper for your drawers, now's your chance! After cleaning them out and drying them thoroughly, replace whatever liners are appropriate for each one (like I said above: if you used cardboard dividers for organizing pots and pans but now want a more permanent system based around plastic drawers).
Get rid of anything that has seen better days.
If you haven't used it in a year, get rid of it. If you have more than one of something, throw out the extras. And if an item is a duplicate or a duplicate of a duplicate (or even a duplicate of a duplicate of a duplicate), well...you know what to do.
Don't feel bad about throwing away items that you don't use anymore; think about how much money and space you're keeping for things that aren't helping your life at all!
Purge what you don't need.
Donate. If your kitchen is full of items that you aren't using and don't need, consider donating them to a nearby charity. They'll put them to good use!
Sell. If you're not going to use an item for the foreseeable future, it might be worth selling it online or at a garage sale. This could bring in some extra cash for your household budget.
Recycle/compost/recycle again/. Some items can be recycled into new products rather than being thrown away completely—try asking around if anyone needs these items before recycling them so they don't go to waste! If they do end up in the trash, though, try composting what little food remains on them or throwing them directly into your backyard compost pile so that they decompose naturally instead of rotting in landfills forevermore (gross).
Throw away (trash/recycling/compost bin). When all else fails...just toss those old dishes in the trash along with any other waste you've accumulated over time! But make sure you recycle as much as possible first—nothing should end up rotting in landfills if there's another way around it!
Do a drawer inventory.
Do a drawer inventory. Before you start organizing your drawers, take the time to get to know them. Walk through the kitchen and open each drawer one by one. Look inside each drawer and identify:
What you have in each drawer (the contents)
What you don't have (what's missing)
What is there that should not be there?
How many items do I have for each category of item? For example, if I had three boxes of cereal on hand and only one box is still unopened, then I know my family has eaten two boxes already – so when they ask me if they can get some more cereal tomorrow morning at breakfast time, what should my response be?
Also take stock of your pots and pans.
You'll also want to organize your pots and pans. Get a drawer organizer that's made for holding pots and pans, and make sure you have enough room for them. You should be able to fit about as many as you need in one drawer, so if you have a lot of larger pots or pans, it might require more than just one shelf.
Organize these items by size: small ones on the bottom shelf, medium sized ones in the middle and larger pieces on top. If they're different types of cookware (cast iron skillets vs stainless steel sautés), consider separating them so they don't get mixed up when looking for specific sizes or materials during meal preparation.
One way to really make this easier is by storing all of your cookware in one container like this Rubbermaid container that features an extendable handle and wheels! Just fill it up with everything from mixing bowls to casserole dishes then wheel it right out onto the countertop where you can easily see what's available for use without having to dig through each drawer individually every time something needs washing off after making dinner beforehand - plus no mess from spills either since everything will stay contained within its own compartmentalized space instead.
Get some drawer dividers.
Get some drawer dividers or a drawer insert. You can find these at your local grocery store or kitchen supply store. They're super cheap and come in all kinds of shapes, sizes and colors. The dividers are made from cardboard, plastic or wood so they'll match any drawer you want them to go into! Dividers optimize storage space!
Drawer dividers work great to organize your plastic wrap, aluminum foil and ziplock bags too! Easy to slide them in and out when dividers are used. Avoid using these in the top drawer. Opt for 3rd drawer down.
Use the dividers to organize cutlery (or anything else) by size or shape—for example: large spoons on one side of a divider and small spoons on another side; forks on one side with knives opposite; spatulas separate from tongs; etc.
You can also get great drawer dividers for spices. Avoid a spice rack! This is a great way to avoid having to stack them in a kitchen cabinet. You can even use cute labels on the spice jars for easy acess!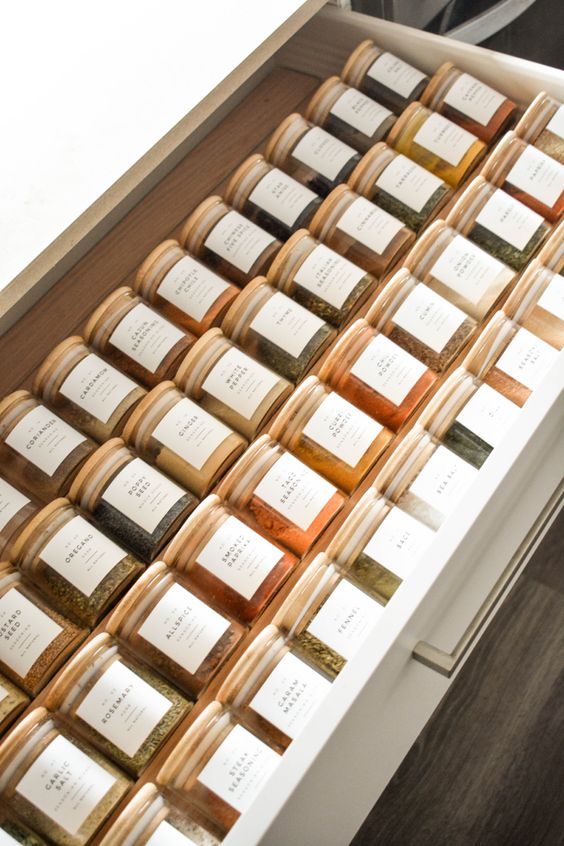 Place frequently used items in the front.
If you use an item often, it should be placed in the front of the drawer. This way, you'll always know where to find it without having to search through all of your drawers. If an item is used less frequently, it can be placed in the back of a drawer.
Organizing a drawer with a lazy susan is a great way to maximize space and make it easy to find what you need. A lazy susan is a rotating tray that allows you to easily see and access all of the items in a drawer. Usually are found in corner cabinets Here are my tips:
First, you'll want to measure the inside of your drawer. Then, consider what size lazy susan will fit best. You'll want it to be large enough to hold all of your items without tipping over, but not so big that it takes up too much room in your drawer.
Clear out the contents of your drawer, then arrange them on the countertop so they're sorted by category (cooking utensils, pantry items, etc.). This will help you figure out what kinds of containers you need to buy to go on a lazy susan.
Insert the lazy susan. Place larger items in storage bins that fit on top of your lazy susan—this will keep them from sliding around when you open and close the drawer!
Consider your cutlery drawer storage needs.
The more drawers, the better. If you have multiple drawers and cabinets, consider storing different types of cutlery in each one. For example:
In one drawer, keep all your spatulas together (or at least grouped by use).
In another drawer, store all your knives and any other knifes you may have (for example, steak knives). You can even group the knives by size if desired (smallest to largest).
In another drawer or cabinet door organizer, place a utensil holder for long-handled utensils like spoons and forks. Alternatively, if you don't want to buy an organizer for this purpose—which can be expensive—you can simply use an empty box as a makeshift holder for these utensil items. You will want deep drawers for this!
Use a tray or drawer divider to organize your silverware drawer. This is crucial and should already be utilized in your kitchen! I love to use bamboo drawer dividers and drawer organizers for cooking utensils, flatware, and serving pieces!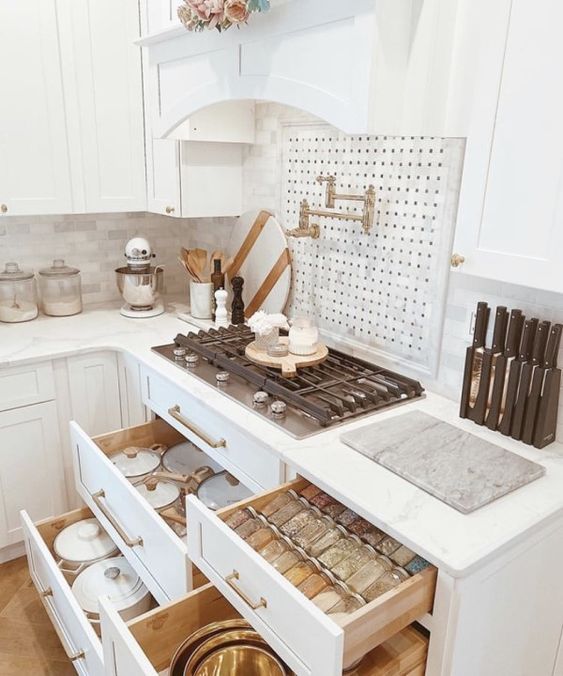 Here's a few tips for an organized cutlery drawer:
Store knives vertically, with the handles facing up and the blades facing down.
Store spoons and forks horizontally, with the handles facing up and the bowls facing down.
Keep large serving utensils like serving spoons and spatulas on top of your drawer so they're easy to find when you need them.
Knife blocks are great for organizing your cutlery drawer. Here's how to do it:
Choose a knife block that will fit in the drawer you want to organize, then set it on top of the open drawer. If you don't have a knife block, use any container with dividers.
Take each knife out of the block and put it back in the same place every time.
Put your sharp knives in first and your dullest knives last so that they're easier to find when you need them!
Organizing is easier with these tips for kitchen drawers.
Organizing kitchen drawers is easy if you:
Do it yourself!
Do it in a weekend!
Do it with a friend!
Do it with a family member!
Or, you could hire a professional organizer to help out (but we don't recommend this one).
With a little effort, your kitchen drawers can become more organized and efficient. And when you're done, they'll be a pleasure to use. Your cooking experience will become more enjoyable, too!
I hope you enjoyed these kitchen drawer organization ideas!
Until next time,
How To Organize Your Kitchen Drawers; tips for organizing your kitchen drawers to have it look nice while staying functional! Cutlery drawer organization and junk drawer organization!
BEST SELLERS