Pretty Green Kitchens You Need To See; Here are some gorgeous green kitchens that will eliminate any desire for a white one!
Disclaimer: this post may contain affiliate links, and every purchase made through these links will give me a small commission (at absolutely no extra cost for you!) AS AN AMAZON ASSOCIATE AND REWARDSTYLE MEMBER, I EARN FROM QUALIFYING PURCHASES. See Privacy Policy for additional info.
Hi Beauties!
Pretty green kitchens. Yes green kitchens can be pretty and I am going to show you 9 of them in this post! Why? Because I really think people need to get off the white kitchen train and start something more intriguing!
If you missed my last kitchen inspo post, you can check it out as well. It is all about BLUE kitchens! Because why not! I might as well go through the rainbow at this point hehe
So sit back and let me show you how adding a little bit of color to your cabinets can work wonders for the over all feel of your kitchen!
This post is all about pretty green kitchens!
<<Disclaimer: none of the photos in this post belong to me, please click the photo or the "sourced" credit to be redirected to the owners. Thank you! >>
Here are 9 Pretty Green Kitchens: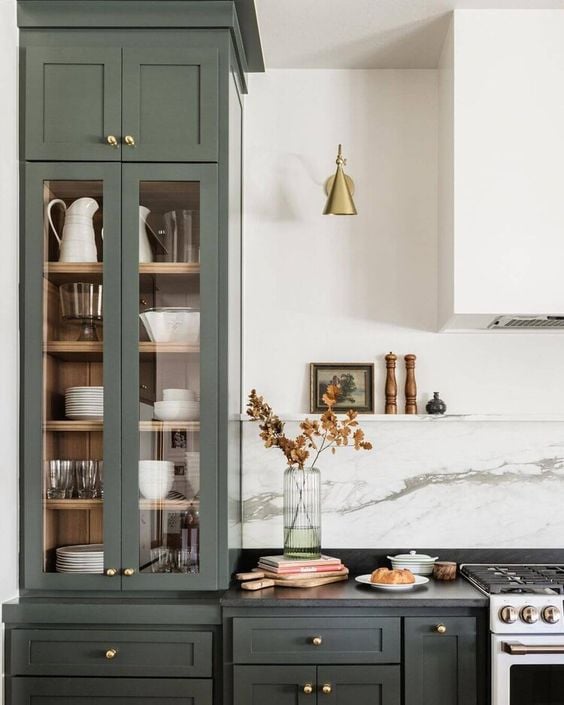 This is what I think of when I hear pretty green kitchens. The color is a custom mixture of Ripe Olive and Pewter Green by Sherwin Williams. I didnt even know you could have custom colours done by Sherwin Williams! But this color is bang on. The contrast of the dark countertops and marble backsplash really set the mood in this kitchen. Farmhouse vibes at its finest!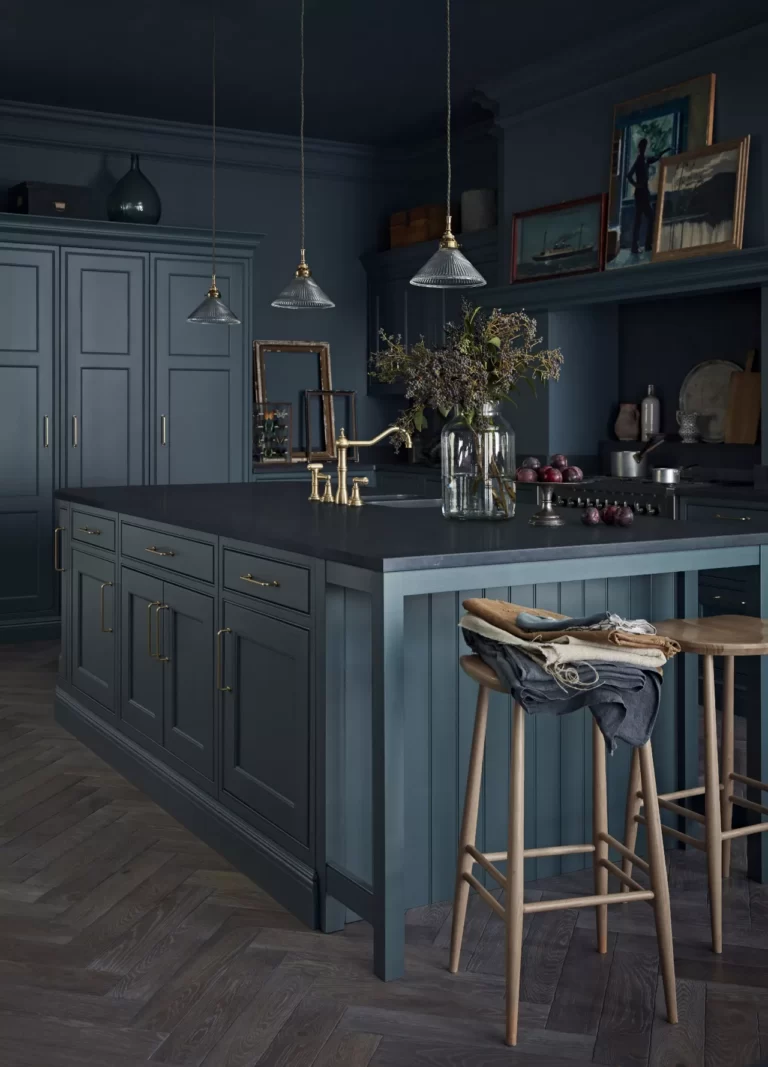 This kitchen is the definition of moody. This dark grey green color definitely has impact! It's cozy, it's warm and it's everything you want in the heart of the home! The brushed brass details really compliment the cabinet color in this kitchen. Everything is throughly thought out in this one! This deep green color is called Burbidge's Baltic Green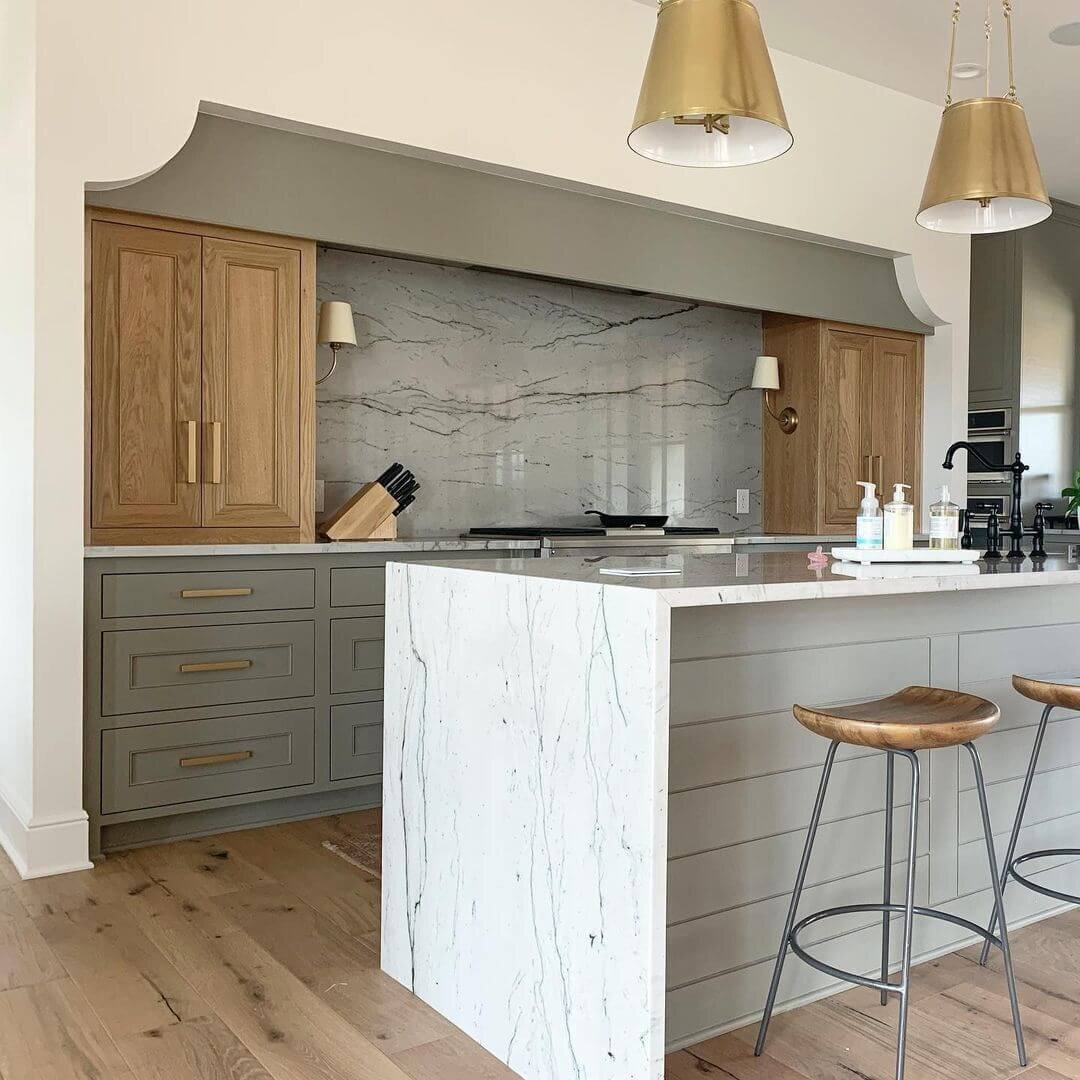 This beautiful.. stunning.. kitchen by Rebecca Gibbs truly is art. This olive green is such a subtle way to add some green to your kitchen design. It compliments the wood tones so well and everything really flows together to create a warm yet bright kitchen. The paint color is Studio Clay by Sherwin Williams.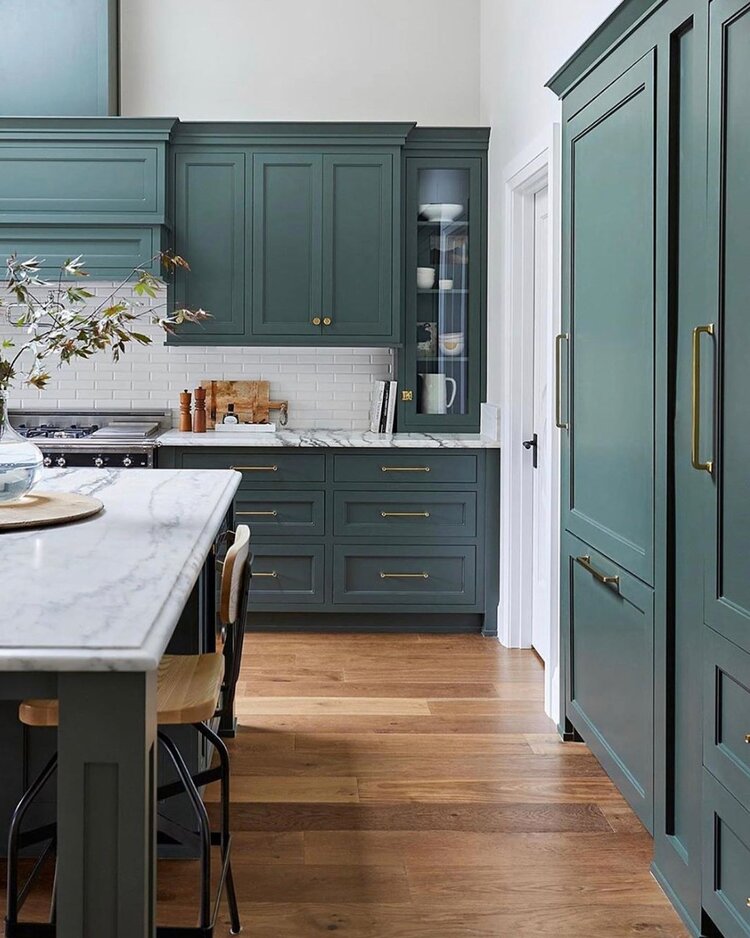 This sophisticated cabinet color is gorgeous with blue undertones. This cabinet color is so beautiful next to the marble countertops and warm hardwood floors. Definitely a perfectly designed green kitchen! The cabinet color is Pewter Green by Sherwin Williams.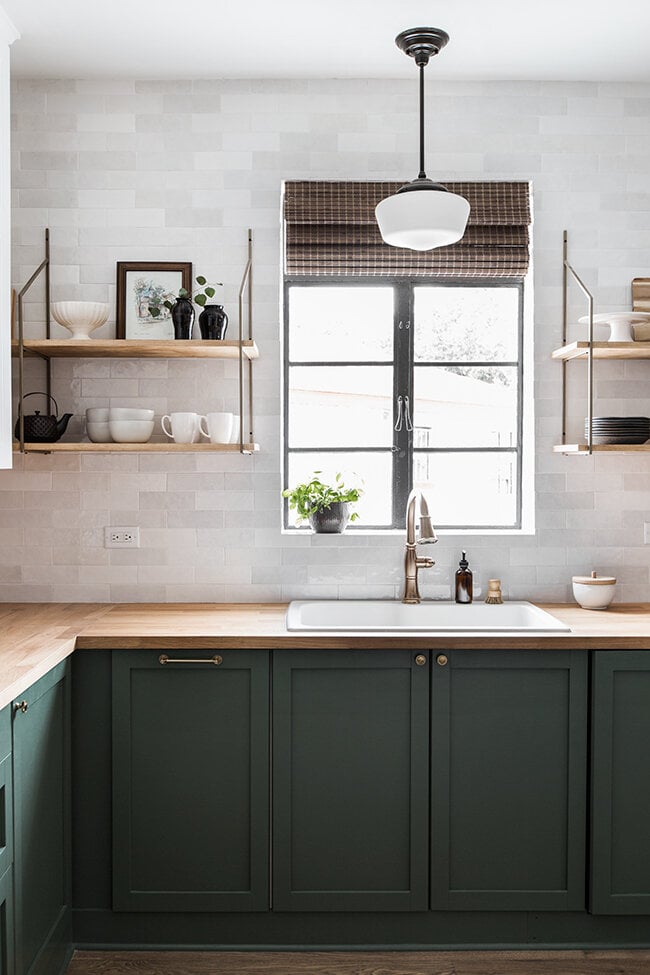 I have never really been a fan of open shelf kitchens but this one really pulls it off! I love how the shelfs really match the countertops to pull the entire look together. And this color.. I love this Peale Green color by Benjamin Moore!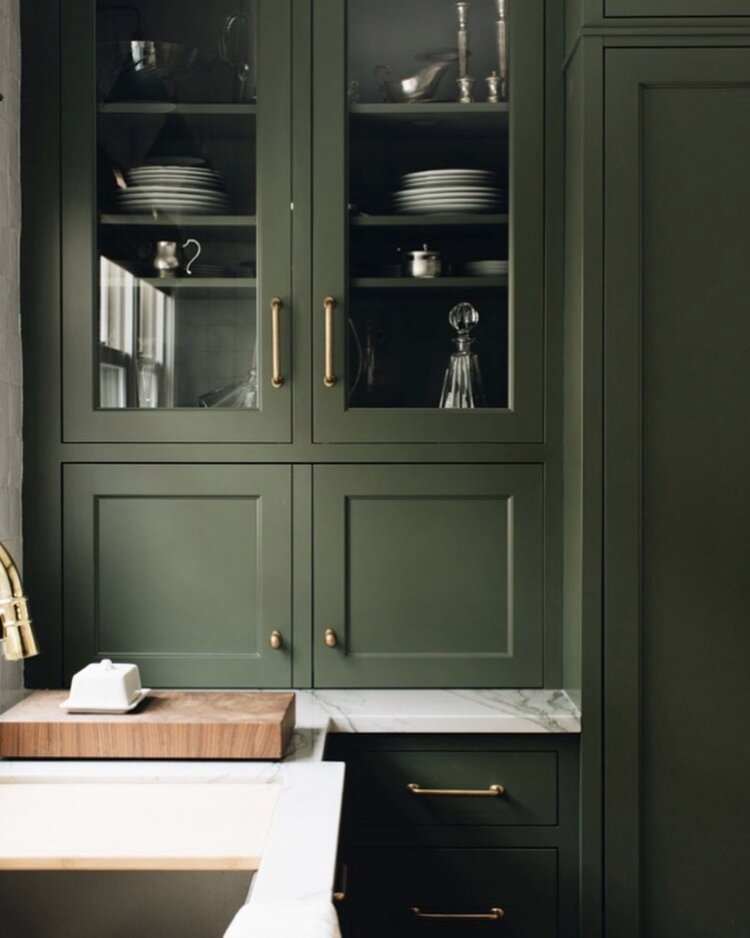 This is hands down my favourite green colour EVER! It may or may not have to do with the fact that it is my eye colour hehe. Olive greens are just the most beautiful warm toned green. Could you imagine how beautiful this kitchen would look at Christmas time!? This colour is Eden Green by Stoffer Home!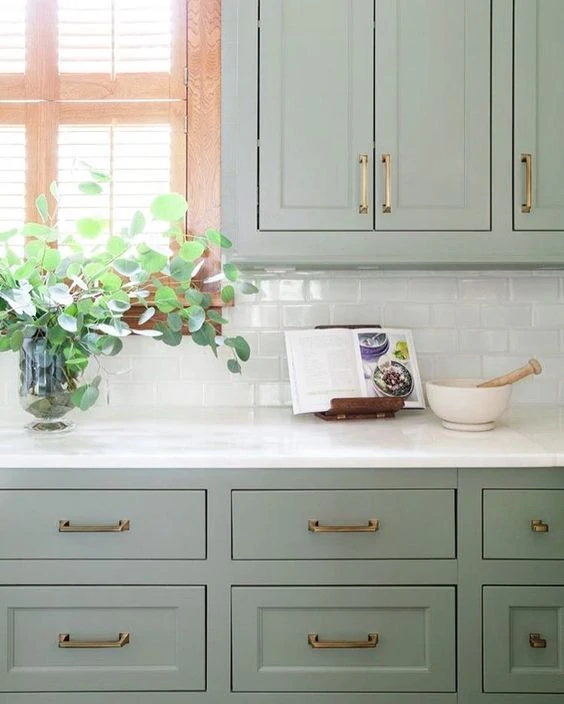 This is definitely a different shade of green for a kitchen but it is pretty! It would look so adorable in a cute cottage or cabin. Its light and beautiful. The color is Sherwin Williams Clary Sage.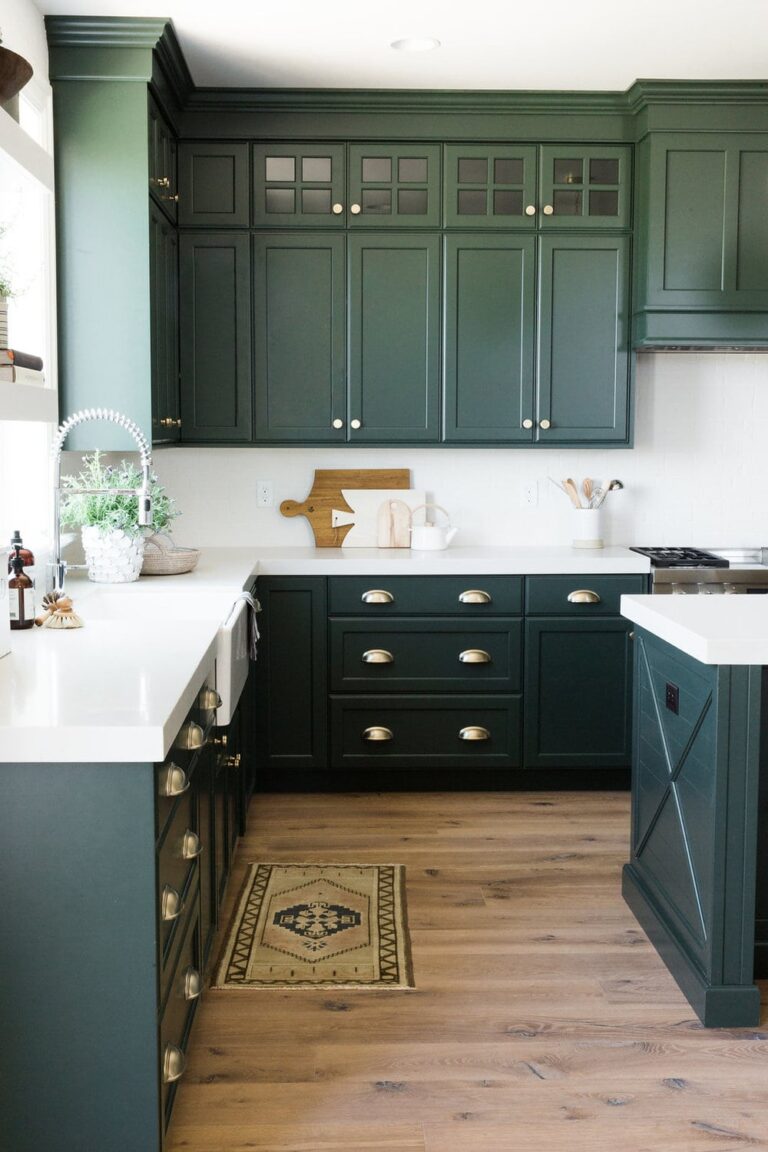 This green color looks beautiful with the warm brass cabinet hardware, and clean white countertop and backsplash. The floor is also stunning in this kitchen. You can tell it is by one of my favourite designers because I feature a lot of their work here on the blog! The color is Black Spruce by Dunn Edwards.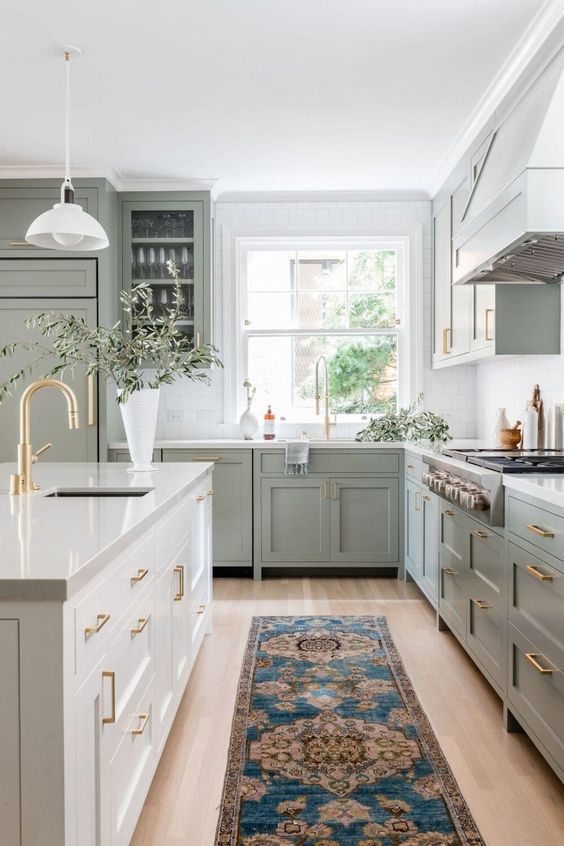 This sage green color on the cabinets compliments the white island. Mixing the two really makes this space bright yet still cozy. The white quartz countertops and gold hardware really make a statement in this kitchen! wish i knew what this color was! Sorry!!
There you have it folks! 9 pretty green kitchens that you needed to see. Arent you happy you stopped by to see these show stoppers!? Which green kitchen was your favourite? I definitely have to go with the olive green kitchen by Jean Stoffer Design! If you are going to go bold and green you might as well go all out like this designer did!
Until next time,
Pretty Green Kitchens You Need To See; Here are some gorgeous green kitchens that will eliminate any desire for a white one!
BEST SELLERS