Whether you're a 'Handy Andy' or a complete novice, it is always important to stay protected when undertaking a DIY project around the home.
Disclaimer: this post may contain affiliate links, and every purchase made through these links will give me a small commission (at absolutely no extra cost for you!) AS AN AMAZON ASSOCIATE AND REWARDSTYLE MEMBER, I EARN FROM QUALIFYING PURCHASES. See Privacy Policy for additional info.
For some, DIY is a favored pastime, for others, it can be a source of constant frustration! But around 85 percent of UK residents undertook DIY tasks during the first coronavirus-enforced lockdown in 2020 so plenty are keen on home improvements.
But accidents can happen. Indeed, statistics for 2020-21 showed over 5,600 people in England were admitted to hospital after coming into contact with a powered tool, with a further 2,700 requiring treatment from non-powered tool injuries. So, the need to stay safe is imperative – and remember it's always better to be too safe.
Here are some of the different types of safety equipment you need when doing DIY.
Safety Equipment You Need
Glasses, goggles, and protective eyewear
Wood, metal shavings, dust, and other loose debris can be problematic, as can splashing liquids, so always make sure you have protective eyewear. Goggles and glasses will also help keep your eyes safe from toxic solvents. It is worth splashing out a little more on goggles that won't fog or purchasing a pair with a neck strap to keep them fit nicely when working.
Gloves and protective clothing
You will, obviously, be handling a plethora of different tools when fixing things up around the home, so it is imperative to protect your hands. Use rubber or latex gloves for paint, while cloth and leather gloves are ideal to protect from splinters and nails. Additionally, purchase face masks, leather aprons, and flame-resistant fabrics depending on what sort of project you are doing. And make sure you have some heavy-duty boots - perhaps something with metal toe caps - to protect your feet from falling equipment.
Ear plugs
Some DIY tasks inevitably require the use of noisy power tools, such as chainsaws or drills - so when using such equipment make sure you use ear plugs or earmuffs as not doing so may lead to noise-induced hearing loss and even potentially cause permanent damage to the inner ear. Additionally, if you are working on the ground - perhaps replacing flooring for instance - then throw on some knee pads, trust us your joints will thank you for doing so!
Hardhat
It may be that you are undertaking some structural work to the home or garage, or you might be doing something in the kitchen or bathroom like replacing the cabinets or wall fittings. Whatever it may be, any work done taking place overhead means you should always wear a hard hat to protect your head from heavy falling objects.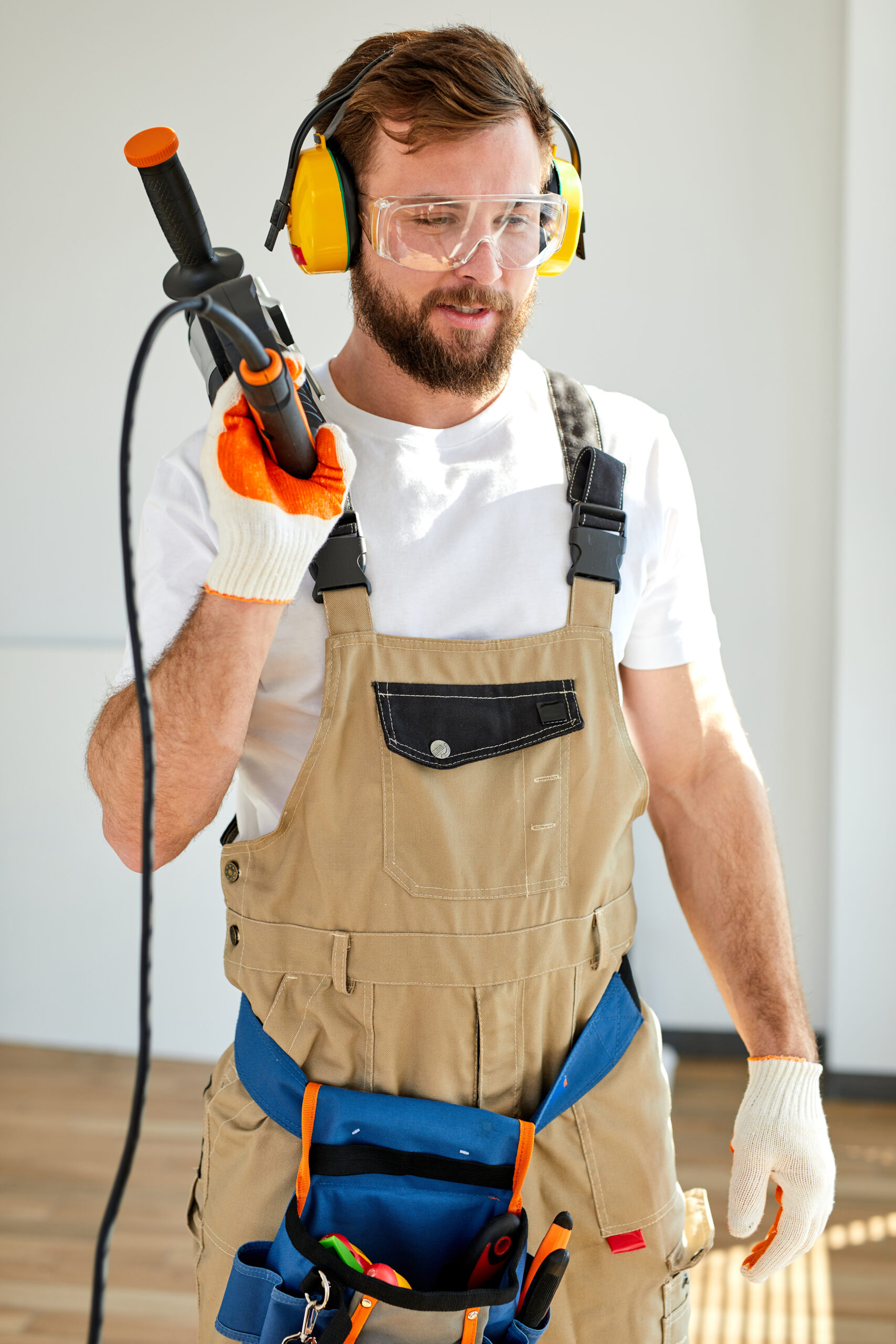 These safety equipment items are proven to protect you from harm. They all offer you a safe way to do your DIY tasks in the home, whether it's construction, electrical work or plumbing. If you need some basic help with what to wear, don't hesitate to consult your local home improvement store for more information and advice. Hopefully, these suggestions will help keep you safe out there!
More Home DIY Posts:
BEST SELLERS