Winter Grapefruit Smoothie; vegan and plant based smoothie. Creamy with tart yet sweet flavours. 5 ingredients
Disclaimer: this post may contain affiliate links, and every purchase made through these links will give me a small commission (at absolutely no extra cost for you!) AS AN AMAZON ASSOCIATE AND REWARDSTYLE MEMBER, I EARN FROM QUALIFYING PURCHASES. See Privacy Policy for additional info.
<< This is a guest post by Samara from Samara From Scratch. Author Bio Below>>
If you like drinking ice cold smoothies in the dead of winter, clap your hands. A lot of people think smoothies are just a summer treat, but if there's frozen fruit in stores all year round, why wait?
I love smoothies because they are a fantastic and easy way to get your fruit/veggies in. Whipping one up is a much more nutritious way to satisfy a sweets craving than scarfing down your favorite candy bar.
Plus, winter offers its own fair share of ripe fresh fruit to choose from, particularly citrus. It's citrus season, y'all! And that's why we're talking about this super tasty grapefruit smoothie.
This winter grapefruit smoothie was born out of a simple craving. Literally, I just thought one day, 'Wow, a grapefruit would really hit the spot right now'.
So, I bought a bag of red grapefruits from my local Kroger, and devoured them every morning for the next few days. I love them for not only their sweet and sour taste, but their beautiful pinky-red color. Like many citrus fruits, they are great for strengthening your immune system, which is always important in the winter time (especially now).
There are other benefits to eating this big round fruit, too. They give you a good dose of necessary vitamins, are full of antioxidants, and are extremely hydrating with a 92% water content.Yes, 92 percent! If being a fruit was a test, grapefruits would have some of the highest scores. I think the other fruits would be a little jealous.
This smoothie was a huge hit with everyone in my house. The week I worked on this recipe, my parents just happened to have visited. My mom and step dad loved it. And even my very picky, palate-limited sister thought it was fantastic, too! It's almost irresistible because it's just so dang refreshing!
Apart from the fact that it's good for you, here's why you'll love this easy-to-make drink:
It has a creamy texture
It's just the right combination of tart and sweet
You'll only need five ingredients!
Have I convinced you yet? Then, grab your blender and let's get to work.
GRAPEFRUIT SMOOTHIE INGREDIENTS
Like I said before, we're working with a small ingredient list. You only need these five things:
Red grapefruit - Choose grapefruits that have smooth skin and a deep color. It should feel heavier in your hand than it looks. When you squeeze it, it should feel firm all around. If it has all these qualities, you've got yourself a ripe and juicy grapefruit.
Frozen mango chunks - These give an excellent, mildly sweet flavor to the smoothie. My frozen mangos to use are the ones from Trader Joe's, but any quality brand should work.
Frozen overripe banana - Be sure to use bananas that have a lot of black spots on the skin. This means they are sweet and overripe. Ones that are under-ripe or just ripe enough don't really taste all that great in a smoothie. Bananas add thickness and creaminess.
Greek yogurt - This is used for extra creaminess. To make this smoothie vegan, use your favorite plant-based yogurt. 
Apple cider - Instead of the usual plant-based milk, we are using old fashioned apple cider for a sweet and tart taste. If you can't use apple cider, use a natural, 100% juice apple juice.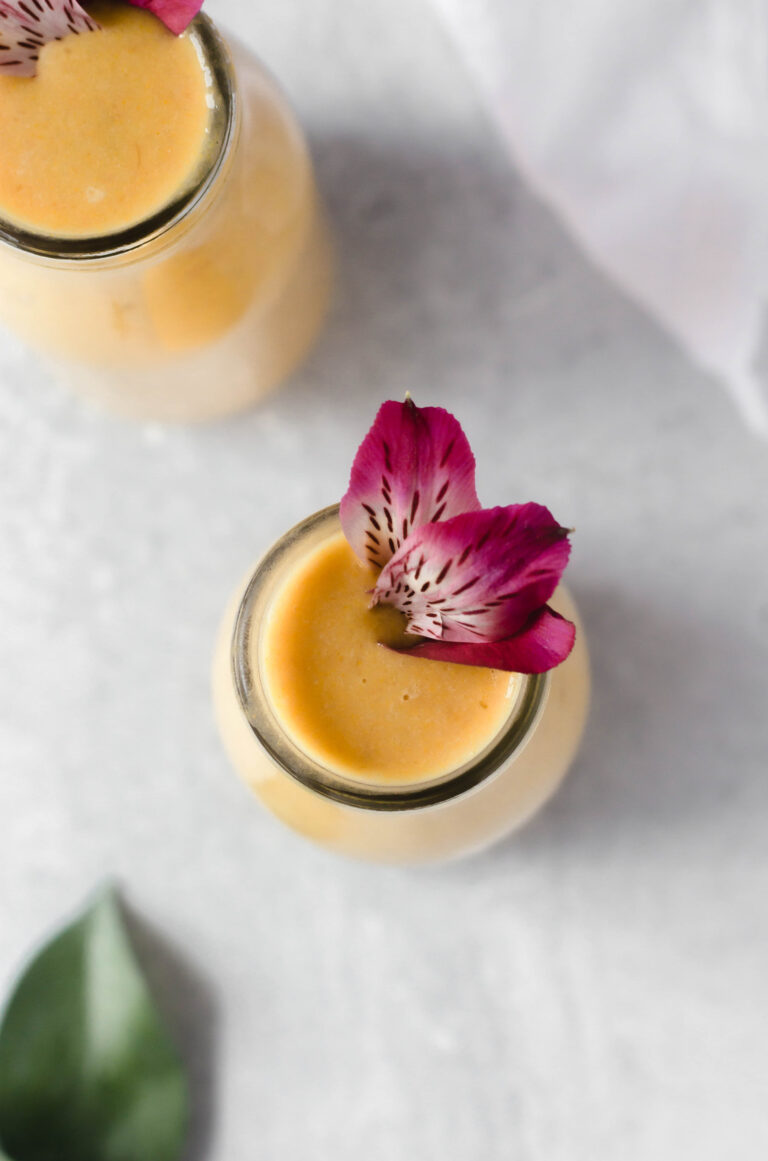 HOW TO PREPARE THE GRAPEFRUIT
You've probably already figured out that we're not just going to throw a whole grapefruit in the blender lol. We need to properly prepare it first.
There is one thing standing in between you and those beautiful grapefruit juices. It's this little white thing called the pith. You've seen it on oranges and lemons, too. It's bitter and tastes not-so-great, so we really want to remove as much of it as possible.
You'll only need one red grapefruit to make a single serving of this smoothie. Start by placing your grapefruit on a stable cutting board. Slice off both ends of the fruit, then set it so that it lays flat. Use a sharp knife to slice off thin pieces of the pith, until as little remains as possible. Now you can cut it into segments and remove any seeds/leftover pith as you go. Once this is done, they're good to use.
HOW TO MAKE THE PERFECT GRAPEFRUIT SMOOTHIE
Grab your blender. A blender will usually give you the best, smoothest results, but if all you have is a processor, that can work as well:
Add the frozen slices of one medium, overripe banana in the blender. Then, add ½ cup of frozen mango chunks, grapefruit segments, and two spoonfuls of Greek or plant-based yogurt.
Pour in ¼ cup of apple cider or natural apple juice. Blend together. If you'd like a thinner consistency, feel free to add more liquid little by little until it is to your liking. You don't want to add too much at a time, because it's a lot more work to fix a smoothie that's too thin than one that's too thick.
SMOOTHIE ADD-INS
I like to keep this drink as simple as possible, but you are more than welcome to play around with different add-ins. Here's some other ingredients you can use:
Chia seeds or rolled oats for more texture
Healthy nuts like almonds or cashews
Pitted dates, maple syrup, or honey for a sweeter taste
A pinch of ground turmeric for a golden milk vibe
VARIATIONS
Want to experiment with the kind of fruit you use in your smoothie? Go ahead, just, you know, don't omit the grapefruit.
For example, try swapping the frozen mango with frozen pineapple. Or adding whatever frozen berries you think would complement the drink. This recipe is truly just a simple base with endless possibilities.
Well, that's all guys! If you give this smoothie a try, please be sure to leave a review or comment. If you would like to see more from me, you can find my blog here: https://samarafromscratch.com/
Thanks for reading, everyone!
Samara
ABOUT SAMARA
Hi, everyone, my name is Samara and I'm so excited to be guest posting on Nikki's Plate today! I am the writer, recipe developer, and food photographer behind a little blog called Samara From Scratch, which focuses mostly on approachable plant-based recipes, with a dash of super indulgent desserts here and there.
If you loved this recipe, you will also love: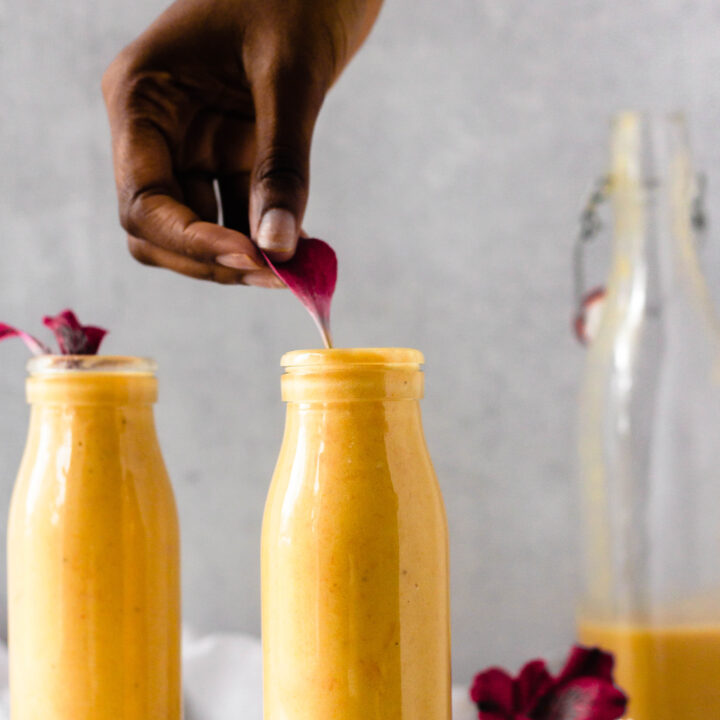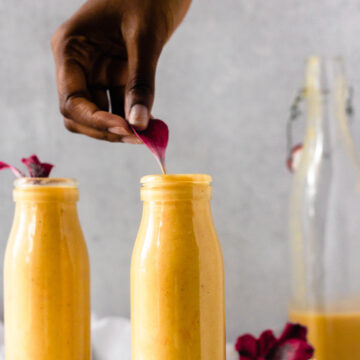 Winter Grapefruit Smoothie
Vegan and plant based smoothie. Creamy with tart yet sweet flavours. 5 ingredients
Ingredients
1

Medium Banana

Frozen

½

cup

Mango Chunks

Frozen

1

Grapefruit

2

Spoonfuls

Plant Based Yogurt of choice

¼

cup

Apple Cider Vinegar
Instructions
Add the frozen slices of one medium, overripe banana in the blender. Then, add ½ cup of frozen mango chunks, grapefruit segments, and two spoonfuls of Greek or plant-based yogurt.

Pour in ¼ cup of apple cider or natural apple juice. Blend together. If you'd like a thinner consistency, feel free to add more liquid little by little until it is to your liking. You don't want to add too much at a time, because it's a lot more work to fix a smoothie that's too thin than one that's too thick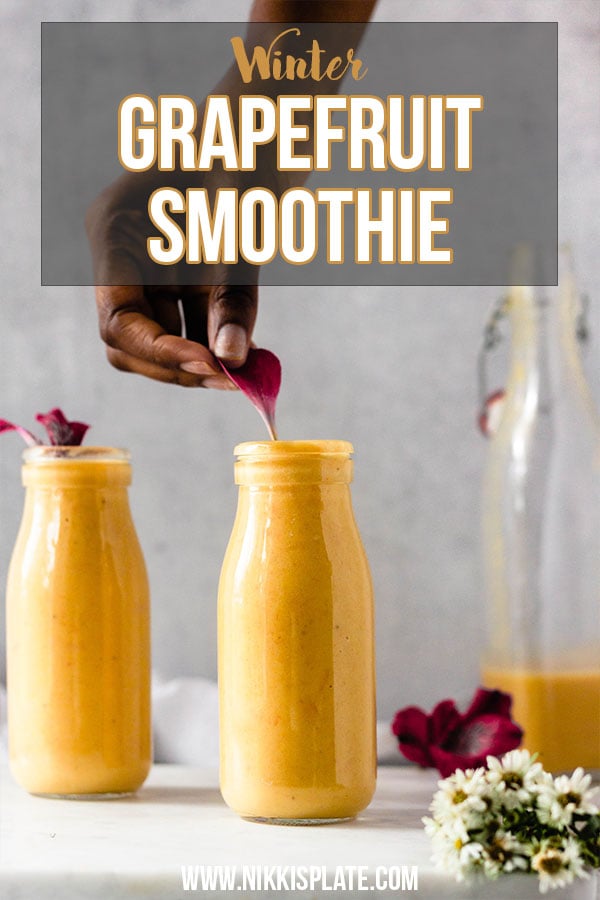 BEST SELLERS