11 Best Kitchens by Studio McGee; A round up post of the best kitchens by Studio McGee! Blogger, and interior designer who knows how to renovate! Modern charm. Kitchen design and renovations.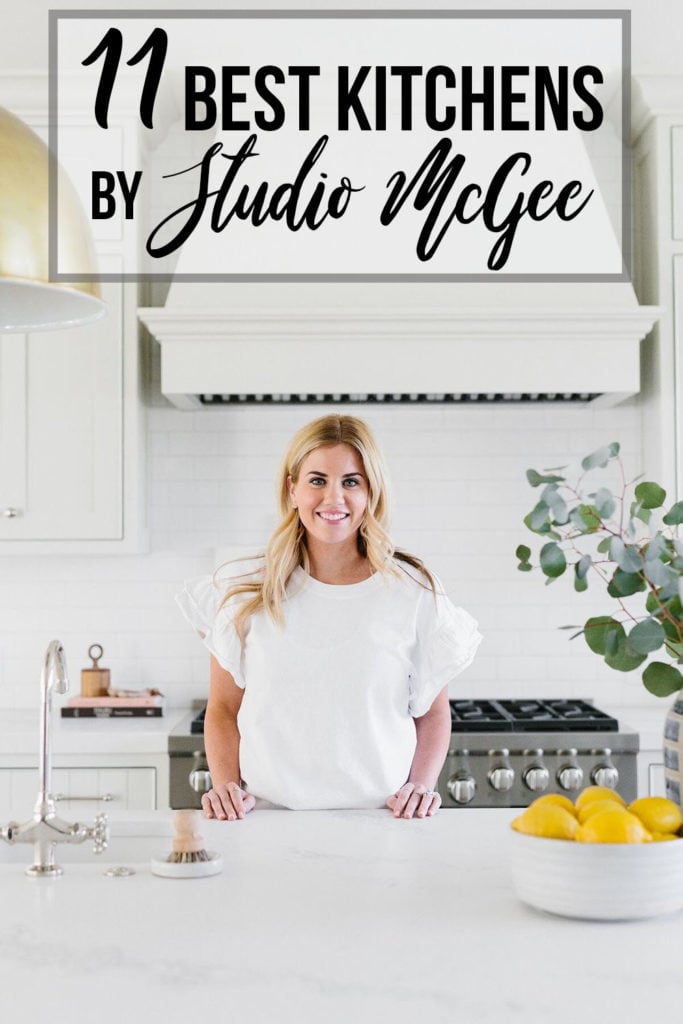 Hi Beauties!
Coming at you with another inspo round up post, this time all about kitchens by Studio McGee!
You all loved my Fixer Upper/Joanna Gaines series so I figured I would do another one but with my other favourite interior design team...Studio McGee!
Check out my Joanna Gaines from Fixer Upper series here:
So Studio McGee.. for those who aren't aware what or who Studio McGee is, check our their about me page here. Shea McGee is literally the queen of elite interior design, with her husband Syd by her side of course. Their high end style and finishes speak to me and you will all love it too! With an impressive 3.3 million instagram followers, Shea's personal style shines.
Shea has said in a few of their episodes that the kitchen is her favorite place to design. Of all the dream home makeovers she does, the kitchen is definitely where she shines. The kitchen is definitely the heart of the home, shall we take a look at some of these Studio McGee look kitchens.
So with out further rambling, lets jump into these BEAUTIFUL kitchen designs by Studio McGee! All the kitchen inspiration you need in one post!
<< All kitchen photos in the post are property of Studio McGee. All image credit to Studio McGee>>
Best Kitchens By Studio McGee: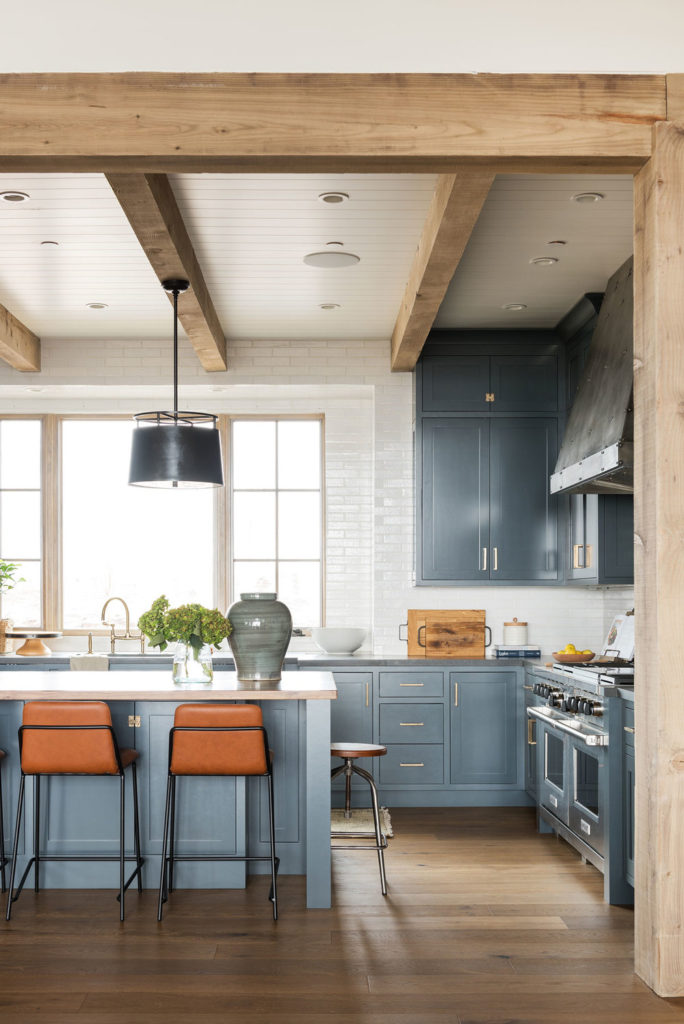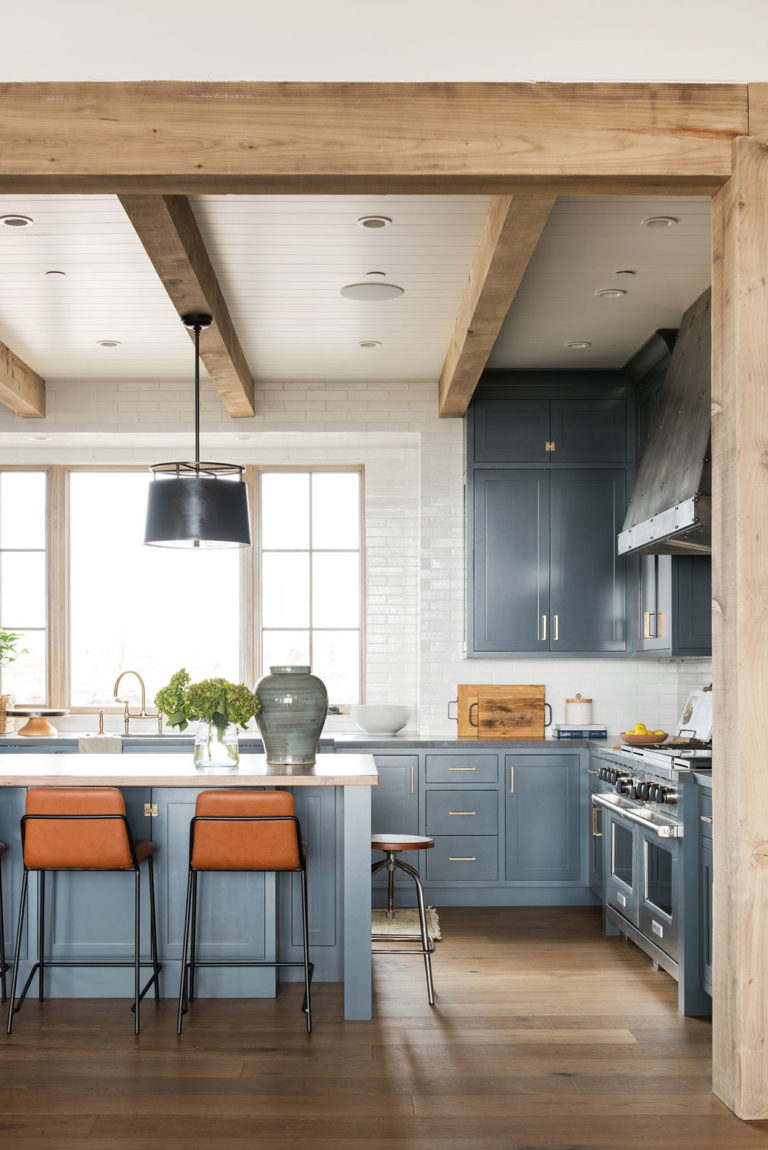 I was never a huge fan of this blue, especially when it comes to cabinets.. but they really pull this look off with the wood textures and leather seats. The cabinet colour is Grays Harbor by Sherwin Williams. The beams really make this look rustic yet chic. Get the art piece here, and wood bread boards here
I am such a sucker for a white kitchen with gold hardware. I love everything about this kitchen. I also love the look of a hidden fridge. This kitchen looks super girly to me and I am digging it! Get the stripped rug here, and similar pendants here.
So much beauty in this Studio McGee kitchen with the open shelving and brass hardware and light fixtures. The marble countertops are definitely a kitchen design trend that everyone loves and it shines in this Studio McGee kitchen.
The natural light wood island in this kitchen is amazing. It really brings some warmth to the kitchen which keeping it bright and light. Also obsessed with this deep farmhouse sink. So beautiful!
The chairs in this kitchen are a statement piece in themselves! Loving the unique layout of this kitchen too, no cabinets just shelving. Not for my house because we don't have any nice dishes yet. It takes a lot of work making these open shelves look beautiful and not cluttered... and they sure did pull it off!
My favourite part of this kitchen is the high ceilings with the two layered windows.. all this natural light is amazing! The extra high cabinets are also a nice touch, imagine all the storage!? The black metals really accent this room.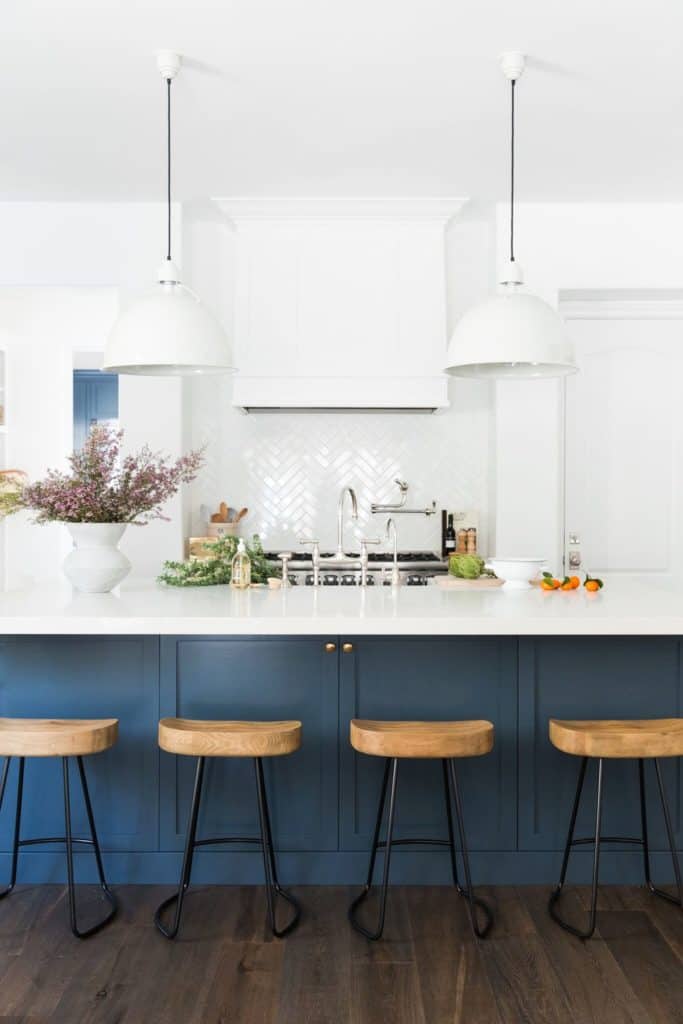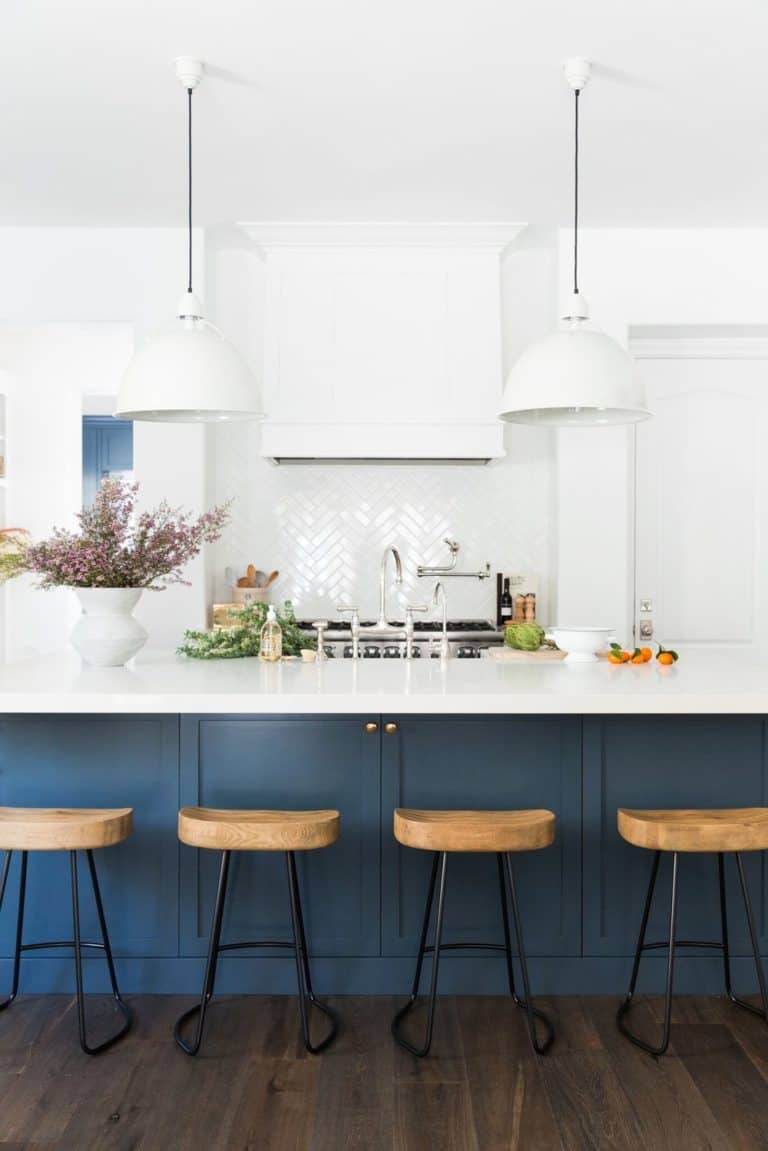 THE BLUE! I love this so much. This is the exact colour scheme we will be doing for our kitchen once we renovate it. A dark navy island with crisp white upper cabinets. So classy!
This look just screams farmhouse chic. Love all the deep grained wood textures throughout this kitchen. They really pull it all together. The cabinet colour also acts as a beautiful blank slate.
All those chairs! WOW they must have a big family haha loving the waterfall island top with the hidden black background. Really adds a pop to it. Black cabinets would be so handy for hiding finger prints wouldn't they!?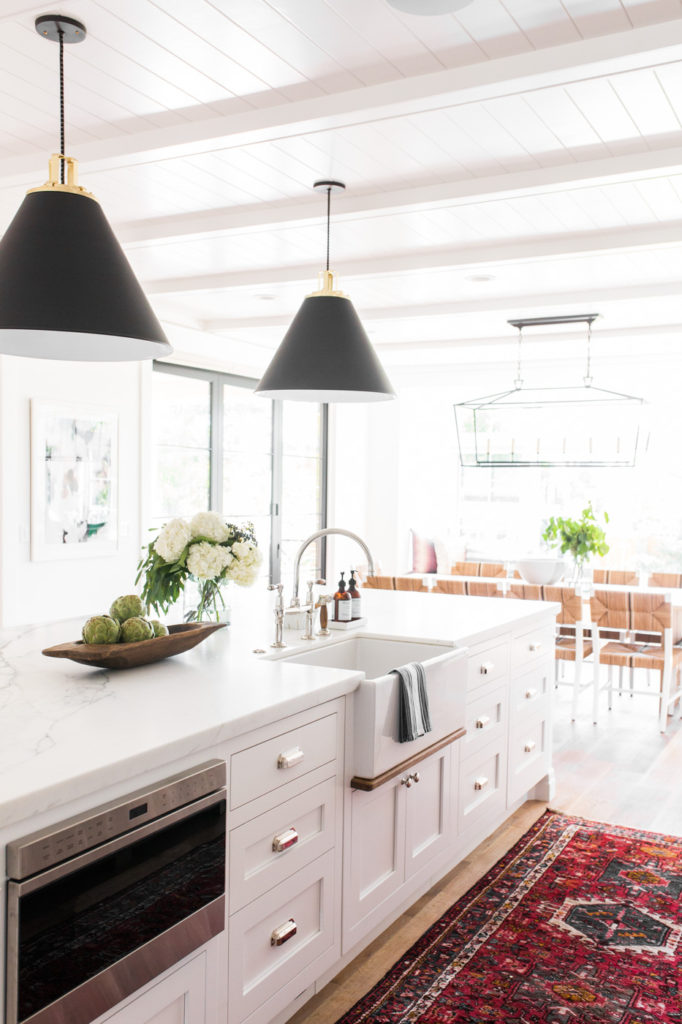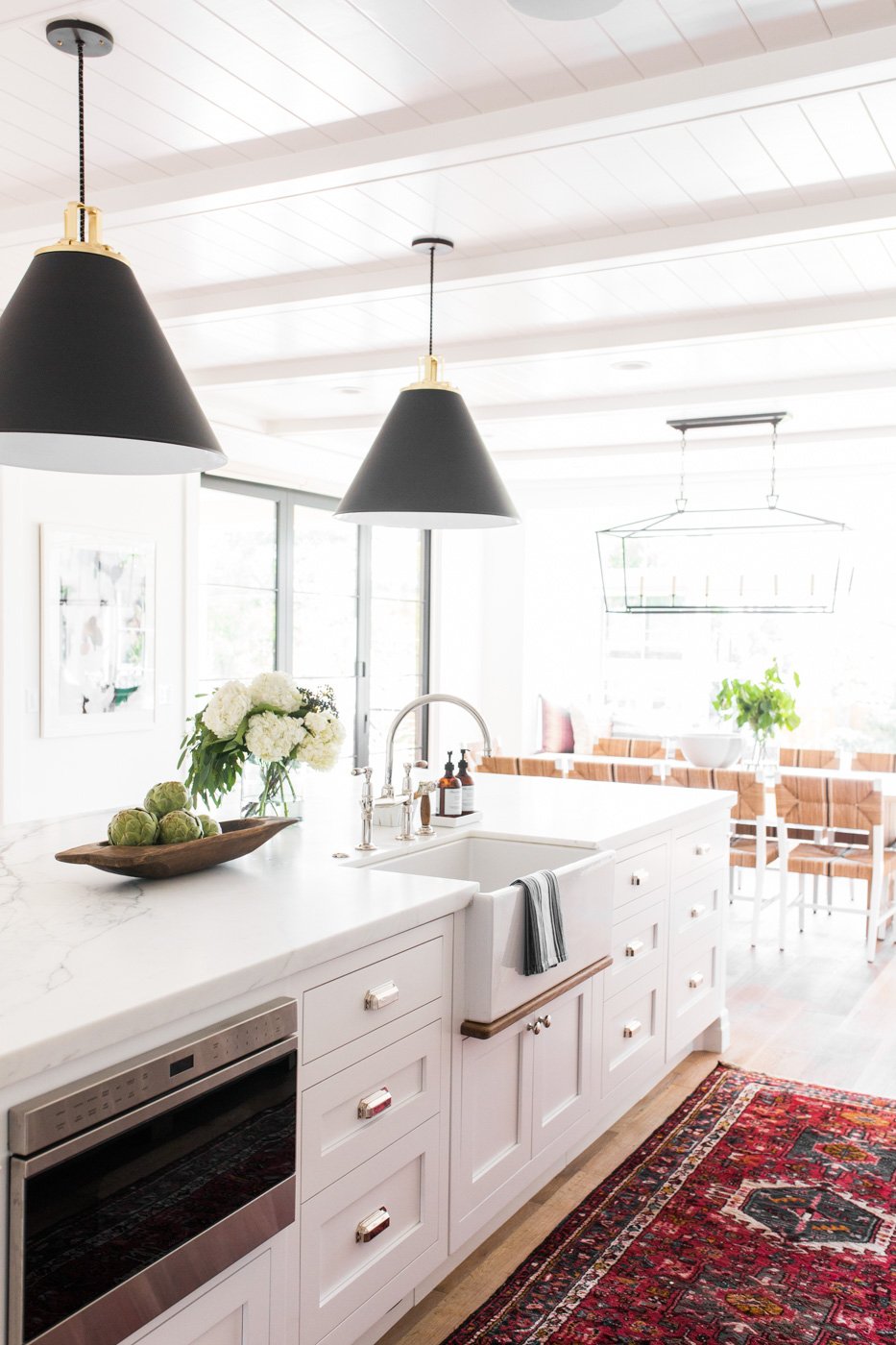 Again, another beautiful white kitchen. Love the dramatic island pendants too. Turns a simple white kitchen into a stylish work of art!
The cabinet colour here really gives this kitchen a farmhouse appearance doesn't it? And that butcher block on the island would be so handy for cutting EVERYTHING!
There you have it folks! Some of the best kitchens by Studio McGee! Are you ready to tackle a Studio McGee style renovation?! Make sure you tag me in them at #nikkisplate so I can stock all your beautiful transformations.
I hope you loved this post as much as I do! Which one was your favorite kitchen ideas?!
Make sure you check out an episode of Dream Home Makeover on Netflix for all her design looks and secrets!
Until next time,
11 Best Kitchens by Studio McGee; A round up post of the best kitchens by Studio McGee! Blogger, and interior designer who knows how to renovate! Modern charm. Kitchen design and renovations.
This photo from one of Studio McGee's kitchen renovations using green cabinets was a close contender to making this top 11 list!