Top 10 Bedrooms by Studio McGee; Here are the best bedroom makeovers by the interior design team Studio McGee.
Disclaimer: this post may contain affiliate links, and every purchase made through these links will give me a small commission (at absolutely no extra cost for you!) AS AN AMAZON ASSOCIATE AND REWARDSTYLE MEMBER, I EARN FROM QUALIFYING PURCHASES. See Privacy Policy for additional info.
Hi Beauties!
Coming at you with another post in my Studio McGee series. This time we are talking all about bedrooms! Why? Because everyone loves a cozy beautiful bedroom. I am currently thinking all about my bedroom while I am writing this post actually. Not for a makeover but because it is 6am and I should really be back in my warm bed! But I don't sleep in anymore.. could be the fact that this baby in my belly makes it hard to comfortable!
If you don't know who Studio McGee is, then you might be living under a rock.. or just not into Netflix or Instagram. Recently, Studio McGee came out with a Netflix series. I was SO excited for it and it definitely was a great show.. especially for anyone who love HGTV or home design TV. The only thing I didn't like was the fact that there was only 6 episodes!!
Only 6 episodes made me sad, I feel like I was just starting to get really into it when it was over. I hope they pump out some more episodes soon! If you are like me and are craving more from their Netflix series, make sure to check out their Youtube channel because they do put lots of mini videos of their client makeovers on there!
If you missed the other posts in my Studio McGee series, ill link them here for you:
- 10 BEST LIVING ROOMS BY STUDIO MCGEE
- 11 BEST KITCHENS BY STUDIO MCGEE
Anyways, enough chit chat, let's jump into this post shall we!?
<<Please Note all these photos in this post are property of Studio McGee. Please click the photo or link provided to be redirected to their website.>>
Bedrooms by Studio McGee:
The Crestview House
This bedroom is beautiful. Classy and sophisticated. I love how neutral it is and easy to love! The layered rugs give so much depth and really make this room feel exciting when it actually is very simple. Make sure you check out my guide on how to style a queen bed to achieve this exact look!
Studio McGee House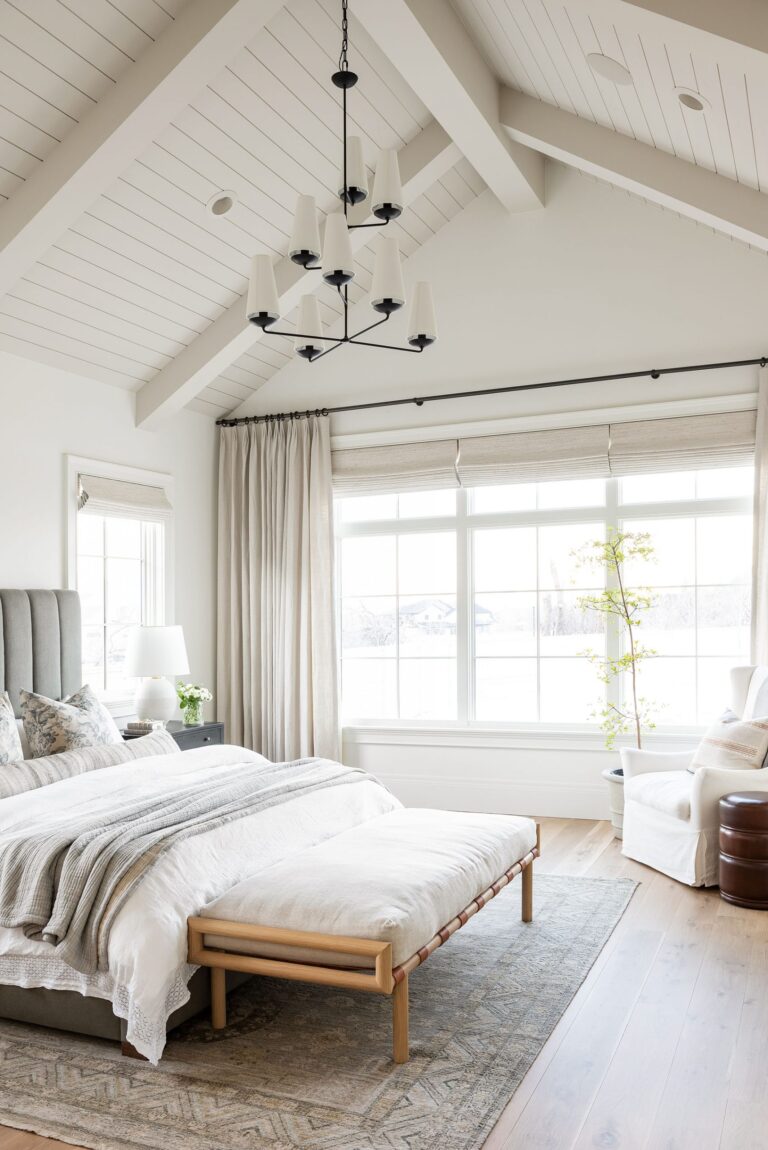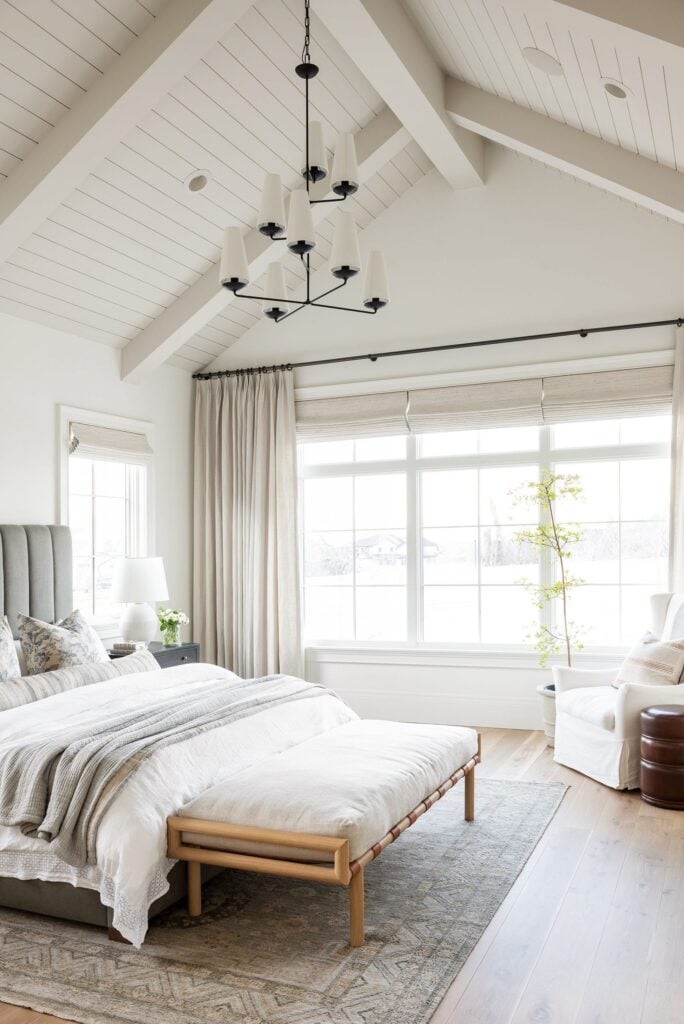 So this is actually the main designer's home bedroom. They featured her entire home on the Netflix series and it is absolutely STUNNING. Again, this bedroom is very neutral but also inviting. Vaulted ceilings in a bedroom are just beautiful! Buy these items here: Hoffman Bed, Double Nightstand, Table Lamp.
Pine Brook Home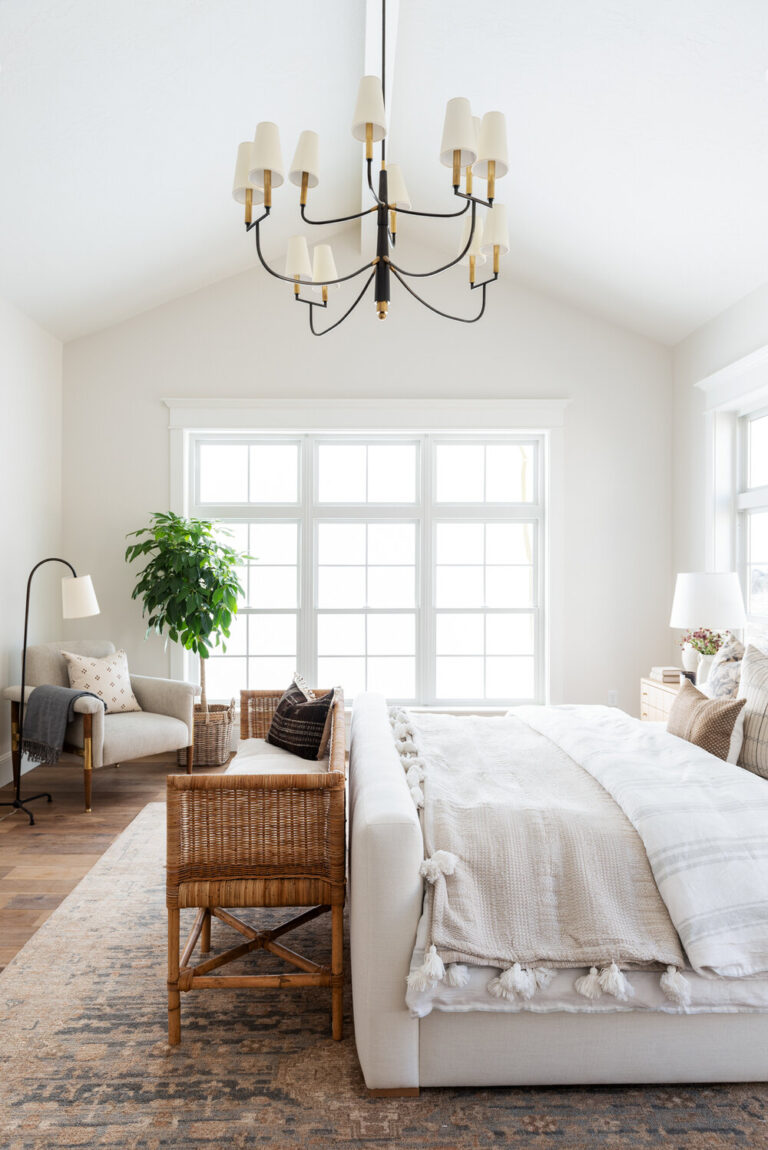 Again, another neutral white bedroom but this time they threw in this fun wicker seating! To me this bed bench screams boho chic and I love it! Keeping the bed and linens beige/white really gives this bedroom hotel quality feels. Get this Wicker Bench here.
SM Ranch House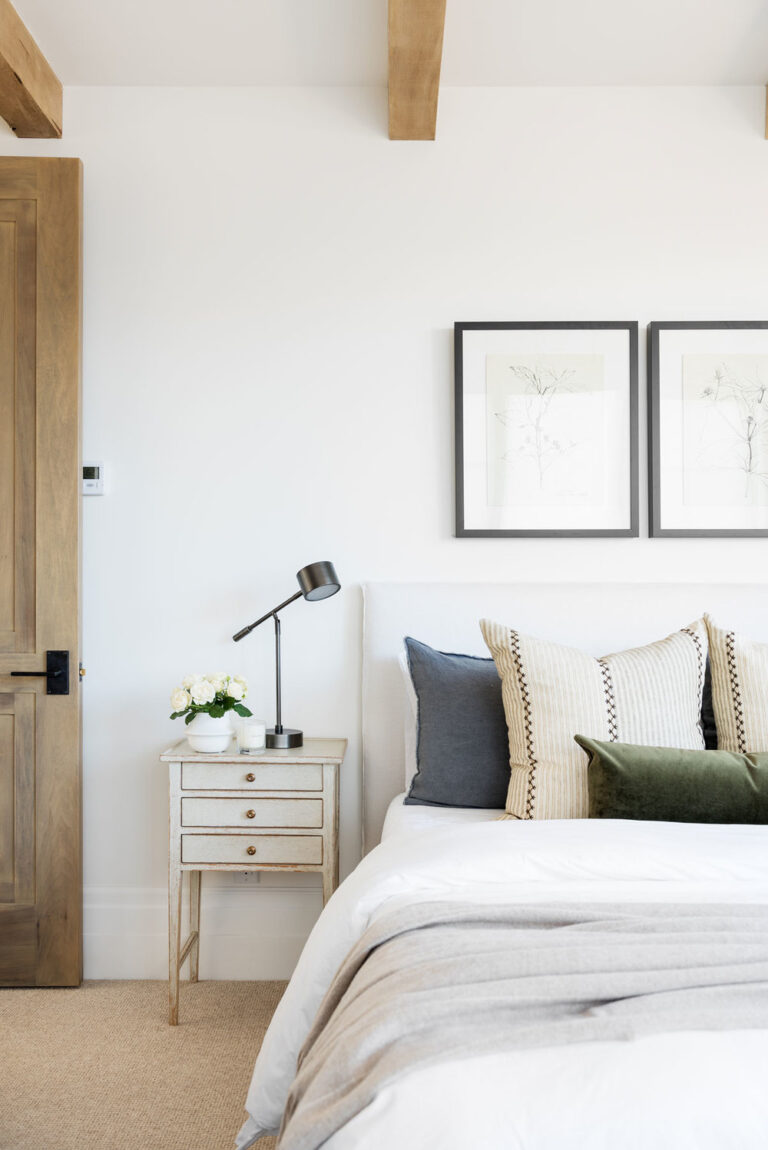 I absolutely LOVE their SM Ranch House project so you will definitely see it on all my top series posts.. and why I included two bedrooms from these project. I am a huge sucker for ranch or country style homes. They just seem so cozy and inviting to me. I am also obsessed with this flooring! Follow this guide on How to Decorate a Bedroom to achieve this look!
Northridge Remodel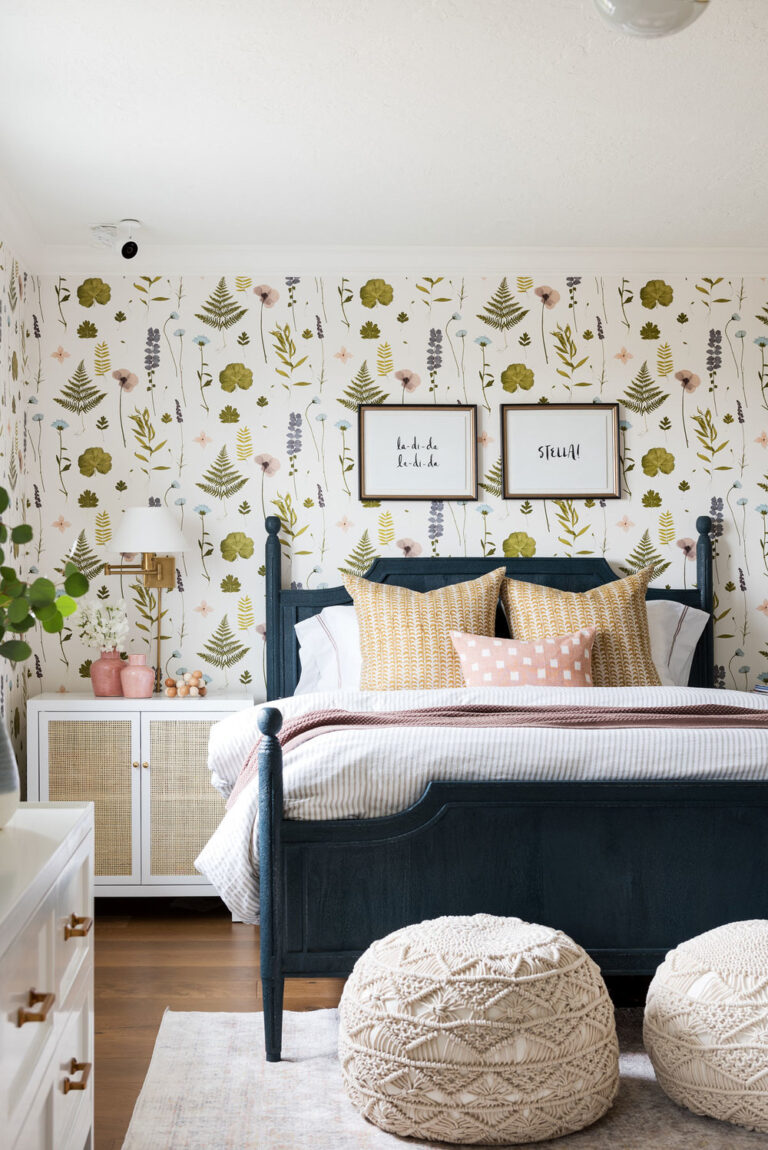 Ok, this is just the cutest bedroom. Its loud and out there but also so much fun and exciting. This would also make a fun teenager room! If you are looking for similar items in these photos, check out McGee & Co.
Calabasas Remodel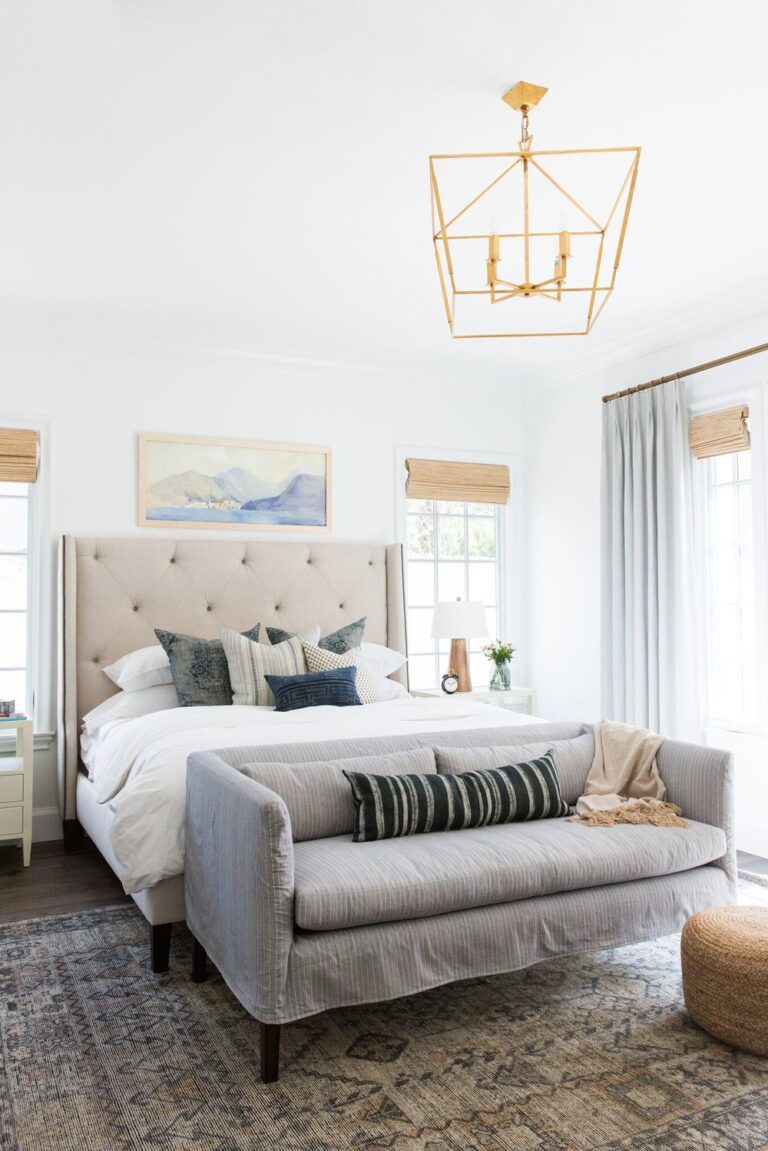 Another simple yet elegant neutral bedroom for you. Love how this bedroom almost gives a beachy feel without all the added shell decor. I also don't know how people can keep their bedside tables so clean and beautiful. Mine is a mess all the time with all the things I apparently need for bedtime, haha! Get this bed here! Get the nightstands here!
Windsong Project
This bedroom gives all the cottage vibes! This bed is a classic upholstered bed with a perfect angle. You can get this bed here!
Vineyard Parade Home
This is a very classy bedroom. What I also love about this room is that it makes use of what seems like a smaller space. Everything has a place that is functional yet beautiful! Get the bed here!
Wilson Master Bedroom
Vaulted ceilings and shiplap accent wall? Yes please! I also wonder how to make a window above a bed work, and this design really does work. The bed almost looks like it is made for this space because the window fits seamlessly underneath it. Similar bed here! Nightstand here!
Austin Texas Project
For the final bedroom I have this gorgeous stand out bedroom with lots of fun design elements!
I hope you liked this post.
Until next time,

BEST SELLERS