Long Flight Travel Essentials You Will Regret Not Packing; Here are several items you need to pack in your carry on to help you survive long haul flights!
Disclaimer: this post may contain affiliate links, and every purchase made through these links will give me a small commission (at absolutely no extra cost for you!) AS AN AMAZON ASSOCIATE AND REWARDSTYLE MEMBER, I EARN FROM QUALIFYING PURCHASES. See Privacy Policy for additional info.
Hi Beauties!
Are you ever stumped on what to pack in your carry on bag? Wondering what you actually need to bring for those long flights to make them more bearable?
No more wondering! I've got you covered with the best long flight travel essentials!
There is nothing worse then getting onto a long flight, finally finding your seat, stuffing your bag under the seat, finally sitting down.. then realizing you completely forgot to pack something that would have made your flight way less agonizing!
Use this checklist to help you remember what is important to pack to survive that long flight.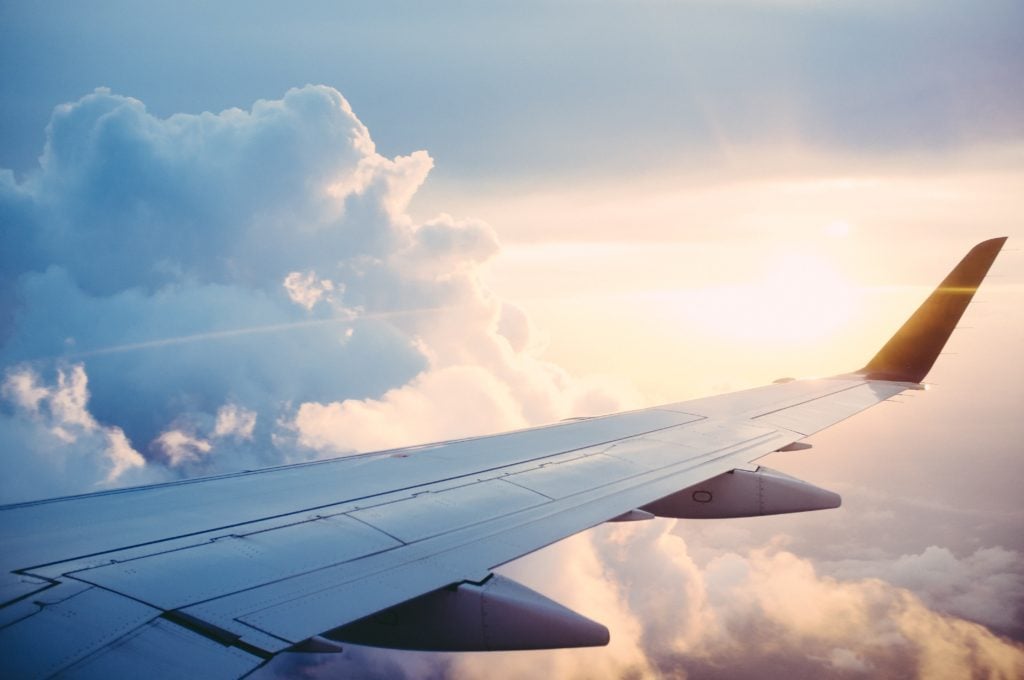 Here Are The Long Flight Travel Essentials To Pack
Water Bottle
There is nothing worse then waiting for the flight attendants to bring around drinks when your dying to thirst! Especially when all they give you is a small shot glass of a drink. A water bottle is a must!
Flights can be very long and the harsh circulating air can really be dehydrating, which is why a water bottle is essential for long flights! Drinking water not only helps with staying hydrated but also really helps fight jet lag!
Either buy water once you are through security or bring your own reusable water bottle and fill it up at one of the water stations in most airports.
Snacks
Snacks are always a must.. in flight or just any day of the week. Going hungry is no fun and sometimes the inflight food isn't very appealing or healthy. Pack some safe snack options you can munch on during the flight. We don't want anyone going Hangry during a long flight. I love packing RX protein bars, almonds and dried chickpeas!
Sleep Essentials
If you plan on getting any sleep on this flight, you definitely need to pack these sleep essentials. Most long flights are red eyes, and are called red eyes for good reasons. You will want to try and catch some much needed ZZZs. Getting some sleep on the flight not only makes the time go by faster, but also helps with jet lag later on.
- Ear Plugs
Ear plugs are a must, especially if there are louder people around you or a baby crying a few seats behind you. Do yourself a favour and just pack them, even if you don't think you will need them.
If you realize you forgot your ear plugs, you can also always use your headphones to cancel out some noise. Order these ear plugs here, they work great!
- Eye Mask
An eye mask is one of my favourite long flight travel essentials. Not only does it work as a great way to block out light so you can sleep, but it also works great for letting people know not to bother you!
If you have lash extensions or wear makeup, I highly recommend getting a 3D sleep mask that avoids pressure on your eyes! That way it won't ruin your makeup or wreck your false eyelashes! If you don't need anything special, then a basic eye mask will do the trick just fine!
- Neck Pillow
Neck pillows can be amazing if you plan to sleep on the flight! Bringing one can be a pain sometimes but totally worth it. PRO TIP: If you find it hurts your neck, try wearing it backwards so there isn't any of the pillow behind your neck. Give this super comfy travel neck pillow a try!
Warm Layers
Packing in layers is crucial. You never know if you are going to be hot or cold on those airplanes. I find that I am always hot at the beginning (i'm a nervous flyer so I am always hot during take off), then get cold once everything is settled down and I want to watch on of those inflight movies.
My favourite to bring is a warm zip up hoodie like this one here. It is easy to put on and off while sitting in a seat, and can also easily open up into a blanket.
Headphones with Adapters
Headphones are a huge must for these flights. I love my Bose headphones for long flights. They cancel out the noise so well! I can zone out and enjoy my music or movie. They really are the most amazing headphones on the market, in my opinion!
One HUGE tip, make sure you bring an adapter to plug your headphones into the entertainment system on the flight. Especially if you have bluetooth headphones or apple product headphones.
Chargers
It is always handy to bring your chargers, especially for long flights. Some airplanes have outlets you can plug things into.. but just to be safe, I would recommend brining a portable charger. There is nothing worse then looking at your clock and realizing you have another 4 hours to go without your phone or iPad!
Entertainment
There are so many things you can bring to entertain yourself on long flights. Some of my favourite things to pack include magazines, my iPhone/iPad for music, games or pre-downloaded Netflix, my laptop for drafting up some blog posts hehe! You could also bring a good book (unless you use audible), or a journal.
Compression Socks
Really don't want to do compression stockings? Throw on some cozy slippers instead! It feels so good to take off your shoes and make yourself feel more at home.
In-flight Face Essentials
I ALWAYS bring in flight face essentials. There is nothing better then having a clean and moistures face once getting off a flight.
I can never sleep knowing I have a dirty face, which is why I always bring face wipes! I love Simple Cleansing Face Wipes because they are gentle on my skin and are the only ones I have tried that don't leave a residue.
I also love to add a little moisturizer because it can get so dry on those airplanes sometimes! You can literally find any skin care product in a travel size now and if you can't, you can always get a reusable container for your face products like these travel size containers. My all time favourite Clinique face lotion is the comes in a mini size!
You can also bring a nice face mist or rinse free eye treatment mask to treat yourself! A Jade Roller is also nice too to help with those puffy eyes after no sleep!
Hand or Body Lotion
Body lotion is also a must for those extremely dry flights. I love luxurious lotions with pretty scents. And don't forget you can always use the refillable travel creme jars if you can't find a travel size of your favourite lotion!
First Aid Needs
First aid needs are a must as well. Bring a little travel size of Tylenol or Advil. A flight will feel even longer if you have a splitting headache during! Also bring Gravol for any nausea (or secretly for your sleeping aid).
Don't forget about your essential oils to help fight that jet lag or any other symptoms your suffering before reaching for that pill bottle 🙂
Baby Essentials
You've probably been there: you're on your way to the airport, and suddenly you realize you don't have all the baby travel essentials. Whether you're a new parent or a seasoned pro, these are the things that will make your travels a little easier—and a lot more fun! This ultimate baby travel essentials list is just what you need! Some key things to remember are diaper bag, change of clothes (with layers), stroller (yes you can bring a stroller), entertainment, snacks, bottle/sippy cup.
There you have it friends! The 11 Long Flight Travel Essentials You Will Regret Not Packing.
I hope you enjoyed this post!
Comment down below which items are your must haves and which ones I left off the list that you can't survive without!

Long Flight Travel Essentials You Will Regret Not Packing; Here are several items you need to pack in your carry on to help you survive long haul flights!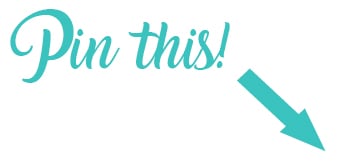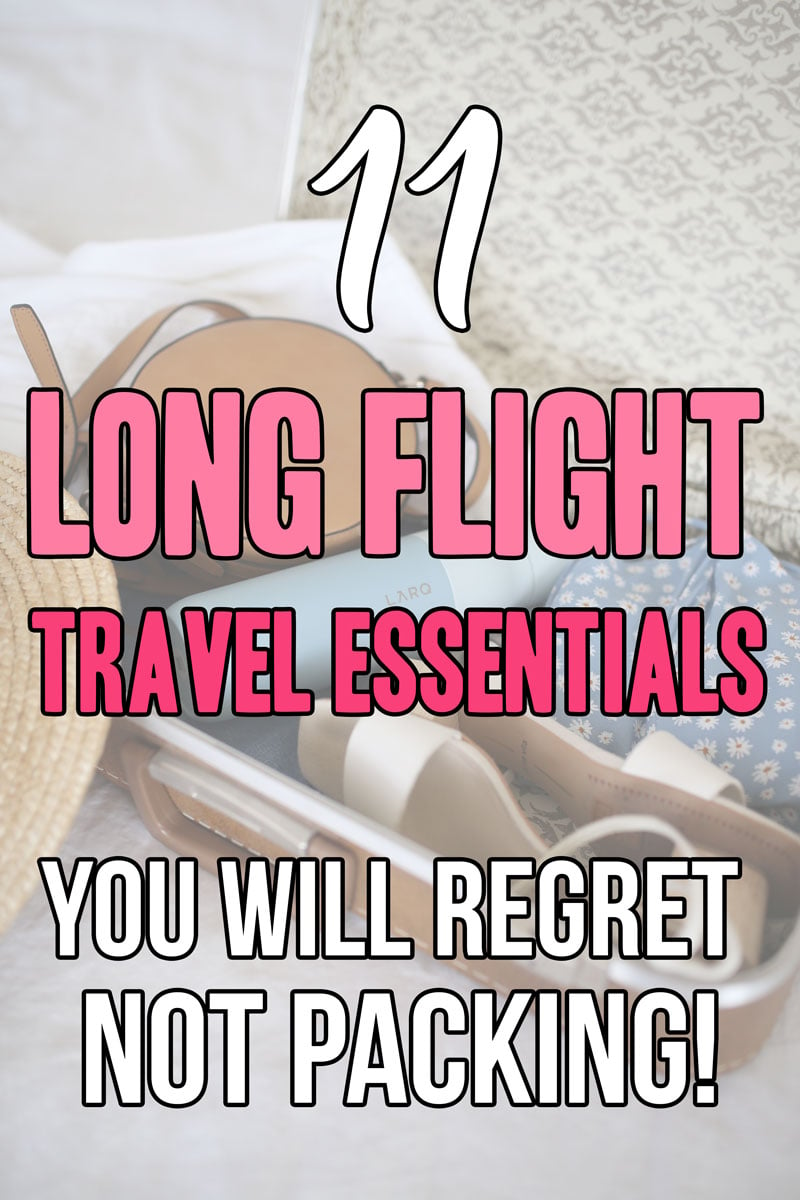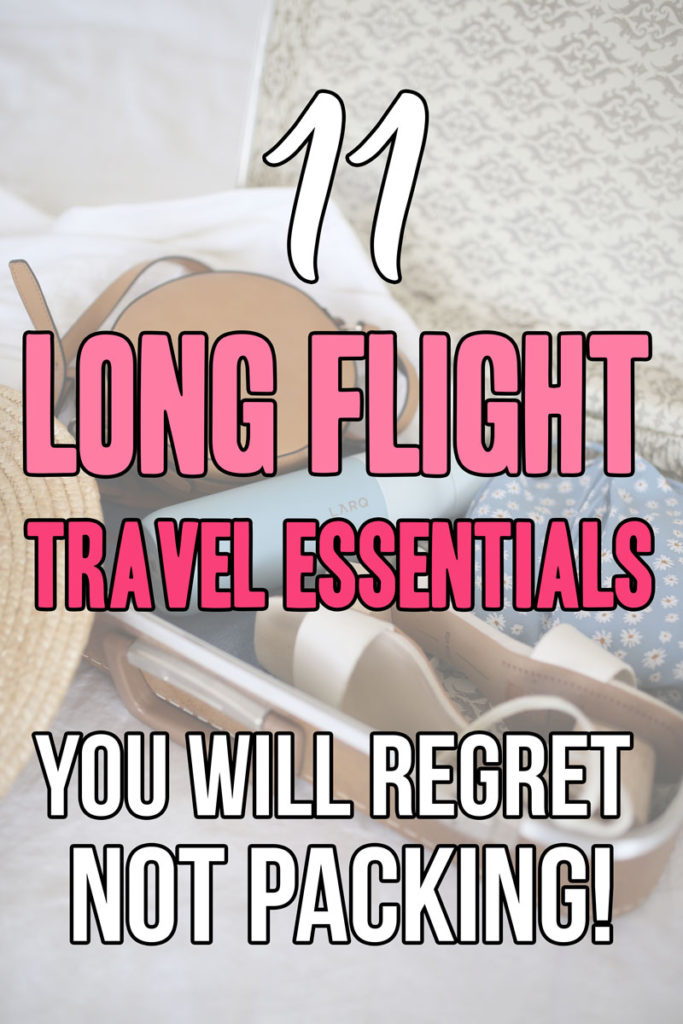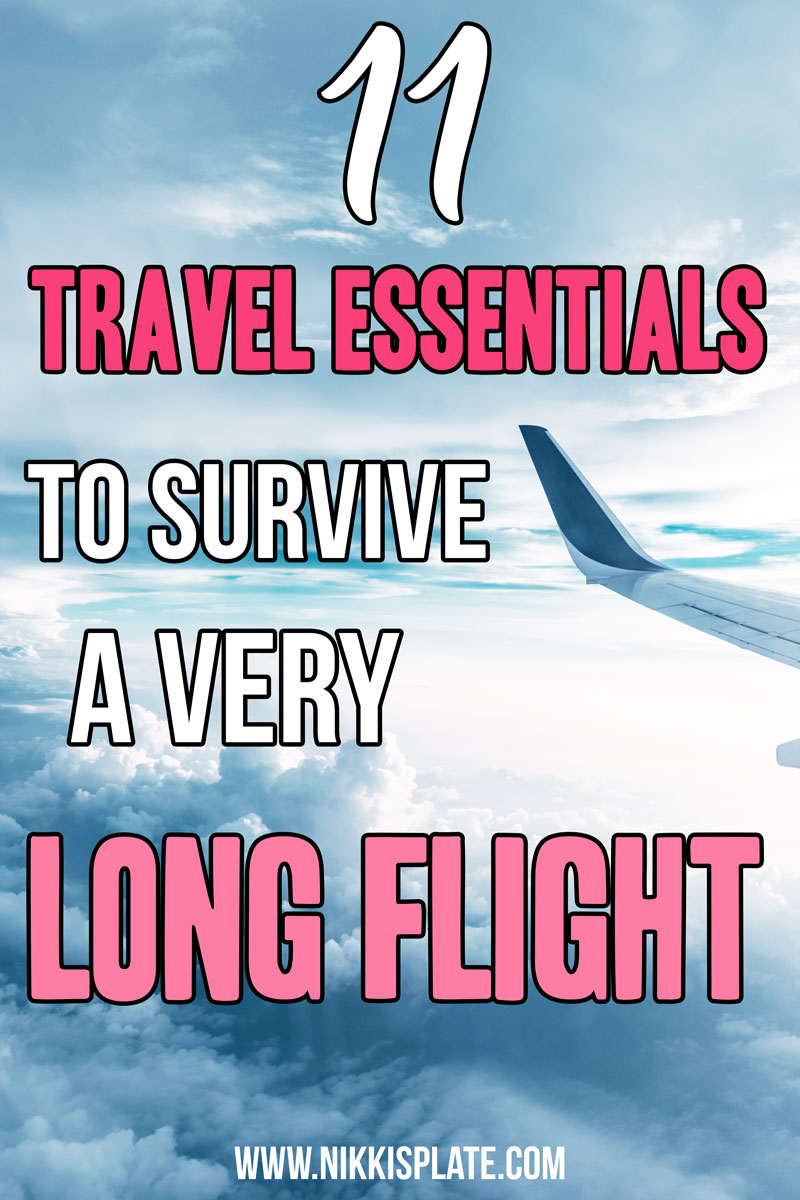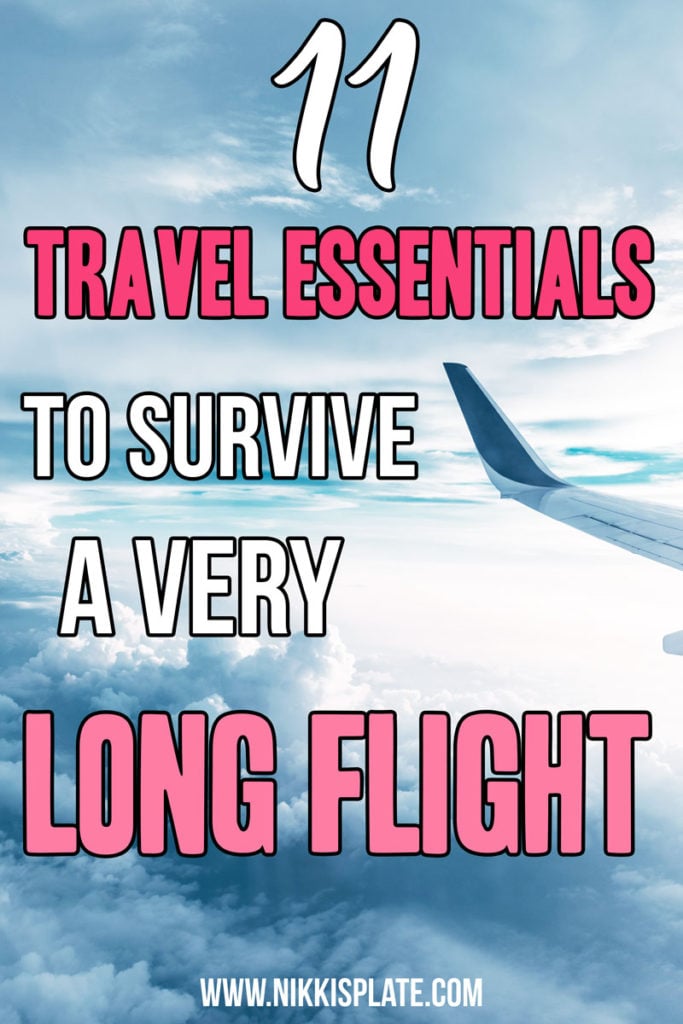 BEST SELLERS