Cute Easter recipes to make for your family holiday this April! Who wouldn't want to eat these adorable creations! Food, appetizers, desserts, and snacks.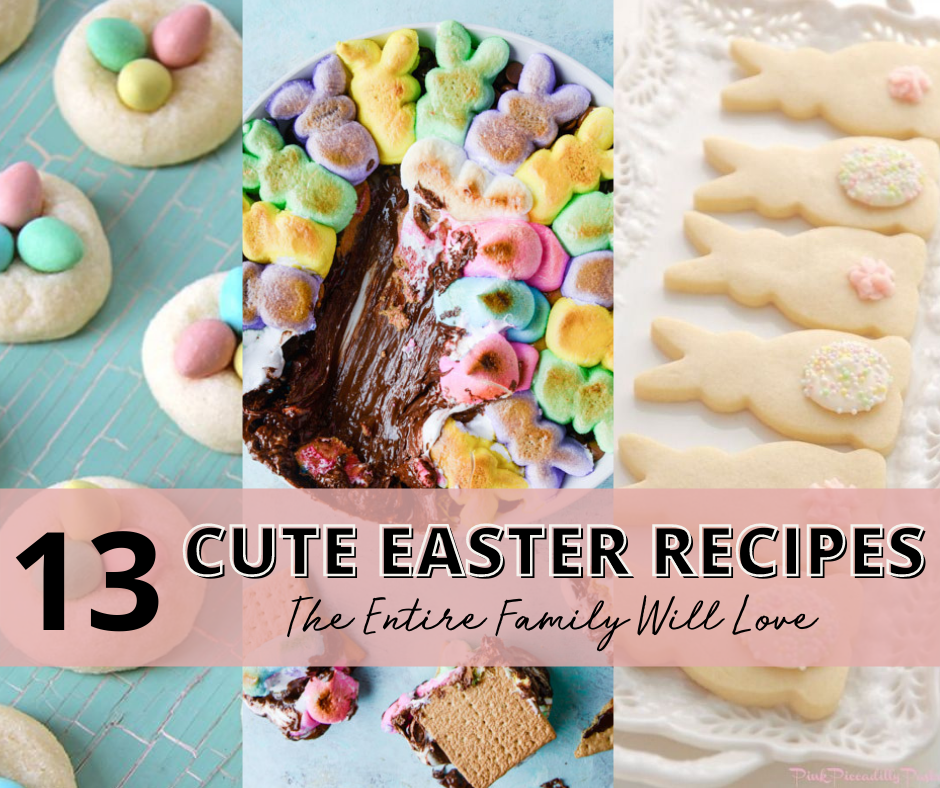 I love Easter. Actually, I love all holidays really... any time spent with my family and loved ones is my favourite. But what I love about Easter is that it just shows how close summer is. Easter means summer is right around the corner which also means goodbye to the dreaded snow and cold weather!
My grandma loves Easter the most. She gets so excited every year. This year she even brought me a bouquet of tulips for my house, just so I would start waving my winter blues goodbye!
Anyways, this post is all about delicious recipes for your Easter table this year! Let's all get super creative this year and shock all our family members with our super-genius creations... aka Pinterest findings!
Some of these recipes are healthy, some are not so much but I can promise you they are all super adorable and will be crowd-pleasers! And to be honest, these recipes are probably way better than anything the actual Easter bunny will be leaving in your Easter baskets!
This post is all about Cute Easter Recipes!
Here are 13 Cute Easter Recipes:
<< None of these photos belong to me, please click the title/photo to be redirected to the source. Thank you !>>
Loving these bright easter colours in Sugar Hero's cheesecake recipe. How fun is that! Skip the Easter cupcakes this year and make these instead! I think it would be a show stopper after any Easter dinner, especially for kids! Love how creative this recipe is! I think any recipe that contains pastels definitely gives off the easter vibe! Topped with whipped cream or cream cheese frosting and these cheescakes will be the ultimate Easter dessert recipe!
These adorable chocolate covered strawberries are dipped in an orange candy melt which gives it that adorable little carrots look. The bottom is chocolate pudding with crumbled Oreos on top to give it that dirt look. How cute are these for Easter! I may actually have to try these out this year!
These Easter Bunny Rolls are way too cute to handle and seem fairly easy to make! They would be perfect for either Easter dinner or Easter brunch or just to snack on during the day. This recipe obviously makes the dough from scratch but I wonder if you would be able to make these with a basic store bought dough to keep it easy on Easter day!
Very pretty easter dessert with mini eggs! If you are a fan of mini egg recipes, make sure you check out my post all about Easter mini egg recipes! I feel like sugar cookies are one of those classics for any holiday. Again the pastel colours make these cookies feel like true easter treats! Topped with chocolate eggs is a must!
These pretty little shortbread cookies were too adorable not to include in this post! I love the little tails with sprinkle decor. Your guests will absolutely love seeing these at any Easter celebration! Easy to make using shortbread cookie dough and cookie decorations. Get this Easter Bunny cookie cutter here!
How unique and creative are these crescent rolls made to look like carrots filled with egg salad. I LOVE this idea! This would be perfect for your Easter brunch this year!
This easter egg dessert recipe is a work of art! The crust is baked to perfection and the fruit looks so fresh! The blueberry and pomegranate seeds add such a beautiful pop of colour. Now we just need to find an easter egg pan! I have also seen a few recipes with lemon curd tarts or even a pie in an egg shape.
Skip the carrot cake and make this carrot shaped cheeseball! I made this cheeseball last year for our easter appetizer, made to look like a carrot but tasted very much like delicious cheese! So easy to mould it into the carrot shape too. I used a basic sheet pan and then filled it in with lots of crackers and veggies! Highly recommend this recipe if you are in charge of an appetizer this year.
Ok yum. The flavors in this chocolate peanut butter dip sound amazing. Such creative easter dessert recipes out there and this is definitely top of the list. Sounds delicious and would be a fun dip for kids to enjoy too! Easy Easter dessert recipe.
Ok yes again with the fresh berries and fruit but this is such a great healthy option, especially with all the desserts on this list! Look at all that pineapple! I love the bunny, I wonder if this would be a "Pinterest nailed it" haha may take a few times before you are able to make this cute bunny exactly!
Love love love these nests. I have seen a few variations of this recipe and think it is such a cute idea. The kids will definitely love this one. ai have seen them made with white chocolate instead to add a more easter feel to them.
You can not go wrong with easter cheesecake and the number of mini eggs on these makes me so happy. This super smooth cheesecake is loaded with all the amazing flavors you want in an Easter cheesecake but it is a no-bake version which is AMAZING!
These easter egg cookies are so beautiful! This is definitely a recipe you could have fun with, get creative and the kids would absolutely love! You could also make these ahead of time, put them into little clear baggies to go in easter baskets. Such a cute Easter dessert option!
And there you have it ladies and gents! 13 cute easter recipes your entire family will obsess over this year!
If you liked this post, make sure you check out my post on what to do with that leftover Easter candy here!
I hope you enjoyed these Easter recipe ideas and also have an amazing holiday! Make sure you tag your recipes with #nikkisplate so I can creep all your adorable Easter recipe creations!
Love you lots!
---
Cute Easter recipes to make for your family holiday this April! Who wouldn't want to eat these adorable creations! Food, appetizers, desserts, and snacks.
---