25 Creative Leftover Mini Eggs Recipes to Try This Easter; delicious and sweet recipes using extra Cadbury mini eggs - Baked goods, sweets, and cakes!
Hi Beauties!
Easter has come to an end and you have a bunch of leftover candy and chocolate laying around your house.. don't want to eat it by the handfuls? Then this post is totally for you!
I love Cadbury Mini Eggs. I get excited when I see stores starting to stock them up in March knowing Easter is a month or so away. But the problem is, I get sick of them pretty fast too. I always get a big bag for the girl's Easter hunt but we ALWAYS have too many leftover. So what do we do with them?
Make cookies, cakes, bars, and any other desserts you can imagine! If you plan it out perfectly, you can bring these sweet treats to your family's big Easter dinner or work for your favourite coworkers.
Please note: None of these recipes or photos belong to me. Please click the photo or titles to be redirected to the owners! Show them some love please!!
25 Creative Leftover Mini Eggs Recipe Ideas to Try This Easter:
These pretty mini egg easter cookies are a simple way to get rid of those extra mini eggs for sure! Make a normal batch of chocolate chip cookies and throw in some of those mini eggs! You can crush them or leave them whole.
Everyone loves a good brownie so why not spice up a brownie recipe with those extra mini eggs! Stir in a few whole and a few crushed and enjoy!
Blondies are absolutely delicious! Similar to the brownies, make a tray of blondies and add in chocolate Easter candies! Simple and tasty!
Here is another chocolate chip cookie recipe, but this time adds in a few additional leftover chocolates! Kids will absolutely love these and would also love to help make this simple recipe!
Chocolate tiffin with mini egg chocolates? YES PLEASE. This Easter dessert is unique and a crowd pleaser! Prepared in a pan, easy to take places, and bursting with delicious cocoa powder flavors.
This is a simple Easter dessert recipe with those mini eggs. Bunny bars! So cute. These simple ingredients are yet delicious!
How cute is this cookie cake! I would never think of making a cake with leftover chocolate eggs but this recipe just works, and has so many 5 star reviews!
I can only imagine how perfect these bars taste. I could definitely see myself making this recipe for my family with our leftover Easter eggs this year!
Another bar recipe that looks amazing! Mix up these ingredients in one bowl, throw it in a pan, and bake! This recipe also uses chocolate chips to really amplify that chocolate taste!!
Dark chocolate mixed with mini eggs? yes please! I love how the mini egg colors really pop in these cookies.
How cute are these mini egg dessert pots! Store in the fridge, then grab one and a spoon to enjoy! A great alternative to an ice cream or pudding dessert.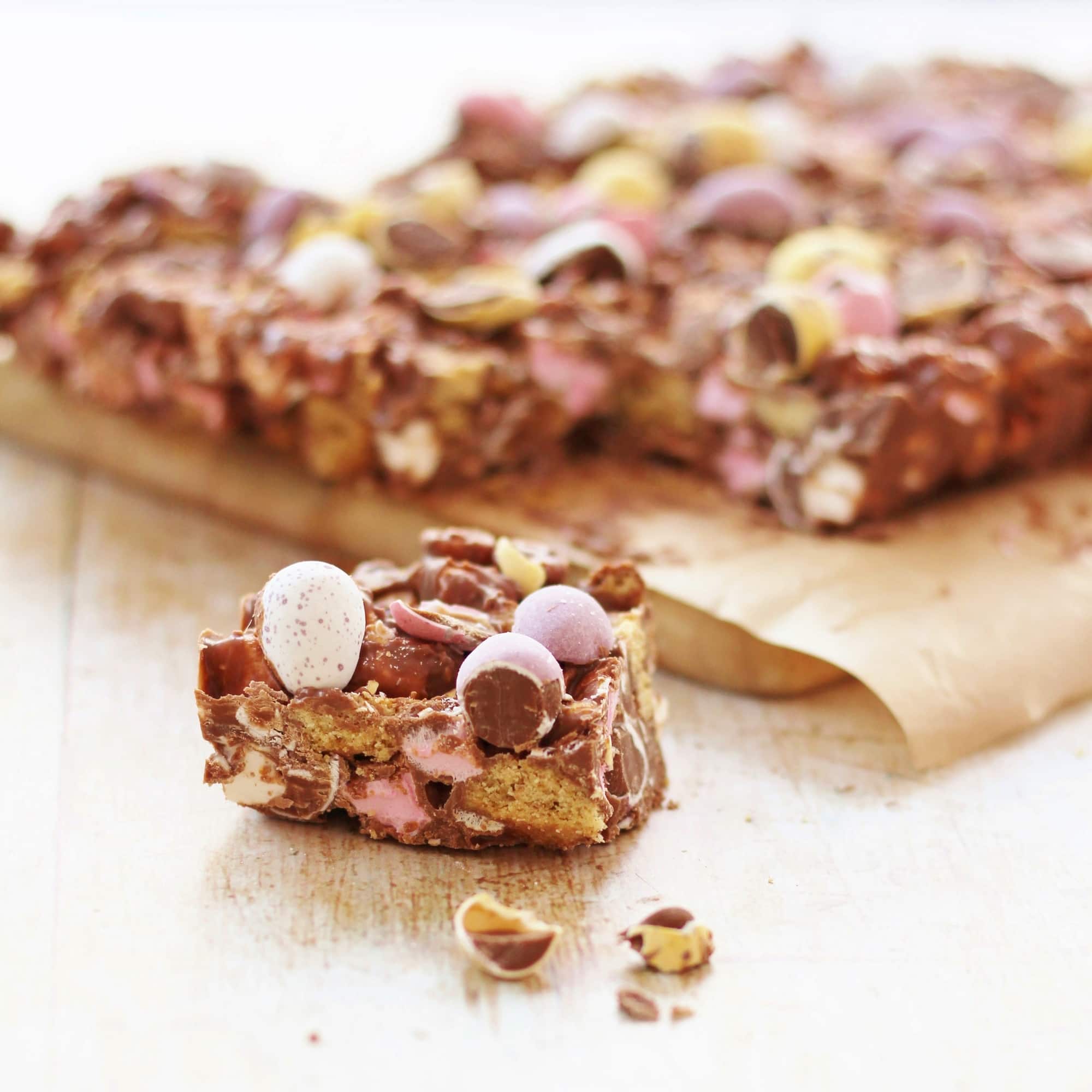 Anything rocky road mixture is something I could eat any day! Easy to store in cute tins and deliver to your friends and family on Easter Sunday!
I always forget how much I love a white chocolate mix like this. Reminds me of Christmas but turned Easter Bunny! This easy snack can be stored in the fridge in a prepared tin and pulled out to enjoy any time!
Ok, is this not the most creative thing you have ever seen!? They nailed this design, it looks like artwork, a sculpture! These would be adorable set out on the table after Easter dinner! Great job on this recipe Dessert Now Dinner Later!
Another brownie recipe incorporating that left over candy including chocolate bars! Follow these instructions carefuly and cook in the oven until that perfect brownie consistency is achieved! Cool and room temperature and enjoy!
Again with another pretty design! Looking like artwork over here with these Rocky Road bars. Make sure you divide them up in tins with parchment paper so these ones do not stick together! I can just picture that oozy milk chocolate egg leaking everywhere!
Ohhhhh please cut my a slice of this right now! How delicious does this look. What a great way to use those mini eggs at Easter dinner. And who doesnt love a cheesecake!
I would never turn down a cookie pie! This one is bursting with chocolate and beautiful colours. Its a goooey delicious for your left over Easter chocolates!
I always forget what a hit dessert dips are. This one looks amazing! I love how beautiful it looks with the ring of eggs all coordinated.
These are so cute! The little chicks in the picture are also an adorable touch. Cheesecake bites are a great option and are an easy finger food dessert for those who are on the run after dinner.
Cadbury Mini Egg Dip by Sparkles to Sprinkles
CADBURY Mini Eggs Candy White Bark by HersheyLand
Easter Egg Cheesecake by Amy Treasure
White Chocolate Mini Egg Cheesecake by Charlotte's Lively Kitchen
There you have it folks! 25 Leftover Mini Eggs Recipes for this Easter!
I hope you enjoyed this post and all have an amazing Easter!
Until next time,
25 Creative Leftover Mini Eggs Recipes to Try This Easter; delicious and sweet recipes using extra Cadbury mini eggs - Baked goods, sweets, and cakes!