Improve your outdoor cooking and dining area into a culinary oasis with these 13 essential tips. Upgrade your space and bring out your inner grill master with these practical suggestions.
Disclaimer: this post may contain affiliate links, and every purchase made through these links will give me a small commission (at absolutely no extra cost for you!) AS AN AMAZON ASSOCIATE AND REWARDSTYLE MEMBER, I EARN FROM QUALIFYING PURCHASES. See Privacy Policy for additional info.
The charm of an outdoor kitchen lies in its ability to elevate the cooking and dining experience beyond mere food making and consumption. It entangles delicate cuisine pleasures with the natural world's beauty and elegance, eliciting a touch of harmony and peace.  
A well-maintained outdoor cooking and dining area boosts the space's visual appeal. It also delivers a one-for-the-book culinary journey to your client's home visitors and restaurant business patrons. Ready your pen and paper, as this blog post will share valuable improvement tips to apply to your backyard kitchen project. 
To fulfill your client's wished culinary lifestyle for their outdoor cooking and dining sites, consider implementing the following enhancement advice: 
How to Improve Your Outdoor Cooking and Dining Area:
Create a functional layout
Develop a well-thought-out design that fosters efficient motion and interaction between the outside dining and cooking spaces. Make sure that the cooking equipment is comfortably positioned for the chef's convenience while keeping the dining area comfy and handy for the client's visitors or restaurant customers. 
Choose high-quality cooking equipment
Invest in long-lasting, weather-resistant grilling appliances, especially those created explicitly for outdoor use. Despite prolonged exposure to many hazardous elements, it will guarantee adept cooking and machinery longevity. Do proper research when picking the cooking tools to rely on, not just about the product but also the brand you'll decide to depend on. 
Comfortable and stylish furniture
Yes, convenience and style can go hand in hand. Hence, when designing for your client's home or commercial backyard kitchen, you must opt for comfortable and stylish outdoor furniture that complements the surrounding environment. Choose furniture materials that can stand firm against varying weather conditions and furnish ample seating for visitors or customers. 
Appropriate shade and lighting
Incorporate sufficient shading options, such as pergolas, umbrellas, or retractable awnings, which can safeguard your clients' guests or customers from the scorching sun and light rain. Consider installing outdoor lighting to establish a friendly and inviting ambiance during night events. 
Landscaping and greenery
Work on the outdoor grilling area's aesthetics with well-maintained landscaping and greenery. Integrate flowers, plants, and shrubs to create a sense of natural beauty and a pleasing dining atmosphere. In addition, adding green features to your outdoor cooking space project can help to reduce particulate pollution as it can absorb and filter coarse matter. 
Water features and firepits
Integrate water features around your client's home or commercial outdoor dining place, like small ponds or fountains and firepits or outdoor heaters. They will boost the visual allure and construct a much cozier environment for dining, especially during cooler gatherings. 
Weather-resistant surfaces
Pick enduring and weather-repellent elements for your outdoor dining area project's flooring and countertops to secure its long lifespan and effortless upkeeping process. You can consider designing them with stones, well-known material that can defy harsh weather changes. Moreover, granite is a good alternative also as it resists hot weather, preventing crack issues. 
Outdoor cooking station
Designate a specific outdoor cooking station equipped with essential utilities, including countertops, storage, and a sink, to simplify food preparation procedures and make outside cooking convenient and seamless for the chef. 
Incorporate entertainment
Nowadays, the trend in the home or commercial outside kitchens surrounds the area with entertainment options like outdoor music systems, speakers, or televisions. They upgrade the dining ventures of your clients' visitors or customers and keep them entertained. 
Versatility and flexibility
Develop a versatile outside dining space for your clients, enabling them to hold different gatherings and event types. You can add portable furniture and adjustable setups to accommodate various group sizes and dining choices. 
Embrace nature
Highlight the surrounding nature's beauty. Position the dining area in the most-fitting outdoor space wherein you can exhibit scenic sights or build a garden-inspired atmosphere that matches the culinary experience your clients aim to showcase.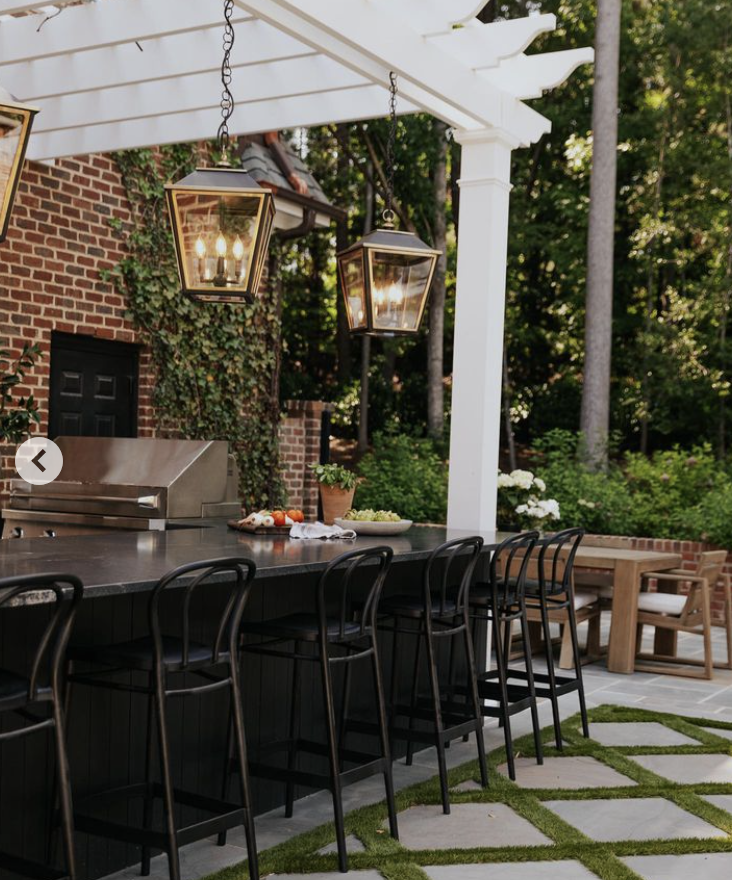 Implement eco-friendly practices
Promote sustainability in your outside dining project by using environmentally friendly materials, energy-saving lighting, and waste-lessening techniques— aligning with the increasing demand for ecologically conscious kitchen routines. 
Regular maintenance
Advise your clients to schedule periodic maintenance and cleaning routines to maintain the optimal condition of their backyard spaces. It includes cleaning cooking utilities, furniture, and outdoor facades and promptly checking and addressing wear and tear issues. 
Enhance Your Outside Kitchen and Serve Visitors Better
Applying the following improvement tips above can help transform the outdoor cooking and dining spaces into an oasis that embodies your clients' culinary lifestyle. A balanced blend of functional design, top-notch equipment, and a stunning ambiance will imprint a lasting perception on their visitors and further elevate their dining ventures. 
BEST SELLERS