Best Outdoor Kitchen Designs for 2023; If you love the food you grill then there are good reasons to build an outdoor kitchen. Let's upgrade your outdoor kitchens with these 10 designs!
Disclaimer: this post may contain affiliate links, and every purchase made through these links will give me a small commission (at absolutely no extra cost for you!) AS AN AMAZON ASSOCIATE AND REWARDSTYLE MEMBER, I EARN FROM QUALIFYING PURCHASES. See Privacy Policy for additional info.
Hi beauties, Today we are talking all about outdoor kitchen designs! Outdoor kitchens are a great addition to any home especially if you are a food lover. They immediately turn your backyard into an extension of your kitchen instead of just a place for grilling and bonfires.
It's no surprise that outdoor kitchens are hot these days. With their stainless steel refrigerators, grill islands, and even bars with sinks, today's outdoor kitchens rival any indoor cooking range.
Building an outdoor kitchen for your home can be a great way to increase the resale value of your home. Everyone loves to entertain outdoors, and an outdoor kitchen is a great practical way to stay social and have fun.
What is an Outdoor Kitchen Design?
An outdoor kitchen is a place where you can prepare and eat food outside of the home. It can be as simple as a barbecue grill or smoker, or it can be a fully equipped kitchen with built-in appliances and cabinetry. Outdoor kitchens have evolved beyond simple grilling these days. Popular designer outdoor kitchen features include bars with sinks, grills that rival any indoor cooking range, appliances such as stainless steel refrigerators, cabinets, grill islands, and luxurious countertops
An outdoor kitchen is an addition to your home that can be used to cook meals, entertain guests and complement your architecture and landscaping. Outdoor kitchen appliances should be durable — designed to withstand the elements.
L-Shaped Stainless Steel Kitchen
This L-shaped stainless steel outdoor kitchen is a great addition to any backyard. It comes with everything you need to get started, including a dishwasher, 2 grills, a refrigerator and so much storage!
Shiplap Outdoor Kitchen
This shiplap outdoor kitchen is an amazing space that gives you all of the benefits of cooking outside, but with a little bit more style. The shiplap wood gives it an elegant look, while still keeping things casual and inviting.
Pizza Oven and Outdoor Bar
This outdoor kitchen is the perfect place to host your next party. The pizza oven, prep sink, and outdoor bar are all designed to be used year-round, and the built-in heaters will keep you warm on those chilly nights when you're just too hungry to wait for your food to cook.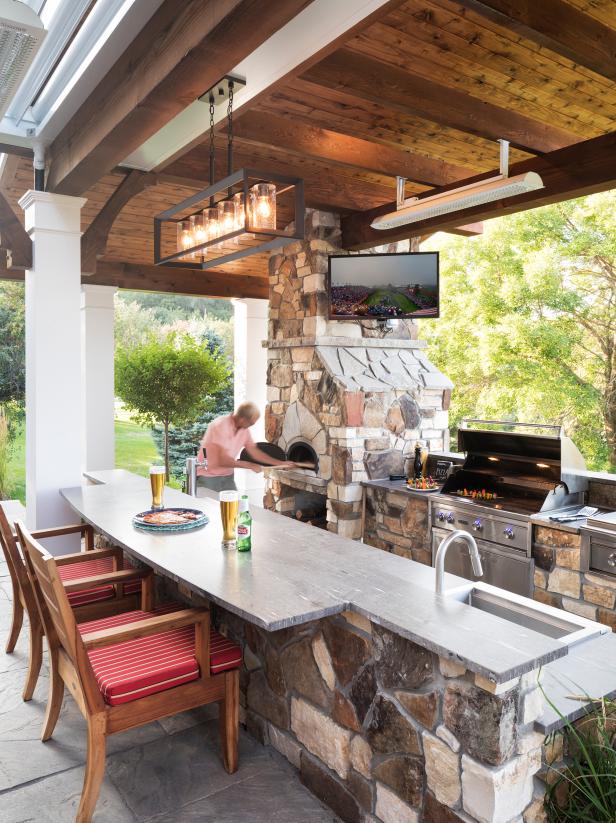 Lake View Outdoor Kitchen Design
This outdoor kitchen is designed for your family and guests to enjoy the beautiful, sweeping views of the lake. The large island is perfect for watching the sun rise or set over the water, and the long countertop offers plenty of space to prepare food, drinks, and snacks.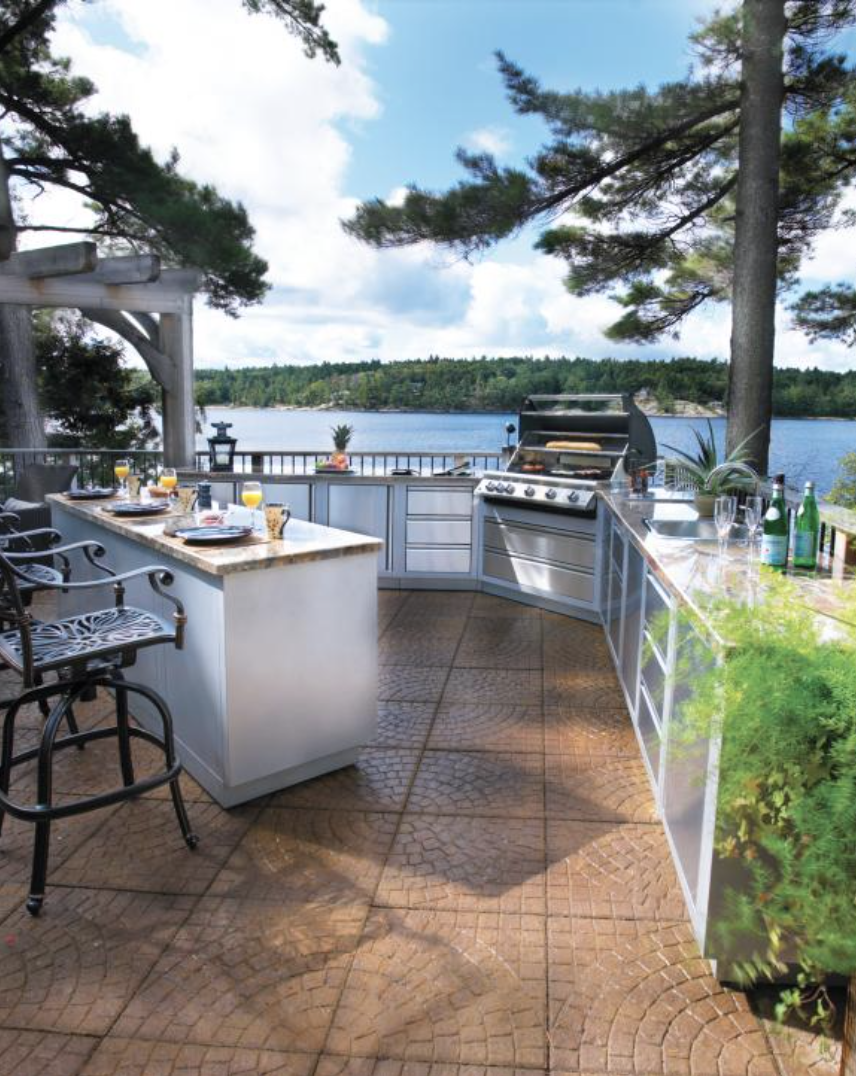 Stone Outdoor Kitchen Design
A beautiful stone outdoor kitchen design is the perfect way to add a touch of rustic elegance to your home. This outdoor kitchen is the perfect place to grill up dinner while enjoying the warm summer nights.
Outdoor Kitchen with Seating
The perfect outdoor space for entertaining friends and family, this outdoor kitchen with barstool seating is the place to be when you're looking to get together and have a good time. It is simple but has everything you need for a great meal!
Moody Outdoor Grilling and Pizza
The best part of summer is grilling and eating pizza outdoors and this outdoor kitchen design has it all! It also gives off a dark and moody feel in its design to really elevate the overall feeling of this look!
Serving Window
I love the idea of an outdoor serving window that can easily be accessed from the indoor kitchen. A serving window is a great way to add some extra functionality and style to your outdoor space. It can be used for food prep, but also to serve food and drinks to guests.
Simply Outdoor Cooking Area
This outdoor cooking area is the perfect place to hang out, relax, and enjoy your meal. It's simple, but has everything you need for a summer's day!
Outdoor Kitchen with Island
This outdoor kitchen is the perfect place to host a summer get-together. The kitchen island is the perfect place to prepare food and serve up drinks.
Outdoor Kitchen Design with Peninsula
If you're looking for an outdoor kitchen design with a peninsula, this is the one for you. The peninsula allows for additional seating and storage, so it's perfect if you're hosting large groups or just want to make sure everyone has somewhere to sit when they come over.
If you enjoy having friends and family over to your home, but hate the thought of all of that cooking inside, it might be time to look into turning your outdoor area into a kitchen of its own. Having an outdoor kitchen allows you to have plenty of cooking space outside, and can even include seating areas for when guests come over. The possibilities are endless when it comes to designing this sort of area, so be sure to think about what sorts of things you'll need—and don't be afraid to get creative!
More Outdoor Designs:
Until next time,
BEST SELLERS