Luxury Above Ground Pool Ideas; swimming pools that make your yard look like a million bucks! Everything you want in an above ground swimming pool.
Hi Beauties!
Above ground pools may seem like an eyesore and something that only a vacation home or a trailer park would have. But these days, there are some beautiful above ground pools on the market. In fact, many people choose to install above ground pools because they don't require extensive excavation, so it's less expensive than installing in-ground pools.
Plus, most above ground pool companies offer installation services if you don't feel comfortable doing the work yourself. They can also be installed more quickly than in-ground pools since they usually just need to be assembled instead of having to dig out land and pour concrete.
And they come with fencing that adds safety features for kids and pets while also making them look more attractive than traditional models do (although at this point you could put up your own decorative fence if desired).
Of course, since these types of pools are known as backyard oasis getaways - they come with all kinds of fun features like slides and waterfalls - so it makes sense that homeowners would want them installed at their homes too!
Luxury Above Ground Pool Ideas:
Get a pool that fits your personality.
When purchasing a pool, there are many different things to consider. You should choose a pool that fits your personality, family, budget and location. You also don't want to forget about style and needs! Yes a pool can fit your personality! Make it suit everything on your wish list and work well with what your family needs overall.
Pool Installation: Installing a small above ground pool is a great way to get your feet in the water, so to speak. It's relatively inexpensive and easy to install, but it still allows you to enjoy all of the benefits of swimming. Whether you are a fan of oval pools or a metal frame pool, make sure you check with dimensions and pool liner type before installing. Your best bet is to talk to the manufacturers and professionals! They will let you know all about durability and also warranty for your best budget, before you make your purchase.
Use that deck!
The deck of your pool can be used to create a more comfortable, private, functional, entertaining and relaxing area. The options are endless!
Comfortable – This can mean many things. You may want a place to sit and read a book or catch some sun while your kids swim in the pool. Maybe you like to play cards out back after dinner with friends or family members? Maybe it's just nice to have a little extra wind protection around the pool so that you can enjoy it year round? Whatever it is that makes your backyard feel like home - the deck is an excellent place for this!
Private – We all love our privacy when we're relaxing at home; why not extend that feeling towards our backyard spaces too? An effective way of doing this would be installing hedges (or even just plants) around an existing above ground pool so that no one walking by on the street can see into it from any angle except from directly across from where they stand on their own property next door...and even then only if they're tall enough (or have binoculars).
Consider lighting both inside and outside the pool.
You can use lighting to create an atmosphere that is romantic, party-like, evening-like or relaxing. It is definitely easier to install lights around the pool but you can also get in pool lighting that just sticks to the walls of your above ground pool.
Add privacy.
If you're looking for some privacy, you can use a decorative fence to enclose the pool area. Plant trees and shrubs to block the view of your yard from neighbors or passersby. Another option is to cover up your pool with a cover that blends in with its surroundings and is made from natural materials such as canvas or wood.
If you still want more privacy, consider installing a pool house so no one can see into your backyard when they pass by on their way to work or school in the mornings.
Add a decorative fence around your pool.
If you want to add more privacy to your pool, a fence is an excellent option. Fences can be made of wood, aluminum or vinyl. They can be painted or stained and they come in many different styles—you can choose a classic lattice fence or opt for mesh fencing that allows light through but still makes it difficult for people on the street or neighboring yards to see into your yard. You can also choose the height of your fence from just above ground level all the way up to eight feet (with some companies even offering taller options). Fences don't need to be plain either—they can have decorative trimming along the top edge if desired!
Add a sitting area and plenty of seating.
A key feature of a pool deck is the area around it. This can be as simple as a few chairs or as elaborate as an entire room with furniture and entertainment systems. You want the area to be comfortable, but also functional for those who are sitting nearby or in it.
You could add a sitting area that's close to your pool so parents can keep an eye on their children while they relax by the water. Or you may want one further away where adults can enjoy drinks while watching others swim and play. If you're making small changes to your yard, consider adding some plants to provide shade for those who will sit outside during hot days.
A third option is placing large cushions around the edge of your deck—this adds both color and style without taking up too much space (or requiring much maintenance). Pillows are another great option because they allow people to sit in multiple positions without having direct access through steps leading down into water; they also double up nicely if there's ever an occasion when guests need more seating than provided by benches or stools around outdoor tables!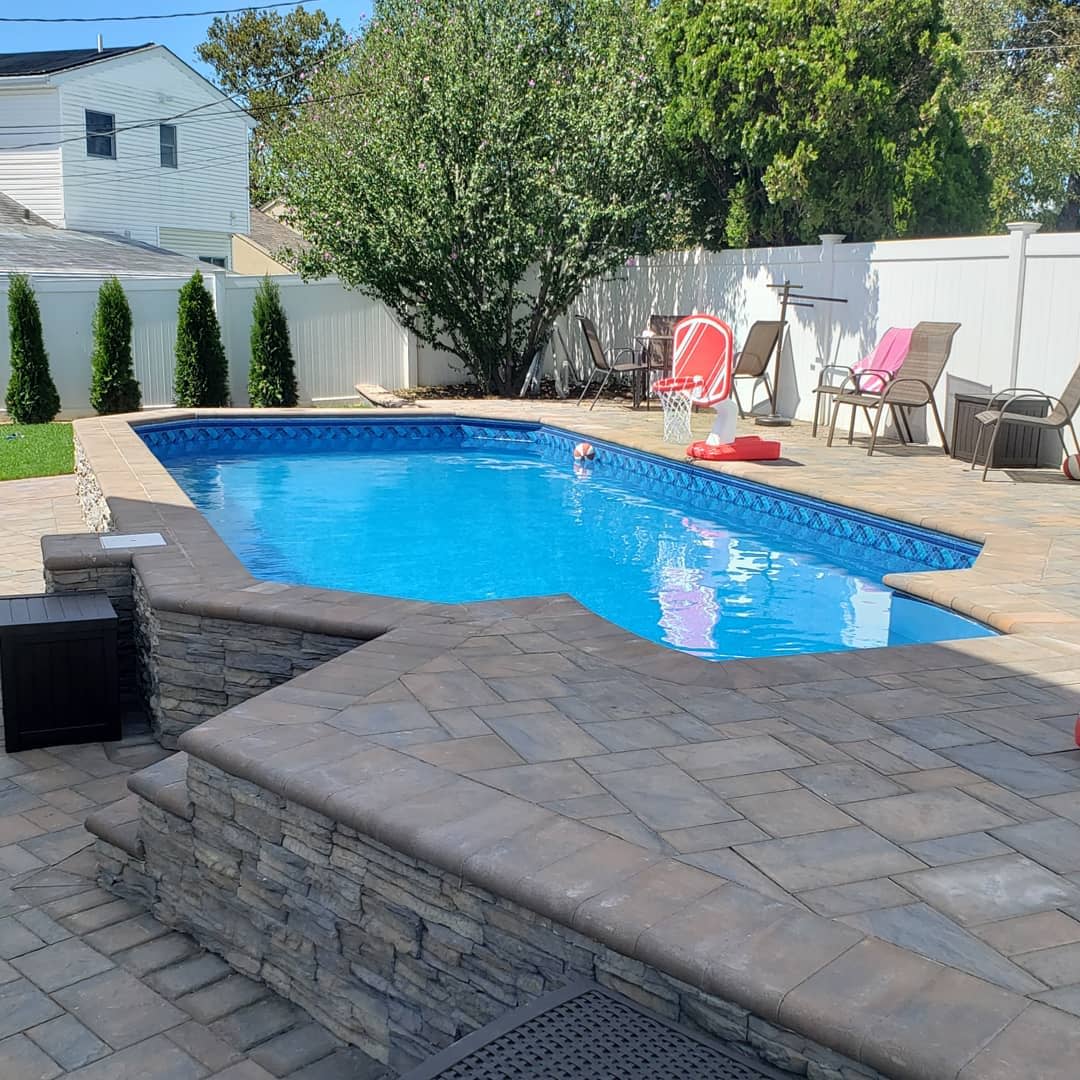 Salt water pools are a great way to get the benefits of a salt water pool without having to install a large, expensive traditional pool.Saltwater pools use special equipment to keep the salt content of the water at an appropriate level, and they can be installed in smaller areas. They also tend to require less maintenance than traditional pools, as there are no chlorine tablets or other chemicals needed. Just check with your saltwater system before you buy any saltwater kits or accessories.
Pick the Right Pool Cover
A small above ground pool is a great way to get the family together, but it's important to keep your little one safe. A pool cover is one of the best ways to do that. You should have a pool cover for small above ground pools, semi-inground pools, and even inflatable pools. Choose the diameter and depth appropriate for your pool. Also don't forget that pool ladder for extra safety!
Create an infinity edge effect on your pool with a waterfall or slide going into it.
An infinity edge effect is a beautiful way to add a little drama to your pool. You can create this look with a waterfall or slide that goes into the water at one side of the pool and flows into an "infinity" point on the other side. The waterfall or slide can be placed in the center of the pool, or off to one side.
Above ground pools can be luxurious too!
You can have a beautiful, luxurious above ground pool without having to spend a fortune. Choosing the right above ground pool for your space with swimming pool accessory options will make your pool feel luxurious! These pools are available in sizes ranging from 6 feet to 30 feet, and they can be just as beautiful as traditional concrete or gunite pools.
Benefits of Above Ground Pools:
More affordable than in ground pools. You can purchase a frame pool set or a hybrid pool for easy installation.
You can fit an above ground pool in a small backyard.
Quicker to install than an in ground pool (unless you are opting for a high end steel frame plunge pool)
Easier to maintain and keep clean (especially with a filter pump, skimmer, or vacuum). Make sure you opt for rust resistance materials and
Less water and therefore fewer chemicals making them even more affordable! How many gallons of water are in your pool?
They can look luxurious too when build and maintained the right way!
With proper care and maintenance, your above-ground pool can last for decades. But PVC, plastic, and vinyl liners can become brittle within five years and may need to be replaced during the lifetime of your above-ground pool. A cover will also keep out debris and minimize algae growth.
Conclusion
We hope this article has given you some great ideas for how to create the pool of your dreams. As we've seen, there are a lot of ways to make your above-ground pool look just as good as an in-ground one, and with less hassle. With the right amount of planning and creativity, you can create an outdoor oasis for all your family and friends to enjoy!
I hope you enjoyed this post all about Luxury Above Ground Pool Ideas!
Until next time,