30 Grey Modern Farmhouse Living Room Ideas; here are 30 beautiful farmhouse living rooms that blend rustic charm with modern elements
Hi Beauties! Love grey? Love modern farmhouse? Then you will absolutely love the 30 ideas I'm delivering today!
You might have seen the term "Farmhouse" before and wondered why anyone would want to use that term to describe their living room. Fortunately, you're here and my goal is to share with you why grey is a very popular color for those that love Farmhouse.
Grey colors have been a popular trend for a long time, and it seems that modern farmhouse style and this color never go out of fashion. These colors emphasizes the elegance and style in your home decor at the same time. If you're searching for some grey modern farmhouse living room ideas to bring a comfortable look to your home, scroll down to see the most amazing ideas.
Grey Modern Farmhouse Living Rooms
Before we jump into the beautiful Grey Modern Farmhouse Living Room designs I picked out to share with you, I thought we should quickly talk about what a farmhouse living room is.
Modern farmhouse living room is a home decoration trend that combines the charm of a rustic country house with the functionality and comfort of today's modern conveniences. The preferred materials are timber, space-age fabrics and metal combined with salvaged or repurposed finds from the yard or flea market.
Modern Farmhouse refers to the lifestyle and aesthetic that emulates the traditional rustic values of country living — but with elegant and minimalist sensibilities. This is how you get the best of both worlds: country living meets city chic. Let's jump into how to achieve a grey modern farmhouse living room design!
Wood Tones with a Large Grey Sectional
This living room uses wood tones in the beams and flooring to create a warm, comfortable space. The large grey sectional is made for gathering around and enjoying time together. It has three separate seating areas that make it easy for everyone to have their own space while still being able to interact with each other. The large windows let in natural light and provide nice views of your yard or other outdoor space.
Word Signs with Grey Neutrals
The farmhouse aesthetic is characterized by clean lines and natural materials. Grey is one of the most popular neutrals to use when decorating in this style. Whether you're decorating an entire room or just one piece of furniture, these word signs will add just the right amount of color and interest to your space.
Antique Furniture with Grey Under Tones
Antique furniture with grey undertones can be a great way to add some subtle color to your living room. If you're looking for something that's not too feminine, but still has the warmth of gray tones, this is a good option. The key is to choose furniture that is both modern and antique. This can be done by using grey tones in your living room. Grey provides a balance between the two types of furniture. It also gives a modern feel without being too bold or bright.
Mix and Match
Mix and match furniture and accessories. A grey farmhouse living room is all about mixing textures, materials, colors and sizes. Mixing up the styles of furniture will give it a more layered look. For example: use an old dresser as a coffee table or sideboard with a lamp on top of it to add height. Or hang two picture frames on two different walls for an asymmetrical display that adds interest to your space.
Use different colors in your decorating scheme if you want something that stands out but isn't too loud or bright; grey tones are great for this because they create an elegant atmosphere without drawing too much attention away from other parts of the room - like artwork!
Light Grey Sectional with Beige Walls
Light grey sectional sofa with beige walls is a great combination for a modern farmhouse living room. It's a timeless design that works well with any color scheme. The sectional sofa has clean lines, and the walls are light enough to let the rest of the room shine through.
Ranch Style Decor Pieces
The trick to this farmhouse living room style is to bring in neutral colors and natural materials to balance out the modern lines and angles. The rustic elements, such as the mantel, fireplace and shiplap ceiling, act to bring warmth into the space with a 'home' feel.
Lighter Natural Woods
If you're looking for a light and airy look to your grey modern farmhouse living room, consider lighter natural woods. The main color of the room should be white or off-white, with a few accents of other neutrals like taupe or light grey. You can add pops of color through pillows or through artwork on the walls.
White Walls to Brighten the Farmhouse Living Room Decor
White walls are a classic choice for many homes, and they definitely have their place in the modern farmhouse decor style. White walls allow you to add pops of color through artwork or accessories without overpowering the room with color. In fact, they can help make those pops of color shine even brighter. In this case, grey sofas and wicker baskets are the focal point in terms of color.
Rustic Living Room with Grey Toned Woods
Rustic living rooms have a lot of different looks, from the more traditional country style to the more modern farmhouse style. This living room combines both of those styles and has a rustic feel with a modern twist. The wood for the floors, walls and ceiling are all grey toned, which adds contrast to the beige furniture and accessories. Such beautiful and rustic farmhouse living room grey decor!
Dark Grey Sofa with Modern Farmhouse Design
Dark grey is a great color to use in modern farmhouse living rooms. It's not as bright and cheery as white, but it's still a beautiful color that can bring a room together. This dark grey sofa with modern farmhouse design looks so cozy! And would be perfect if you have kids and pets! You can achieve the farmhouse feel without a white couch people!
Dark Grey Sofa with Lighter Accents
Dark grey is a great color to use in modern farmhouse living rooms. It's not as bright and cheery as white, but it's still a beautiful color that can bring a room together.
Farmhouse Pillows
When it comes to farmhouse pillows, you have many options. Suede and velvet are an obvious choice for their texture and durability, but linen is a nice alternative that's softer and more versatile. All three materials can match your existing furniture or be used in contrast with it.
If your living room has plenty of color, you can use these pillows as accents that add interest without overwhelming the space. But if the room itself is neutral, you might want to play up one particular color or pattern so that the pillow becomes a focal point in the room.
Add a Beautiful Coffee Table
If you're going for a rustic, farmhouse feel, choose a coffee table that has some character. There are many types of coffee tables available that will fit your needs. Some options include:
Wooden coffee tables are the best option if you want something sturdy and timeless.
Coffee tables with storage space can be great if you have kids who will be playing with their toys on it or storing books underneath it.
A shelf can be useful if you like to put items on display in your living room but don't want to clutter up the area around the TV stand.
Drawers are great for extra storage space as well as hiding away items from sight if needed (for example, Christmas decorations). They also come in handy when having company over because they offer extra room for drinks and snacks!
If you don't have space for a coffee table, consider adding in an ottoman instead!
Use neutral colored furnishings and accents like throw pillows or vases that have greys in them. This will help create a cohesive look for your space without having to worry about mixing too many colors together at once! It will bring out the cozy farmhouse living room vibe without over doing it.
Add in some Wood Accents
Wood accents are a great way to bring in the farmhouse style. Wood is a warm and welcoming material that can add texture to your space, as well as a sense of warmth. It can be used in many different ways, like furniture or decor.If you're looking to add wood accents to your space, start small.
Go for Vintage Lighting
Vintage lighting is a great way to add some character to the room. Lampshades are easy to find on flea markets and Etsy, and they come in a plethora of styles.
Look for something that you like, then pick the shape and size that works best for your space. When shopping for vintage lampshades, keep in mind that with this type of product you get what you pay for: cheap-looking shades can make even the nicest lamp look cheap too. If you're using dimmer switches or other types of bulbs (e.g., LED), make sure they are rated appropriately so they don't overheat when used with lower wattage bulbs.
Keep it simple when it comes to furniture placement. You don't want to overcrowd your space or crowd out any potential focal points with too many pieces of furniture—especially since there's already plenty of visual interest as it is! Just remember: simple is best when it comes to decorating any space in your home, especially one as interesting as this one! Pay attention to depth and arrangement here!
Light wood furniture goes well with many different styles, including farmhouse living rooms. It can help bring warmth into your home and make it feel more inviting and homey than darker woods might do. Try and coordinate with your wooden beams or fireplace brick.
Find a way to incorporate natural elements into your design—the key is balance: too much natural beauty can make a room feel cluttered and busy, but the right amount will add an air of coziness that's hard to replicate. Also make sure you blend grey décor well into your dining room if needed.
Use natural materials like wood, stone, and leather when possible. Natural materials bring the outdoors in without being overwhelming or too rustic—and they're easier on the wallet than hardwood floors or marble countertops would be!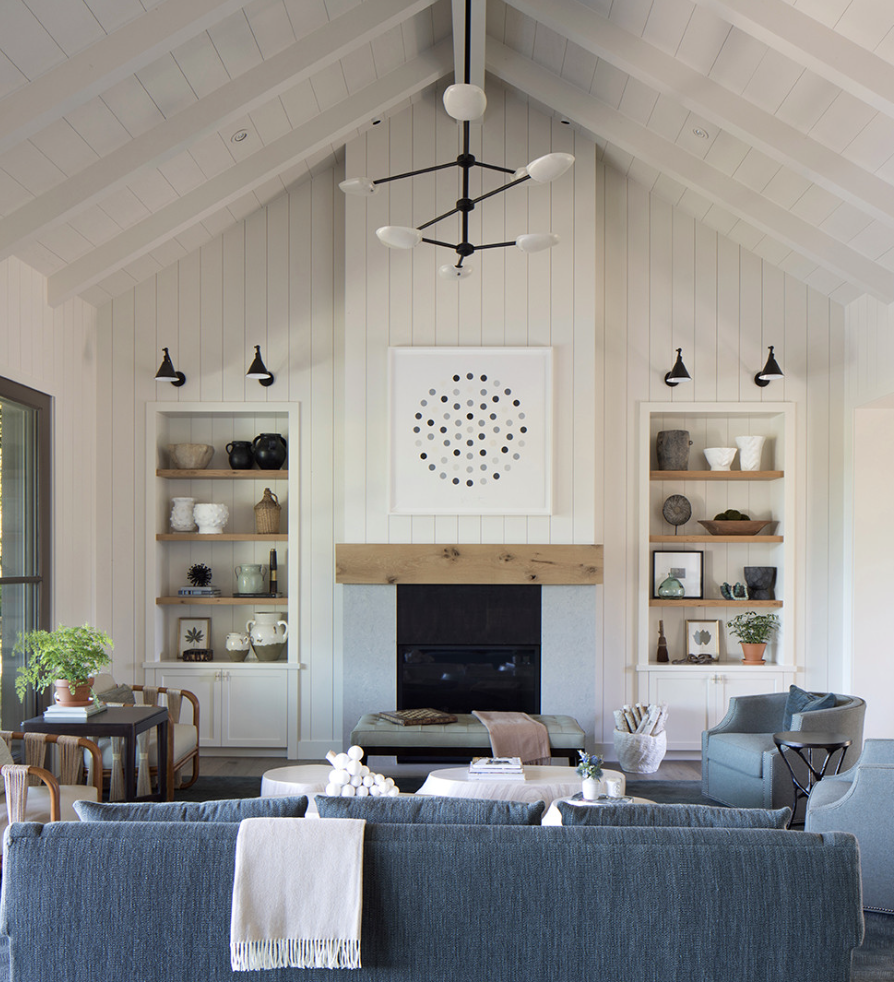 Fur Throws
Furry throws are a great way to add texture and warmth. And they can be used in so many ways! You can use them as throw blankets, sofa covers, or bedspreads. In fact, one of the things I love about furry throws is that you can use them for more than just keeping warm during the winter months—they're also a stylish way to add texture and comfort to your farmhouse living room.
Industrial Elements
Industrial elements are popular in modern design, but they can also be used to create a farmhouse feeling. Industrial elements can include welded metal furniture pieces, unfinished wood furniture pieces and accessories made from recycled materials.
When incorporating industrial elements into your living room space, steer clear of anything that looks too factory-made or mass produced. Instead, look for things made by hand by local artisans (or even yourself) and use them sparingly so that they don't overpower your design aesthetic.
A Cozy Rug
With a rug, your living room is ready for entertaining! Rugs are a great way to tie together different elements in a room and add warmth. If you're looking for something simple and affordable (and who isn't), this grey-and-white stripe rug has you covered: it's soft enough to sit on while still being durable enough to stand up against pets or kids.
If you're willing to splurge, this wool rug will make an impact on your houseguests' first impressions as they walk in the door. It has some shorter fibers that make it feel extra cozy underfoot—which means no one will want to leave!
Choose furniture with an antique look. You don't have to buy antiques! But if you want to achieve that farmhouse feel, try mixing contemporary pieces with pieces with an antique look (think: distressed wood). This will give your space character without making it seem old-fashioned or out of date.
The best way to incorporate grey into the room is in the form of walls, ceilings, and floors. Since this will be where you spend most of your time in the space, it's wise to make sure that these elements coordinate well with other areas of the room.
In terms of color choice, I recommend using a neutral palette that includes grays along with warm tones like browns and neutrals such as whites or creams. By sticking with these shades you can create a cool environment without losing sight of your home's overall style.
The easiest way to get started on your own farmhouse living room design is by choosing an accent wall for one wall at least 7 feet tall (if there are windows). You can add some texture by painting it different shades from those used elsewhere in your house or even adding some kind of material (like wallpaper) instead if you're feeling adventurous!
Paint is one of the easiest ways to get started creating a farmhouse living room design that fits your style. Choose a color scheme with shades of blue or green, which tend to be popular among those creating farmhouse designs.
Add a few pieces of furniture in neutral colors—white or beige. If you want to add color, try adding pillows or throw blankets that match or complement the color scheme of your room. These will give you an opportunity to experiment with bolder colors without committing too much space in the room to them.
The key to achieving a grey farmhouse living room design is to stay true to the style of the farmhouse. This means keeping things simple, with clean lines and a focus on natural elements.
The best part about the grey farmhouse living room is that there are so many options for you to choose from. You can mix and match your decor, add in some rustic elements, or go with a more modern look. It all depends on your personal style and taste! So whether you're looking to create a cozy space or something more chic, we hope this guide has given you some inspiration!
More Farmhouse Living Room Decor:
I love a good farmhouse living room. I think it's one of the most welcoming, comforting spaces to hang out in, and there's no reason it can't be totally chic, too. I mean, we all love a rustic-looking farmhouse vibe—just think about how many Instagrams you've seen of gorgeous wooden tables and crates with flowers bursting from them.
But it turns out that modernizing this look isn't as hard as you'd think: If you follow my tips above, your living room will feel warm and cozy without sacrificing any modern style whatsoever!
Until next time,