Here are some easy ways to get a farmhouse living room on a budget! No need to spend a huge amount of money to get the farmhouse living room decor look. This post will show you exactly how!
Disclaimer: this post may contain affiliate links, and every purchase made through these links will give me a small commission (at absolutely no extra cost for you!) AS AN AMAZON ASSOCIATE AND REWARDSTYLE MEMBER, I EARN FROM QUALIFYING PURCHASES. See Privacy Policy for additional info.
Have a need and desire to great a beautiful farmhouse living room but don't have the money to put into it? I have you covered! These tips and tricks will help you gain the farmhouse living room look without breaking the bank!
If you are looking for ways to create that FarmHouse Living Room on a Budget, you have come to the right blog post! In this post, you will find 9 tips and tricks to create that vintage farmhouse, feel without having to spend all your money.
There are actually tons of ways to save money on farmhouse living room home decor and this post will definitely go into details on how you can achieve any interior design look on a budget! Time to get to work on your modern farmhouse living rooms!
This post is all about how to get a farmhouse living room on a budget!
What Is a Farmhouse Living Room Style:
Many of you may have come to this post without actually knowing what a farmhouse living room style actually looks like. Why? Because it is a HUGE trend right now and many people are still trying to figure out how to actually achieve this look. I have you covered with so many farmhouse living room ideas!
I think a huge factor in promoting this interior design look is Joanna Gaines from Fixer Upper. If yo don't know who she is, check out my top two posts on her decor style: 15 Best Kitchens by Joanna Gaines & 10 Best Living Rooms By Joanna Gaines. You will fall in love with her decor just like so many of us did, so head to those posts for so many farmhouse inspiration and room decor ideas.
So what does Farmhouse Living Room style actual meaning? Let me pull out some dictionary terms for you here...Ok I am not actually going to use a dictionary here BUT. I can tell you that farmhouse decor is very warm, inviting and speaks "home". It is usually rustic but can also be light and bright.
All a lot of farmhouse living room decor adds warmth to the room by adding lots of wood accents to modern rooms. We tend to see wood beams on the ceiling which brings out simplicity in that traditional farmhouse feel.
Some common elements you may see in a farmhouse living room style are shiplap walls, a fireplace, real wood (usually a rustic barn wood), linens, sliding barn doors, and antique accents. But I will also mention that to get the farmhouse vibe, the house does not need to be historic in any way. You can create character without having your house already be old! That is the beauty of creating this interior design trend.
<<Please Note: Some of the photos below do not belong to me. Please click on the photos or descriptions to be redirected to their owners. Thank you>>
How To Get a FarmHouse Living Room on a Budget:
Like I said early, creating a farmhouse living room can actually get quite expensive, especially when you have a specific look in mind. When creating this interior design look it is important to understand that it may take some time to achieve.
You won't be able to stay in a budget and create this look overnight. It takes time to collect items and refinish your room. So hang in there and follow some of my ways before to get that beautiful farmhouse feel we all want and love!
1. Shop Farmhouse Antiques
Antiques are such an easy way to create that farmhouse decor feel. You can save a lot of money here if you go to an antique yard or watch for antique markets to pop up in your area. If you try to buy antique look alike furniture, from pottery barn or restoration hardware for example, you are going to end up paying a pretty penny for it for sure!
So try and find some antiques to incorporate into your living room to save a few dollars here and there. You could also ask for hand-me-downs from relatives if they are looking to off load some of their old furniture! You never know!!
I love these window frames as a backdrop above a console! The neutral colors really give you that modern farmhouse look.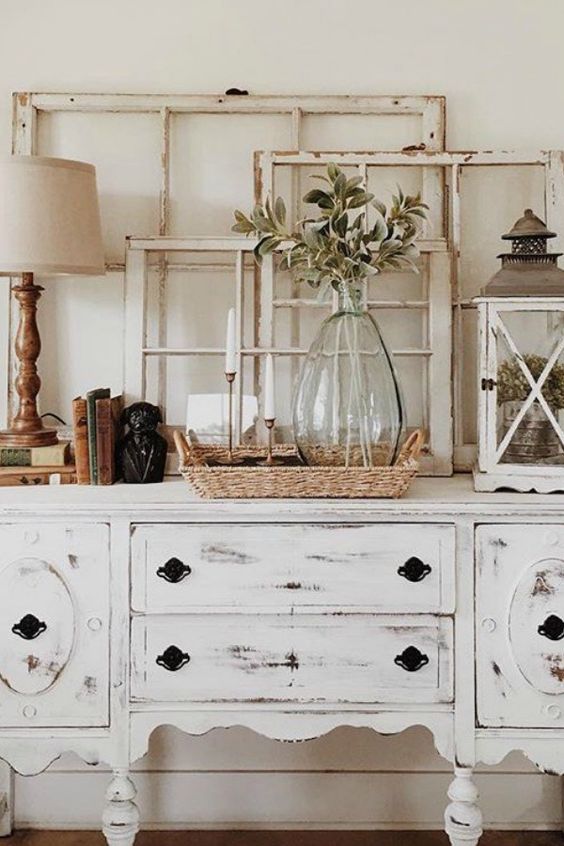 2. Refinish Old Furniture
Refinishing old furniture is a MUST. I cannot even count how many pieces I have re-painted or stained in our house. It can really transform any furniture piece and you can create what ever feel you are looking for because you have FULL control of how that piece of furniture turns out. Check out how I transformed our kitchen table into a rustic beauty!
You can also check out this photo below by Living Low Key blog! This DIY table transformation is SO FARMHOUSE! Love it!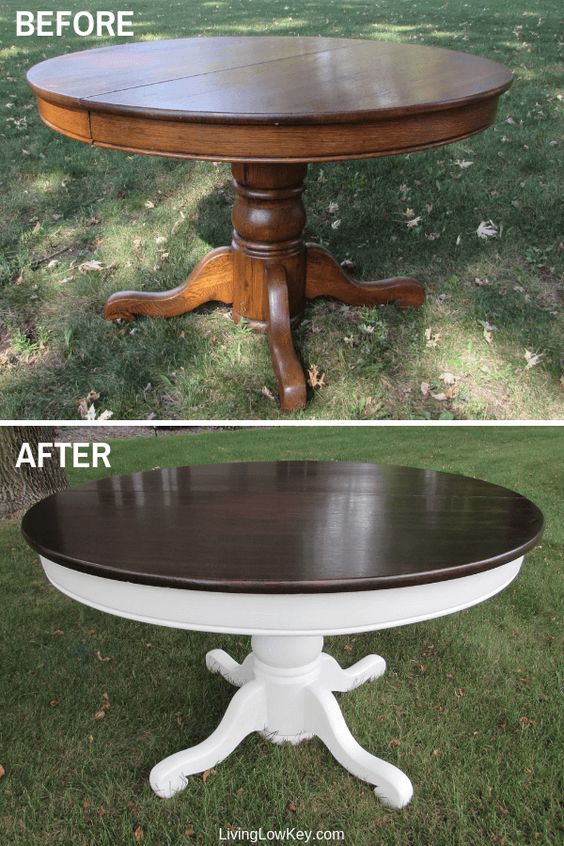 3. Reupholster Furniture
This tip goes along with the last one. You can always opt to reupholster your existing sofa or chairs in order to give it that farmhouse feel. I am not saying you need to run out and redo your entire couch.. but even just an accent chair or a bench can turn your space right around and help you achieve that overall feel you are going for.
Add some cozy comfort with blankets and throw pillows to play up the texture for your modern farmhouse style. Also don't forget to add rugs and curtains to give it that all round modern soft look.
Check out this awesome DIY from Miss Mustard Seeds blog! This is an amazing transformation!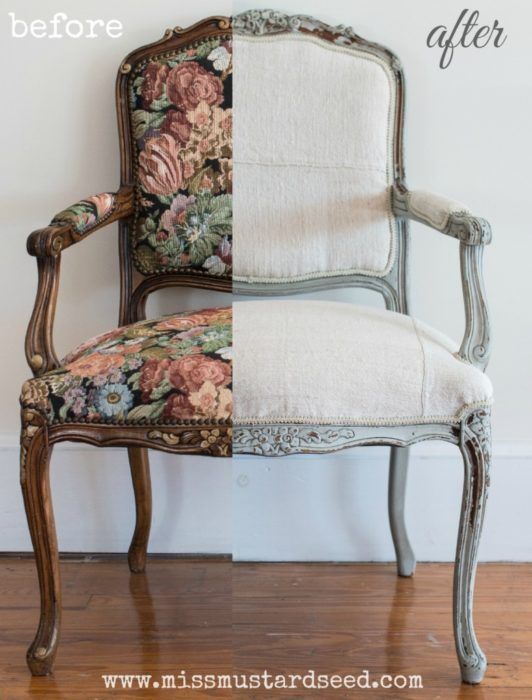 4. Scavenge for Real Wood Accents
This next tip can be a hit or miss depending on where you live. But if you have friends or family who live on a farm or have a lot of land.. see if you can check out their property for real wood or even old barn boards.
I DO NOT recommend looking for wood pieces in a public place, park or walking trail. This could get you into trouble! Avoid doing this but ask around to see if friends wouldn't mind you checking their property out.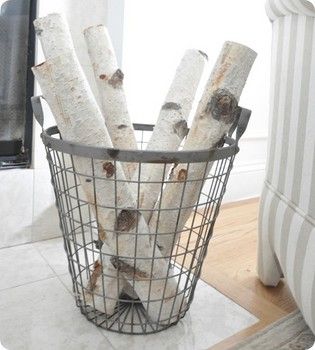 5. Paint the Walls
Painting your walls is such a simple task you can complete to achieve a completely different feel in your living space. Try opting for farmhouse colors to add to the overall look of your space.
I put together a list (found below) of my favourite farmhouse style paint colours. These colours always seem to look amazing in any farmhouse style living room. If this is your first time redecorating a room to have more of a farmhouse feel, I would suggest sticking with one of the more neutral whites or gray colours before choosing one of the bolder green/blues.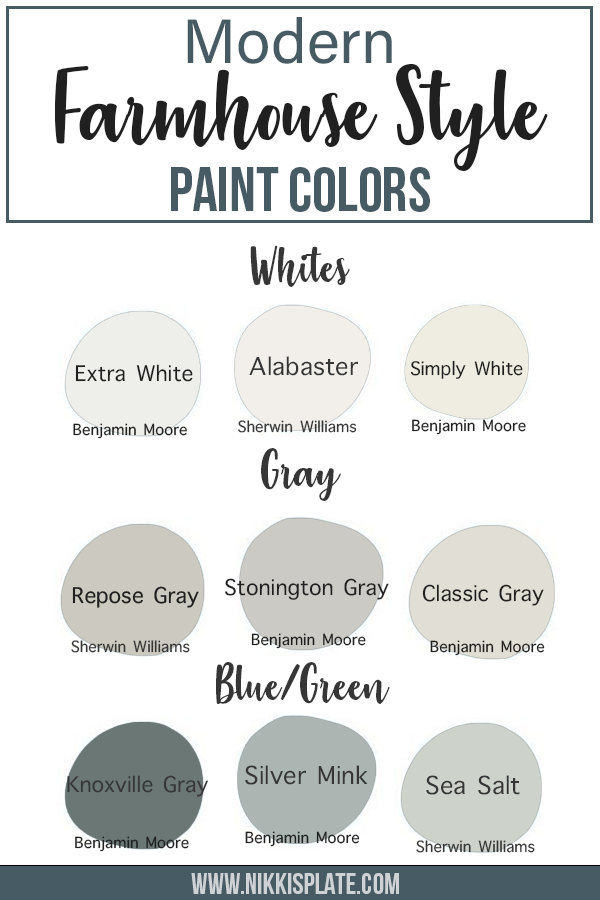 6. Spray Paint Metals
Spray painting your metals is a great way to add that barn feel to your living room. I suggest spray painting all your metals to match each other.. Any drawer hardware or coffee table legs can benefit from a fresh paint job! Try using this spray paint below! I suggest following a good DIY to make sure you do it right and it lasts. Also make sure you safely do it outside so it doesn't get everywhere in your living room!

7. Update Lighting
Updating your old lighting can make a huge difference in your living room over all feel! And you can actually do this super cheap if you watch for sales. I recently updated all our light fixtures in our living room and kitchen for under $300! I bought mostly from Wayfair. Wayfair always has great sales so put your notifications on for them and snag some great deals when they come up! Like I said earlier, updating your living room under a budget takes time. Here are the lights I got: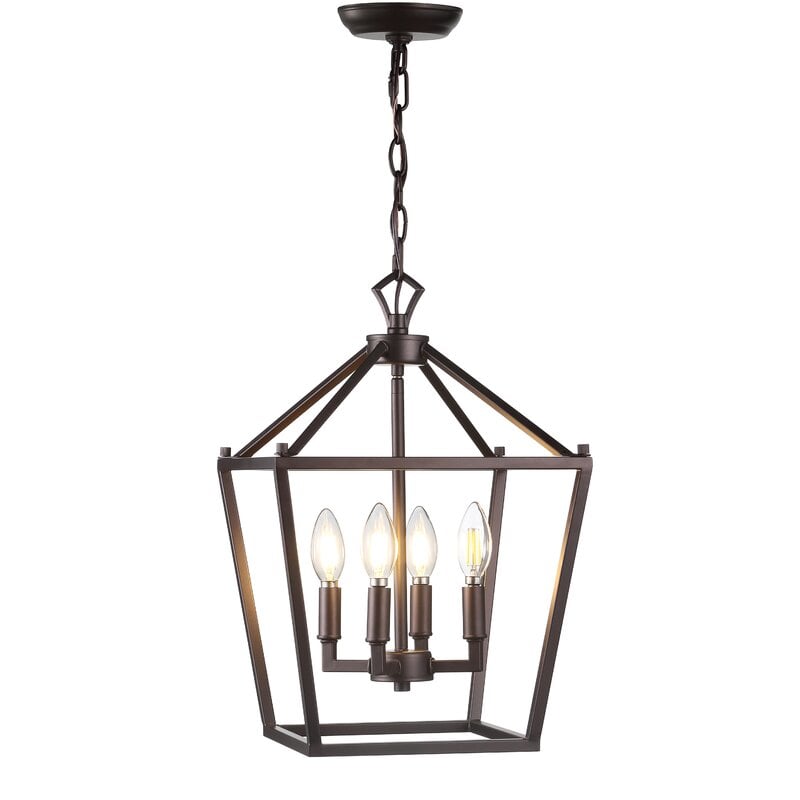 8. Frame Cute Farmhouse Photos
I love this idea. Why? It is probably the EASIEST idea on this list. You can find so many cute photos from the internet or even Etsy. If you cant find any farmhouse inspired photos you could always frame your own photos into rustic frames. I see so many beautiful wall galleries that look just like something of Fixer Upper.
So adding some fun, unique artwork really makes a statement on a living room wall! You can also add quotes. Some of my favourite artwork pieces are quotes written on wood. Just like this photo below by Erin from Cotton Stem!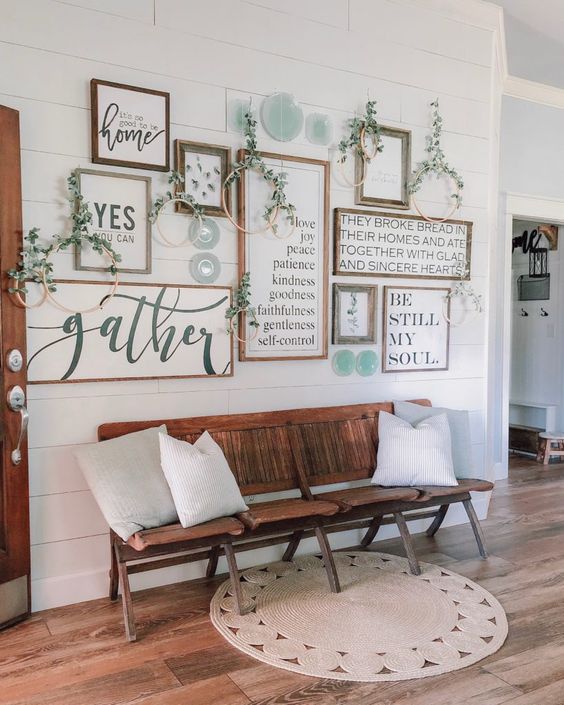 9. Add Greenery
Adding plants and greenery is always a great way to get that outdoorsy country feel. Having plants in your house is actually beneficial to your health as well. It is said that plants cleanse the air! Researchers have also found that rooms with plants have less dust/mold than rooms without any greenery. How crazy is that? Due to the fact that I suffer from asthma (especially in the fall time), having plants is something I am DEFINITELY into! Bring on the plants!
Put your plants in beautiful vases or a basket, place them on shelves, a mantle or console/sidebar for that modern farmhouse design!
Check out this adorable living room by UFP-Edge . They really use plants to bring life into the decor and it really adds to the over all Farmhouse living room style feel! Also can we just agree that that ship-lap wall is AMAZING. I am such a sucker for a beautiful white ship-lap accent wall.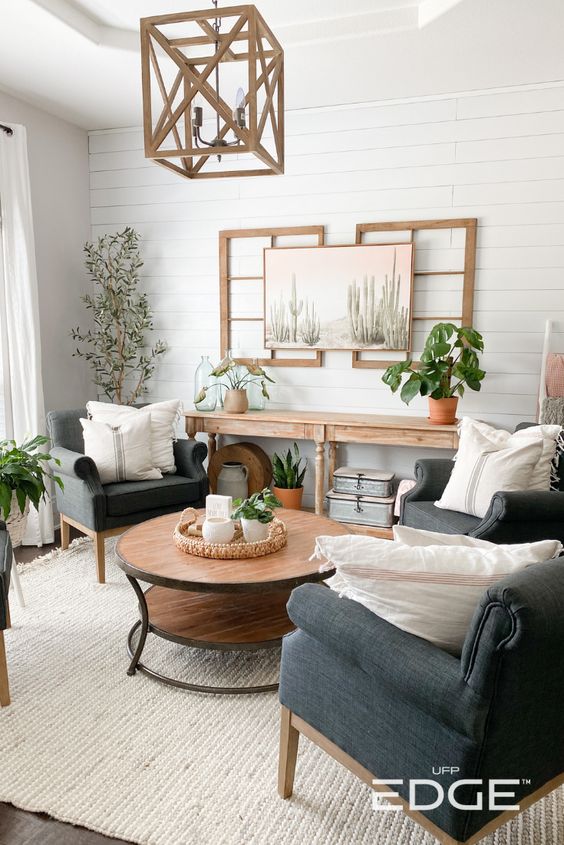 Also this video by Rachel from Shades of Blue Interior shows how simple it can be to add a few plants to your living room while still keeping a clean and classic design. I love her blog so make sure you head over there and show her some love!!
This Post Is All About How To Achieve a FarmHouse Living Room on a Budget
There you have it folks!
I hope you enjoyed this post and cant wait to hear your feedback in the comments below on all farmhouse decor ideas! If you have any additional tips on how to achieve the Fixer Upper, Joanna Gaines vibes on a budget please feel free to email me so I can add them to this list!
Other Farmhouse Decor Posts You Might like:
- 10 Best Living Rooms by Studio McGee
-10 Best Living Rooms By Joanna Gaines
-15 Best Kitchens by Joanna Gaines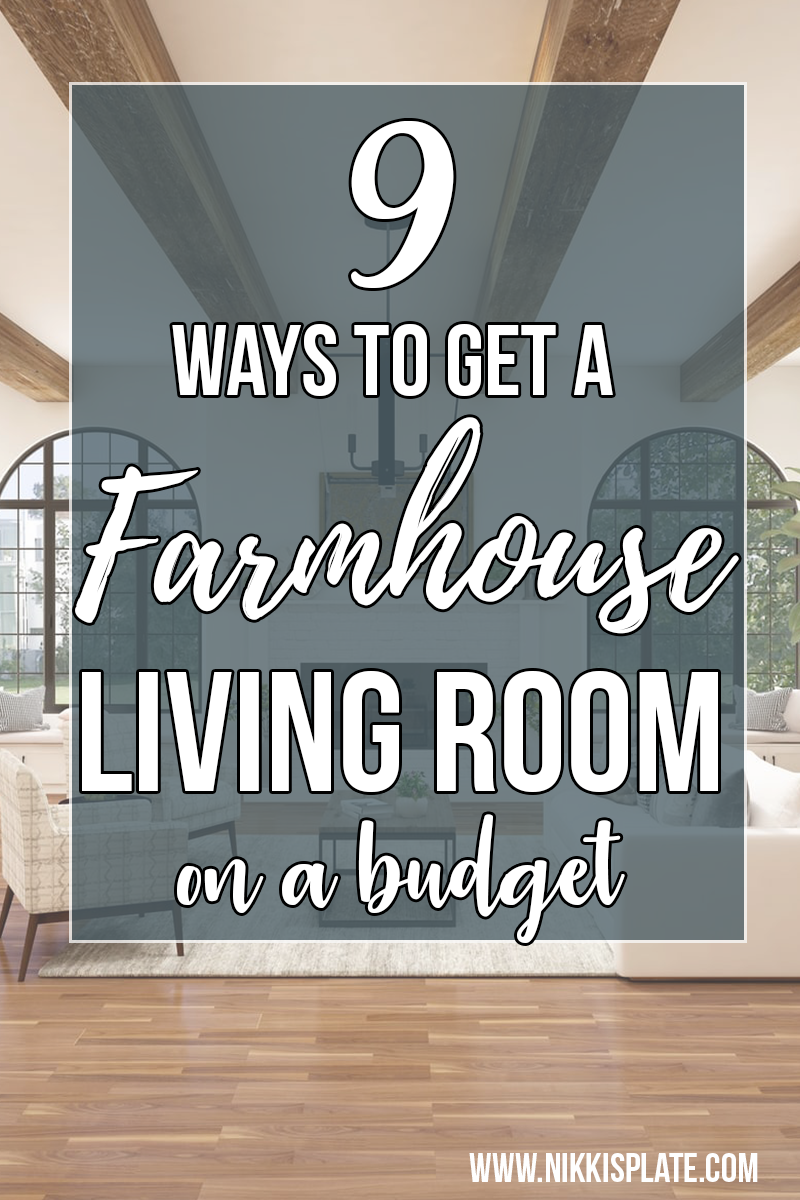 BEST SELLERS