Boho Christmas Decor Ideas; here is a list of over 50 boho Christmas decorations, boho ornaments and boho Christmas designs!
Hi Beauties! Argh! The holidays are fast approaching, and you still haven't decorated your home. Don't worry, we've got the solution. After all, how could we let you spend Christmas in a bare-looking home?! I'm here to help with 50 Boho Christmas decorations that will instantly turn any space into a cozy winter wonderland, bohemian style!!
I LOVE the bohemian design. Boho style has become very popular in recent years. This trendy style is also widely used during Christmas time. The combination of this two styles makes it a perfect choice for your home decorating ideas.
Here I have collected a list of over 50 best boho Christmas decorations, boho ornaments, and boho Christmas designs that you can use to decorate your home for the holiday season!
Boho Christmas Decor Ideas
Bohemian Christmas decor ideas are all about the boho elements of nature. This style is all about rustic, natural materials and colors. If you're looking for unique ways to decorate your home or apartment with a bohemian look that will inspire creativity, this list has something for everyone! If you're looking for a boho-inspired Christmas decor, here are some of the best boho Christmas decor ideas to help you get started.
The first thing to consider is the color scheme. Since bohemian home decor tends to be colorful/eclectic or earthy, it's best paired with neutral tones like white, grey and brown. While there's no need to stick strictly to these colors while decorating your home during this time of year, they can serve as a good starting point or jumping off point when it comes to creating an overall look that speaks to the aesthetic of boho style.
Next up is texture! The best way we've found so far at achieving this look is using vintage items along with rustic materials like wood or stone (think: driftwood or reclaimed barn boards). You can also incorporate elements from nature such as pine cones or dried leaves into your arrangements; these things tend not only add another dimension but also give off an earthy vibe which goes hand-in-hand with many elements within bohemian designs/interiors so consider incorporating them wherever possible too!
Make sure to use natural materials like pinecones, berries, eucalyptus, feathers, and twigs to make your decorations. These items can be found outside or craft store. The colors of these items will vary based on what time of year it is so try not to focus too much on the color scheme as you are decorating your home with a boho Christmas look for that ultimate boho vibe and free-spirited person!
Boho Christmas Tree
A large or small tree. You can use any type of tree you want, but a large one will look especially awesome.
Boho decorations and ornaments. Add some boho ornaments, decorations and lights to your Christmas tree for a touch of bohemian style!
The finishing touches to this look are the baubles, which were once made from dried fruit but have now become the more common glass version (although I do still love my dried-fruit ones!). And finally, make sure that the star on top is either gold or silver – nothing else will do!
Decorate with Macrame
If you're looking for a craft that's easy to learn and fun to do, macrame is the answer. Macrame has been around since at least the 16th century, when Spanish sailors brought it back with them from their travels in Asia. It was popularized in the 1960s and 70s, when hippies made intricate patterns by knotting rope or twine into beautiful wall hangings and other decor items.
Today you can use macrame to make all kinds of holiday decorations: wreaths, garlands, stockings...the possibilities are endless! Here's how:
Get yourself some materials (rope or twine) and make sure you have enough for your project. This will depend on how big or small your project is going to be—but keep in mind that if you're using more than one color of rope/twine then this number will increase accordingly as well!
Start by tying knots at regular intervals along one side of your length of rope/twine until there is enough left over so that it forms another loop along its opposite side (this should be slightly longer).
Use Feathers
Feathers add an element of texture and color to your tree. You can use them as ornaments, garland, or a combination of both. They come in many different colors and sizes so you'll be able to find something that fits your style perfectly. If you don't have time to make your own decorations this year, feathers are also easy to buy online or at craft stores!
Feathers are great for decorating trees because they bring movement, texture, and neutral colors into the space while still being subtle enough that they won't distract from the other decorations on display (or cause allergies).
Bohemian style decor is known for its relaxed, bohemian vibe. The main features of bohemian decor include:
Natural materials like wood and leather.
Handmade items, including textiles and jewelry.
Artistic elements such as paintings, sculptures or wall hangings.
To get the most out of these features in your Christmas decorations this year try adding some natural elements to your Christmas tree such as pine cones and branches from trees outside. You can also add handmade ornaments such as felt stars or tree toppers that you made yourself using felt fabric and thread. Finally, make sure there is art on the walls of your home with framed art pieces that feel like they belong in your home rather than being bought at the store (even if they were!).
Of all the Christmas decorations, string lights are probably the most versatile. They can be used anywhere, from the inside of your home to the outside porch. String lights are a great way to decorate for Christmas because they give off a warm and inviting glow that's perfect for any occasion.
Whether you have an artificial tree or a real one, string lights make an excellent addition to your holiday decorating efforts! They add color and warmth to any space, making them perfect for both indoor and outdoor use. You can also use them on their own as festive table lamps or nightlights.
String lights are not just limited to inside use—they make an excellent choice when it comes time to dress up your porch or deck with holiday flair! These little strands will surely sparkle under the moonlight when wrapped around bushes or trees at nightfall—you'll feel like you're living in a dreamland every time you walk outside during wintertime hours 🙂
Want to make the tree look even more boho? Decorate it with some handmade, boho-style ornaments like these dreamcatchers from Etsy, which come in a set of three for less than $10!
Dreamcatchers are a Native American tradition that has been adopted by many people around the world. They're made of willow branches and yarn, and they hang over the bed or on the wall to filter bad dreams while allowing good ones to pass through. The hole in their center (where they hang down) represents an opening; when you enter this space, you can connect with your inner self and experience peace and tranquility.
The woodland garland is the perfect way to add a natural touch to your Christmas decor. The garland features pine cones, cedar branches and pine branches strung on a wire and hung on the wall. You can use this garland in any space you want to give it a rustic feel. It will look great with all kinds of other holiday decor including wreaths, wreath hangers and gift boxes! Add some wooden beads to your garland too! These are an easy DIY Christmas idea!
Citrus Ornaments
Dried citrus ornaments are the perfect way to add a little boho charm to your Christmas tree. This is a great way to get your kids involved! You can use them as tree decorations, mantle garland, ornaments, or even just hang them in the window.
Natural Elements
Boho Christmas decor is all about the earthy, rustic vibe that you're looking for. This look is all about natural elements—think branches, twigs, and leaves. Bring in things that look like they belong outside in your house!
Turn your Christmas tree into a boho masterpiece with this wood bead garland. All you need is some wood beads that you can get from the craft store and some string/yarn. Hang this wooden bead garland on your boho tree or mantel!
When you want to give your Christmas tree a bohemian touch, consider using fringe ornament tassels and pom pom trimmed gifts. You can use a variety of colors for these decorations, or focus on one color if you'd prefer. The choice is yours!
Personalized ornaments. This is a great option if you want to keep things neutral but still add in some extra personality. You can find these ornaments at almost any craft store, and they make it easy to add in a name or message of your choice on top of the design.
Use Yarn for Garland and Tassels
Use yarn to make garland and tassels.
Try making a yarn garland by wrapping different colors of yarn around your tree. If you want, you can use the same color for all the strips, or alternate between two or three different colors to create a striped pattern. Alternatively, try mixing up your lengths: some longer pieces that hang down lower than others are great for adding dimension and interest to any room!
Yarn tassels are another great way to add personal style and flare to your Christmas tree this year! To make them, simply wrap a length of yarn around one end of a dowel several times until it becomes long enough (about 4 inches). Then cut the strand with scissors so there are about two feet left hanging off the end—this will form the "tail" on which you'll tie another piece later on. Tie both ends together into a knot; now flip over so that all four ends are facing upward towards where it will eventually hang from above. Cut off about two feet worth of extra material from each end; after this point has been trimmed away completely (so there's only one inch left), loosely fold over those remaining bits back onto themselves before tying them together tightly in another knot right below where they meet (i​f​it helps visualizing what this looks like better). Once again flip over so all four tails now face downward towards where they'll eventually be attached beneath whatever surface needs decorating just above head height—this time instead fight as much slack into each tail as possible before weaving through them using either threading technique shown above using green instead yellowy ​ blue ​ white tasseled multicolored streamers
You don't have to settle for a boring tree skirt when you're going for a bohemian Christmas look. Instead, try one of these options!
Make your own! It's simple to whip up a fun tree skirt from some fabric and ribbon, but you can also buy them pre-made at craft stores or online. They come in all different colors and styles, so you can find what works for your space.
Go with an antique-looking table runner instead of a traditional tree skirt—it'll give it more of an antiqued feel while still being festive enough for the holidays!
Buy a patterned fabric and cut it into strips to tie around the base of your tree. This is a great option if you want something that looks more like traditional garland than a skirt, but still gives some texture.
Use rope in various lengths and colors around the perimeter of the tree skirt. This will create a nice texture without taking up much room on top or around the bottom of your tree. This can also be combined with other ideas like those mentioned above if needed!
Yarn gift wrapping is a fun, quirky way to get your gifts ready for the holidays. Plus, it's an easy project that you can do right in your own home! It's so simple and fun to do—all you need is some yarn and a few minutes.
For a truly unique Christmas, decorate your tree with DIY ornament bulbs. These little bulbs are easy to make, and they look great on any tree. They are also an easy way to make sure all your boho Christmas ornaments follow a theme!
Boho Christmas Wreath
The Christmas wreath is a classic decoration you can't go wrong with. It just works. But if you're looking to mix it up with your boho Christmas decor ideas, why not try this fun twist on the classic?
Tassel Ornaments
Tassel ornaments are a great way to add some bohemian flair to your Christmas tree. They're easy to make and they look so pretty —you can use them for your Christmas tree, in a wreath, or even as a wall hanging! Really, all you need is yarn and hot glue to make these Christmas tree pompoms!
Use upcycled materials to make unique ornaments, like a glass jar filled with colorful feathers or old books that you've covered in wrapping paper.
Place candles all around the house—on windowsills, end tables, mantelpieces, etc.—and light them when guests arrive so they can enjoy their glow while chatting away with each other about how much fun they had last year at this same party!
If you want something a little more traditional for your mantel, then you can try this idea: spread out pinecones all over it and place some candles around them.
Add some greenery to your home decor for a fresh look that will make you feel like you're in nature. Greenery is always a safe Christmas decor option. If you want to avoid green, maybe try some pampas grass for a neutral option!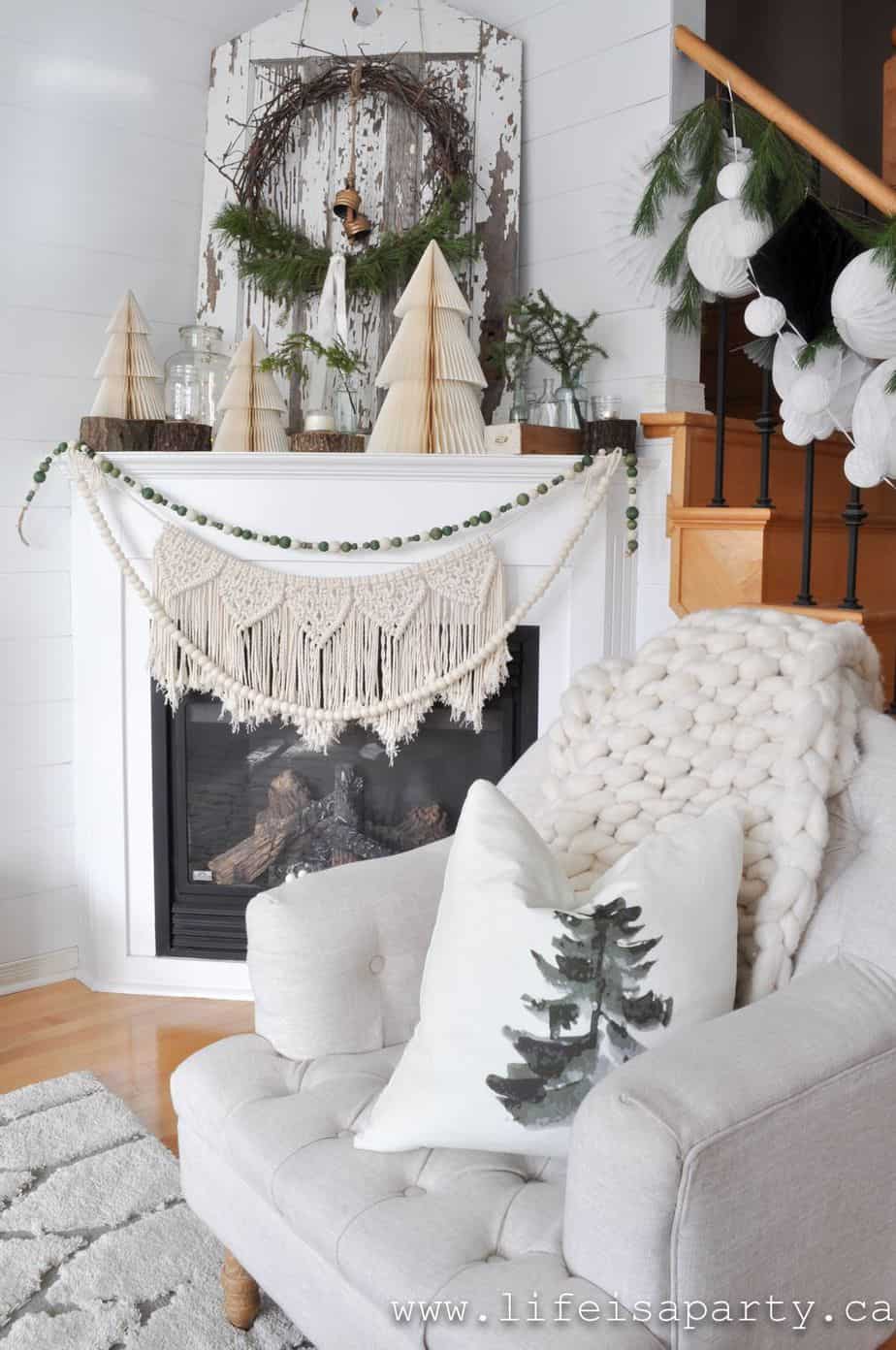 You can stick with traditional reds and greens if you'd like—but why not mix things up with something new? Try adding pink hues into your decorating scheme by hanging up a few purple ornaments or maybe even some soft colored lights. You can also add pops of bright orange or yellow if those colors speak more loudly than traditional ones do for you!
Decorate your Christmas tree with boho ornaments and add some sparkle with a cluster of colorful lights. Hang some string lights around the house, and add a few boho ornaments to create a relaxing atmosphere.
If that doesn't strike your fancy, try some macrame—this is a great option for those of you who want a more ethnic vibe in their Boho Christmas decor. You could also use feathers along with the macrame if that suits your taste better
Add a little boho flair with some statement wall decor in the form of tapestries or wall hangings. You can find tons of great options at local craft fairs or even on Etsy!
Go big with your Christmas tree by using an oversized version that's perfect for adding a pop of color into your living room (and making your kids' eyes light up).
Give yourself and your family a gift this year by making wreaths from natural materials like pinecones and dried flowers—they'll be beautiful and smell amazing! Makes boho Christmas decor ideas easy!
Boughs of holly and mistletoe. These are traditional Christmas decorations, but they can also be used in your home year-round if you don't want to put them away at the end of the season!
An organic vibe and a lived-in feel are what we're going for, and that's why we love these decorating ideas. From a tree made of wire to a wreath made of colorful yarn, these ideas are perfect for bringing the bohos in your life together!
Easy Boho Christmas Decor Ideas Money Saving Tips:
Use Things You Already Have
Use Things You Can Find At the Dollar Store
Make Your Own Decorations
Make Your Own Gifts
Reuse Materials (like your leftover wrapping paper)
Recycle Materials
Repurpose Materials (like using old books to make a shelf or repurpose tin cans into candle holders)
I hope you enjoyed this post all about Boho Christmas Decor Ideas
There you have it folks! 50 boho Christmas decor ideas you can create yourself this holiday season!
It's always fun to try new things. Don't be afraid to get creative with your Christmas decorations! You can do so many wonderful things with just a few small touches here and there. So go ahead and get inspired by these 50 bohemian Christmas decor ideas.
More Boho Decor Posts:
Until next time,