Behind Couch Decor Ideas for Your Living Room; Here are some creative decorations to put on the wall behind your couch, over the couch decor in general!
Disclaimer: this post may contain affiliate links, and every purchase made through these links will give me a small commission (at absolutely no extra cost for you!) AS AN AMAZON ASSOCIATE AND REWARDSTYLE MEMBER, I EARN FROM QUALIFYING PURCHASES. See Privacy Policy for additional info.
Hi beauties!
Coming at you with another decor and interior design post but this time I am talking all about behind couch decor ideas for your living room! Why? Well I was literally searching for these ideas on Pinterest and decided to just go a head and make a post about all my findings! So lets talk about over the couch decor!
We are currently having some issues figuring out where to put our furniture in our living room right now. We use to have the couch near a stair railing but now that we have wild 1.5 year old who likes to climb and jump everything we had to move the couch to the wall across the room.. But now, where the TV use to hang on the wall is a big blank space that I need to fill!
So naturally I hit Pinterest to see what ideas we could come up with the add some creative behind couch decor ideas and over the couch decor ideas! I am surprised with my findings and cant wait for you to see all of the inspiration below!
This post is all about Behind Couch Decor Ideas for Your Living Room and over the couch decor ideas!
So without anymore rambling...
Behind Couch Decor Ideas for Your Living Room:
Floating shelves
Floating shelves are such an easy addition to any empty wall. There are so many ways to style them and make them unique. Floating shelves above the couch are a great way to add some style to your living room.
So adding floating shelves or any shelving system to your living room wall will definitely add some interest to your walls! Love the picture frames leaning on these shelves! Buy these floating shelves here!
Photo Wall Gallery
A photo wall gallery is ALWAYS a safe bet to any empty wall, especially when you have a lot of wall space to fill. Keep it simple with modern sleek looking frames or add interest with some antique frames. Add your own personal photos or pictures of landscapes. Whatever your vibe is, you can bring it out in these photos! Buy similar black rimmed frames here!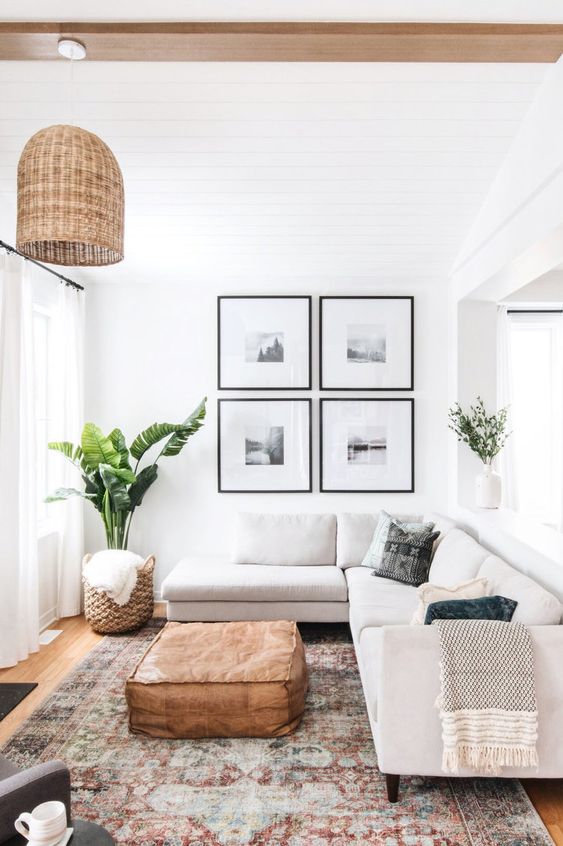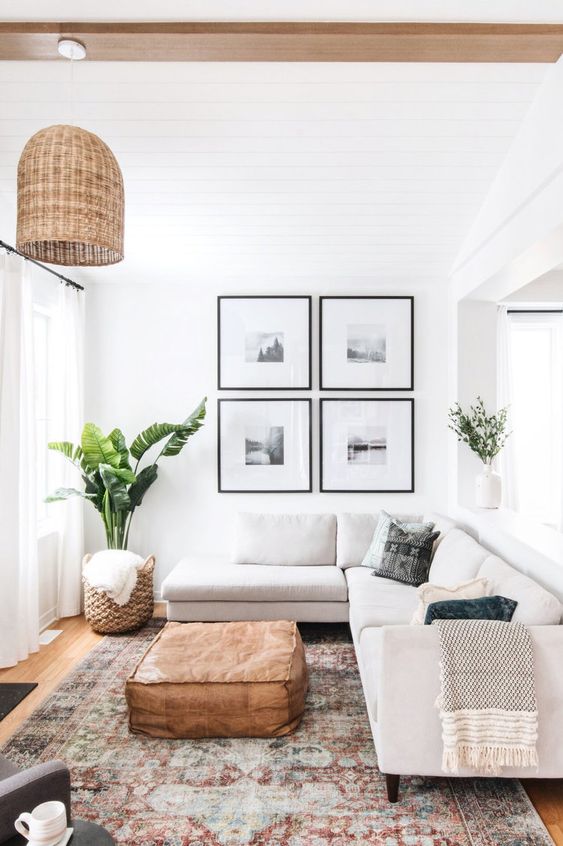 Art Pieces
Art pieces are a super fun addition to any wall. You can keep it simple with artwork like below or add loud abstract designs to your wall for a bold statement. Pieces of art can add a beautiful and dramatic focal point with a pop of color! Choose a large piece of art, something modern or vintage or a photograph that is meaningful!
Make sure you adjust the size of your art pieces to be the width of the sofa or even a little smaller. Anything bigger with make your sofa look too small and awkward. If you are really into the DIY scene you can even make your own! Here is a link to blank canvas! Click the photo below to buy these exact art pieces.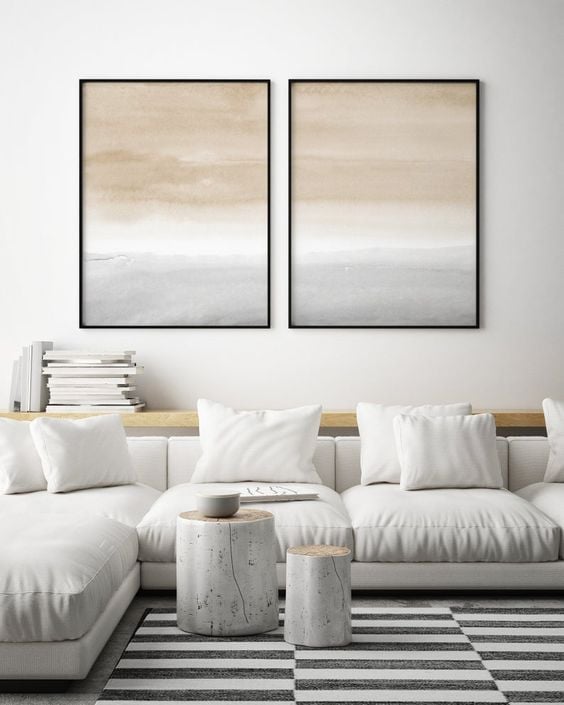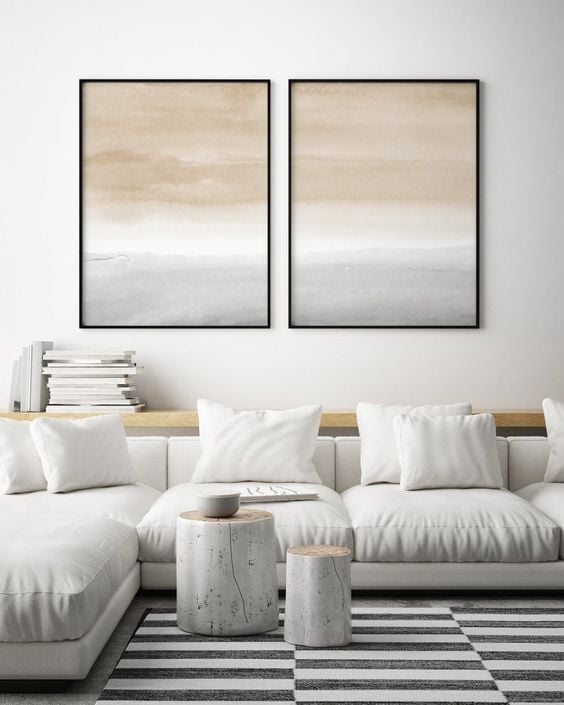 Greenery
Having plants in your home is so good for your air quality so why not add them to your wall behind your couch!
Adding greenery to your living room decor is a great way to add some energy and life to the space. You can use plants, flowers, or even small trees for this effect. If you have a lot of room and want to go big, you can even use fake plants and flowers.
There are many ways you can use greenery in your home. You can put it on tables, shelves, or even hang them from the ceiling. You can also use it as a centerpiece on a shelf or table. Buy similar hexagon shelves here!
Accent Wall
Adding an accent wall to a living room decor can be tricky but is a great way to add personality and color. You want to make sure that it has enough color and interest, but also that it doesn't overwhelm the rest of your room.
First, decide on a color. If you're going for a bold look, choose a single color that contrasts with the rest of your furniture. For example, if you have white furniture and walls, try painting one wall orange or red. If you're going for something more subtle and elegant, choose several colors that complement each other (for example, blue and yellow).
Once you've decided on a color scheme, select your accent wall paint based on how it will blend with the rest of your living room's decor. Paint is available in many different finishes: flat (matte), eggshell (satin), semi-gloss and high gloss. Each finish has its own feel; if you want a matte finish because it's more subtle or muted than glossy paint would be, then go ahead and use flat paint on your accent wall. If you want something shinier/more reflective than flat paint would be, then try semi-gloss or high gloss instead!
Gotta love a bold accent wall! Especially one that is done by Studio McGee!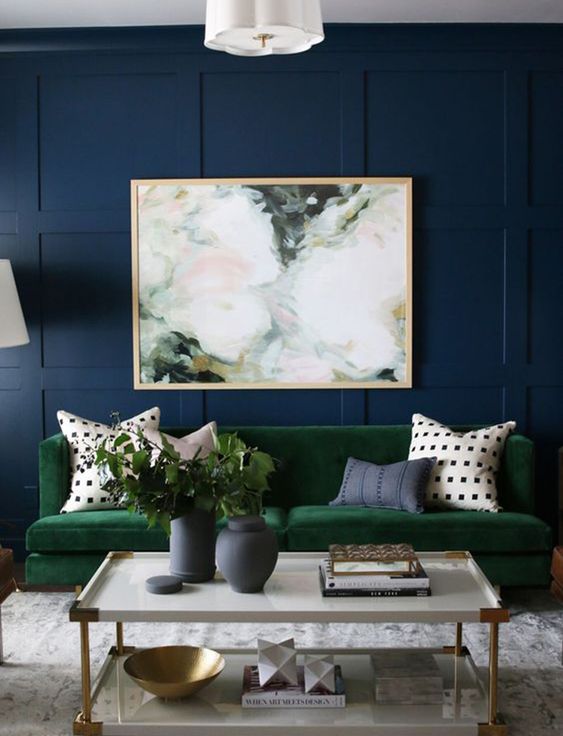 Mirror
A mirror is an easy addition to a blank wall above a couch. Adding a large mirror in any living room will give the illusion that the room is actually bigger then what it is! So adding an oversized mirror to a small living room will work wonders!
Adding a mirror to living room decor can be a great way to brighten up the space, and it can also help you create a sense of balance in your space.
Mirrors can help reflect light and make your room feel larger than it is, which is perfect if you're working with a smaller space. They also help give the impression of more space by breaking up the walls and creating "walls" between different sections of your room.
Add a mirror to living room decor for a modern, sophisticated feel. The mirror can serve as the focal point of the room (such as over the couch decor), or it can be used simply as an accent piece. Mirrors can make your space feel at harmony.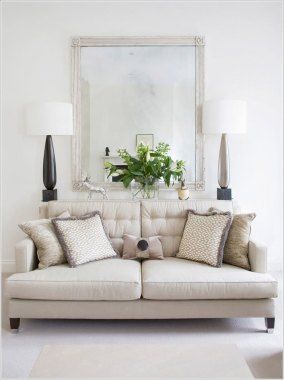 Unique Antique Finds
Writing this one, I am literally picturing all things Joanna Gaines haha I love how she uses old shutters, old windows or a wagon wheel to add interest to a wall! Antiques can definitely add to the farmhouse feel or even give the old world European vibe.
Adding antiques to your living room decor is a great way to add some character and history to your home. You can find antique pieces at flea markets, thrift stores, and antique shops. If you're looking for something rare, keep an eye out for estate sales.
There are a few things you need to consider when integrating antiques into your living room decor, though. For example, the color of the antique will affect how it looks in your space. If you choose an antique that's too dark, it may not look right against other pieces in your room.
Also, think about what kind of material the antique is made out of—some materials are easier to clean than others! Antiques are often associated with old-fashioned design, but they don't have to be. You can find pieces that fit right in with modern styles and tastes as well.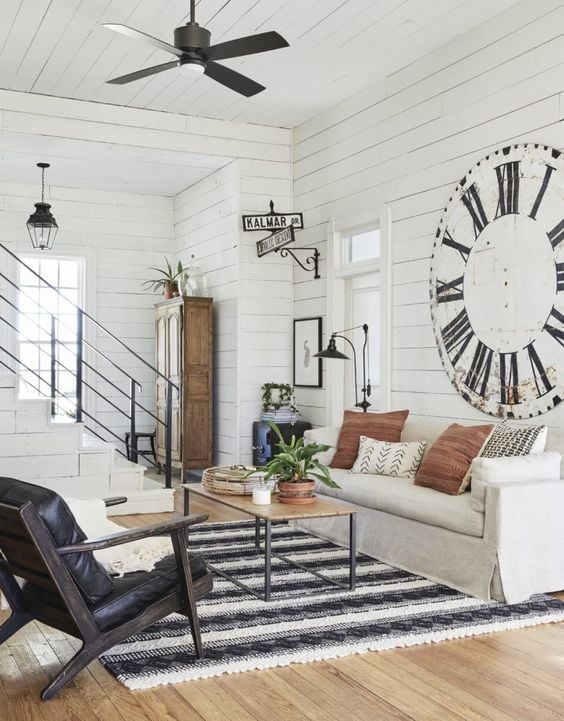 Basket Collage
This new basket collage trend is so beautiful and really adds to any wall décor! Adds interest and warmth to any blank wall! Adding a basket collage to the wall in your living room is a great way to add some color and texture to your living space.
Start by gathering all of your baskets, which can be any size or shape. Lay them out on the floor and decide whether you want them to be arranged by size or color.
If you're going for a rainbow effect, then you'll want to arrange them by color. If you are arranging them by size, then it's time to start thinking about where you want each basket located—do you want them in rows or columns? Once you have decided on this, use masking tape and start placing your baskets on the wall in their designated spots.
The best part about wicker baskets like this is that they are usually pretty affordable and you can find tons of them at thrift stores or flea markets! Adding in these neutrals will give depth to the rest of the room.
Quotes
Maybe it's a bit cheesy, but I think quotes are an excellent way to decorate your living room. I mean, what's better than having a beautiful quote hanging on your wall to remind you of the things that matter?
Unfortunately, it can be hard to find a good quote that suits the style of your room. But don't worry! I've got some tips to help you out:
Think about the colors in your room. If there's a lot of red in your living room, maybe a quote that contains red isn't going to work for you. You don't want something that clashes with everything else in the room! Choosing a neutral color will also give you more options for moving it around the house down the road.
What kind of vibe do you want to set with your decor? Are you looking for something fun and playful? Or are you going for something more serious and elegant? This will help guide you toward choosing a quote that fits perfectly into your home's decorating scheme.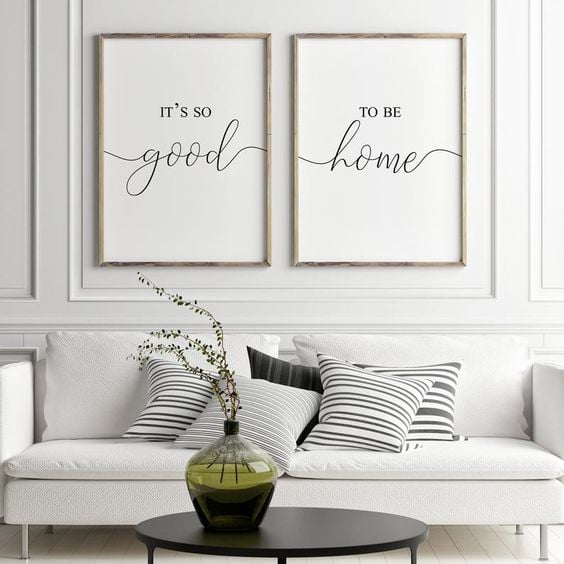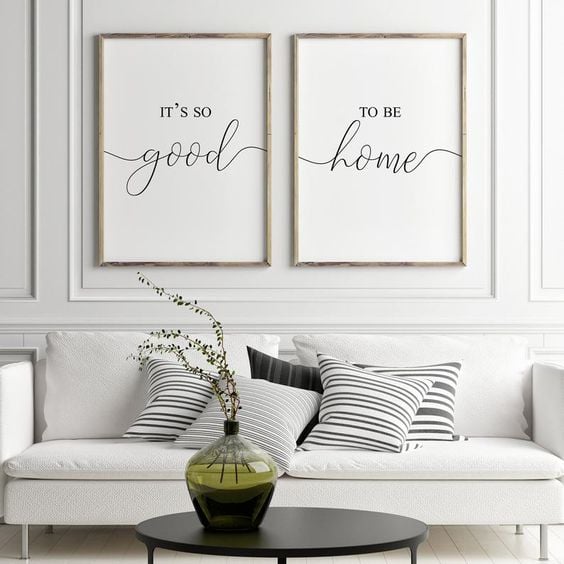 There you have it folks!
I hope you enjoyed this post!
Until next time,
BEST SELLERS