25 Modern Farmhouse Living Room Decor Ideas; Rustic meets the modern world, best of both worlds when it comes to a farmhouse living room look
Hi beauties!
Farmhouse living rooms seem to be everywhere, and I am here for it! I take a close look at this decor trend in this post and show you how to create a farmhouse look in your own living room!
Modern farmhouse living room decor ideas. Rustic meets the modern world, it gives you the best of both worlds when it comes to a farmhouse living room look. The living room is the ideal place for people to socialize and hang out with friends, family and guests.
There is just something about farmhouse decor. There's a hint of history, a bit of rustic charm and a whole lot of warmth. But can you bring this look into your home? I think yes.
But what exactly makes modern farmhouse living room decor so popular? Here are 25 modern farmhouse living room decor ideas, plus the best resources for farmhouse decor!
What is Modern Farmhouse Living Room Decor?
This is such a common question that seems to always be asked after seeing some beautiful inspiration photos. Modern farmhouse living room decor brings together clean lines of contemporary modern design and combines it with a warm and cozy farmhouse aesthetic. It takes that rustic country home feel but makes it a bit more neutral with soft and modern color schemes.
Modern farmhouse decor brings contemporary elements to a more relaxed and comfortable level. Some common things you will see in modern farmhouse living room decor are neutral colors, reclaimed wood (usually mantle and wood beams), antiques, barnboard or barn doors, iron accents (light fixtures and hardware), wide floor planks, and vintage accessories + furnishings.
Why Choose Modern Farmhouse Decor?
Why you should choose that modern farmhouse-style decor.. seems like an easy question for me because it is SO popular now, but the main reason you should go for that modern-farmhouse look is that it is timeless and beautiful. It brings warmth and simplicity to your house and makes it a home. It may be interior design-focused but will always feel like a home.
So with that being said, let me jump into this post and show you some beautiful farmhouse style living room decor!
This post is all about modern farmhouse living room decor ideas!
Modern Farmhouse Living Room Decor Ideas:
<< Disclaimer: none of these photos belong to me, please click photo or source provided to be redirected to owners >>
Starts off with a beautiful bright living room that brings together so many light textures but keeps the rustic feel. Adding a leather chair with lots of beige and whites. Layering rugs also add so much warmth and interest to make a room feel cozy and put together. Buy rugs here!
A lot of modern farmhouse living rooms have a beautiful fireplace with a rustic reclaimed wood mantle. I love how this living room goes for a lighter wood stain rather than a traditional dark wood stain. Buy white oak floating shelves here! Shop throw pillows here!
As you can already see, there are a lot of whites mixed with wood in farmhouse living room designs. This is the most common trend. Keeping the rustic wood elements with the bright white really gives it that modern farmhouse style. Buy similar leather armchair here!
The ceiling in this living room is everything, paired well with the beautiful twin couches to really draw your eyes back to ground level. The area rug really adds some depth and interest too this space too! And can we just talk about that chandelier, wow!
What I love most in this room is the "my happy place" sign. So many Etsy shops make beautiful word signs that really add to the farmhouse feel. Choosing a sign that means something to you will also add to the overall family home feel for your space. Buy similar 'My Happy Place' sign.
The gorgeous interior design here with this cool color palette. The wood beams, vaulted ceiling, beautiful stone fireplace, and multiple fabric textures really bring together this farmhouse living room design.
The bricks and mortar on this fireplace are stunning. I have seen a lot of this done lately and I am loving it! It really brings a brightening effect to the traditional brick look. Brings in those contemporary elements again to a modern farmhouse interior.
Love this warmer-toned farmhouse living room decor. The shiplap, wood beams, and stunning fireplace check off all the modern farmhouse living room must-haves! The black trim on the windows really ground the entire room. Great interior design here!
Similar brick fireplace to the previous living room earlier. Stunning modern farmhouse living room ideas! For how bright this living room is, the wooden beams really bring back the farmhouse warmth in this room.
So bright and light! A modern vibe in this living room but with a hint of a farmhouse feel with those gorgeous wood beams. This living may appear to be quite 'boxy' but they do a great job moving the focus around the room by placing the fireplace and tv on separate walls.
Those beams are just wow. Lots of iron accents with the light fixtures and windows. Loving this beautiful blue accent color to bring interest to the seating area. Another great interior design here!
That anthropology mirror has been such a hit lately, I have seen it in so many rooms! Really like the look of the antiqued mirror on a rustic fireplace mantel. They also did a great job matching the mantel stain to the floating shelves. Really ties it all together here.
My eye is immediately drawn to the beautiful stone of this fireplace. The overall look is immediately softened by the beautiful white linen sofas. The floor-to-ceiling windows adds such gorgeous natural light to this overall white cozy living room. The rectangular trunk-shaped aluminum coffee table really adds a piece of interest to this living room. Buy a similar coffee table here! I also think the white shiplap on the ceiling really grounds the overall look of this living room space.
Such a perfect little living room! Great use of space and also love the idea of having a basket for extra storage! That chandelier is also stunning, so rustic and chic.
This mountain escape is everything. And that fireplace is truly breathtaking! I am not entirely sold on the windows but I do enjoy the size... having large windows really brings in so much light and makes a space feel even larger and open!
YES! This is exactly what I picture when talking about modern farmhouse living room decor. So many great elements here! I do really love the color of the fireplace stone with that rustic mantel. Everything flows together nicely in this living room!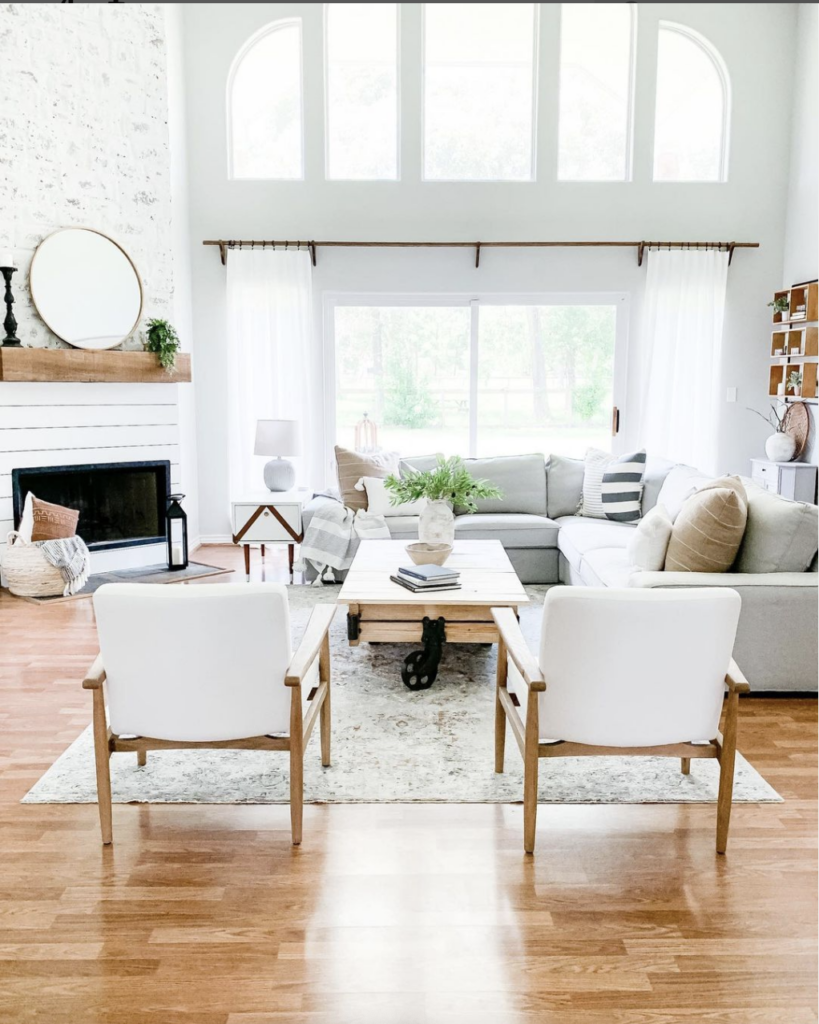 Beautiful home feels in this living room. I love the open concept living rooms, especially with a farmhouse vibe. The unique throw pillows are also a beautiful touch to these couches!
Another stunning Studio Mcgee design. Literally my dream home right here. The open concept, large windows, beautiful decor... Just picture perfect. Could you imagine looking at those gorgeous mountains every day!? YES PLEASE.
This fireplace! I love the unique shape and stunning stone color choice. The blues and grey really bring the cool tones in with that warmer stone. Shiplap on the ceiling and iron chandelier.. all classic farmhouse living room design elements!
Look at that abstract tile on this fireplace! What a statement piece in this living room! Would you put something that bold in your living room? I don't think I could do it! I would be too worried I would end up hating it. I like choosing more neutral and plain elements for big permanent decisions.
There you have it folks!
I hope you liked this post all about Modern Farmhouse Living Room Decor Ideas. If you want to see more posts like this make sure you let me know in the comments below!
Until next time,