10 Beautiful Master Bedroom Trends; inspiring cozy bedrooms, with comforting colour schemes to suit everyone! Inspiration for your sleeping oasis!
Disclaimer: this post may contain affiliate links, and every purchase made through these links will give me a small commission (at absolutely no extra cost for you!) AS AN AMAZON ASSOCIATE AND REWARDSTYLE MEMBER, I EARN FROM QUALIFYING PURCHASES. See Privacy Policy for additional info.
Hi beauties!
For today's posts, I wanted to put together a collection of my favourite master bedroom designs! There is something so comforting about a beautiful master bedroom oasis.
Currently, we are finishing our basement. In our basement, we are adding a bedroom. We want our guest bedroom in our basement so we can free up our main level bedrooms for our office and (future) nursery! hehe
So I am on the prowl for inspiring photos of bedrooms on Pinterest. But instead of being selfish and keeping all these photos for myself, I thought I would just put together a round up post so we can all enjoy the inspiration together!
Let's Jump into These 10 Beautiful Master Bedrooms!
<< I do not take credit for these photos. Please click photo to be redirected to owner >>
Bright Whites & Fresh Linen

I love the bright whites in this bedroom but mixes antique furniture pieces. There is something about antique furniture that just screams home to me! Also, the fluffy blankets and pillows make this room cozy against all the cool tones.
Dark Colour Block Walls

I love the dark grey accent wall here. Our master bedroom has this colour right now and I love it. It really sets the mood for bedtime!
Bright Cottage Farmhouse Master Bedroom

The cottage feel of this bedroom is amazing. I love the textured walls with the light warm bed. Even the rug gives me beach vibes... but this bed has my heart. Its everything!
The Grand Master Bedroom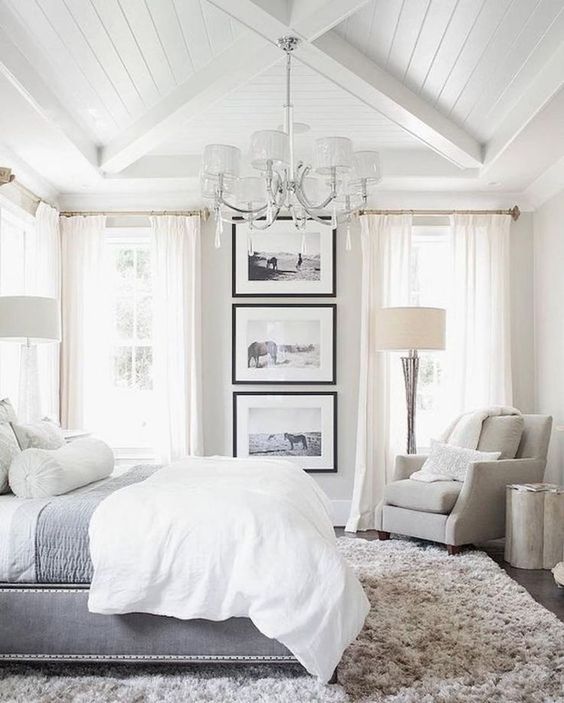 I love how grand this room feels. It almost gives hotel vibes but brings in home feels with the rug and photos. I just adore large print photos on the walls that really bring back memories.
I have so many photos printed of my husband and me throughout our home walls. Memories make a house a home so why not display them all over the family residence!
A Hotel at Home Master Bedroom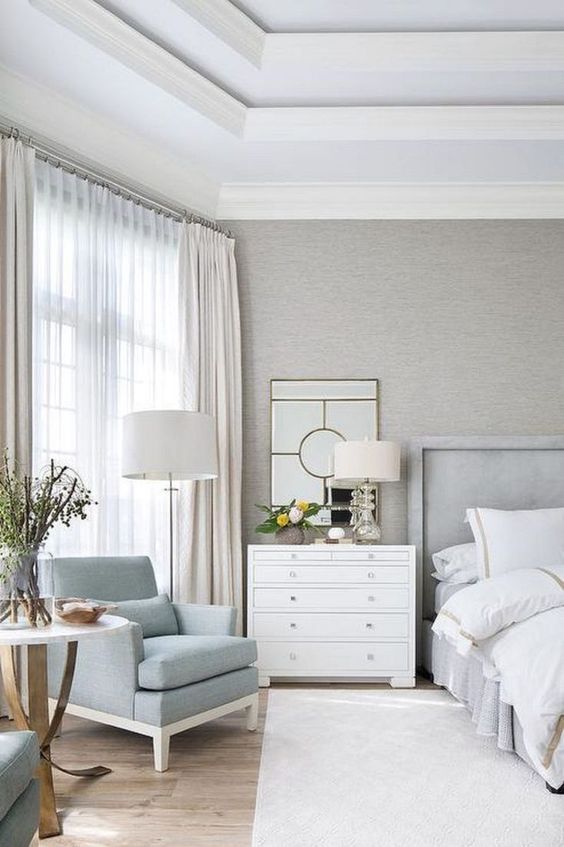 This bedroom looks so crisp and clean to me. Again with the hotel atmosphere but still home. I love all the bold corners on the bed, chairs and even the night side table.
They really keep this room looking well put together. I also am in love with the colour of the accent chair. Again with the beach/cottage vibes!
---
Need more bedroom inspiration? Check out these posts:
---
Crisp & Clean Master Bedroom with Deck Access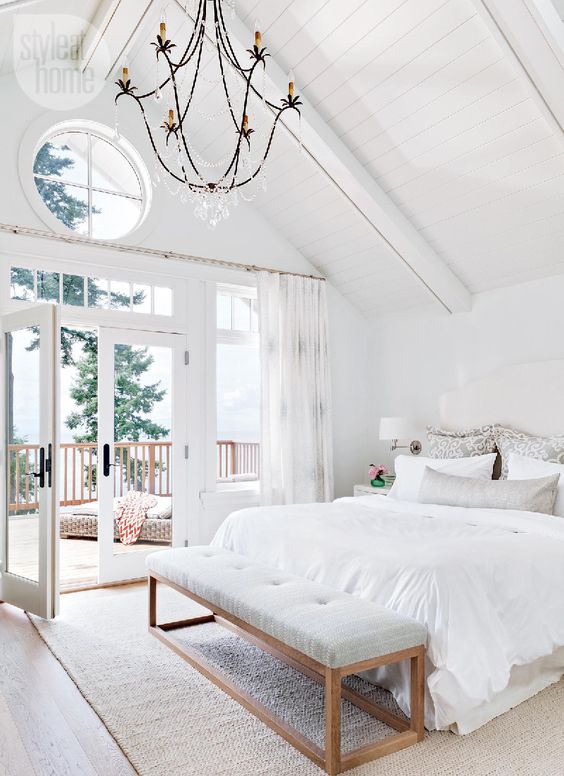 This room... where do I even start? The shiplap and high peaked roof make this bedroom feel so roomy. I love all the white cleanliness of this room and I love the warmth of the wood bench that really grounds this room.
And come on, obviously, the deck is EVERYTHING. Who wouldn't want a beautiful balcony to have your own extension on your own private oasis? I feel like any parent would love having a little private balcony to escape to and read a book (if parents ever get time to do that? haha)
Light & Feminine Master Bedroom
This room is gorgeous. I feel like it gives off quite a bit of femininity but its beautiful. If I lived alone, I feel like all my rooms in my home would be girly and flirty... just like this one! I love the creams mixed with gold accents.. and that little pop of green floral fabric is everything!
Exotic Getaway Master Bedroom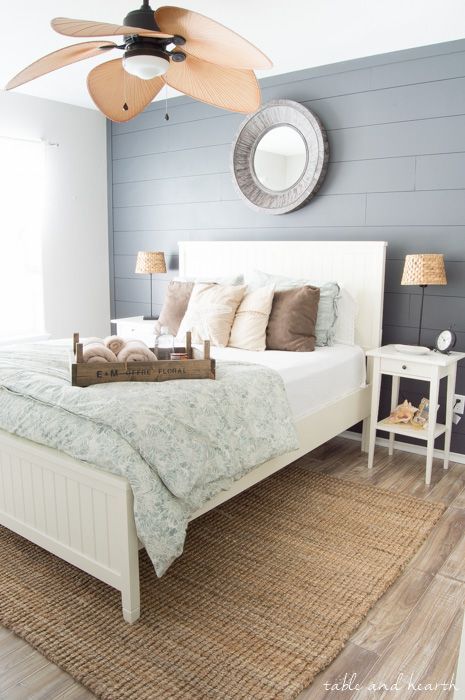 Now this accent wall is amazing. I'm always on the hunt for cute nursery ideas (because we are about that time in our life now that we are married to start trying to have a baby), and this wall has been one of my favourites for a little boys nursery. I love this grey/blue shiplap. It's so masculine but still gives a relaxed vibe with the shiplap.
Simple & Modern Master Bedroom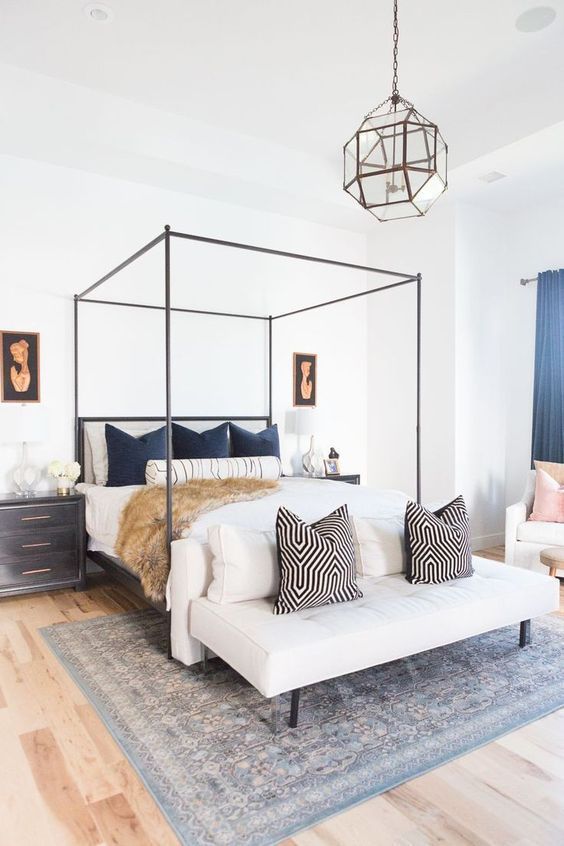 This white room really gives it its all with the decor. The bold pillows really bring interest into the room and shows that you can really make an all-white room exciting. The best part about having a white room with coloured decor is that when you get sick of the decor colour you can EASILY switch it out for your new favourite colour without having to do an entire REVAMP of your room.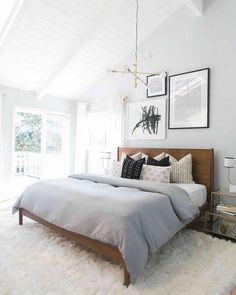 I hope you enjoyed these bedrooms as much as I did! Right now I am loving bright white bedrooms with hints of cool blues and SOME warm woods to really contrast everything in the room. I can not wait to start working on our guest bedroom.

SHOP THIS POST

BEST SELLERS