Keeping your house clean while you're a busy mom is impossible. It is. In fact, the 40-hour workweek and the expectation of having a social life, a new meal on the table three times a day, and a clean house only works if you have unpaid labor at home, aka a housewife. But not all of us have that luxury. So, what can we do? Here are some cleaning tips for a super busy mom who can't be cleaning all day.
Here are Cleaning Tips for a Busy Mom:
Put a Bowl or Basket in Your Landing Zone
Disclaimer: this post may contain affiliate links, and every purchase made through these links will give me a small commission (at absolutely no extra cost for you!) AS AN AMAZON ASSOCIATE AND REWARDSTYLE MEMBER, I EARN FROM QUALIFYING PURCHASES. See Privacy Policy for additional info.
How much time have you wasted in your life searching for your keys because you just set them down somewhere? It's something we're all guilty of. We come inside, set down our keys, the mail, and anything else we might have had in our hands because we're just so glad to be home to get our shoes off. But, if you've got a handful of junk mail it's just going to clutter up that spot. One way to get around this, and your lost keys, is to have a bowl or a basket in your landing zone, the spot where you and your family typically set things down when they get inside. The basket will stop these things from getting spread throughout the house.
Schedule 20 Minutes of Cleaning Each Day
As a busy mom, you're probably thinking to yourself "where am I going to find 20 minutes to clean?" And that is a perfectly fair question. The answer is…you make it. Maybe those 20 minutes are spent during all the commercial breaks of your favorite show. The important thing is to put it down in your schedule. If you aren't already scheduling your day then you should be! I live by the motto of "if it isn't on the schedule it doesn't exist." This even includes lunch. You will be amazed at how the time is just there if you put it in your schedule.
Give Your Kids a Cleaning Assignment
While you're cleaning your kids could be cleaning too! Give them a daily cleaning job that is age-appropriate. If they're old enough to walk, they're old enough to carry their toys to their bedroom or wipe off the dining table.
Never Leave a Room Empty-Handed
There is always something that needs to be put away, thrown away, put in the laundry, or put in the dishwasher. Never leave a room you're in empty-handed. It will mean less to clean up later.
Keep Your Tools on Hand
Keep all of your brooms and rags and other cleaning supplies easy to reach and easy to use. This will help you with the next two tips below.
Multitask
Are your kids the age where you're in the bathroom with them while they have a bath? This is a great time to get some cleaning done! Of course, you should play with them a bit and give them attention, but why not do two jobs at once? Multitasking is a great way to get cleaning done while you're doing something else.
Clean as You Go
The easiest example of cleaning as you go is in the kitchen. Take a few moments after each step to clean up after the one you just did. Are you waiting for water to boil? This is a good time to wash off the cutting board and knife you just used.
Have Dirty Dishes Go Straight into the Dishwasher
I'm always surprised when I see people still putting their dirty dishes in the sink. You're just creating an extra step for yourself. Get your family in the habit of putting dirty dishes straight into the dishwasher. Then when it gets full you just pop in some cleaner and start the dishes. Then once the dishes have cooled after they've been cleaned put them away immediately.
Do Laundry Every Day
Whoever invented laundry day has no idea what kind of a disservice they did for the world. Doing a load of laundry every day or every two days depending on your family's needs is so much easier! Put on a load of laundry while the kids are getting ready for school or even eating breakfast. You'll never go back to doing laundry all day again.
Give Your Kids Access to Fewer Toys at Once
Now, this one might be a little bit controversial but I promise you, once you try this you will never go back. Divide all of your child's toys, except for their favorites they love every day, into three or four plastic tubs. Make sure these tubs aren't clear and they are different colors.
Then only let them have one tub for two weeks or even a month before you swap tubs for another color. This actually has two benefits. The first is that there are fewer toys that need to be cleaned up. But the other is that they won't get bored with their toys as quickly, which means they won't want new ones as much. Yes! This is a cleaning tip and a money-saving tip too!
I recently came across Clean Mama blog and love all the great cleaning tips and printables she gives out! Make sure you check out her blog too 🙂
If you liked this post on cleaning tips check out my HOW TO CLEAN VINYL SIDING and KITCHEN HACK: ALL NATURAL MICROWAVE CLEANING blog posts too!!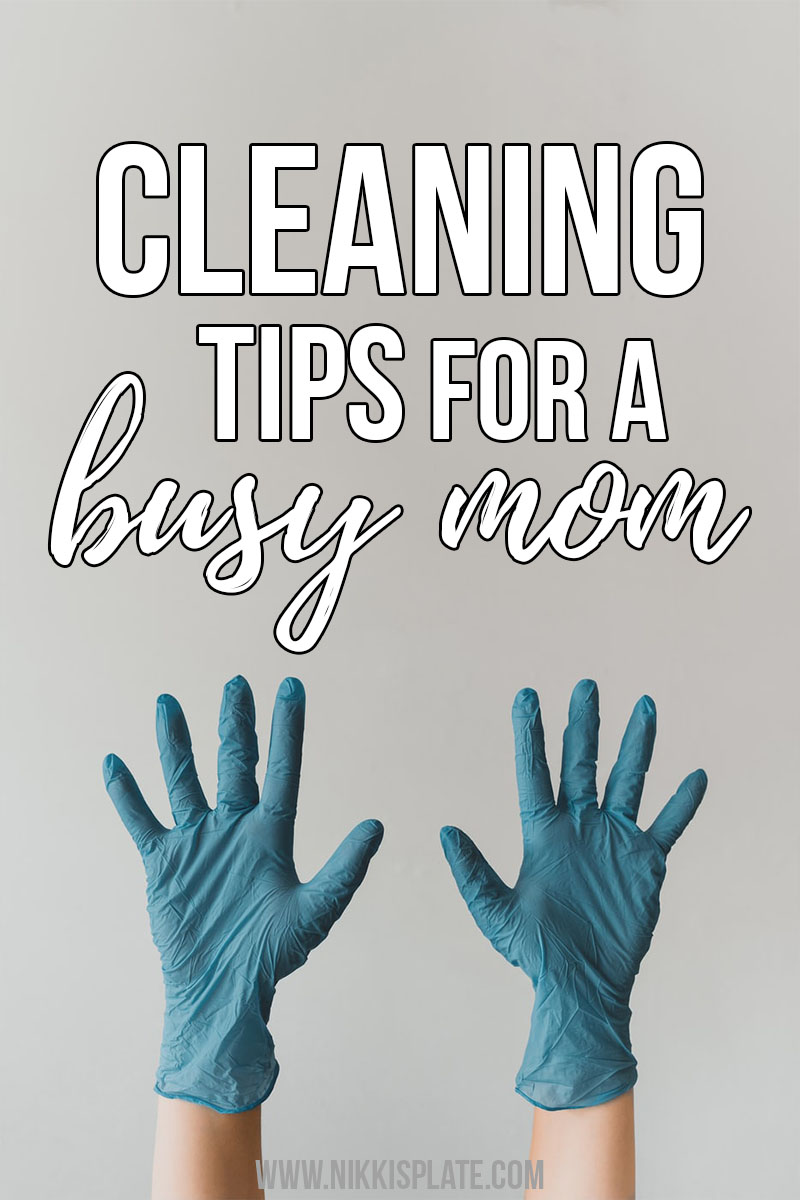 BEST SELLERS