Modern Farmhouse Design Must Haves; Here are some details that complete the farmhouse design with trends that are taking over!
Disclaimer: this post may contain affiliate links, and every purchase made through these links will give me a small commission (at absolutely no extra cost for you!) AS AN AMAZON ASSOCIATE AND REWARDSTYLE MEMBER, I EARN FROM QUALIFYING PURCHASES. See Privacy Policy for additional info.
Hi beauties!
Coming at you with some more beautiful modern farmhouse design ideas and inspiration! Why? Because I am just too obsessed not to constantly be sharing modern farmhouse design trends. So go ahead and hate on me if you are sick of modern farmhouses! haha
Anyways this post is all about the current trends that are required to complete your modern farmhouse look. Every detail together really completes the overall vibe of farmhouse designs.
So with that being said, lets jump into the things that you may want to consider adding to your house to complete that modern farmhouse design look!
Here are 10 Modern Farmhouse Design Must Haves:
<< Please note, none of these photos belong to me, please click photo or credit below to be redirected to the owner >>
Large Windows
You see so many beautiful large windows on modern farmhouses so I needed to make sure I added this as a must have. There are different trends with window colour as well such as black trim vs white trim but I would say the over all look can be achieved with either as long as large windows are added!
Buy Here: Hanging Light // Similar Rug // Similar Flooring
Porch or Front Sitting Area
Every family farmhouse seems to have a big from porch or front sitting area. I love seeing a beautiful porch on a modern farmhouse design. Swing or no swing, porches are definitely in! If you want to take it to the next level, a wrap around porch is even better!
Buy Here: Daybed Swing // Similar Rocking Chairs // Rug // Outdoor Pillows
Siding or Painted Brick
Most modern farmhouse designs have siding and/or a painted brick. I say most because SOME farmhouses can get away with a nice stone but usually they consist of siding or painted brick. Both are easy to maintain which is the main idea here! They last a long time and that is why a lot of old farmhouses still have these on their exterior today.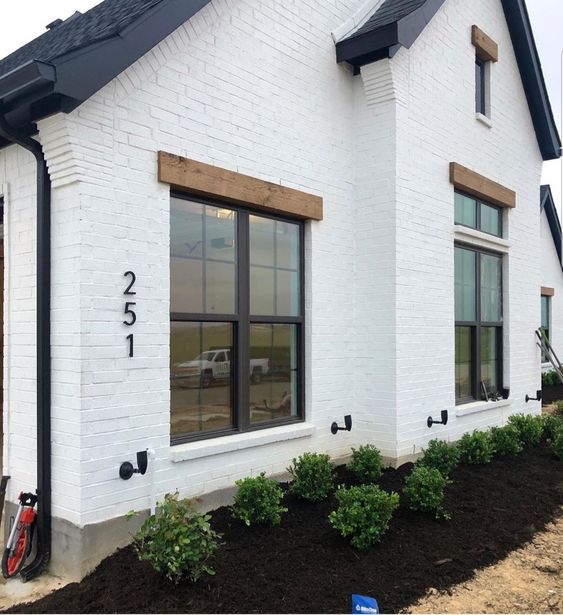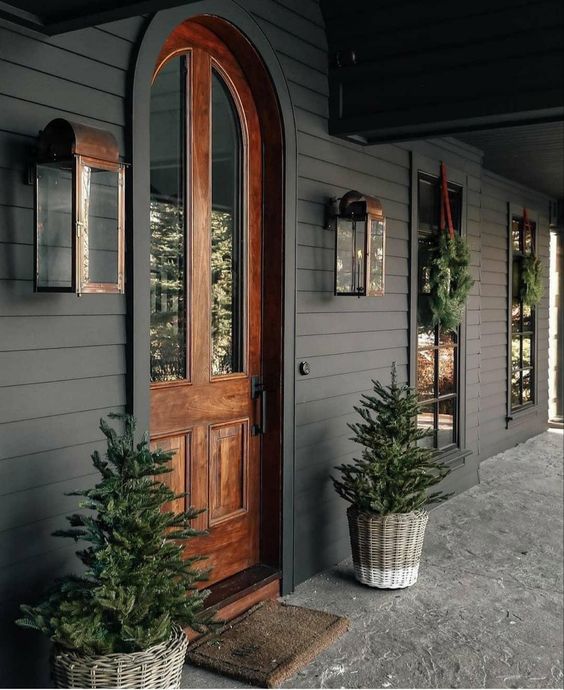 BUY HERE: Similar Wall Lanterns // Faux Cedar Trees // Welcome Mat // Similar Baskets
Gardens
You cant have a beautiful farmhouse without garden beds. Large gardens really add to the over all look of a farmhouse and make it feel more country, even in the city. Landscaping is a must have for your modern farmhouse design.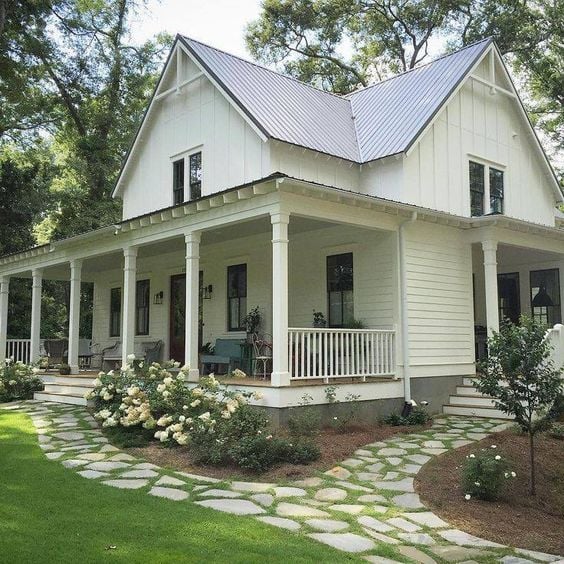 Porch Lighting
Every farmhouse has a dramatic porch light or scones as you first walk in. These beautiful lights can make or break your exterior and front entry way look. Adding a rustic or antique light may be the key to pulling your front entry way look together! Similar light here!

Natural Woods
Many modern farmhouses either go bright white or moody darks on the interior but ALL will incorporate some natural or rustic woods into the interior design look. Having woods bring warmth to the area and make it feel a little more country.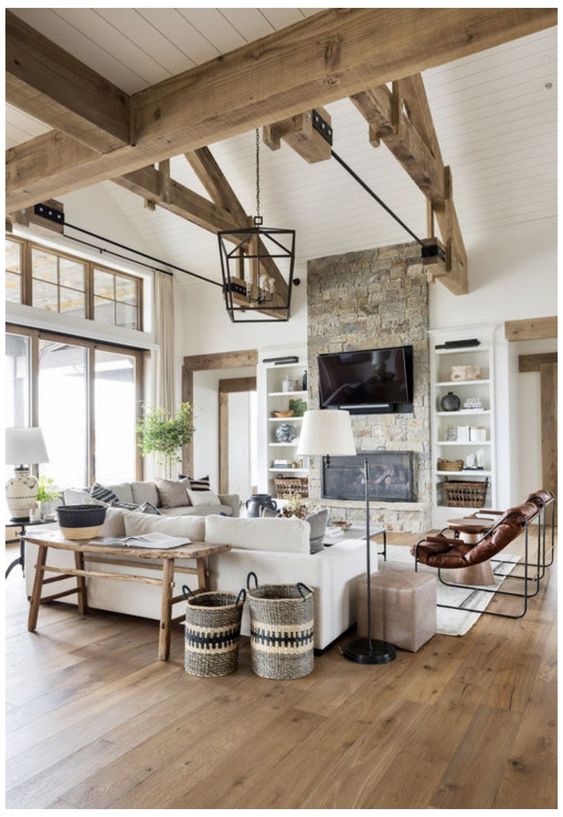 BUY HERE: Pendant Light // Similar Floor Lamp // Similar Leather Accent Chairs // Similar console table // Baskets
Antiques
Even though modern farmhouses are MODERN, they will always include a few antiques in the interior design. You can find antiques really anywhere nowadays. If you cant find antiques you can always purchase a few items or furniture that APPEARS to be antique but is actually new.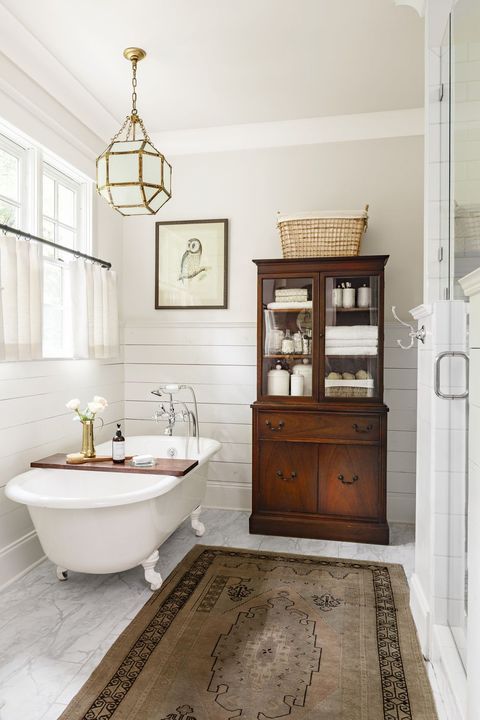 Shiplap
Not EVERY farmhouse needs shiplap but many many many do anyways. Thanks to Joanna Gaines from Fixer Upper, ship lap is a huge hit in the interior design world. So it wouldn't hurt to include it in a room or hall way to complete your farmhouse design look.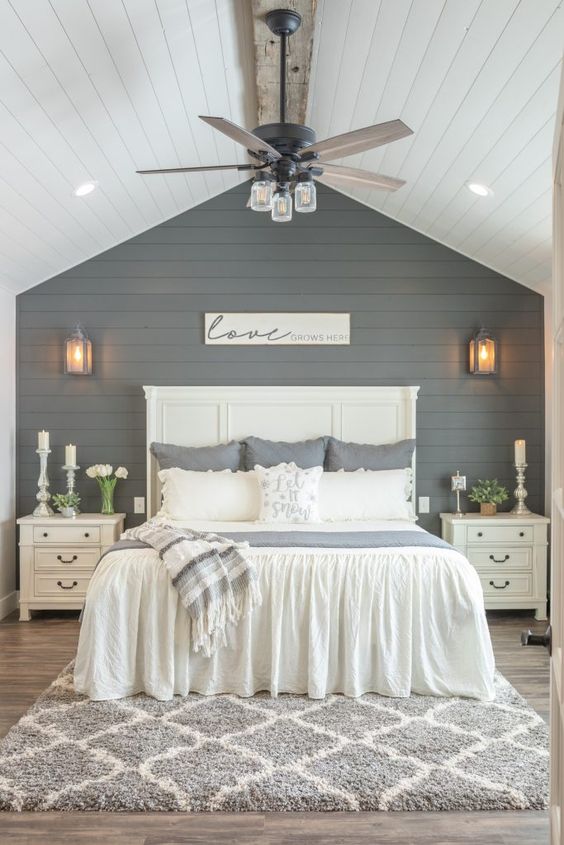 BUY HERE: Similar Nightstands and Here // Similar Bed Here and Here // Linens here // Love Grows Here Sign // Similar Rug Here
Rustic Details
Any rustic details can be added to the interior design of a home to really bring out that modern farmhouse design feel. Even if it is just added a rustic wood mantel on the fireplace or a old sign as a decor piece, rustic details can really give a room that country look.
Large Family Areas
EVERY farmhouse as large family gathering areas. So open concept or a large living room is a must for farmhouse interiors. Back in the day, farmhouses usually had large families living in them so they had grand areas where everyone would be together. So make sure you have that in your farmhouse to pull off that cozy family vibe!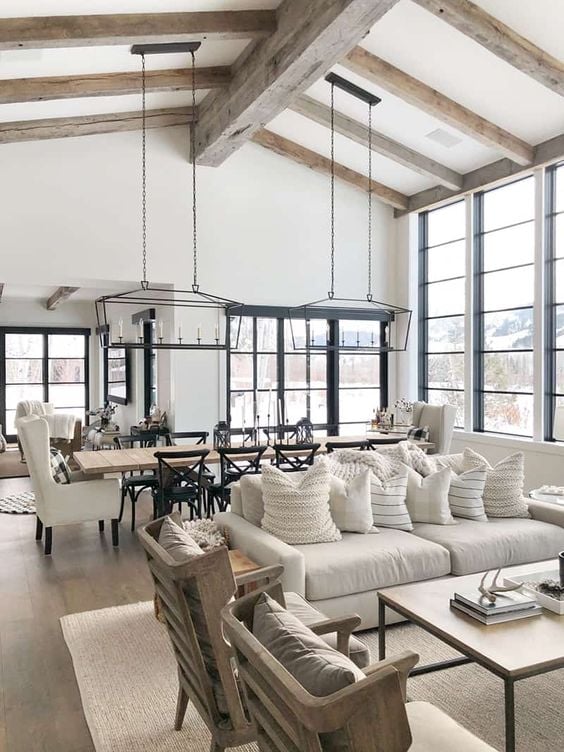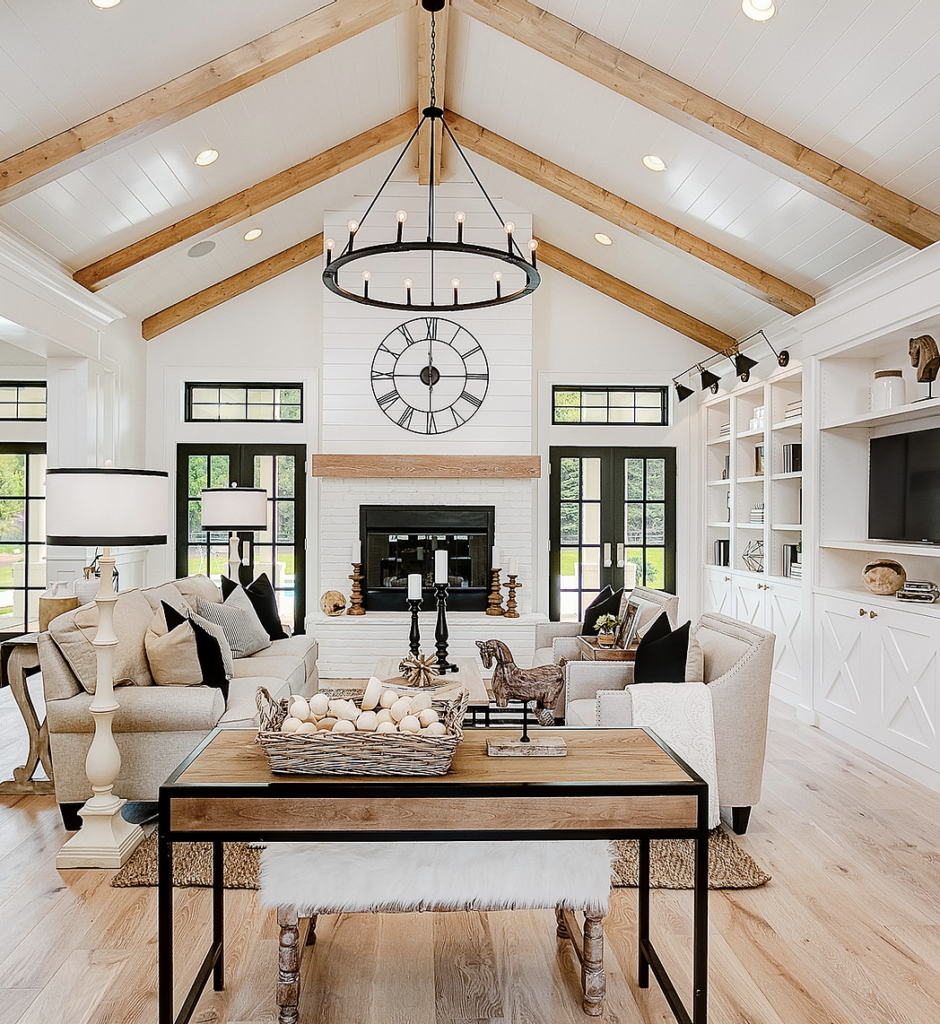 There you have it folks!
If you liked this post on modern farmhouses, you will also love these:
Until next time,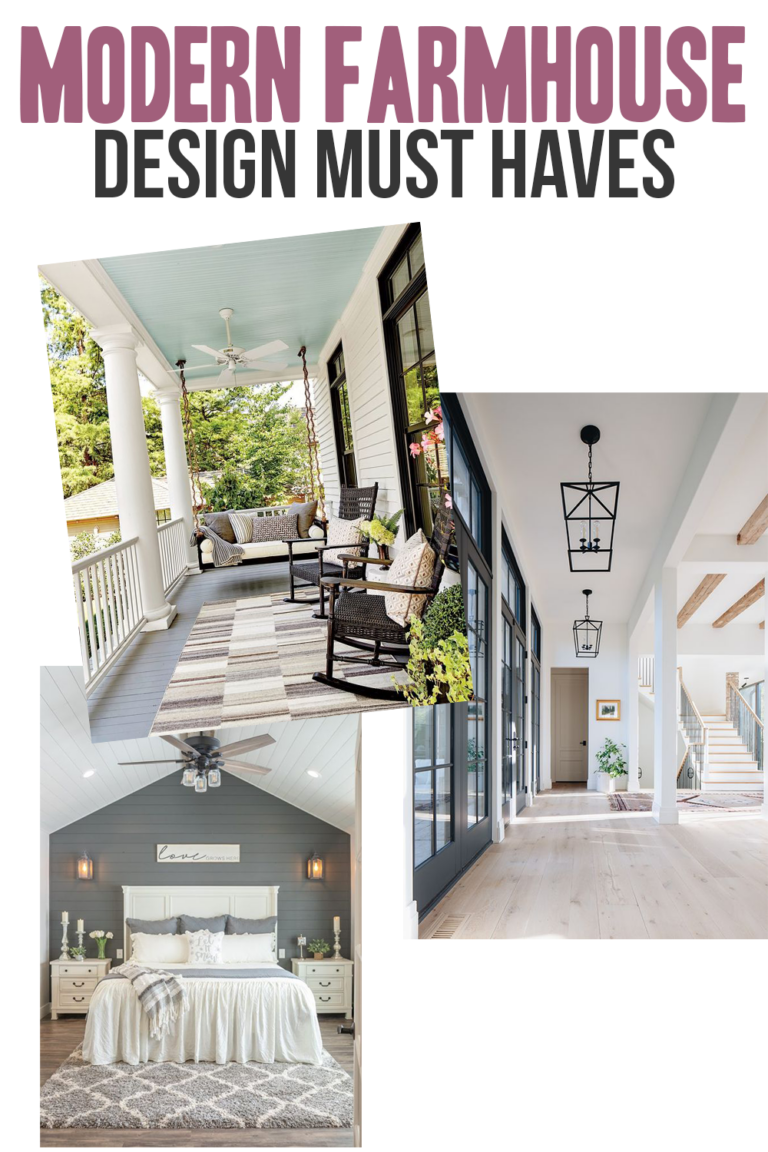 Modern Farmhouse Design Must Haves; Here are some details that complete the farmhouse design with trends that are taking over!
BEST SELLERS