My Second Natural Birth Story; Here is the birth story of my second born daughter, arriving 9 past her due date!
Disclaimer: this post may contain affiliate links, and every purchase made through these links will give me a small commission (at absolutely no extra cost for you!) AS AN AMAZON ASSOCIATE AND REWARDSTYLE MEMBER, I EARN FROM QUALIFYING PURCHASES. See Privacy Policy for additional info.
Hi beauties!
I am back here sharing my labour and delivery story of my recently born daughter. If you missed my last birth you can read about it here: My Natural Labour and Delivery Story. This labour and delivery was a lot different then my first, and I will get into that later in the post.
I wanted to write this post, for all of you curious how my labour and delivery went this time around, and for those looking to have a natural birth.
Our Daughter Lennon
Lennon was born April 1st at 8:44am at a massive 9lbs 12oz and oh boy did I feel that haha She is the sweetest baby and so far has been a great sleeper, breastfeeder and little sister! We are over the moon and so happy.
My Second Natural Birth Story
So a little back story on the weeks leading up to my labour.. It was a long road for sure. Lennon was born one week and two days past her due date. I tried all the old wives tales to put me into labour.. but nothing worked.
I started losing my mucous plug around week 36, but nothing came of that.
Around week 37 my blood pressure was going up a little bit and my midwives were starting to monitor me closely because of it. It wasn't high enough to talk induction but it was higher than my usual blood pressure. My usual blood pressure sat around 120/70 while pregnant but this week it went up to 130/80. For two weeks I monitored it at home, but once I hit 39 weeks, it went back down to my usual blood pressure and stayed around there... so no interventions were needed in the end! Thank goodness.
At 38+4 weeks I got my first membrane sweep, I was dilated 2cm at this point but, nothing came of it.
On March 29th (6 days after my due date), I drank half the Midwife Brew (as advised by my midwives) at 8am, I started having regular Braxton Hicks around 1:45pm with lots of tailbone pressure. They were coming and going every 4-5 minutes but not painful at all. Midwife came out to assess me and said it may be false labour as I was only dilated 3cm. By the next morning the 'contractions' were gone.
March 30th (7 days after my due date), I had a routine ultrasound to make sure baby was healthy and I had adequate amniotic fluid for baby to stay in a little longer. Everything looked great, baby was just super comfy in there! Later that afternoon I had my second membrane sweep, I was dilated to 4cm and my cervix was soft and thin!
The next day (March 31st), I had my bloody show all morning (overshare but you came to read this post so I am assuming you want all the details haha!). I just assumed it was from my membrane sweep but I was wrong.. labour was coming!!
The Start Of My Labour
Around 1:45am I started getting back aches, I didn't think it was labour because my back had been hurting for WEEKS and I was honestly exhausted of questioning every symptom for being the start of labour (I was 9 days past my due date at this point). So I got up, went to the bathroom and jumped back into bed.
As I laid there, I started noticing the pain was coming and going.. and didn't go away with me moving around... Oh boy was this it!?
I woke my husband up, "I think something is happening!".
I should mention here, due to my previous labour and delivery, my midwives wanted me to call them as soon as I thought labour was starting. I had a very fast labour last time (went from 3cm to 10cm in two hours and only pushed for 22 minutes) and I had a very scary hemorrhage which put me at a high risk for it happening again. Due to this history, we needed to make sure I got to the hospital right away.
So I got out of bed, called my mom, she needed to come to watch our daughter while we went to the hospital. We left for the hospital at 2:30am. At this point my contractions were mild, but coming every 6 minutes.
Arrived at the Hospital: 3:00am
They admitted me right away. My midwife was already there. She hooked me up to the monitor, which showed I was in active labour. She checked me and I was 4cm at this point. She put an IV in me and took some bloodwork. She said the emergency OB team was on stand by and reassured me I was safe and where I needed to be. I was relieved that I didn't have a car baby!
Broke my Water: 4:00am
Once we were all checked in, my midwife offered to break my water to get things going. I knew once my water broke, things would start getting intense but I also knew that this babe needed to come out at some point.. so I agreed.
She broke my water, which I barely felt. But.. there was meconium in my water. She told me it was perfectly normal for a baby this late over due to have meconium, but unfortunately, I would need to be hooked up to the monitor for my labour and I couldn't labour in the bath tub.. This made me sad but at this point I just wanted baby to be safe.
Getting Intense: 6:00 am
Around 6:00am, my contractions started to pick up and were around 3 min apart. I was 7cm dilated and my midwife called for her back up (there is always two midwives at a delivery). My midwife predicted that the baby would be born around 8am! At this point I had my hypnobirthing playlist on, and was enjoying my breaks between contractions.
At 7:20am my midwife checked me again because my contractions were basically on top of each other at this point. I needed to really focus to get through them and only had a little break between each one. My husband was feeding me ice cubes between contractions, and pushing on my lower back during contractions to help get me through (back labour sucks!). I was 9.5cm dilated.
BUT...
Trusting My Body: 8am
Once I changed positions my cervix closed back up a little bit and I went back to 7.5cm. I was very discouraged at this point but also knew my body just wasn't ready. I wasn't getting that pressure or urge to push yet...
My midwife suggested I try and go to the bathroom because I was given some IV fluid due to my high heart rate to hydrate me. As soon as I sat on the toilet, everything changed. I suddenly got this massive urge to push and knew this baby was coming. My husband opened the door and I grabbed on to him as I pushed. I obviously didn't want to have the baby there but couldn't stop my body.
My husband yelled "WE ARE PUSHING IN HERE!" and my midwife came running in and said we needed to get back to the bed right away.
Started Pushing: 8:20am
We got back to the bed and I did not want to lay on my back so I they put the bed into a position that allowed me to squat while I pushed. I couldn't stop the urge to push. My midwife said I was 9cm but she could push back the last cm to help the baby get through. My body was ready for this baby to come out and there was no stopping it at this point.
It took me 6 pushes to get her out. I definitely felt everything and struggled when she fully crowned. This big girl made it tough for her mama! ... also the ring of fire is no joke. OUCH.
Born at 8:44am
She came out at 8:44am! With such relief, she slid out and all my pain/contractions ended. I held her for at least 15 minutes before we realized that we didn't know the gender yet! It was so exciting to find out she was a girl. My entire pregnancy, I thought she was going to be a girl but everyone around me predicted a boy.
We held her for at least 30 minutes, looking into her beautiful face in disbelief that she was finally here. The back up midwife took her to be weighed and check her out.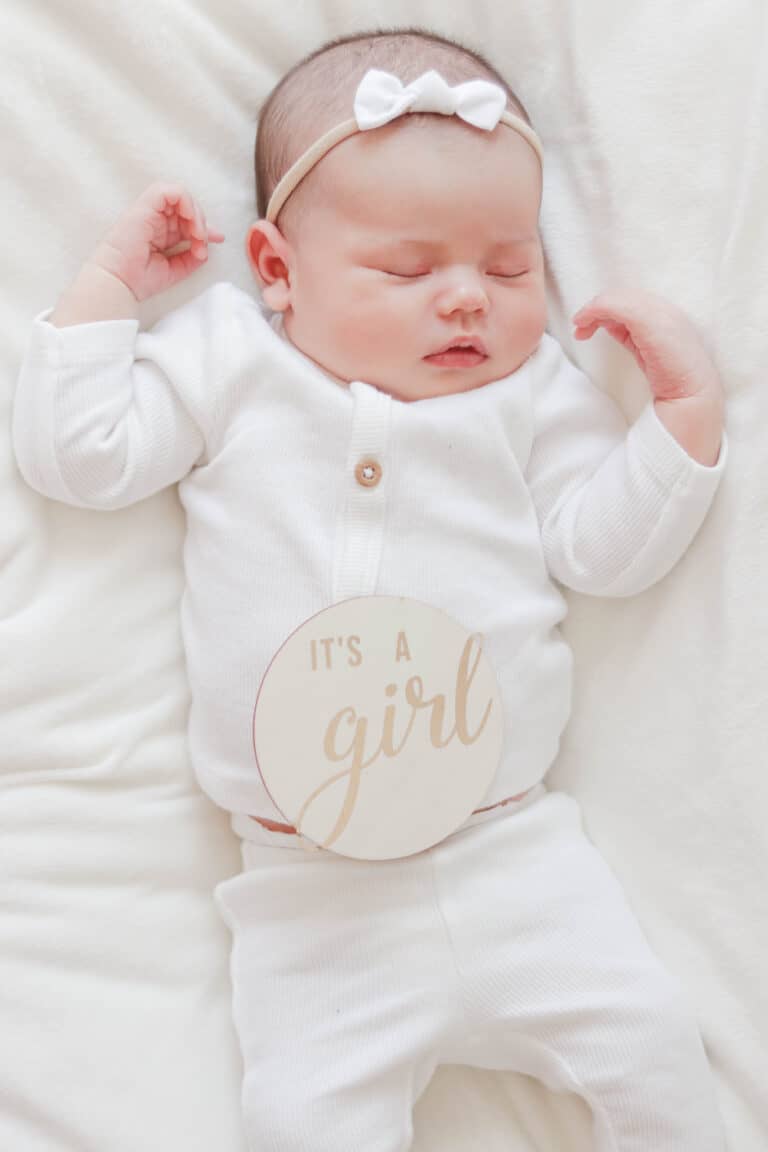 Everything That Happened After
Last time my placenta caused me to have a massive hemorrhage that resulted in a manual removal and several blood transfusions because I lost 2 litres of blood... needless to say, I was very scared for this part.
We decided to let me try to push my placenta out on my own rather then have my midwife pull the cord to initiate it. After a couple pushes, my placenta came out on its own and my bleeding was normal. I was so happy and in tears.. Not only was my baby here and healthy, but I also didn't have the scary ending I did last time.
Everything was perfect.
I look back on this labour and delivery, and I am in awe. It was such a better experience. Even though my baby was an entire pound bigger, it was an amazing journey that I would do over again in a heartbeat. We are so blessed.
---
My Second Natural Birth Story; Here is the birth story of my second born daughter, arriving 9 past her due date!
BEST SELLERS