When you think of Las Vegas, it's easy to imagine the bright lights, casinos and Elvis impersonators that make this vibrant city so iconic.
Disclaimer: this post may contain affiliate links, and every purchase made through these links will give me a small commission (at absolutely no extra cost for you!) AS AN AMAZON ASSOCIATE AND REWARDSTYLE MEMBER, I EARN FROM QUALIFYING PURCHASES. See Privacy Policy for additional info.
What you might not think of is a welcoming place to call home. Many people view Vegas as a city for visiting, not living in, but it's actually a great place to live for many reasons.
Over recent years, the city's real estate market has been incredibly competitive, but it has been rebalancing in 2023, so it's now a buyer's market rather than a seller's.
As such, now's the perfect time to start searching for a new home in Vegas. If you're not sold just yet, keep reading for more information on why you should buy a property in the city and what you should look out for.
There Are Many Types Of Property To Choose From
Thanks to its storied history and many outside influences, Las Vegas is home to many different types of property, so everyone can find the perfect home. Specialist Vegas estate agents The Robert Little Group offer a wide range of Vegas property listings, so you can see the full scale of how many different options there are. Some common property types available in the city include:
Single-Family Dwellings: One of the most popular property types in the city is the single-family dwelling, which is a detached home on its own lot. These homes offer the ultimate in privacy and security for residents.
Apartments: There are many apartment complexes in Vegas, particularly nearer the city centre.
Retirement Properties: Vegas is home to a variety of retirement communities, so it's the perfect location for a fun and engaging end to your career.
Condos: Whether traditional or high-rise, there are many condos available throughout Las Vegas that will suit almost any family or couple.
Luxury Homes: For those who love the finer things in life, and have the money to pay for them, there are many spectacular mansions throughout the city, so you can enjoy the high life in style.
Golf Course Properties: Golf is a popular sport in Vegas, and there are many properties located in golfing communities that offer great amenities.
Investment Potential Is High
With a steady stream of tourists and a growing population, Las Vegas has good investment potential for real estate. Property values may appreciate over time, providing a return on your investment. This tourism-driven economy creates opportunities for short-term rentals, such as vacation homes or properties listed on platforms like Airbnb.
Additionally, the city's steady job market and growing population create demand for long-term rentals. Investing in a property that can bring in a rental income can provide you with a steady cash flow and, potentially, help with your mortgage payments and other expenses. While property investment comes with risks, it can be worth it to get the returns you desire and diversify your investment portfolio.
The Tax Situation Is Great
The state of Nevada, of which Las Vegas is a part, has a great tax situation, particularly for individuals. For example, Nevada is one of the states that do not impose a state income tax. This can be a significant financial advantage, especially if you're coming from a state with a high income tax rate.
Also, the state does not have an estate tax, which can be ideal for older residents or those who are keen to plan for any eventuality. With these tax advantages, you can save money throughout your time living in Las Vegas and use it to make the most of this exciting city.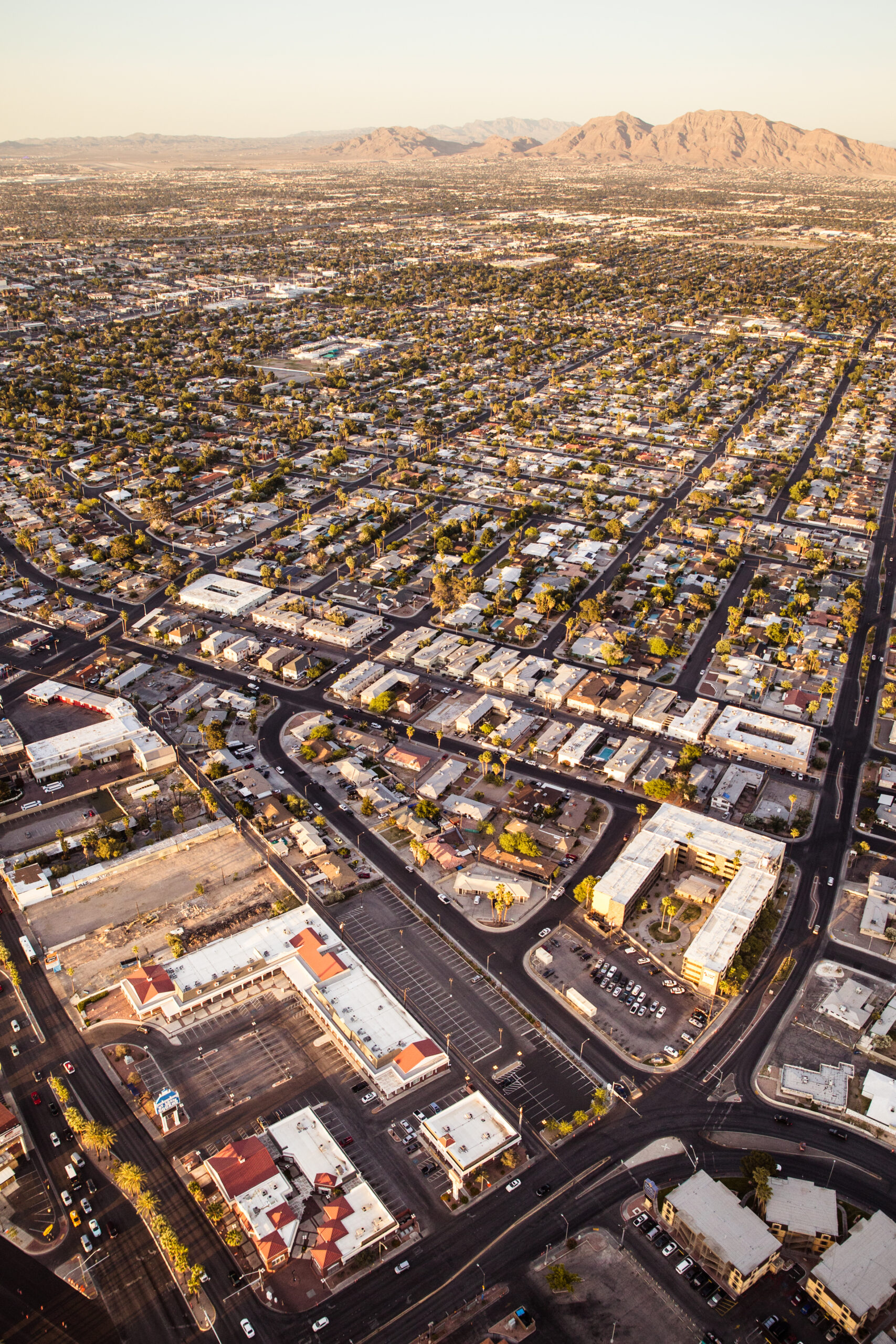 There's Plenty To See And Do In And Around Vegas
As you already know, Las Vegas is known for its world-class entertainment options, including shows, concerts, and sporting events. It's also home to many great casinos and other entertainment providers.
Additionally, the city is surrounded by natural attractions like Red Rock Canyon and Lake Mead, offering outdoor enthusiasts plenty of recreational opportunities. As such, there's something for all the family in this beautiful city, so you'll never be bored!
What To Look Out For When Buying A Property In Vegas
If you do decide to buy a home in Vegas, you need to make sure that you find the right one that suits your needs. Some of the key factors to consider include:
Location: Evaluate the neighborhood and its proximity to essential amenities like schools, hospitals, grocery stores, public transportation, and recreational facilities. Also, consider the distance to your workplace or other areas you frequent so you know that you've picked an area that suits your needs.
Property Condition: Assess the overall condition of the property. Look for any visible damage, structural issues, or signs of poor maintenance. It's a good idea to hire a professional home inspector to thoroughly inspect the property before making an offer.
HOA Rules And Fees: If the property is part of a homeowners association, review the rules and regulations to ensure they align with your lifestyle preferences. Additionally, understand the HOA fees and what they cover. HOA fees vary across Vegas, so you need to learn about the specific ones that apply to any property and what you get for them to see if they offer good value for money.
Potential For Future Growth: Choosing an up-and-coming neighborhood can be a great way to find somewhere unique and exciting to live. Look for areas with potential for future growth and development, as this can positively impact property values.
In Summary: The Future Looks Bright For Vegas Homebuyers
Ultimately, buying a home in Sin City or anywhere else in the country is an exciting experience. Las Vegas continues to see ongoing development and improvement in infrastructure, which can positively impact property values in certain areas.
New developments, transportation projects, and urban renewal initiatives can enhance the appeal of specific neighborhoods and lead to potential appreciation, so there are many reasons to consider buying a home in Sin City.
If you decide that Las Vegas is the place for you, then use this article as a starting point to help you to work out what you're looking for in a home in this vibrant and diverse city. You'll then be able to find the perfect property that suits your needs and become a member of this inclusive and fun community.
BEST SELLERS