Signs You Should Be Eating More Protein; Here are 10 signs and symptoms that your body isn't getting enough protein through your diet.
Disclaimer: this post may contain affiliate links, and every purchase made through these links will give me a small commission (at absolutely no extra cost for you!) AS AN AMAZON ASSOCIATE AND REWARDSTYLE MEMBER, I EARN FROM QUALIFYING PURCHASES. See Privacy Policy for additional info.
<<This is a guest post by Coach Alisa Weaver. See bio below!>>
A diet loaded with protein is good for your health. It saves you from protein deficiency diseases, and will improve the quality of sleep. Also, it reduces pangs of hunger and you feel less tired. It eliminates swellings and makes the body energetic.
You Should Eat More Protein if You Have One of These Symptoms
Although there is plenty of information on why people should eat more protein and fewer carbohydrates, protein deficiency remains a persistent problem. Protein is an important macronutrient for building muscles, hair, and nail growth and stabilizing blood sugar.
Also, protein helps to curb hunger and plays a vital role, and is one of the nutrients believed to be the best pre workout for women. Thus the best practice is to include 20 grams of protein in each meal. It will keep you satisfied and provide you with the energy you need for your daily activities.
But for some reason, a number of people suffer from protein deficiency. Consequently, it results in health issues and problems. Here are symptoms and signs of protein deficiency.
This post is all about Signs You Should Be Eating More Protein
1. Not having enough sleep
You need plenty of amino acids, especially Tryptophan, which is readily found in turkey breast. It is critical in serotonin production, a hormone that is converted into melatonin, which regulates sleep. Lack of the hormone from protein deficiency diseases results in poor quality sleep. So, you need to eat plenty of protein that improves the production of serotonin, which is necessary for better sleep.
2. Swelling
Edema is some form of swelling that is associated with a deficiency in protein. The symptoms include swelling in the feet, hands, abdomen, and legs. Protein helps in stopping fluids from building up in the tissue. So, if the body is not getting enough protein, it allows the fluid to build up in tissues resulting in swellings. In the event of severe deficiency, the victim is likely to experience fluid accumulation. Fortunately, eating plenty of protein will produce albumin, which helps to prevent liquids from accumulating in the body.
3. Losing muscles fast
If you are visiting the gym but cannot see the results, you need to go for a protein deficiency test. This is because it may be caused by a number of factors, including a deficiency in protein. Also, if you visit the gym but discover that you take too long to recover, it is a sign that your protein intake is low. Protein is an essential nutrient in repairing and building the muscles. So, when you visit the gym to work out the muscles, it wears them out and results in muscle wasting and loss.
Also, if you are working out and don't eat enough protein, the protein that is supposed to be used to repair and build the muscles is used to supply tissues and the strength you need during the workout.
4. Mood swings
The brain uses neurotransmitters to transmit vital information between cells. The body needs amino acids to make neurotransmitters. Therefore, lacking the protein makes it difficult for the body to build blocks making it unable to produce the neurotransmitters, thus changing the way the brain works. Further low levels of serotonin dopamine may make people get overly aggressive and depressed. It is the main cause of protein deficiency life expectancy issues.
5. Skin, problems, nails, and hair
The hair, skin and nails are made of proteins referred to as keratin. Therefore, you need to eat enough protein to avail yourself enough keratin to maintain healthy nails, skin, and hair. Also, collagen is an important nutrient produced when you eat certain types of protein. It relies on glycine, lysine, and praline.
These are amino acids from foods rich in protein. That is why your body must consist of plenty of protein such as keratin, collagen, and elastin. When the body is unable to make these proteins, it results in deep ridges and flaky and dry skin.
6. Fatigue and feeling weak
If you feel fatigued and weak, it could be a sign that you do not eat enough protein, which is affecting the muscles responsible for movement and posture. This is particularly common to folks above the age of 55. With time, protein deficiency leads to mass wasting and could compromise stability, which could slow down metabolism.
Further, it makes one feel extremely fatigued when the cells do not get enough supply of oxygen.
7. When you feel Hungry
Protein is important in fueling the body. It compliments fats and carbs, so eating plenty of protein can help you feel fuller and provide the energy needed to fuel the body. Eating plenty of protein helps the body feel energized and reduces pangs of hunger.
So, if you realize that you feel hungry shortly after eating, you may need to add more protein to your menu. It takes the body longer to break it down, meaning that you will feel fuller for a longer time.
8. It takes longer for injuries to heal
When you eat plenty of protein, injuries take a shorter time to heal. In contrast, if you are low on protein, scraps, and sprain will take long before they heal. The explanation is that the body requires protein to make collagen required to help in the blood clot. Also, protein is required to make blood clot.
9. Speeds up healing when sick
Amino acids are vital in enabling the immune system to produce antibodies which activate the white blood cells to combat toxins, bacteria, and viruses. Also, protein helps to speed up digestion and absorption of other nutrients. This is vital in ensuring that you remain healthy.
Also, eating plenty of protein helps to improve the level of good bacteria in the gut. These bacteria are critical in fighting any protein deficiency disease that may invade you.
10. Food Craving
Although it is normal to experience food cravings, random, distracting, and intense cravings could be the effects of protein deficiency and is a sign that your diet is missing an important nutrient. Lack of satisfaction or craving for food after eating is a clear indication that you need to eat more protein. Notice that protein and carbohydrates are essential in making hormones and neurotransmitters that make one feel satisfied.
Of course, there are many other protein deficiency symptoms in adults. However, we need to understand what is the result of a dietary protein deficiency? Lack of energy and diseases that don't heal quickly and feeling tired are on the top of the list.
Feel free to share your comments on any protein deficiency cause that may necessitate you to eat more protein.
Author's bio:
Hey everyone, it's Coach Alisa Weaver 🙂
Teaching and coaching is my passion and career choice. I find great satisfaction to see others achieve their goals, whether it is recovery from injury or surgery, strengthening the body for competition, or just becoming fit.
I think that anyone can improve their fitness level no matter what their physical condition may be. By pushing yourself, discipline, not giving up together we can make your goals happen.
If you liked this post you will love these too: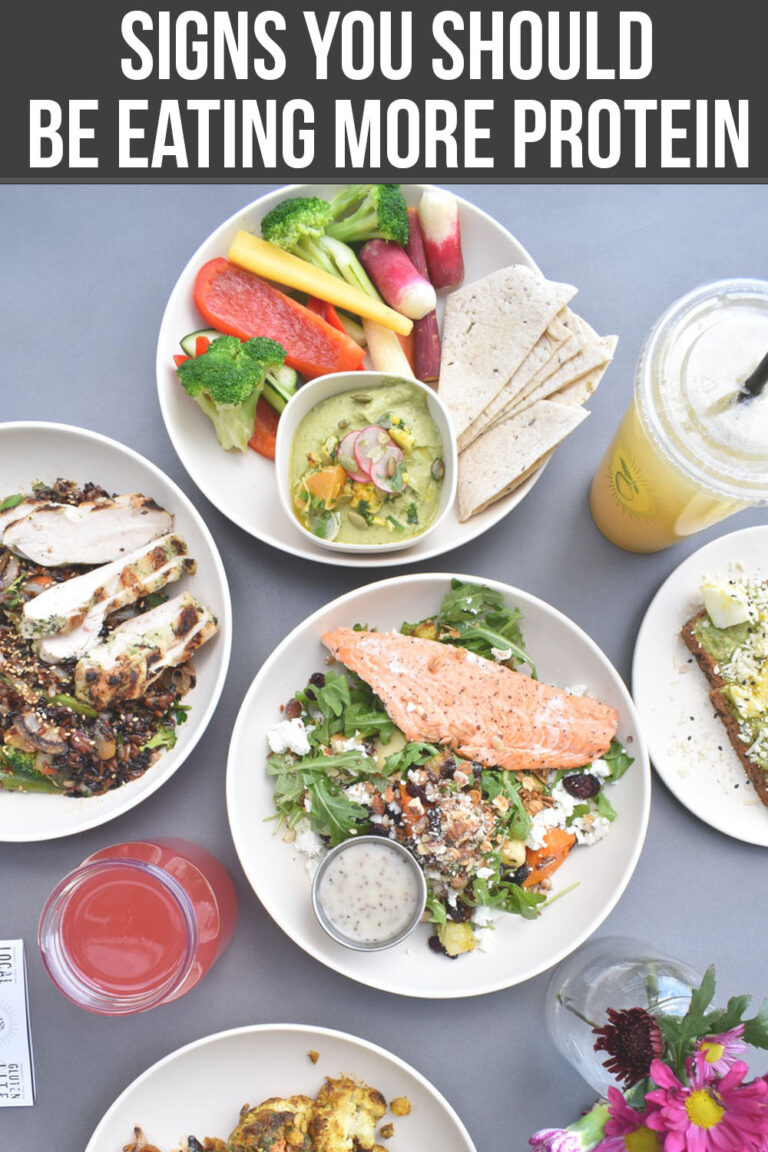 Signs You Should Be Eating More Protein; Here are 10 signs and symptoms that your body isn't getting enough protein through your diet.
BEST SELLERS