11 Beautiful Modern Farmhouse Exteriors; here are several country farmhouses that are sleek with character and rustic charm.
Disclaimer: this post may contain affiliate links, and every purchase made through these links will give me a small commission (at absolutely no extra cost for you!) AS AN AMAZON ASSOCIATE AND REWARDSTYLE MEMBER, I EARN FROM QUALIFYING PURCHASES. See Privacy Policy for additional info.
Hi beauties!
Looking for some modern farmhouse inspiration? You have come to the right post! But I will warn you, this post is loaded with white charming homes that you might not be able to forget.
If you're a fan of the charming and timeless appeal of farmhouse style, but also appreciate a touch of modern design, then you're in for a treat. In this article, we have curated a collection of stunning exteriors that perfectly blend the best of both worlds - the warm and inviting elements of a farmhouse aesthetic mixed with sleek contemporary elements.
From rustic barn exteriors to chic black window frames, join us as we take a virtual tour of these breathtaking homes that capture the essence of modern farmhouse living. Take a look below for all the beautiful modern farmhouse exterior inspiration! I hope you find exactly what you are looking for! This post is all about beautiful modern farmhouse exteriors! Let's dive in!!
Here are 11 Beautiful Modern Farmhouse Exteriors:
Farmhouse style architecture has been popular for generations. It has been an icon of rural American life. However, modern times call for modern solutions. The modern farmhouse style, blooming in popularity, provides the perfect balance between classic and contemporary. The modern farmhouse style is a timeless aesthetic that melds charming old-world elements with sleek modern design.
One of the most striking features of modern farmhouses is their exterior, featuring a combination of materials such as wood, brick, and stone, to give it a rustic appearance. The modern farmhouse exterior makes a statement with its clean lines, bold colors, and eye-catching details. In this blog post, we will look at eleven beautiful modern farmhouse exteriors that bring a new perspective to the farmhouse style.
<<None of these photos belong to me. Please click the photo or title to be redirected to their owners>>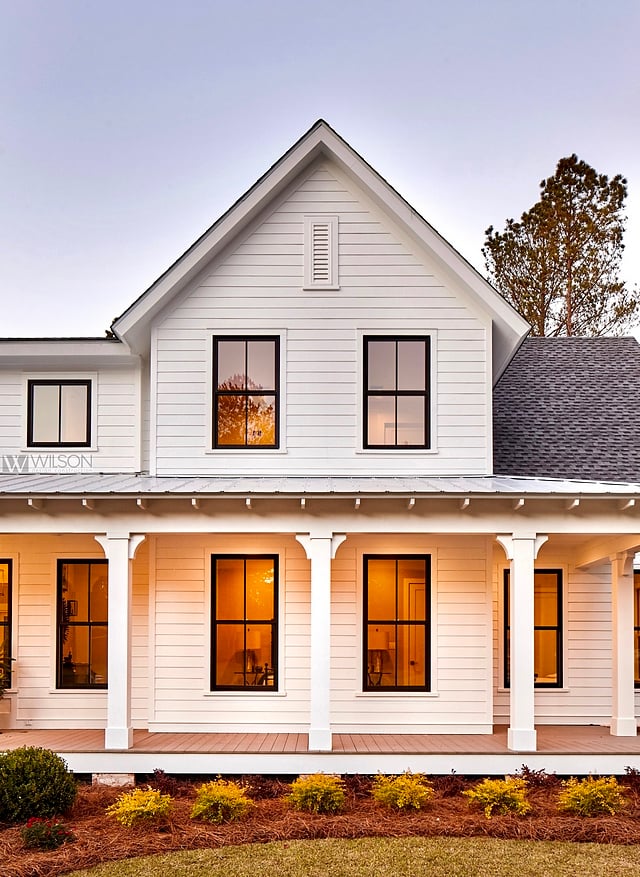 Designed and built by Todd Wilson of Wilson Design & Construction, Inc., this gorgeous white modern farmhouse is one that needed to be showcase in this post! You can tour the entire house here! The classic white farmhouse with its metal roof, wrapped porch, and black window boxes is the epitome of modern farmhouse style.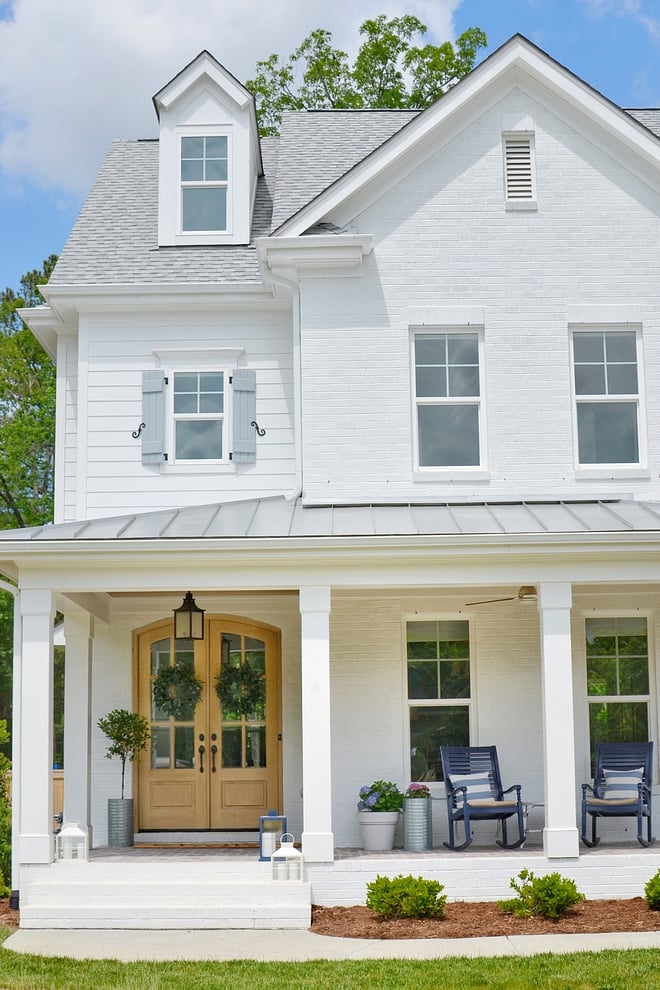 Imagine combining the cozy charm of a farmhouse with the refreshing vibes of a coastal retreat. The result? The coastal modern farmhouse—a unique style that seamlessly blends the rustic appeal of a farmhouse with the breezy and relaxed atmosphere of coastal living. In this blog post, we will explore the beauty of coastal modern farmhouse exteriors that capture the essence of both worlds. You can see the full house tour here! Thank you Chrissy for staring your beautiful home with us!! Similar rocking chairs, similar side table, front porch lantern, hello doormat, and cute planters.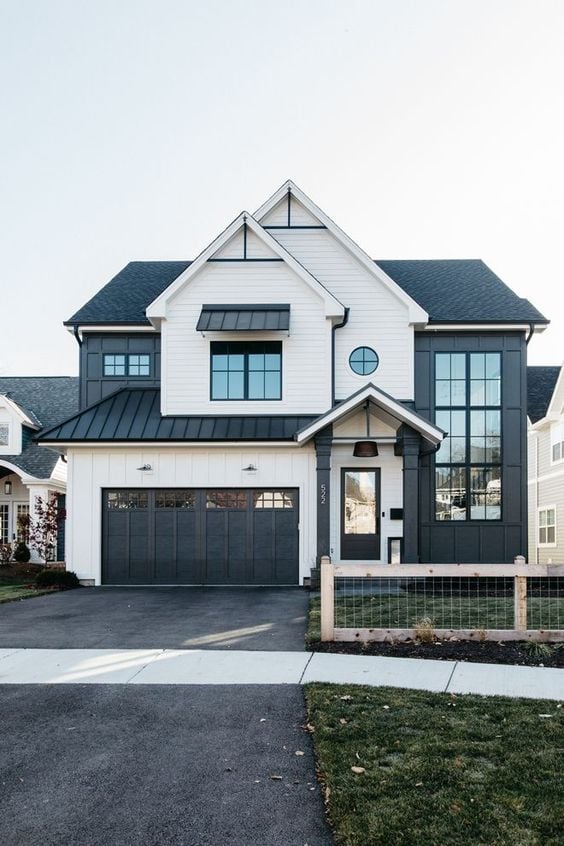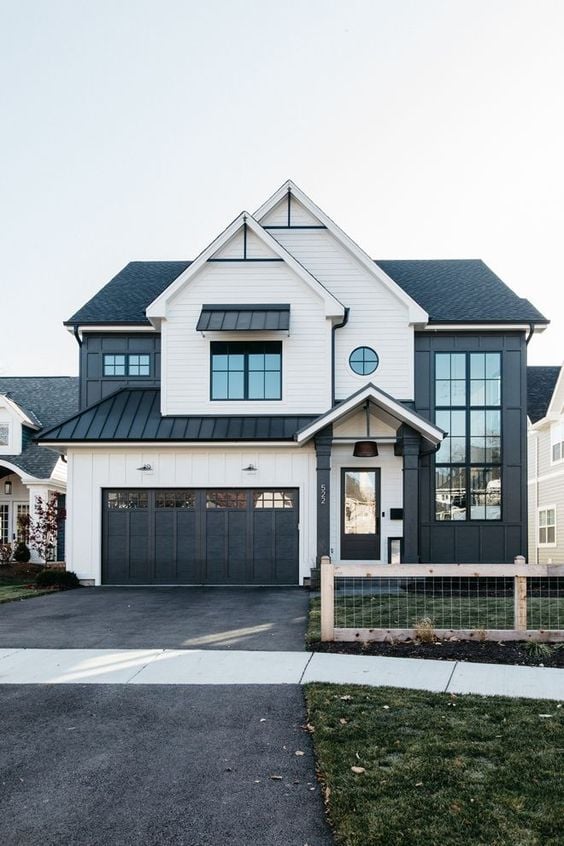 This gorgeous modern farmhouse decided to go both moody and airy with the mix of black and white siding! This gorgeous modern farmhouse boasts a beautiful black and white exterior with a combination of modern and traditional elements. The white wood siding and black window frames create a striking contrast, perfectly balanced by the home's warm, wooden accents.
Related: TOP 10 FARMHOUSE EXTERIORS YOU NEED TO SEE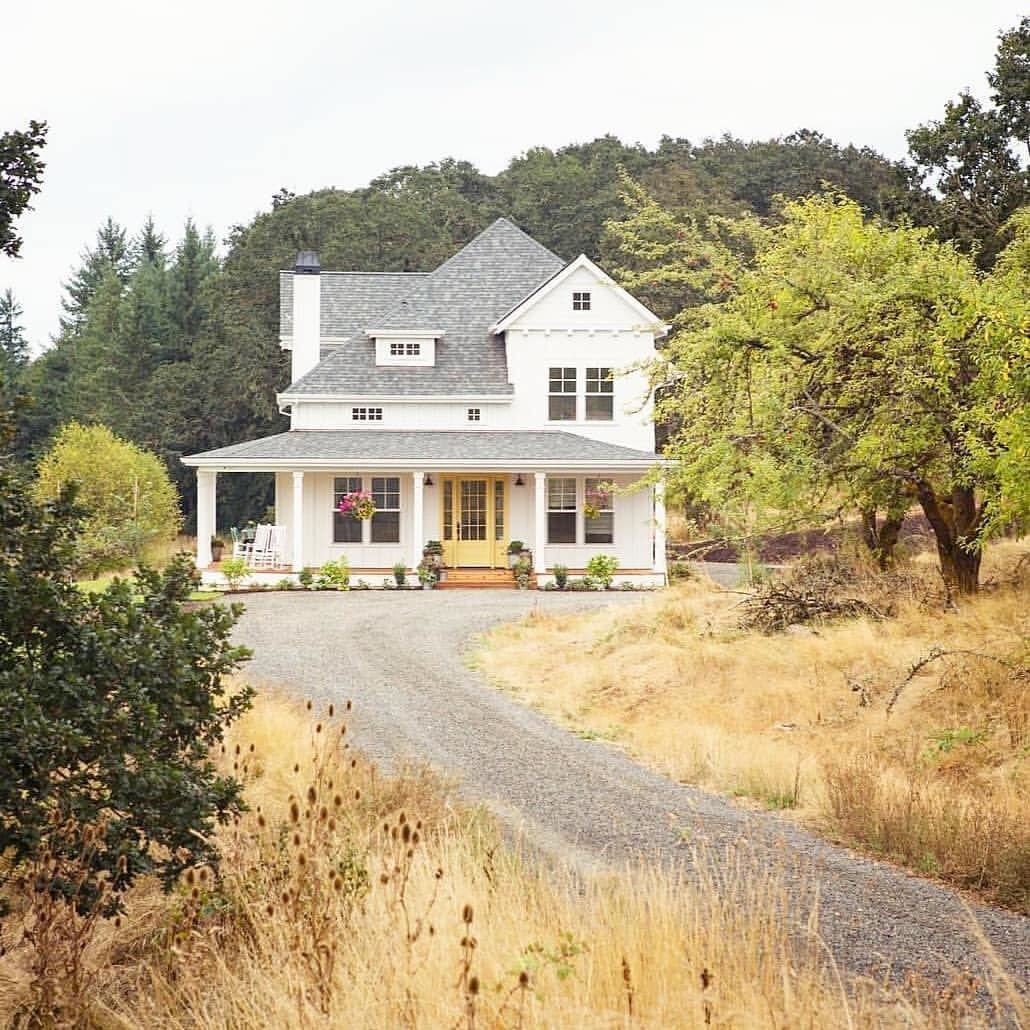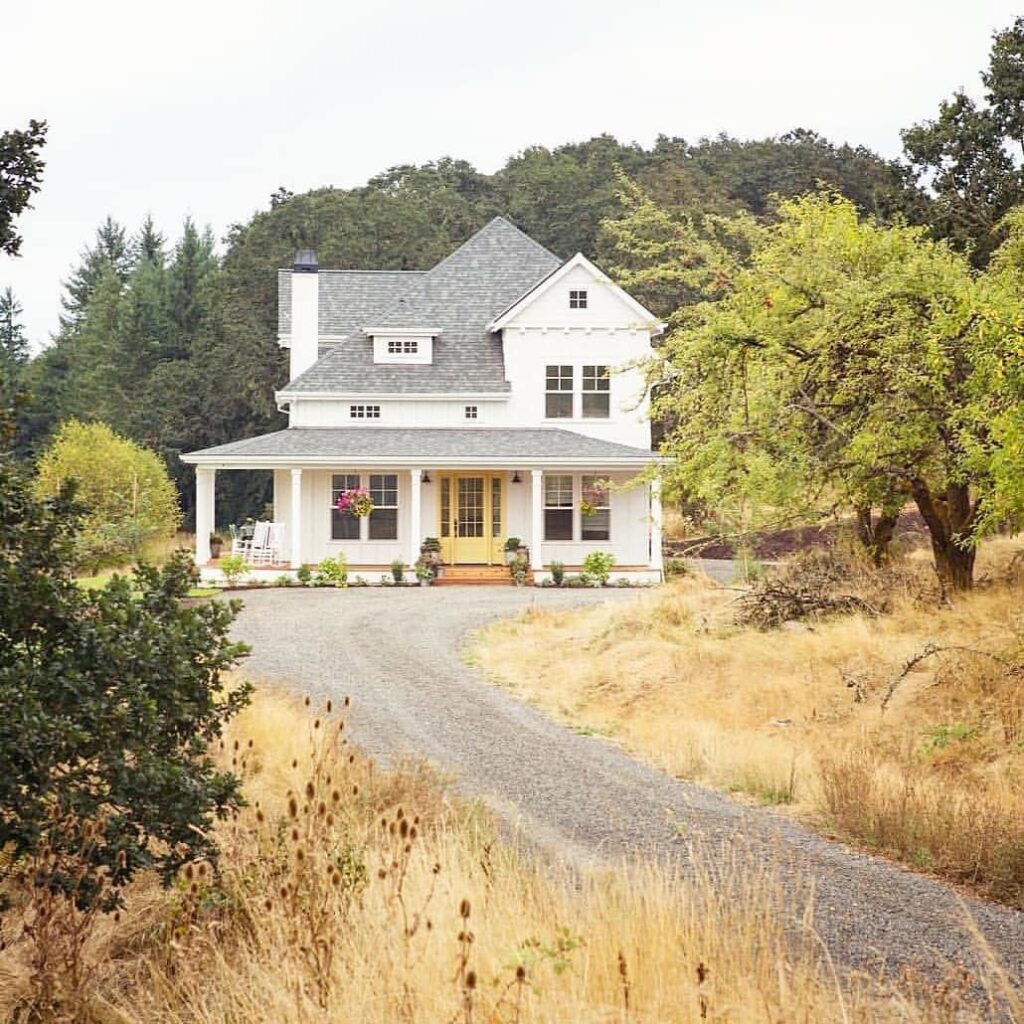 This is what farmhouse dreams are made of! This elegant farmhouse boasts character and old home charm. It showcases a charming traditional farmhouse with a welcoming yellow front door that adds a pop of color to the classic white siding. The grey roof complements the overall color scheme, creating a harmonious and timeless look. The farmhouse exudes a sense of warmth and nostalgia, inviting visitors to step inside and experience the idyllic rural lifestyle. The perfect farmhouse exterior design!
Related: 11 BEST HOUSE EXTERIOR RENOVATIONS BY JOANNA GAINES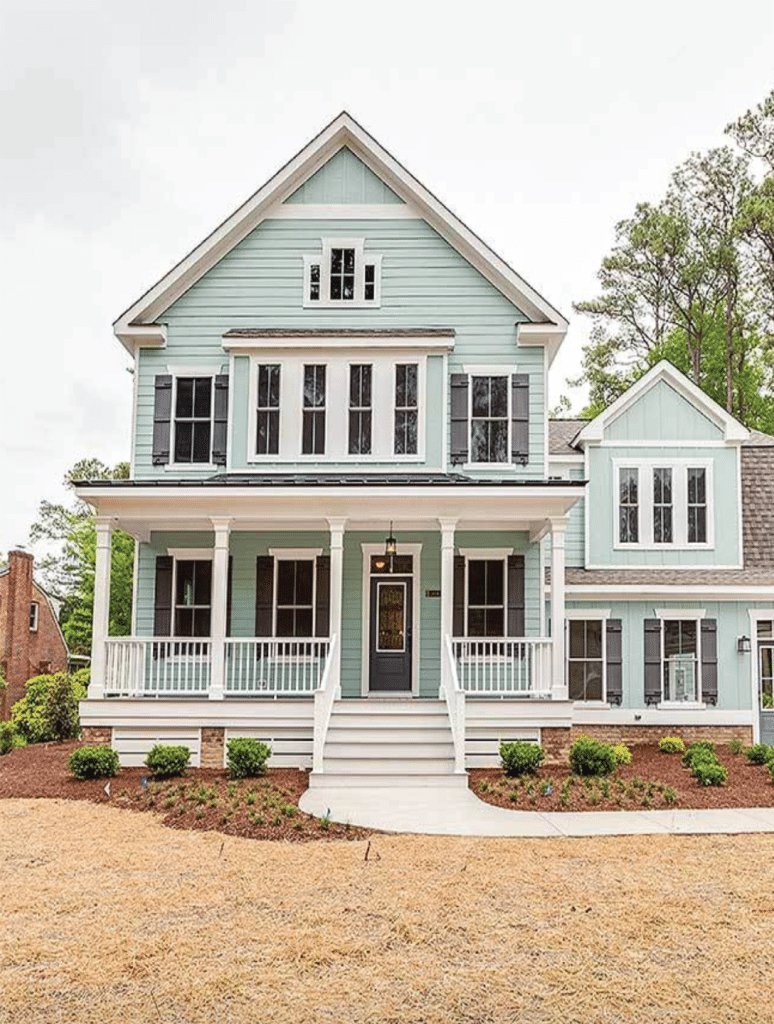 I never thought a mint green exterior on a farmhouse would look good but this house truly pulls it off! A traditional farmhouse steals the spotlight here with its stunning mint-colored siding, which creates a fresh and inviting atmosphere. The dark grey shutters beautifully contrast with the pastel hue, adding a touch of sophistication to the exterior. The standout feature of this farmhouse is its charming front porch, beckoning guests to relax and enjoy the idyllic surroundings. With its perfect blend of colors and classic architectural elements, this farmhouse portrays a timeless and picturesque charm that captures the essence of country living. You can actually view the entire floor plan on the architectural designs website!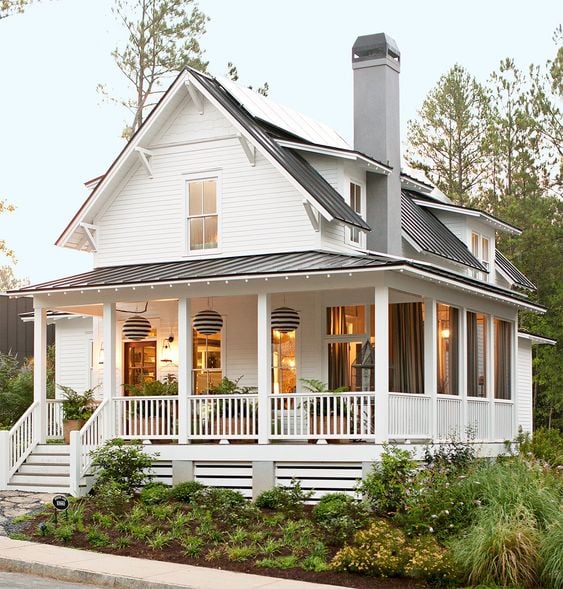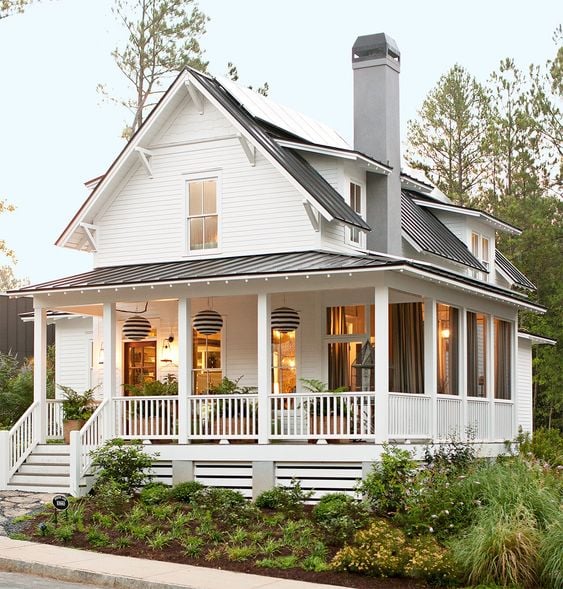 This cute little farmhouse has a mix of rustic farmhouse and cottage vibes. The wrap around porch is something every house should have! The pristine white siding instantly catches the eye, giving the home a clean and classic appearance. The owners have paid meticulous attention to landscaping, resulting in a beautifully manicured yard that adds to the curb appeal of the property. The standout feature of this farmhouse is the large porch, providing a welcoming and inviting space to relax and enjoy the surroundings. I found this beautiful photo on BHG blog, photo credited to Robert Brinson!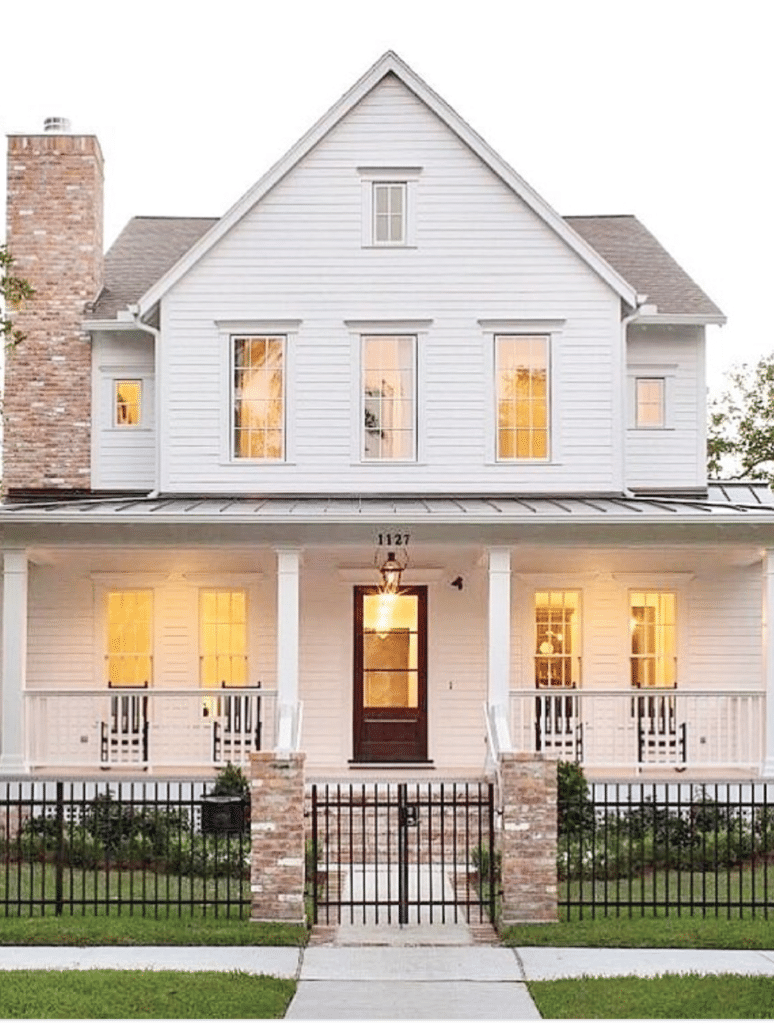 I didn't know how else to describe this house other then perfectly symmetrical! This is something about a symmetrical exterior that is just so calming! The symmetrical home design adds a sense of balance and harmony to the exterior. The white siding creates a clean and polished look, while the traditional architectural elements, such as a gable roof and dormer windows, add character and charm to the home. The attention to detail is evident in the carefully selected decorations and landscaping, enhancing the overall appeal of the farmhouse. With its timeless design and balanced symmetry, this white farmhouse is a captivating representation of classic style and refined beauty. I am definitely a fan of this little white farmhouse! Design by Aspire.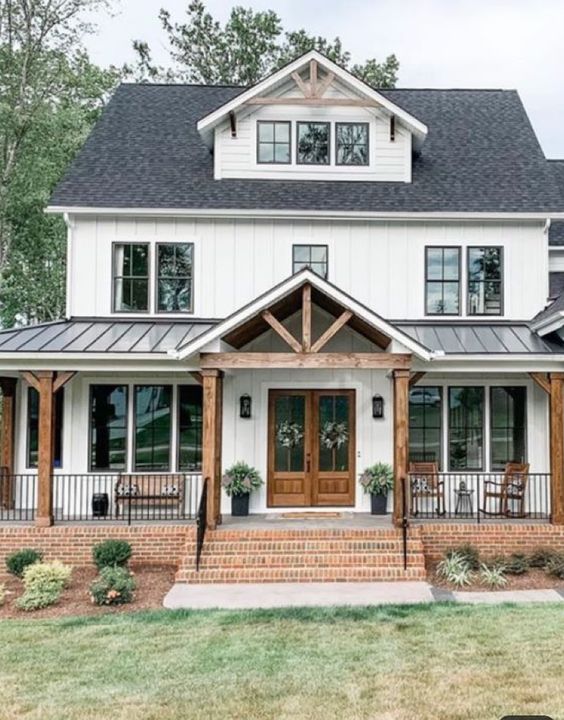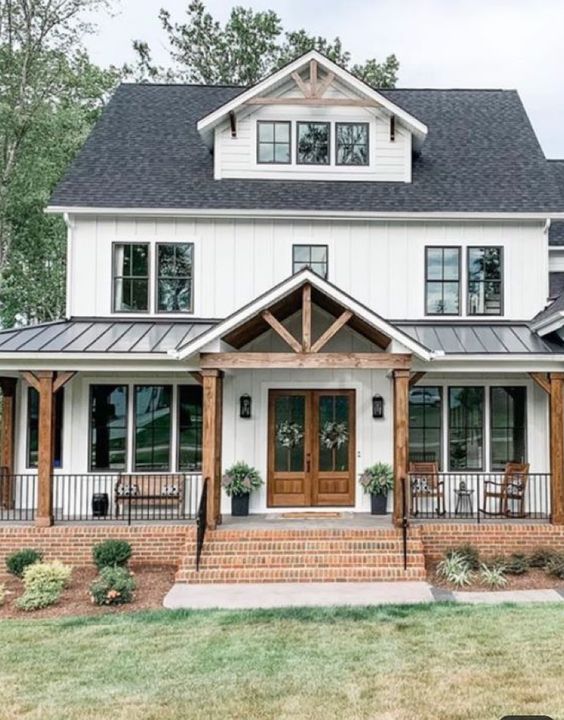 The source of this beautiful farmhouse is unknown but I just couldn't resist sharing it with you all in this post! The wood beams add so much rustic character and make the home feel warm and inviting. Also those little rocking chairs are making my heart melt! The natural and warm tones of the wooden beams add a touch of rustic charm to the exterior, contrasting beautifully with the clean white siding. This combination of elements creates a visually appealing and inviting facade. The farmhouse boasts a harmonious blend of traditional and country-inspired architectural features, reflecting a genuine sense of authenticity. With its rustic wood beams and white batten siding, this farmhouse embodies a perfect balance between natural beauty and timeless style.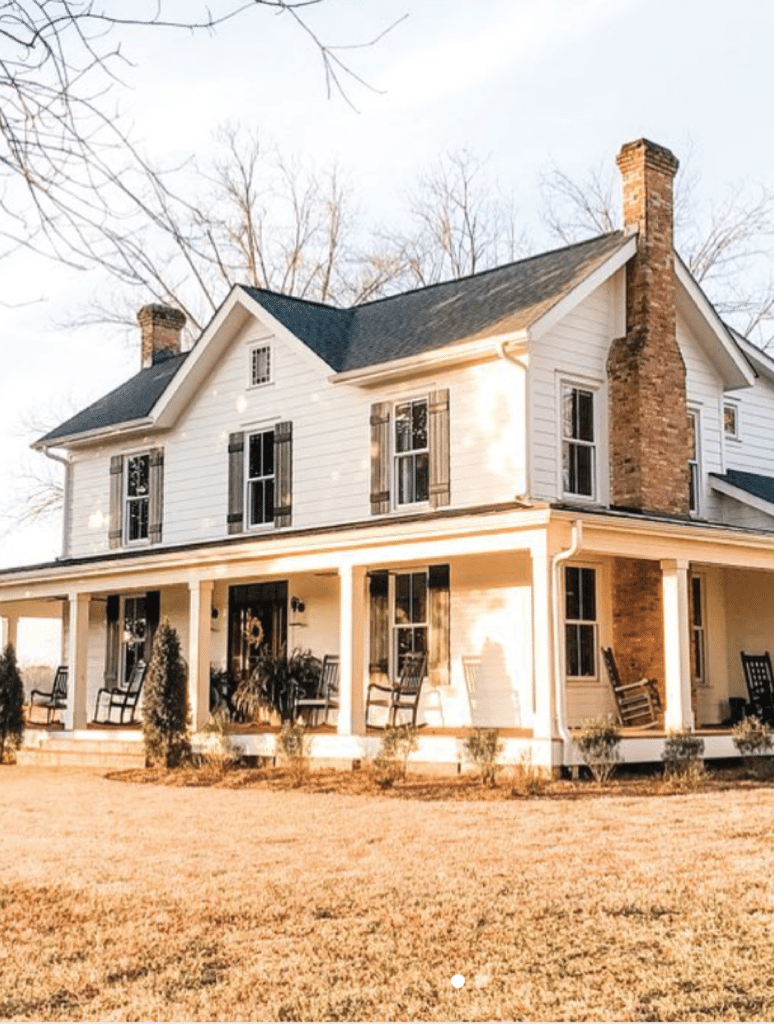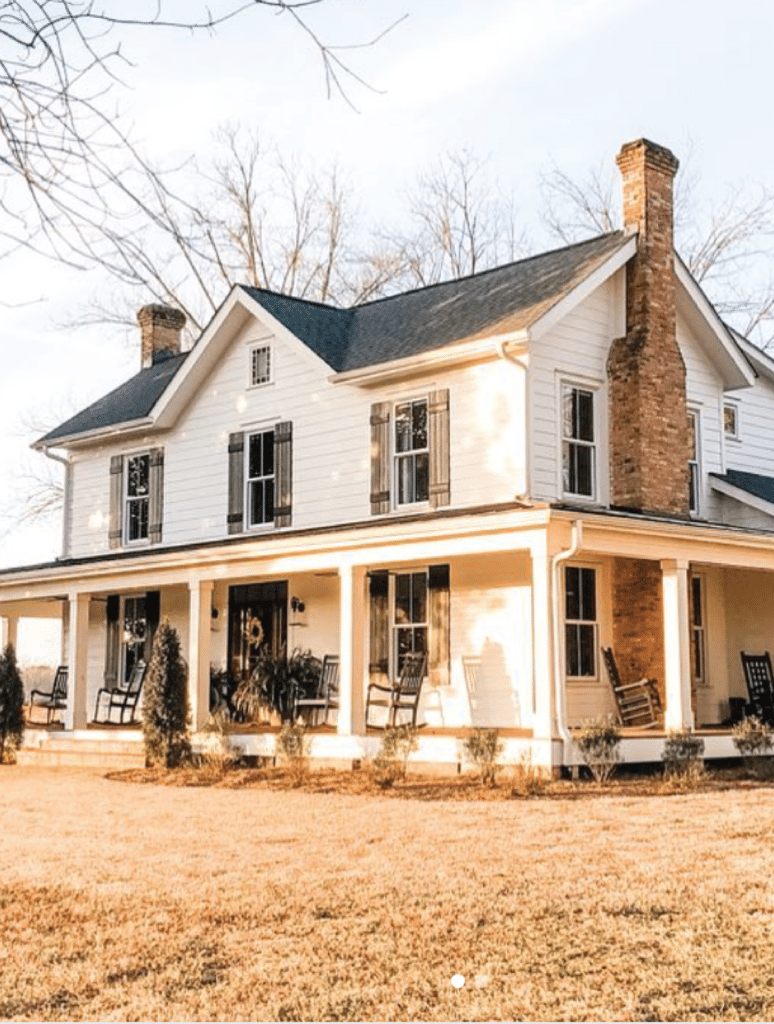 You cant have a farmhouse porch without rocking chairs, it is clearly a must, and this house definitely has plenty to satisfy that need! Thank you Allie for sharing your beautiful home with us! The pristine white siding effortlessly catches the eye, creating a clean and polished appearance. However, what truly captivates is the wrap-around porch that wraps itself around the entire house, offering a delightful space to sit and relax. Adorned with inviting rocking chairs, the porch becomes the perfect spot to soak in the serene surroundings and enjoy the beauty of nature.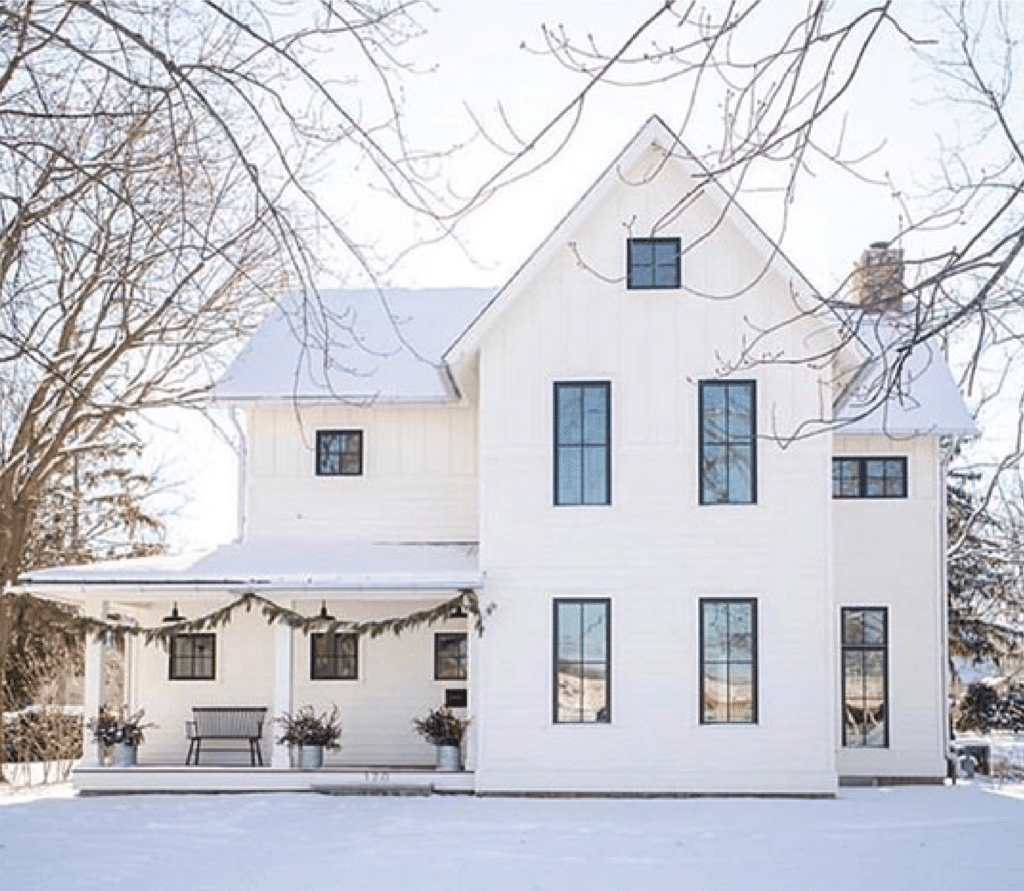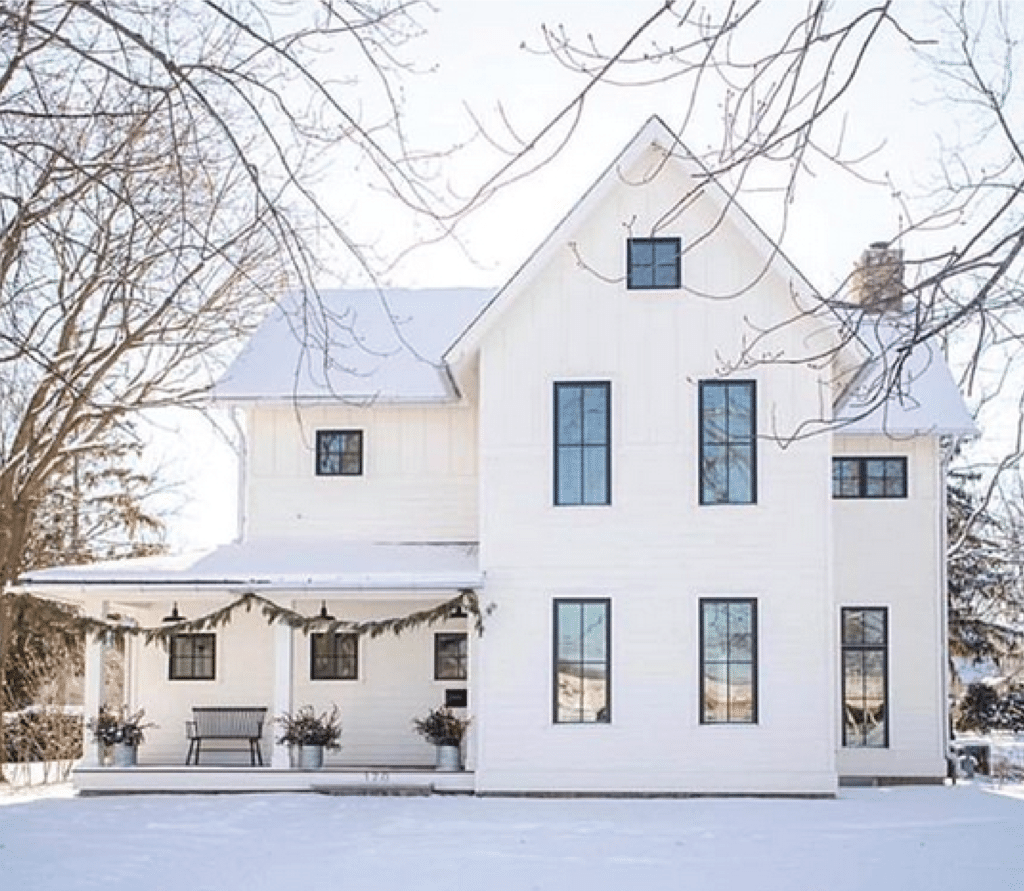 Yet another beautiful white farmhouse, made to look modern yet old. I love that this home clearly looks like an old farmhouse built back in the day but is brought back to life with some updating. The clean lines and minimalist aesthetic of the farmhouse lend a modern touch, while the white exterior offers a timeless appeal. The black window trim adds a bold contrast, highlighting the architectural features and drawing attention to the expansive windows. The combination of white and black creates a sleek and sophisticated look, adding a touch of elegance to the farmhouse.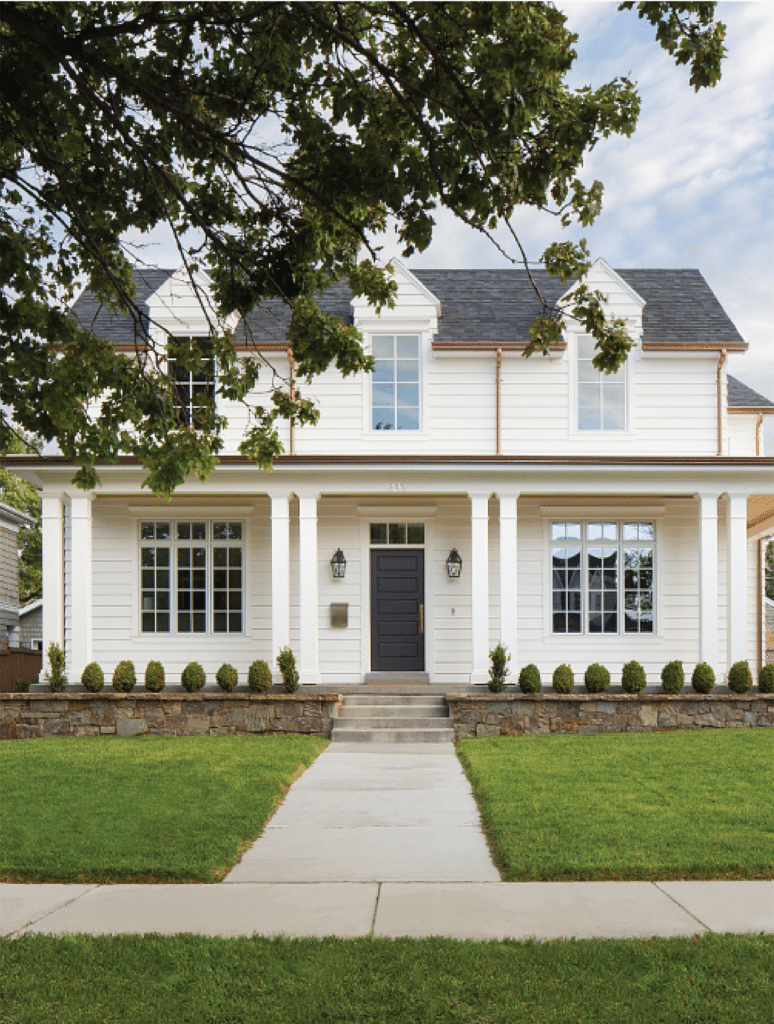 I can definitely see these homes becoming a trend in the near future. A sleek modern farmhouse with almost a hint of an English design. I love everything about this house. I had to save this house photo for last because it was just too good not to! This stunning architectural masterpiece exudes refined elegance and timeless charm. The farmhouse boasts a harmonious blend of traditional English architectural elements and modern design sensibilities. The large windows, dark roof, gables and hidden garage door really are a wow factor! Thank you Fox Group for this beautiful photo/design!
Modern farmhouse exteriors are a perfect blend of old and new design elements. These beautiful modern farmhouse exteriors showcase various colors and materials, which illustrate how rustic architecture and modern minimalist design combine effortlessly to create stunning exteriors. From sleek wood cladding to magnificent stonework, each modern farmhouse listed above exudes its unique personality.
There you have it folks! I hope you enjoyed this post on beautiful modern farmhouse exteriors. If you enjoyed this post, make sure you check out my similar one here: TOP 10 FARMHOUSE EXTERIORS YOU NEED TO SEE.
If you are also interested in seeing some beautiful house exterior renovations by Joanna Gaines from Fixer Upper, check out this post here: 11 BEST HOUSE EXTERIOR RENOVATIONS BY JOANNA GAINES.
Until Next Time,
BEST SELLERS