Tips for Designing Small Cottage Rooms; Overwhelmed by the idea of designing a small cottage room? Here is some design inspiration and advice for your cottage style home.
When designing a room, it's important to remember that the space is only as big as you make it. I'm not talking about magic or shrink rays here — just some simple tricks to help you maximize your space and find new ways to utilize the features of your
The cottage is a type of house that has existed since the middle ages. It's a very simple type of house with a single story and one or two rooms. If you're someone who loves small spaces and wants to transform their property into one, then this article will be perfect for you! I'll go over all the steps necessary in order to design a small cottage room so that it looks both cozy and charming cottage home.
Designing small cottage rooms can be tricky. It's important to keep in mind that a small space doesn't mean it has to be boring or uncomfortable. In fact, if you're able to add some interesting details and smart ideas, it can be the perfect place for relaxing and unwinding after a long day.
Cottage rooms are generally small and cozy, so it's important to arrange them in a way that feels spacious. Whether you have a small english cottage or just looking for general small cottage-style homes interior design advice... I have you covered in this post! Here are some of my favorite ideas for maximizing space when designing small cottage rooms!
Tips for Designing Small Cottage Rooms:
Use mirrors to create the illusion of a bigger room.
Mirrors are a great way to make your room appear larger. They can reflect light and create the illusion of a bigger space, or you can use them to reflect your favorite things.
For example, if you have a piece of art in the room that you love, place it in front of a mirror so that it appears twice as large! This can really help with creating balance and symmetry in your design scheme. Another option is to use mirrors on opposing walls, so that they reflect each other like they would outside on an overcast day (when one side is dark and one side is light).
Use light, cool colors for the walls.
The first thing to do is choose a paint color. Paint colors make a big difference in how your space feels, especially when you're trying to create the illusion of more space. You want to choose a light color palette, which will make the room seem bigger and brighter. Try for pastels or neutrals to really give it the cottage look. Light blue is super common in cottage designs.
This can be achieved by using cool colors on the walls—they'll help brighten up the room, but they'll also provide contrast with any warm wood furniture pieces that you might have in your cottage bedroom design. If you're looking for something bolder, try painting one wall a different color; this will add an interesting element without taking away from functionality or size.
Keep clutter to a minimum.
It might be hard to believe, but clutter can actually make small rooms feel smaller. Clutter makes a room feel cluttered and dirty, which leads to an overall disorganized and unappealing look. In addition, clutter can make it difficult for guests to navigate through your space. To keep clutter under control:
Keep your bedside tables as clear as possible of items that you don't use on a daily basis (like remotes).
Display photos in frames instead of placing them in stacks or piles on surfaces like dressers or coffee tables.
Organize books by genre or author instead of stacking them on top of each other on shelves or desks—this will create more visual interest than an organized stack would have!
Choose furniture that can double as storage.
You can make your furniture double as storage by choosing pieces that have doors that open from the top, shelves that can be adjusted to store different items, a bookshelf with drawers, a desk with a storage drawer under it, or a coffee table with drawers.
You can also purchase cabinets or chests of drawers that come with a variety of storage options such as shelves, doors that open from the top, or even built-in TV stands. To add a bit of cottage charm, opt for antiques or vintage pieces when choosing furnishings.
If you don't have a lot of space for your living room furniture, you can use it as an opportunity to get creative and make the most out of what you do have. For example, you can place two chairs together with a small end table in between them instead of having separate couches or love seats.
Use rugs to delineate space if you don't have doors.
If you don't have doors, rugs can help define space by delineating one area from another. A rug placed in the center of a room can also create visual interest and give your decor a focal point.
Rugs are also useful for defining rooms' purposes and their color scheme as well as their style and size. For example, if you want to create a comfortable reading nook or home office in your cottage-style living room, you can use an area rug that complements the rest of your decor while also making it clear what this part of the house is intended for.
Keep furniture in proportion to the room.
Keeping your furniture in proportion to the room is a great way to make a space feel cozy, but it's not always easy when you have limited space. The size of the furniture should be proportional to how big or small your cottage is. When choosing a sofa, ottoman, or patio furniture make sure it fits that room appropriately.
For example, if you have an L-shaped sectional couch that takes up half of your living room, it's probably too big for the space and will make everything feel cramped by comparison. A better option would be something like an armchair or loveseat instead—something more compact that won't take up so much room.
Try out window treatments that let in lots of light.
Curtains, blinds and shades are all great options for your windows. Consider using sheer or linen curtains to let in lots of light.
If you don't want to use sheer curtains on their own, try combining them with blinds or shades by placing them behind the coverings. This will still allow light in while providing privacy and protection from the sun's rays if needed.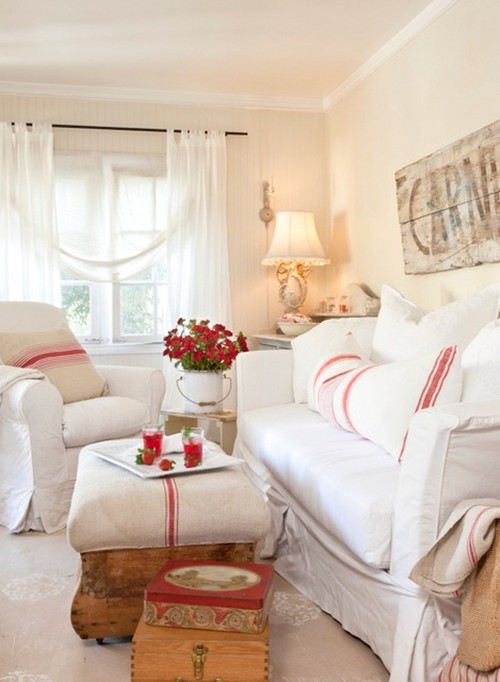 Add plants or flowers for decoration.
I know, you are probably thinking 'how does adding plants or flowers make a room feel bigger?'. If you're looking to make your room feel bigger, it can be helpful to add something that will draw the eye up and away from the walls. A good way to do this is by adding plants or flowers for decoration. Not only do they look great and add life to a room, but they also help to create an open feeling in your space.
Plants and florals can be used as a centerpiece or just placed around the room. They will add color, texture and movement to the space. They can help make a room look more open and give it a lighter, airier feel. You can also use them as an accent piece or focal point in your living room or bedroom.
Add a lot of lighting.
Chandeliers, sconces and pendents.. you want it all in your small cottage rooms! Make a room feel bigger by adding a lot of light fixtures and natural light.
Lighting doesn't just make your room look nice, it also helps make the space feel more open and gives it an airier feeling. A bright, well-lit room can give you more options for decorating as well—you can add color and texture to the space without worrying about clashing with the lighting.
First, make sure that you have lots of lamps and other lights around the room—even if they're on dimmers so that you can adjust them as needed. Having plenty of light sources will help draw attention away from the walls and make things seem more open. If you want to be extra strategic about this, try adding task lighting—that is, lights that are aimed at specific areas in the room, like a desk or kitchen countertop. This will help keep the space from feeling dark and overwhelming, even though it may be smaller than other rooms in your home.
Keep the overall design simple and clean.
This will help your eye focus on the things that matter most in each room. If you're feeling like your home is too small, it can be tempting to try and cram every possible piece of furniture into it. But if you want to make a room feel bigger, the best thing you can do is keep the overall design simple and clean.
If you have a lot of clutter, it will make the room look smaller than it really is. A simple design allows your eye to move around the room easily and focus on all of its features—including those that make it feel spacious with optimal comfort!
Also, think about how much of the space you use. For example, if you have a small table in the middle of a room with nothing else on it, that empty space makes your eyes go right over it. If there's something else on that table—even just a book or a vase—it will draw your eye back into the room again and again.
Think vertically when you're displaying things on your walls.
It's not always easy to find space for your stuff in a small cottage room. If you want to make the most of every inch, think vertically. The walls in your small cottage are perfect for displaying artwork, photos, plants, textiles and books. You can also use vertical wall space to hang shelves or add candle holders.
If you have windows on two sides of the room, arrange items so that they face outwards instead of towards each other – this will make them appear larger than they actually are!
Even small cottage rooms can be beautifully decorated without feeling cramped.
Even though small spaces can feel cramped, they don't have to be uninviting. Here is a recap and a few tips for decorating small cottage rooms:
Use mirrors to create the illusion of a bigger room. Mirrors reflect light and make your space seem larger than it actually is. They also serve as great accessories when placed in front of windows, allowing you to display flowers or other items in them without taking up too much floor space.
Use light, cool bright colors for walls and ceilings that are lit by natural sunlight during the day—this will give your cottage room a brighter atmosphere. Darker colors absorb more light than lighter ones do, which can make certain rooms feel smaller than they actually are! Opt for fabrics, wallpaper, cushions, pillows and other upholstery of light color too.
Keep clutter to a minimum; this includes bookshelves stuffed with books and knickknacks collecting dust on every surface (even if those knickknacks are pretty). Don't forget about storage options like bookshelves either—make sure there's enough space between each shelf so that they don't get too crowded after putting things away!
I hope these tips have inspired you to give your small cottage room a makeover. Dive into interior design and use these tips to achieve that perfect cottage look! Remember: it doesn't have to be perfect, just personal! I hope you found some design inspiration in this post for your next remodel!
More Cottage Style Home Posts:
Tips for Designing Small Cottage Rooms; Overwhelmed by the idea of designing a small cottage room? Here is some design inspiration and advice for your cottage style home.