Beautiful Black Quartz Countertops Design Ideas; Everything you need to know about classic black quartz counters for your kitchen design
Disclaimer: this post may contain affiliate links, and every purchase made through these links will give me a small commission (at absolutely no extra cost for you!) AS AN AMAZON ASSOCIATE AND REWARDSTYLE MEMBER, I EARN FROM QUALIFYING PURCHASES. See Privacy Policy for additional info.
Hi beauties! Today we are talking all about black quartz countertops. If you are thinking about jumping to the dark side with your next renovations, check out these beautiful black quartz countertops below!
If you're planning to get a new countertop for your kitchen, bathroom or laundry room, it's important for you to know about black quartz countertops. Black quartz countertops are the perfect choice for those who want to get a classy and sumptuous looking design in their home.
Black countertops have been popular as a countertop in Europe and Australia for years, but it is only recently becoming more popular in the United States. Many homeowners feel they need to have marble or granite countertops, but the truth is black quartz is a very viable option. Black quartz is a beautiful option that you can use to add drama to your kitchen! Lets jump into some solid black quartz countertop inspiration belo!
What are Black Quartz Countertops?
Black quartz countertops are a beautiful addition to any kitchen. These countertops, made from a quartz that durable and easy to clean, but also they add a touch of elegance and sophistication to the space they're in.
Black quartz countertops are a beautiful, durable alternative to granite and many other types of stone Black quartz countertops look great with almost any color scheme or decor style, so they can fit into just about any home. They are sleek enough to match contemporary designs, but also have an earthy quality that works well with rustic or vintage styles.
The black coloring comes from the addition of iron oxide during the manufacturing process. This gives them their dark hue, which can range from deep purple to charcoal gray depending on how much iron was added during manufacturing. Several minerals make up this type of stone, including dolomite and sandstone. The color is created when these minerals are heated at high temperatures in a kiln before being cooled down again during production. This process causes the minerals to turn black through oxidation processes that occur during heating and cooling times for each piece of stone (or slab).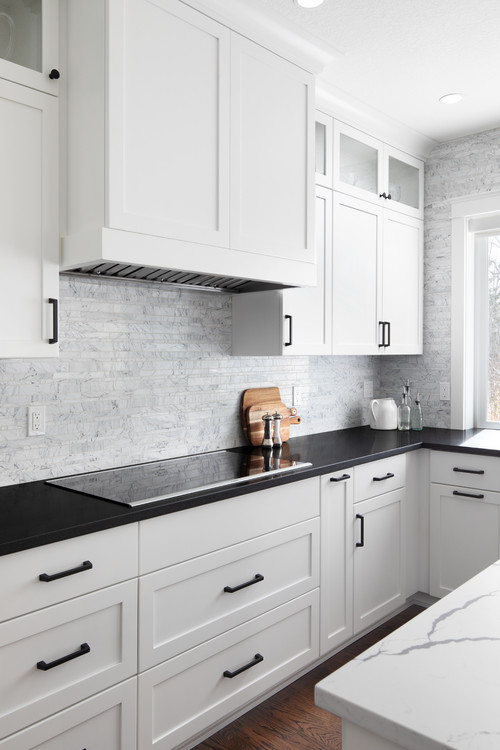 How to Clean Black Quartz Counters?
These tips will help you keep your black quartz countertops looking great. The maintenance of quartz countertops is easy; you just need to follow some steps for cleaning them on regular basis so that you can enjoy the beauty of your kitchen for years without any problem. The following are some tips for cleaning quartz countertops:
Use a soft cloth or sponge when cleaning counters made out of black quartz. If you use anything else, you may scratch the surface or cause other damage.
Never use hot water on your quartz countertop. This will cause it to lose its shine and fade over time. Only use warm water when cleaning or washing your quartz countertops.
Avoid using abrasive cleaners on your black quartz countertops because they will dull the finish and cause scratches over time. You can use a mild soap without bleach or ammonia, but never use acidic substances like vinegar or lemon juice because they may damage the finish as well. Always rinse off any cleaners before using them on your countertop so there aren't any leftover residues that could damage the shine of the surface over time if left untreated; this includes things like dish soap (which often has soap residue) or hand sanitizer (which contains alcohol).
Always remember that when you're shopping for products for your home, especially those that will be used on your counters, make sure they're safe for use with quartz! Don't use abrasive materials! For example, don't use steel wool or other hard scrubbers on your quartz countertop—they will scratch it! Instead, use soft cloths or sponges that won't scratch off any of the surface material.
Don't use too much pressure when cleaning! Quartz is a hard material and can withstand more pressure than softer surfaces like granite or marble without scratching off any of its surface material. However, too much pressure can still cause damage by wearing down the surface over time. So go easy when you're cleaning your quartz countertop!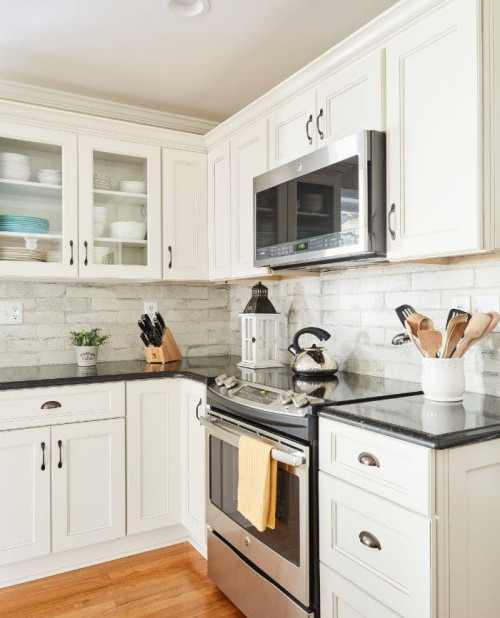 How to Remove Water Stains from Black Quartz Countertops
Water stains on black quartz countertops are a common problem. Fortunately, water stains are easy to remove from black quartz and you can do it yourself without expensive tools or professional help. Here's how to remove water stains from your black quartz countertops.
Use a soft, damp cloth to wipe away any excess water or dirt in the area.
Rub the area with a paste made of one part baking soda one part water. Make sure to cover the entire surface.
Let the baking soda paste sit for about 15 minutes, then wipe it off with a damp cloth and rinse with warm water.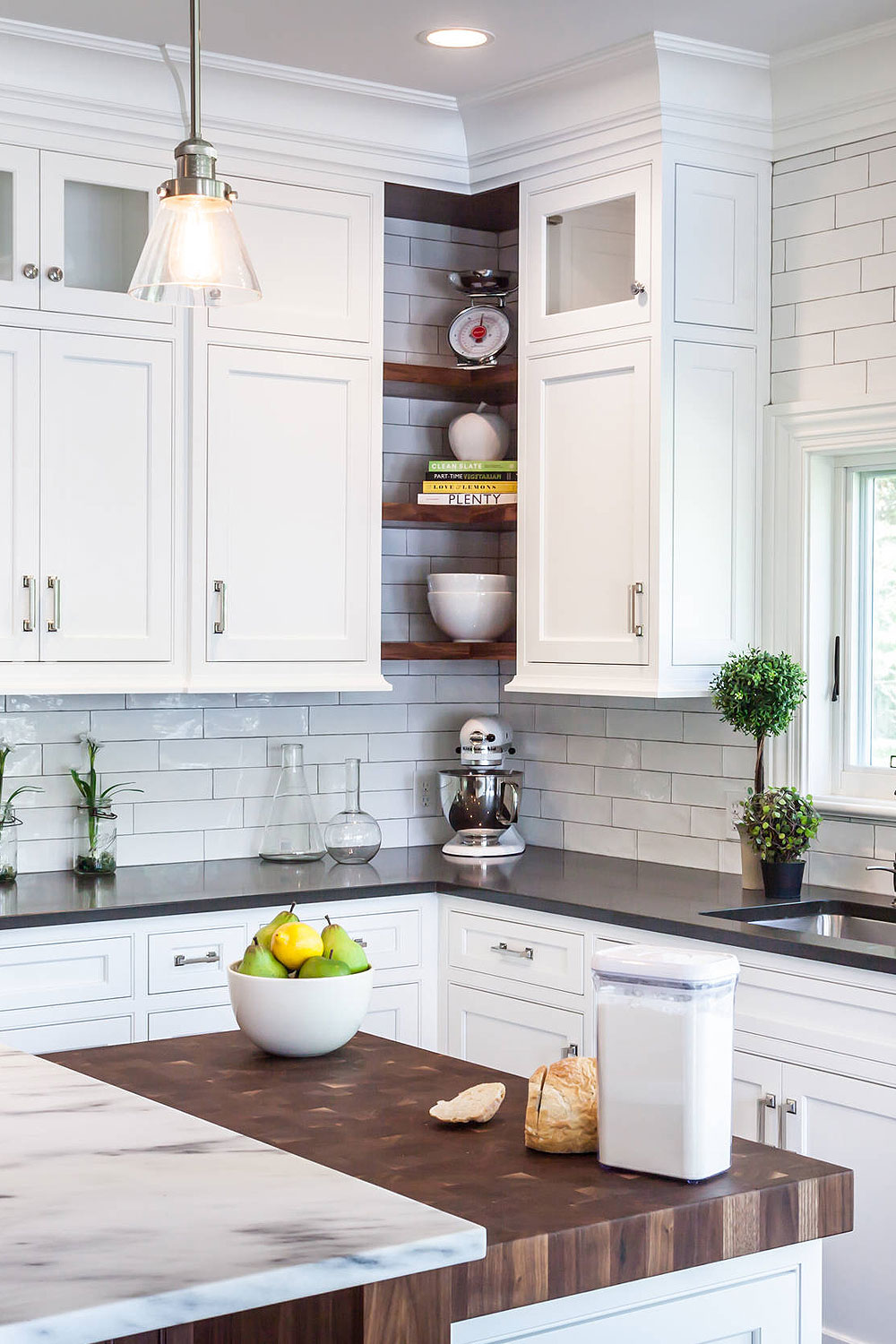 Pros and Cons of Black Quartz in Kitchens
Pros:
Black quartz is very durable and can withstand a lot of wear and tear. They are stain resistant if maintenance is up to par. It is also scratch resistant (most of the time), so it will look new for years to come.
The dark color of black quartz is very modern, which makes it a great choice for kitchens that have a contemporary design. Timeless beauty that acts as a focal point to give the entire room a pop of black! It works with all backsplash options and black/white color scheme kitchens.
Black quartz is a relatively affordable material, making it easy to add to your kitchen remodel budget.
Black quartz countertops are low maintenance
Cons:
The color of black quartz can be difficult to match with other colors if you have lots of sparkle and flecks in it
A black surface in the kitchen can be challenging to keep looking clean because it shows dust, dirt, fingerprints and food very easily in comparison to lighter colors.
It's not particularly easy to work with when you're trying to install the material yourself. However, if you hire a professional contractor to do the installation process for you, then this shouldn't be too much of an issue.
Since black quartz can be shiny, it's also very slippery! This can be a problem if you have kids or pets running around in your kitchen.
Black Quartz Cost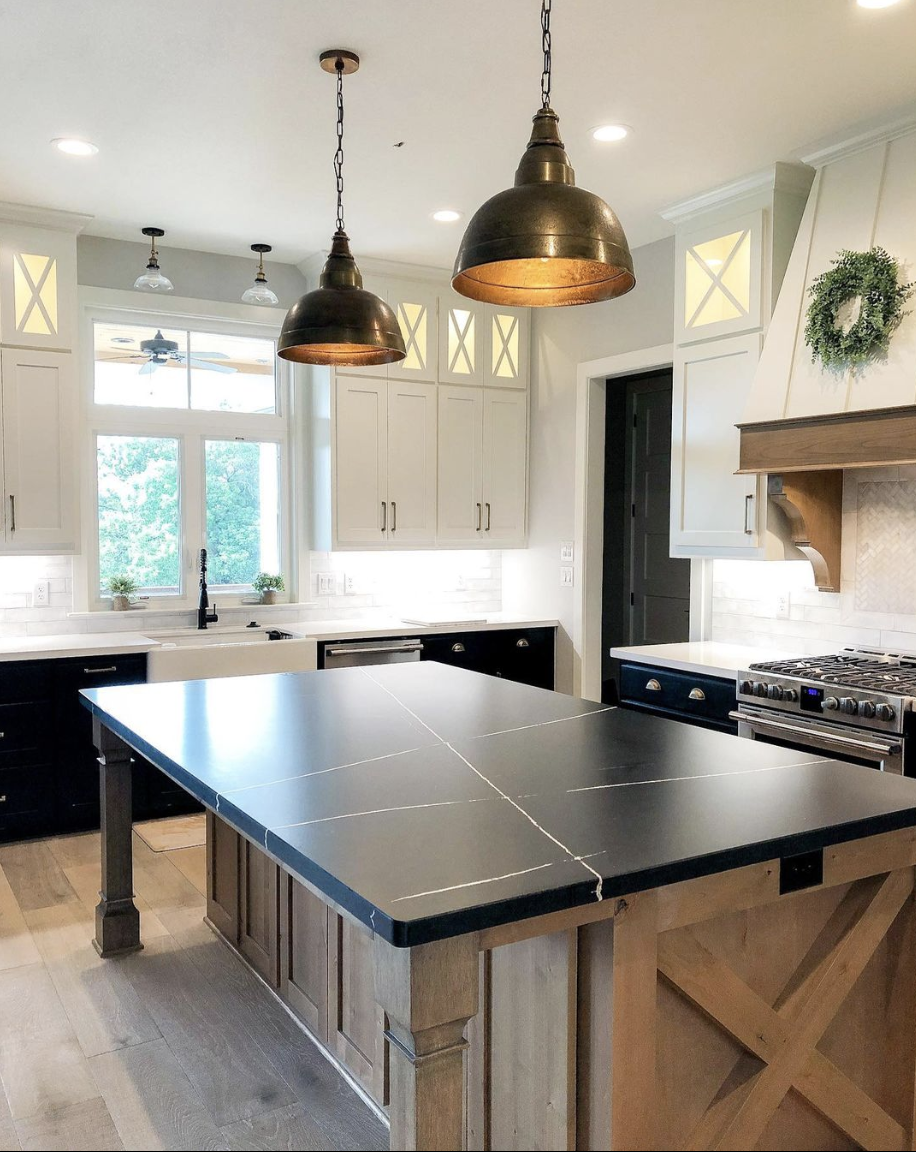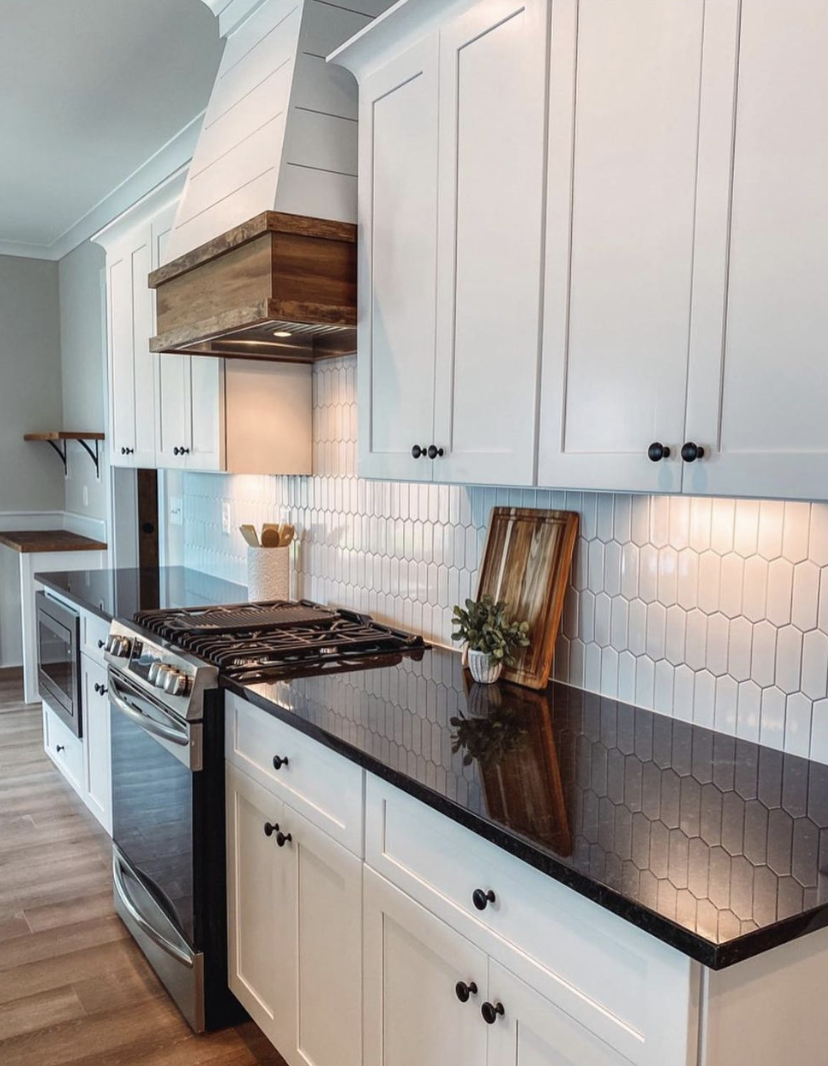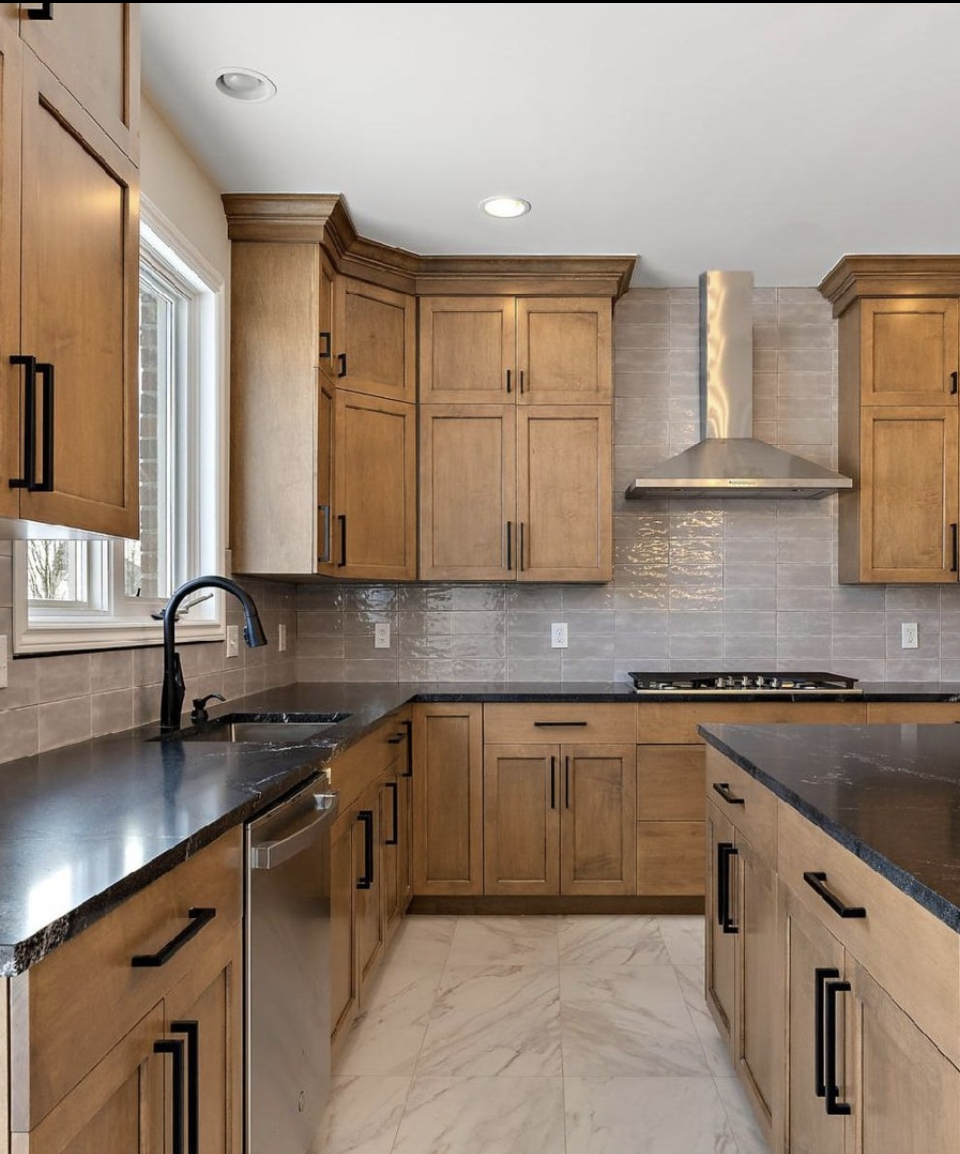 There you have it folks! I hope you enjoyed this post all about black quartz countertops. Black quartz is an emerging trend in kitchens. It's a great way to make your kitchen look sleek and stylish while also being super durable.
More Kitchen Countertop Posts:
Until next time,
BEST SELLERS