15 Beautiful Kitchens with Soapstone Countertops and soapstone counters; Elegant and durable, soapstone is a favourite material for kitchen countertops. See 15 beautiful kitchens with soapstone countertops here.
Hi Beauties!
I am a huge fan of Chris Loves Julia blog and have been obsessing over their new kitchen renovation.. Their kitchen is going to be the kitchen of reno of the year FOR SURE. They put a 17 foot island in the middle of their beautiful gallery kitchen. Everything about their kitchen is luxuriously homey and warm. I can not wait to see the final reveal!
With that being said, they installed soapstone countertops on the perimeter counters of their kitchen. I have never been a huge fan of dark soapstone counters but seeing these counters go in on their instagram stories had my jaw droppppp! Could soapstone countertops really be that gorgeous!?
So naturally I ran to Pinterest to see what other kitchens with soapstone countertops looked like. And I have officially decided that I may need to do soapstone counters in our butler's pantry in our new house!
Natural soapstone is a great choice for a kitchen countertop or backsplash for all homeowners. This stone is popular because it is inexpensive and beautiful. But it is not without its problems. We take a look at soapstone countertops here. Kitchens with soapstone countertops add elegance and personality to the space. In this article, you'll see some beautiful kitchens with these countertops and learn about these countertops' other traits.
This post is all about kitchens with soapstone countertops and soapstone counters!
What are Soapstone Counters?
Soapstone is a natural occurring stone cut to be used as countertop material. It is less common than man made stones such as quartz. Soapstone countertops are more durable, environmentally friendly and do not stain or crack easily. It is highly resistant to staining and burns from chemicals. Rarely has discolorations. Soapstone also has a very high heat resistance, which works perfect for kitchens where hot plates and pots tend to end up on the counter! Soapstones are natural stone countertops!
Soapstone comes in very limited colours because it is a natural stone. Usually dark warm or earthy tones only. Unfortunately, soapstone scratches and chips easily because it is a soft natural stone with natural minerals but with the dark colours the imperfections can be hidden a little more easily. Although, durable soapstone is a thing, just be cautious putting hot pans and hot pots down.
Installation of soapstone is no different than other countertops, such as quartz countertops, other than the fact that they are a more delicate stone and require more caution when cutting and installing. If you want to make your soapstone countertop or sink appear darker, you can rub mineral oil (with a sponge or soft cloth) which will bring out the more vibrant black soapstone countertops.
Maintenance and cleaning can be simple with soapstone countertops. Wash with warm water and mild soap. You may also need to consider sealing it to protect the stones look! Some people also add a wax to the surface frequently but I would definitely recommend you talking to your stone supplier for details on your specific stone.
Beautiful Kitchens with Soapstone Countertops:
Lets jump into some absolutely stunning soapstone kitchen countertops ideas!
Soapstone works so well in kitchens with warmer cabinets. The two-tone is so dramatic but so welcoming all at the same time. I also think having gold fixtures really makes the soapstone counters pop. Just so lovely on kitchen counters! I adore black soapstone countertops. Similar Gold Faucet here. Similar Cabinet Hardware here.
Soapstone counters are dark and earthy shades. You can really tell how great they look when paired with similarly toned cabinets. The green in really brings out the warmth of these soapstone counters. Buy a similar antique pendant here! Buy decorative wood serving bowls here!
I love the grain in this soapstone countertop, adds so much interest and goes well with the cabinets. What a beautiful slab! The hardware on the cabinets also really competes this kitchen! Farmhouse beauty mixed with European style. Buy the Cabinet Hardware here!
I find that a lot of the soapstone counters are used in warmer-toned kitchens. The soapstone really complements the cabinets here, especially with the lovely veins that flow right into the sink. This is a lighter soapstone but still has a beautiful grain. I also LOVE the matching farmhouse sink using the same stone. Absolutely stunning.
This soapstone sink is everything! To make a soapstone sink is just wow. This dark gray colour of soapstone is also not one we see very often, it is rustic looking but is a little brighter and lighter than the traditional dark black soapstone counters. Overall, I love the gray soapstone countertops! Buy a similar Faucet here!
I would have to say that the grey cabinets are not my favourite with the kitchen soapstone countertops. Like I said earlier, I really prefer the warmer colours for the soapstone, but am not against the really dark blues/greens. A beautiful dark gray soapstone here and I love it! Buy a similar Faucet here!
Gorgeous kitchen here again. Everything is so thought out and put together perfectly. The contrast between the light and wood tone cabinets really makes a statement with the dark black soapstone counters in the middle. Buy a similar Sink here!
As I said earlier I really really like the dark navy or blue cabinets with the soapstone. It really sets an overall mood and I am living for this! Such an old school traditional look. I would love this for our butler's pantry in our next house. Something different yet still very beautiful and classic!
This kitchen really used the soapstone in a modern way. The beauty of soapstone is how versatile it can be! You can put it in any kitchen to complete a vibe! I do really love soapstone that has a natural grain though, that is definitely key!
Such a beautiful white kitchen. You rarely see such dark countertops on white cabinets. Usually people who like the white kitchen cabinets go all out and have a white marble or granite. I am definitely enjoying the contrast here!
Ohhhh now this kitchen is a mood! Black on black on black with gold hardware?! Living for this look. So unique and beautiful.
I actually don't see the green soapstone often, usually black is the more popular choice. But it definitely works in this kitchen here. This light grey cabinet really appeals to the green stone. Love this look for a traditional farmhouse or European feel. Buy similar gold cabinet knobs here!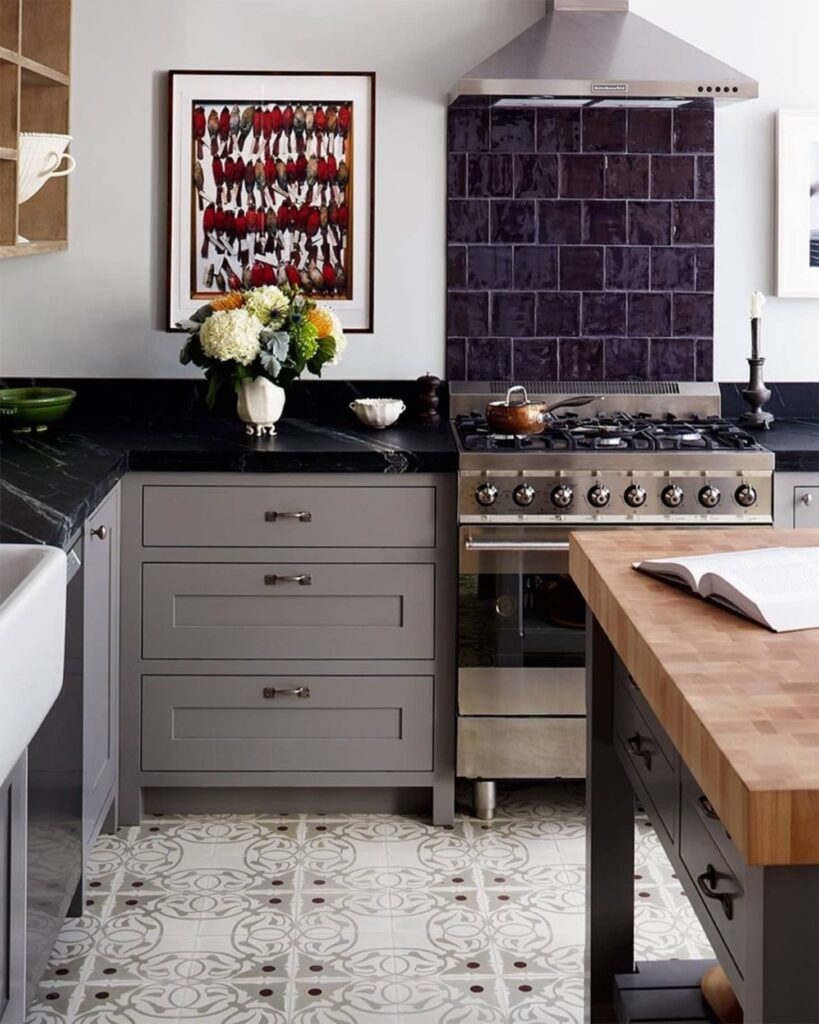 Right away my eyes are drawn to that backsplash.. wouldn't necessarily be my first choice for this kitchen but definitely adds interest. The thicker countertops actually look great here. There is just a lot going on in this kitchen and I wouldn't claim it to be my favourite one!
Such a beautiful traditional kitchen. But let's be honest, it's the pup that makes the photo here! hehe. Really love how they extended the soapstone to the backsplash in this kitchen! Buy similar cabinet hardware here!
Now for the final kitchen. Just stunning. Living for all the window space. It really illuminates that countertop and adds such a bright feel to a dark counter. Buy similar Drawer Pulls here!
There you have it folks! 15 beautiful kitchens with soapstone countertops and soapstone counters!
If you liked this post make sure you check out these ones as well:
Until next time!
---
15 Beautiful Kitchens with Soapstone Countertops and soapstone counters; Elegant and durable, soapstone is a favourite material for kitchen countertops. See 15 beautiful kitchens with soapstone countertops here.