45 Beautiful Kitchens With Concrete Countertops; Explore these stunning concrete kitchen countertops here. Poured concrete countertops pros.
Hi Beauties!
Kitchens with concrete countertops are trending this year. There are a lot of advantages to using concrete as a material for kitchen countertops. Concrete countertops are structural elements that are often times used in contemporary kitchens. 
Kitchens with concrete countertops are in, and for a good reason. They're durable, long-lasting, and versatile enough to fit into any style of kitchen. And because they're made from scratch, there's very little limit to the color or design. We see a lot of concrete kitchen countertops in rustic kitchens such as a farmhouse kitchen!
Concrete countertops gives a look of modern or rustic and is easy to install (a common DIY renovation), so why aren't more homeowners choosing it? Lets take a look at the benefits of kitchens with concrete countertops!
This post is all about beautiful Kitchens With Concrete Countertops!
<< Disclaimer: None of these photos belong to me, please click photo or link provided to be redirected to the owners>>
Why Choose Kitchens With Concrete Countertops:
Poured Concrete is a Clean, Contemporary Material.
Concrete is a clean, contemporary material that can be used in kitchens, bathrooms, living rooms and bedrooms. It's a very durable choice for any space in your home. It is great for creating a sink or backsplash too!
It's not just for industrial-style lofts or commercial spaces; concrete is actually becoming a popular choice for modern residential designs. Concrete kitchen countertops are perfect for a rustic kitchen with a lot of its imperfections and texture in every slab. Check out these beautiful concrete countertop design styles below!
It Lends a Modern Vibe to Any Space.
Concrete countertops are a great way to add a modern vibe to any space. Concrete is a versatile material and can be used in all types of kitchens, from classic to contemporary.
For example, concrete counters will work well with Vintage Style Kitchen Cabinets as well as Modern Kitchens for Small Spaces. Both styles are equally suited for modern kitchen design themes and use materials such as stainless steel appliances that pair beautifully with concrete countertops because they're durable and timeless.
Concrete is an environmentally friendly material, too—you'll feel good about using it in your home! It's also easy to care for, requiring only soap and water to clean up any messes made on the surface so you no longer have to worry about anything getting stuck between cracks or crevices like you would with laminate or tile surfaces (see below).
Concrete Countertops Can Withstand Heat, Scratches, Knife Marks and Stains.
Concrete is a natural material that withstands heat, scratches, knife marks and stains. They are also durable and resistant to stains. Also, the matte appearance is very forgiving.
Concrete slab countertops are an eco-friendly option because they don't require any toxic chemicals during the installation process to achieve their beautiful finish. They're naturally smooth as well; there's no need for sanding or grinding before you add your final sealer layer on top of your concrete countertop!
Kitchens with Concrete Countertops are Very Durable
Concrete countertops are extremely durable and last for years without needing to be replaced. Concrete is so durable that it can easily be repaired or resurfaced, which means you don't have to replace your countertop just because it shows a few scratches or scuffs.
Concrete is also easy to clean: simply wipe down with a damp cloth, dry, then apply a sealant if desired. Concrete is also easy to repair; any minor damage can be patched up by an expert in concrete repair who will fill in any cracks or chips with matching colored concrete filler before topping it off with another layer of sealant (which will give the surface some extra protection against future damage).
Concrete countertops are also very low-maintenance since they resist heat better than most other types of countertop materials; this makes them perfect for use near stoves where temperatures can get very high.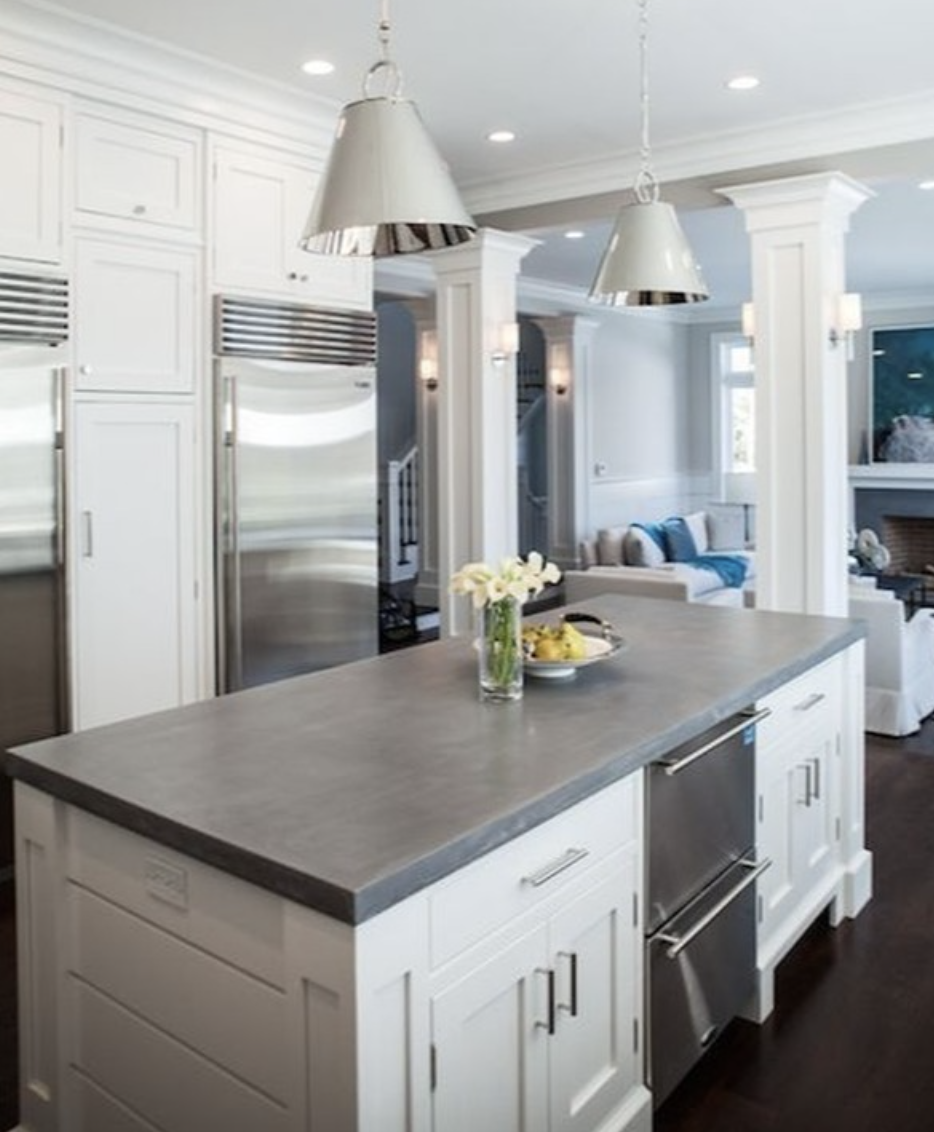 They Can Be Made in Any Color.
It's worth mentioning that concrete can be made in any color you would like. It is not uncommon for homeowners to order a custom mix of concrete from their contractor, especially if they want the countertop to match existing cabinetry. Obviously the most common color are gray countertops.
However, it's important to note that because concrete is a natural material and lacks pigment (like most other man-made materials used for countertops), it may be more difficult to match your existing materials with a fully custom color.
If you're feeling bold enough to try mixing your own batch of concrete, there are plenty of tutorials online that walk through the process step-by-step. But if you're looking for something quicker or easier on your pocketbook—and who isn't?—it's no big deal if you end up needing to paint over an unexpected result once installed and dry!
Make sure whatever color you choose, it goes well with your cabinets. The most common that compliment concrete kitchen countertops are black cabinets and white cabinets... but it is not limited there! Have fun with your kitchen design if you are feeling bold!
Concrete Counters Are Easy to Keep Clean
To keep your concrete countertops looking their best, follow these simple guidelines:
Wipe up spills as soon as possible with a soft cloth or sponge.
Use dish soap to clean the surface, then rinse it with water. For more stubborn stains, apply a mild abrasive cleaner and wipe off immediately; repeat if necessary.
Never use harsh chemicals like bleach on your concrete countertops—this will damage the finish and dull its appearance over time.
Also avoid using abrasive cleaners like Comet; they can scratch the surface of your counters and make them look old before their time!
Reseal Every Few Years
You should seal the concrete every few years to protect it from stains. A good sealing product will be made specifically for concrete, so you should look for brands like Silicone II or Concrete Sealer. You can also try using a marble or granite sealer, as they're made with similar ingredients and will work well on your countertops.
Seals can be found at hardware stores in a wide variety of colors; however, if you want to match the color of your countertops exactly, special dye kits are also available online or at some hardware stores.
Concrete countertops are incredibly popular in kitchens, and for good reason!
Concrete countertops are incredibly popular in kitchens, and for good reason! Concrete is extremely durable and easy to clean, making it a great choice for people who are busy and want something that can stand up to everyday wear.
What are the benefits of using concrete?
Concrete is one of the most versatile materials available. Because it's made up of small particles bonded together with cement paste (a glue-like substance), it has a high compressive strength—meaning it can withstand lots of pressure without cracking or breaking apart.
That makes concrete ideal for use in everything from flooring (it's often used in garage floors) to outdoor paving (sidewalks).
Concrete also resists mold growth better than most other types of surfaces do; when combined with proper ventilation and drainage systems, this feature makes it an excellent choice for kitchen counters!
The final cost of a concrete countertops is around $60-70 per square foot but also ups the overall value of your home in the long run!
Concrete countertops are a great addition to any kitchen. They're easy to clean, they don't stain easily, and they look great. If you'd like more information on how these beautiful countertops can add style and function to your kitchen, contact us today!
I hope you enjoyed this post all about kitchens with concrete countertops! Time to get out that concrete mix! Goodluck!
Until next time,
More Kitchen Design posts:
45 Beautiful Kitchens With Concrete Countertops; Explore these stunning concrete kitchen countertops here. Poured concrete countertops pros.